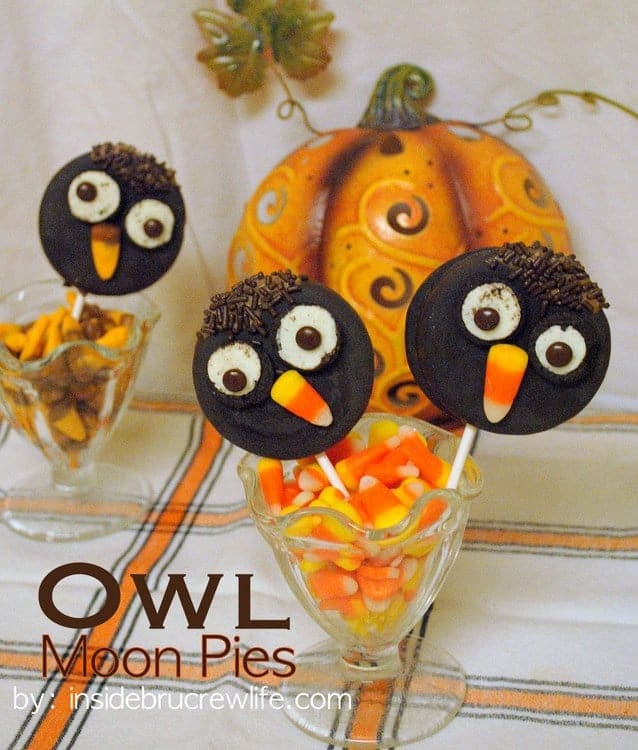 Yeah.
I am that dorky mom that makes the most awesome, most coolest treats to send in for the class party:-)  Don't you agree that Owl Moon Pies were just too cute not to make this year?
Thank you Southern Living for this super cuuuuute idea. As soon as I saw it, there was no other treat that would do. (of course I love anything owl related right now)
So, yes, I made 70 of these bad boys for 3 class parties…and yes I attached a tag that said Happy "Owl"oween!
My husband says I am going to be known as the mom with the bad jokes…but you know what? I don't care, cause these turned out freaking adorable!!!!!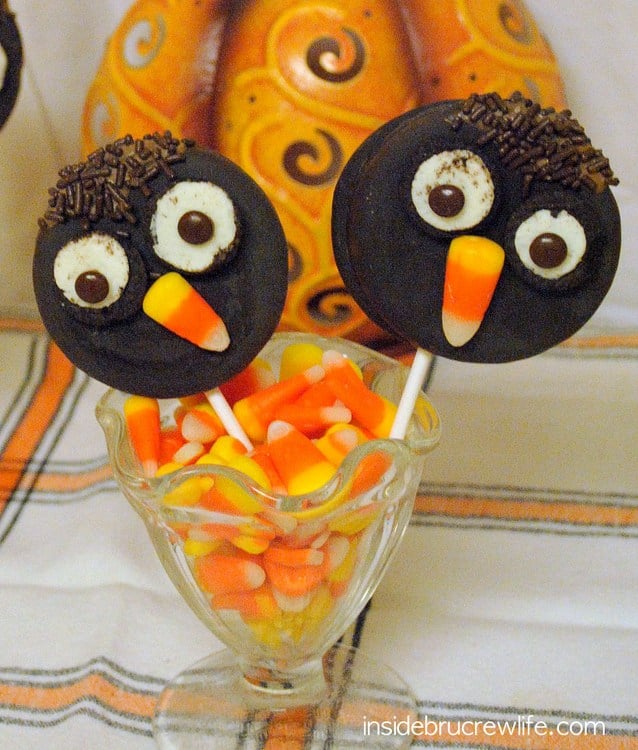 Whooooo knew Moon Pies, Oreos, and Candy Corn could be so adorable?!?!?  :-)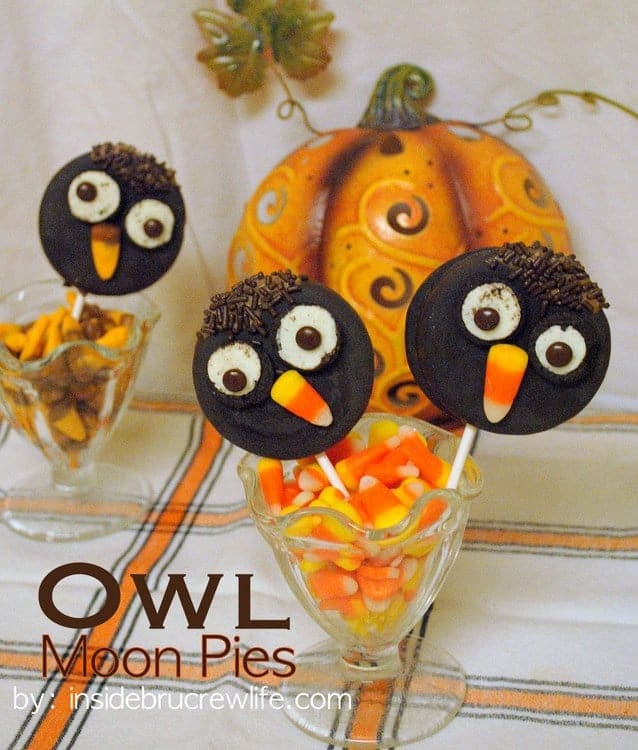 Moon Pies get a fun transformation with cookies, chocolate, and candy to become cute owl treats.
Ingredients
12 mini Moon Pies
12 pieces of candy corn
24 mini brown M&M candies
24 mini Oreo halves (with the frosting still on)
2 ounces melting chocolate (CandiQuik or Almond Bark)
chocolate sprinkles
12 lollipop sticks
Instructions
Melt the chocolate according to the package directions. Dip the end of the lollipop sticks in the chocolate and stick through the bottom middle of the Moon Pies.
Lay out the Moon Pies on a tray. Use a spoon to place a small amount of chocolate on the back side of the Oreo cookies. Gently place them on the Moon Pies where you want the eyes. Use a toothpick to place chocolate on one side of each M&M candy, one at a time. Repeat the same step with the candy corn.
Use a spoon to place a little bit of chocolate at the top of the Moon Pie. Sprinkle with the chocolate sprinkles to give the owls some hair. Let set. Makes 12 treats.
Notes
*You can wrap these individually in small cellophane bags and tie with bakers twine.
http://insidebrucrewlife.com/2009/10/owloween-treats/
Copyright Inside BruCrew Life