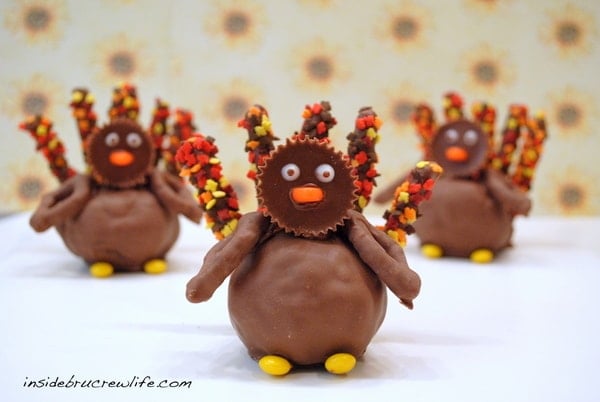 I just knew that this month I wanted to create
some sort of edible turkey…
but what to make???
I googled turkey treats and found tons
of the same ones made out of oreos.
Those are cute and all, but call me crazy…
I wanted to come up with some thing slightly original.
Yes, I do know edible turkey treats are NOT an
original idea, but I hope you enjoy
my take on the brownie bite turkey.
(plus to make it even more original, I FORGOT to add his gobble…
I just realized it when I was adding the pics)
You knew brownie bites were coming, right????
10 bonus points to those that spotted that one right away:-)
I couldn't help myself…
brownie bites were the perfect body for this "sweet" guy!
I need to caution you…
these are only for the SERIOUS chocolate lover!!!
They have chocolate all over them…
just warning you now:-)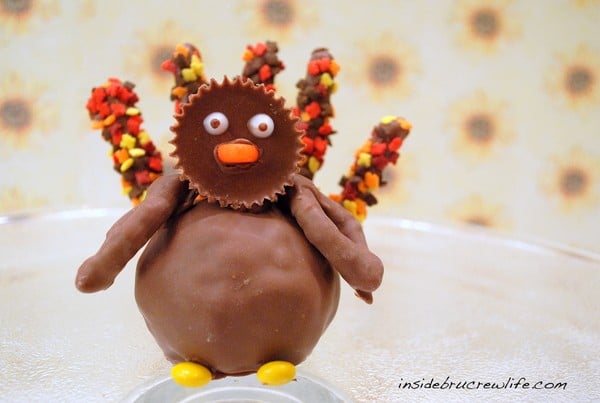 And to fill these brownie bites, I used up some of the
reeses peanut butter cups that were lurking in my cupboard.
These would be a great thanksgiving day "craft"
to do with your kids.
They could easily dip the pretzel sticks and put the sprinkles on.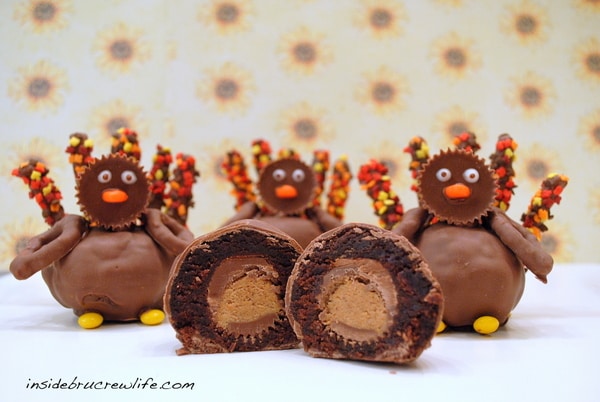 Reeses Brownie Bite Turkeys
Brownies and peanut butter cups dipped in chocolate and decorated with chocolate covered pretzels for a fun turkey treat.
Ingredients
1 pkg. brownie mix
75 mini pretzel sticks
30 Reeses peanut butter cups
30 yellow Reeses pieces
1 container fall sprinkles
1 pkg. chocolate Candiquik
1 oz. white chocolate Candiquik
15 candy corn candies
30 twist pretzels
Instructions
Bake the brownies according to the package. Cool.
Melt the chocolate melts and dip the pretzels sticks. Sprinkle with fall sprinkles. Dip the pretzel twist and let set.
Cut the tip off an Indian candy corn and add a small dab of melted chocolate to it. Attach to the front of a peanut butter cup. Melt the white chocolate. Use a toothpick to drop some white chocolate on for the eyes. When they have set, dab a little brown in the center for the eyeballs.
Once your brownies are cool, cut into 15 squares and place a peanut butter cup in the center. Roll up. Place in the freezer for 30 minutes. Dip in chocolate and let set.
Attach your peanut butter cup head to the top of the bite with some chocolate. Dip the bottom ends of the sprinkled pretzels in choc and attach to the back of the bite. Hold for a minute or it will fall off. Attach the pretzel twists to the sides the same way.
Dip the tip of the Reeses pieces in chocolate and attach to the front for feet.
http://insidebrucrewlife.com/2010/11/time-to-get-your-gobble-on/
Copyright Inside BruCrew Life
Happy Turkey Making!