Let's talk about one of the most controversial Thanksgiving dishes.
At least it's pretty controversial in our house…
and by controversial, I mean everyone else hates it and I love it!
Sweet potatoes covered in brown sugar and marshmallows!!!
I am just curious…do you love or hate this delicious veggie?
And yes, I realize that I just called a dish that is loaded with sugar
and marshmallows a vegetable:-)
You're right…it should be part of the dessert tray with the amount of sugar that I put in it!!!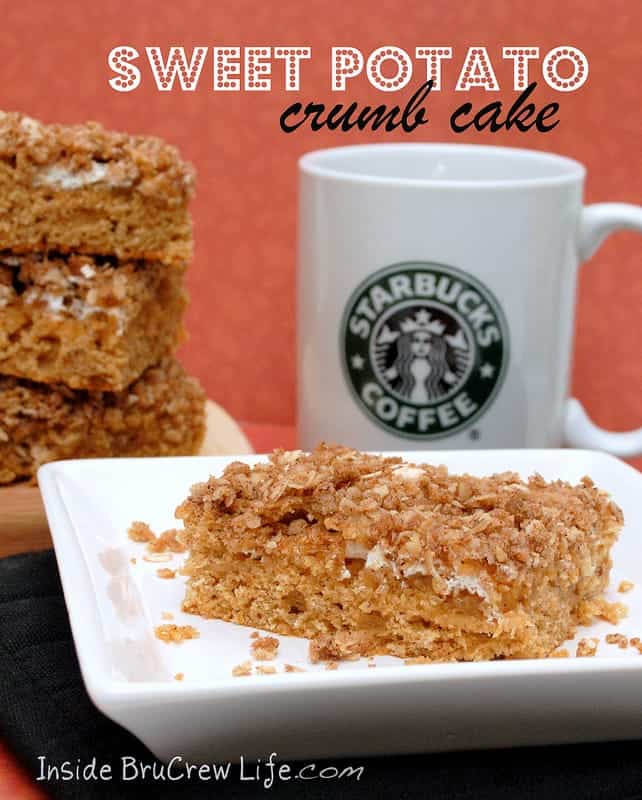 Last week I wondered if I could trick my kids into eating sweet potatoes…
and I would have gotten away with it if I had remembered to put away
the list of treats that I was baking for the week.
(that list just keeps getting longer and longer each week:-)
But my daughter was so grossed out by what I had written
so she blabbed about it to the boys.
I decided to go ahead and make it anyway for an after school snack.
Maybe they will forget about the offending vegetable…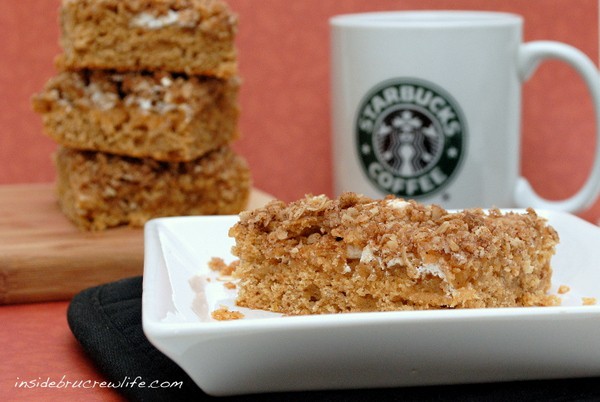 I got all of them to try it without too much fussing.
The verdict from the sweet potato haters in my family was…
it is very good and it doesn't taste like sweet potatoes.
I am thinking this would be the perfect way to start
out eating on Thanksgiving day.
Plus, think about the healthy factor…
you are eating a veggie for breakfast:-)
Sweet potato cake with a streusel topping and marshmallow fluff...perfect for Thanksgiving Day breakfast.
Ingredients
1/2 c. butter
1 c. brown sugar
3/4 c. sweet potato, mashed
2 eggs
1 tsp. vanilla
2 tsp. cinnamon
1/4 tsp. ginger
1/4 tsp. nutmeg
2 tsp. baking powder
1/2 tsp. salt
1 1/2 c. flour
1/2 c. oatmeal
1 c. marshmallow fluff
Instructions
Preheat oven to 350*. Combine all topping ingredients and set aside. Place butter in small saucepan over low heat stirring until melted and brown in color. This takes about 5-7 minutes. Pour the browned butter into the mixing bowl and let cool slightly.
Add brown sugar, sweet potato, vanilla, cinnamon, ginger and nutmeg to the butter and stir together. Beat in eggs. Stir together flour, baking powder and salt and slowly add to butter mixture. Spread 1/2 of the batter in a greased 9x13 pan.
Spoon marshmallow fluff onto the batter and carefully spread it out. Drop the rest of the batter on top of the fluff by spoonfuls. Spread it out again. Sprinkle with the oatmeal crumble that was set aside at the beginning. Bake 25 minutes. Cool on a wire rack.
http://insidebrucrewlife.com/2011/11/sweet-potato-crumb-cake/
Copyright Inside BruCrew Life
Linked to: