A couple years ago I decided that I was going to boycott dusting.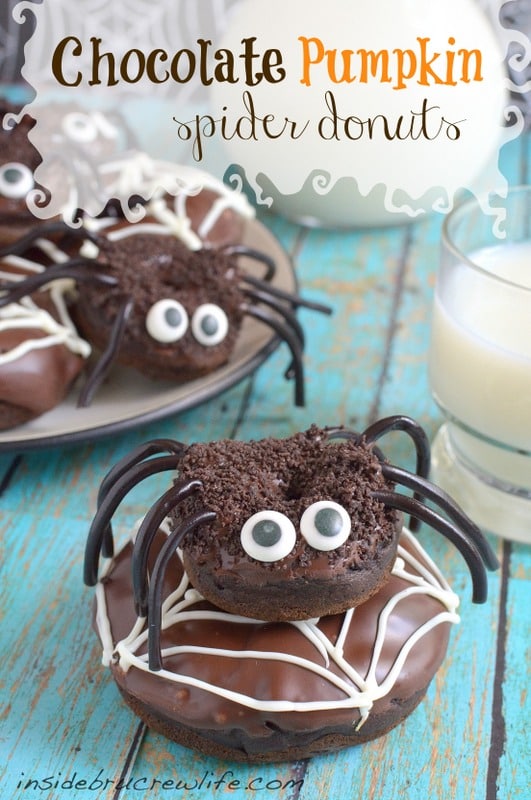 I was putting out my Halloween decorations…things like skeleton bones, spiders, and gravestones.
They kind of looked out of place on nice bright clean shelves.
Last year I added some rats.
Let's face it…bones and rats look much better with a layer of dust surrounding them.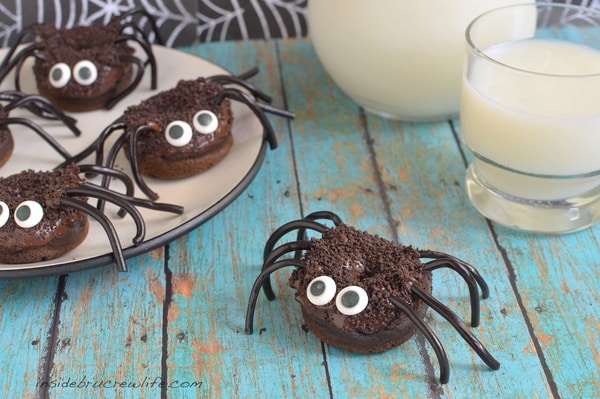 So, for the month of October, I let the dust pile up.
The spiders have free reign of my ceiling corners.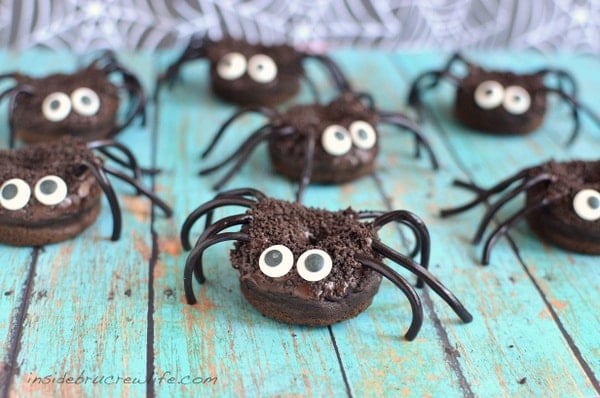 Then in November I am very thankful for cleaning supplies and vacuums.
See what a good system I have come up with.
I just made not cleaning my house part of my decorating.
Now I just need to figure out how that would work for the other holiday's in the year.
Easter bunnies live outside in the dirt, soooo dust makes them feel more at home?
Yeah, I might be stretching it a little:-)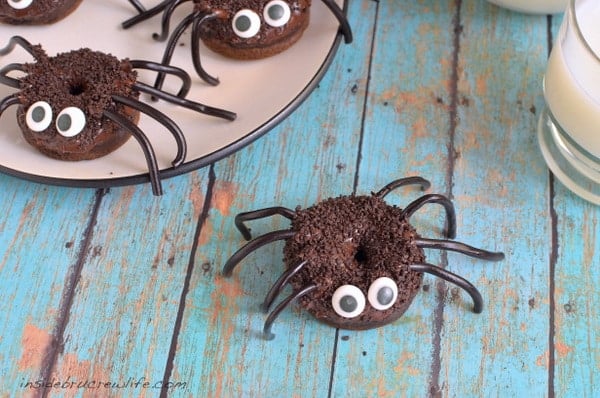 So, the other day I was at Target browsing the Halloween aisle for something fun to make.
They have all sorts of kits for making spooky and yummy food.
But I just wanted the box of black string licorice because I had this cute donut in mind.
All the dust and cobwebs in my house have me on spider alert.
I sure hope the real spiders don't think I am inviting them to come live with me.
Because that would not be cool…not cool at all.
Now spiders made of chocolate and googly eyes…
they can come visit me any time they like.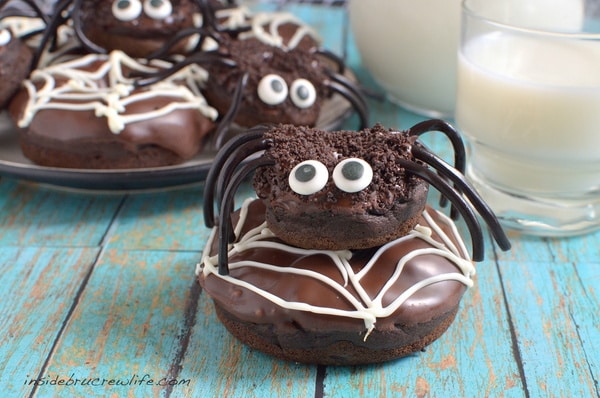 Let's talk about the donuts for a minute.
I have started using Chobani yogurt in place of sour cream for all my donut recipes.
There is nothing better that you can replace the high fat items with.
Plus, all my baked goods come out super soft from the yogurt baked in them.
I love that it is packed with protein.
It makes me think I am eating healthy,
even when I'm really eating chocolate covered donuts:-)
Recently Chobani sent me a box of their different yogurts to try out.
My family loved every flavor that they included.
The yogurt disappeared very quickly with 5 of us eating it.
It's a good thing I kept the plain one hidden so I could make these cute spider donuts.
(You can buy a mini donut pan here and a regular one here.)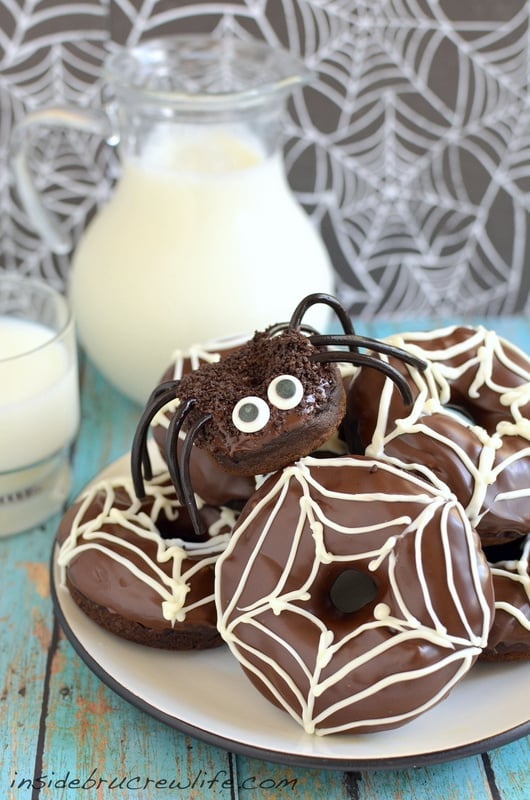 *the giveaway has now ended*

Now for the really good news…
Chobani would like to send one of you a box of yogurt too!!!
They will come packed in boxed freezer bag, cold, and ready to be eaten.
Ways to enter:
1.  Tell me how you would enjoy your yogurt if you win.
2.  Additional entries, (leave a comment and email for each)
Like Chobani on Facebook
Like Chobani on Twitter
The giveaway is open to US residents and will end on October 6.  
The winner will be contacted and have 48 hours to respond before a new winner is chosen.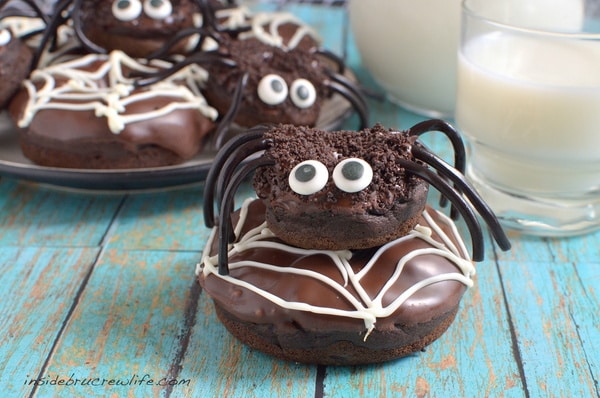 Chocolate pumpkin donuts with a chocolate coating and a fun candy twist.
Ingredients
1/2 c. butter, softened
1/3 c. brown sugar
1/3 c. sugar
2 tsp. vanilla
1 egg
2/3 c. plain yogurt
1 c. canned pumpkin puree
1/3 c. buttermilk
1 1/2 tsp. baking powder
1 1/2 tsp. baking soda
1/2 c. dark cocoa powder
2 c. flour
2 tsp. pumpkin pie spice
1/2 tsp. salt
1/2 c. mini chocolate chips
2 c. chocolate chips
1/4 c. white chocolate chips
1 1/2 tsp. shortening, divided
chocolate sprinkles
candy eyes
black licorice
Instructions
In a large bowl, sift together the baking powder, baking soda, cocoa powder, flour, pumpkin pie spice, and salt. Set aside. In another mixing bowl, beat the butter and sugars until creamy. Add the egg, vanilla, yogurt, pumpkin and buttermilk and blend well. Slowly add the flour mixture until just mixed. Stir in the chocolate chips by hand.
Spoon the batter into a large plastic bag and cut the tip off. Spray the donut pans with non stick spray. Pipe the batter into a mini and large donut pan, filling the cavities at least half full. Preheat the oven to 425* Bake the mini donuts 4-5 minutes and the large donuts 8-9 minutes. Let cool for a few minutes and then remove to a wire rack to cool completely.
In a microwave combine the chocolate chips and 1 tsp. shortening. Heat for 30 seconds and stir. Repeat until melted and smooth. Dip the tops of the donuts in the chocolate. Sprinkle with chocolate sprinkles. Attach eyes and licorice legs with chocolate. Melt the white chips and 1/2 tsp. shortening the same way and drizzle over the large donuts in a web pattern. Makes 24 small donuts and 10 large donuts. Store in a sealed container.
http://insidebrucrewlife.com/2012/09/chocolate-pumpkin-spider-donuts/
Copyright Inside BruCrew Life
Shared with: Mix it Up, Craftomaniac, Melt in you Mouth, Cutsey Monday, Making the World Cuter, Marvelous Monday, Crazy Sweets, Talent Show, Open Call, Totally Tasty, Lil Luna, Wow Me, Halloween Party, Sweet Treats, Chic & Crafty, I'm Lovin It, Weekend Wrap Up, Strut Your Stuff, Gooseberry Patch