It's that time of year when mint desserts start showing up every where. This Andes Mint Cheesecake Brownie Pie has an easy no bake cheesecake on top that will help you give into those mint cravings.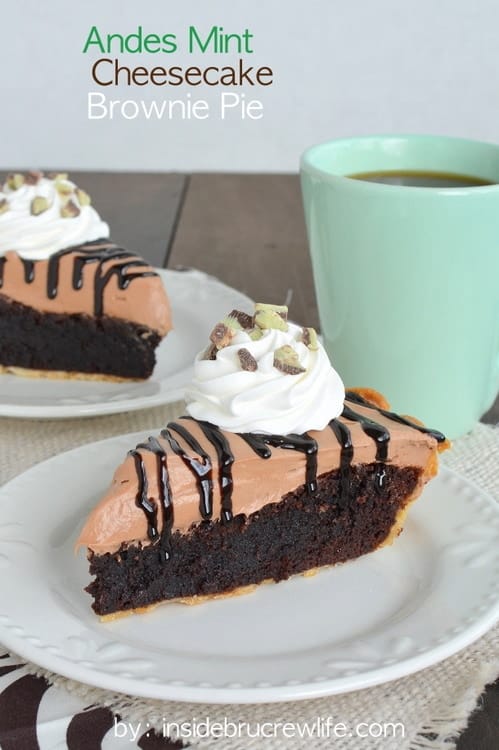 Ok, guys, I tried to hold out as long as I could. But then everyone starting posting mint desserts all over the place. I gave into peer pressure and made a few fun minty treats too.
I don't know if it will become a mintapalooza here on the blog or not...depends on how crazy I let myself get. Right now I have 3 mint goodies that I can't wait to share with you. Are you as excited as I am?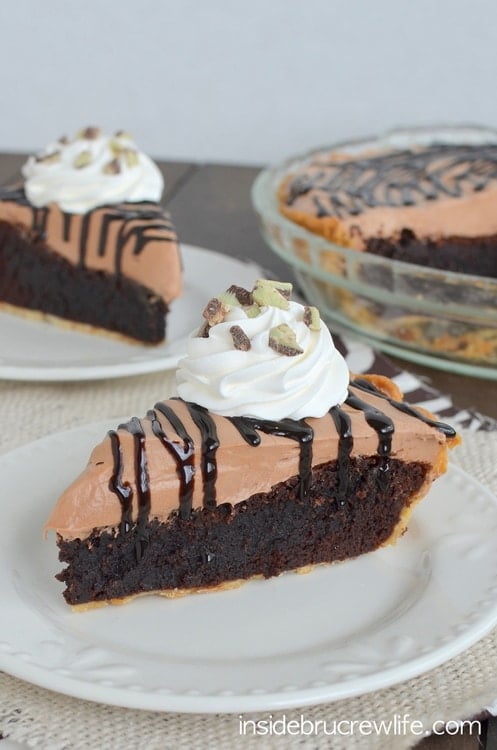 About a week ago my husband and I went out to dinner. It has been so nice now that our kids are older...no more babysitting fees on top of dinner prices. That means more perks to the date now...coffee, shopping, and froyo. As much as I miss my kids being little and needing me all the time, I have to admit I'm loving this new stage of life we have entered.
Anyway, back to dinner. We decided to go to Outback...on a Friday night. Quite possibly the worst idea on a Friday night. Lucky for us, we thought about the rush and got there just in time. You should have seen the line form as we waited for our table. The line out the door must have scared our waiter. I have never felt so rushed to eat my dinner and to get out. Oh, he didn't say anything. But I was eating my salad and he was asking us if we wanted dessert. You guys know I'm all about dessert, but my dinner wasn't even on the table yet. And then he brought the bill to us on when we had just started on our main course.
Now either I look like I don't need to eat dessert, or he was rushing us out the door so they could have the table for another person to rush through their eating. I have gained a few pounds over the years, BUT I think I'll go with just rushing.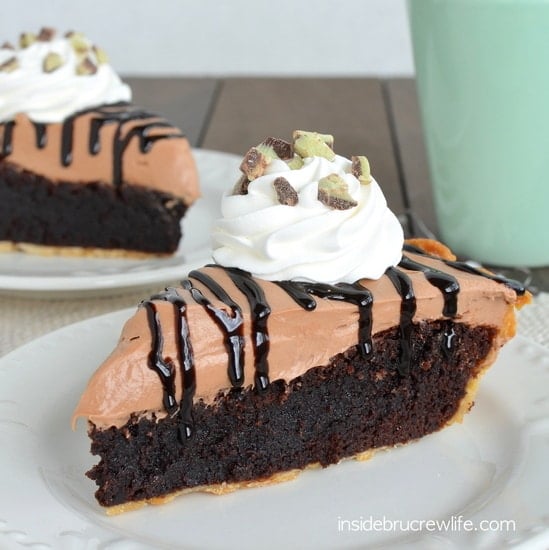 It's ok. We had our coffee and froyo to look forward too. And a big slice of this Andes Mint Cheesecake Brownie Pie to enjoy later.
This brownie pie is so easy to put together. A few packaged items and you are on your way to brownie and mint goodness. Brownie mixes and a refrigerated pie crust will get you on your way faster. Now I do have a homemade brownie recipe that we absolutely love in this house, but today I went with a box mix. You do what feels best to you. And even though I can make pie crust, I prefer to use Pillsbury. It's just one of those time saving tricks that I enjoy using.
This brownie pie is slightly different from the other ones I have made before. You will make the brownies just like normal...no changes to the box directions. Then pour it into the crust in a 10 inch pie plate. Do not use a smaller pie plate. The brownie will puff up a little as it bakes, and you need the room for the no bake cheesecake.
To get that great mint taste, you need to melt down some Andes Mints. I used a bag of the mint baking pieces that they sell. And yes, I did find myself munching on a few handfuls. Andes Mints are one of my favorites, so when I have a whole bag staring at me...I can't resist. Beat the melted chips into a package of cream cheese. Make sure you remember to set the cream cheese out earlier. If you forget, just pop it in the microwave for about 30 seconds. A little bit of Cool Whip added to the minty cream cheese gives it a mousse feel and taste.
Who needs factory made desserts sold at an outrageous price when you can make your own decadent dessert at home?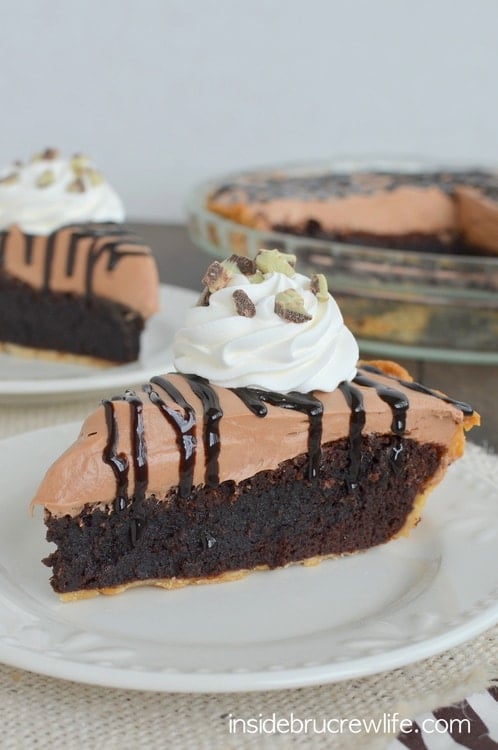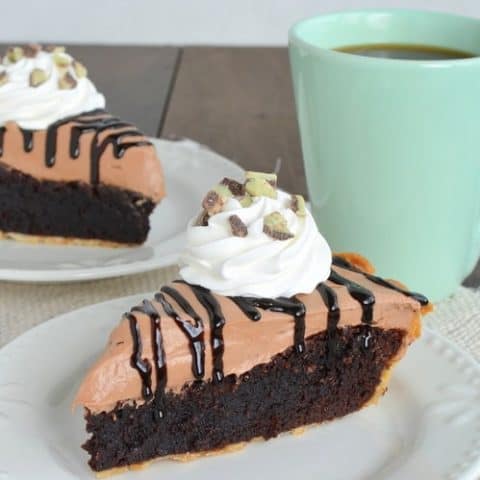 Andes Mint Cheesecake Brownie Pie
Total Time:
1 hour
10 minutes
Andes Mint Cheesecake Brownie Pie: A no bake mint cheesecake mousse on top of the brownie pie creates a delicious and easy dessert.
Ingredients
1 refrigerated pie crust
1 - 9x13 brownie mix
1 - 8 ounce package cream cheese, softened
2 Tablespoons sugar
¾ cup Andes Mint baking chips + extra for garnish
1 teaspoon shortening
1 cup Cool Whip + extra for garnish
Hot Fudge
Instructions
Preheat oven to 350 degrees.
Set the pie crust out 15 minutes before starting. Unroll the crust and place in a 9.5 inch deep dish pie plate. Crimp the edges. Set aside.
Prepare the brownie mix according to the package directions. Pour into the pie crust. Cover the edges of the crust with tin foil to keep from burning. Bake for 40-45 minutes.
Remove and let cool completely. Gently press the brownie down to make it even all over.
Beat the cream cheese and sugar until creamy.
Place the Andes mints and shortening in a microwave safe bowl. Heat for 30 seconds. Stir and repeat until melted. Be very careful not to scorch the chocolate.
Pour the melted mints into the creamed mixture and beat right away.
Fold in the Cool Whip. Spoon onto the cooled brownie pie. Refrigerate until set. Drizzle with hot fudge and top with Cool Whip and extra Andes mint chips.
Recommended Products
As an Amazon Associate and member of other affiliate programs, I earn from qualifying purchases.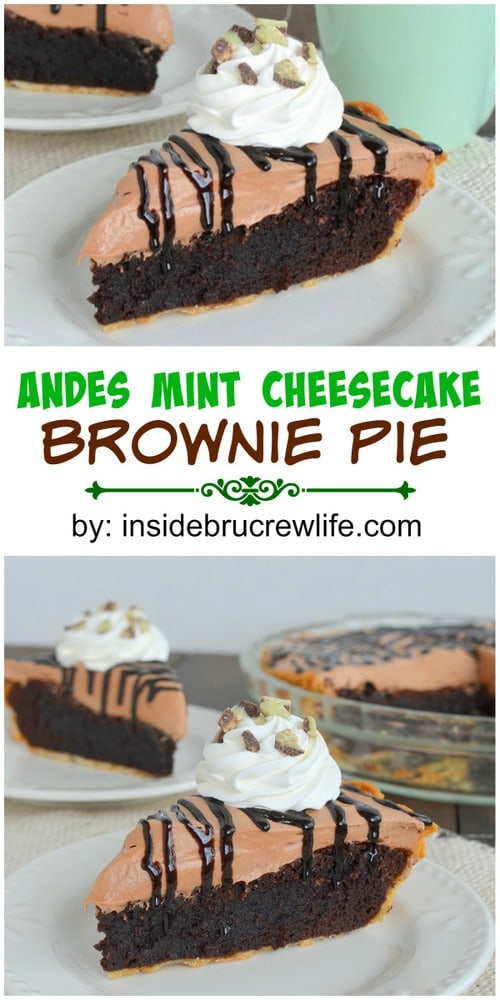 More mint recipes to enjoy: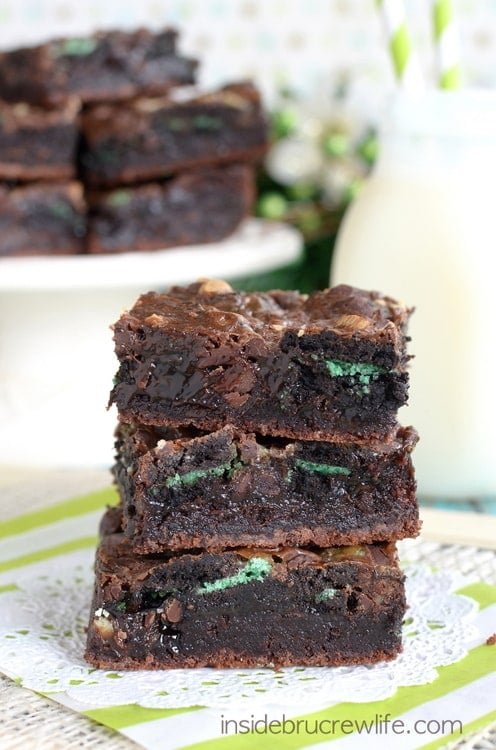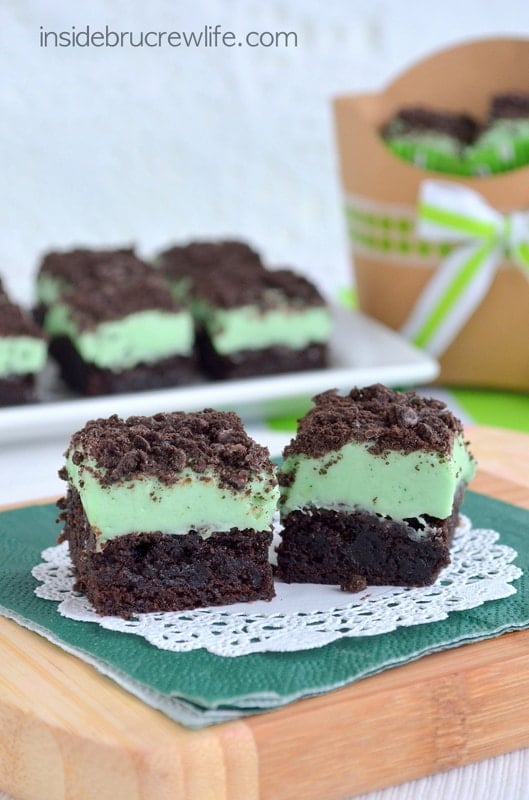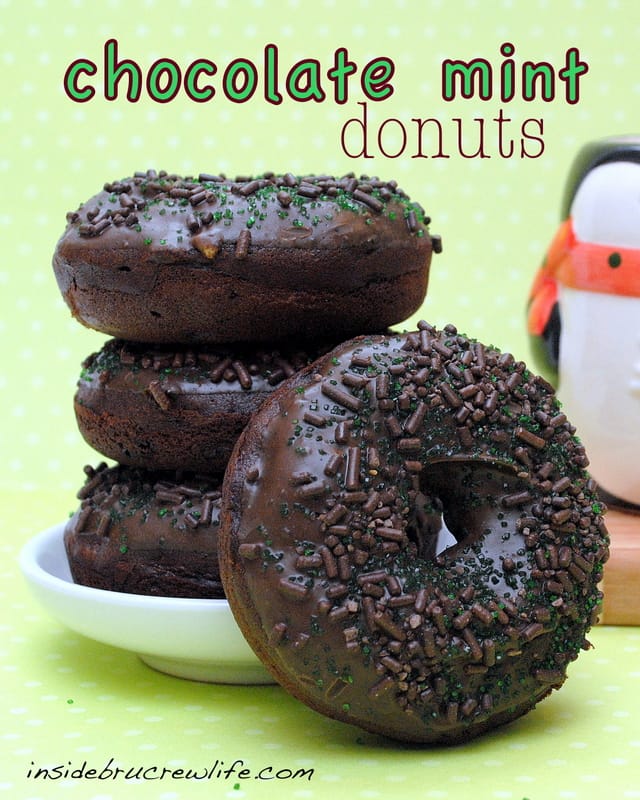 More Mint goodness from friends:
Mint Chocolate Chip Cheese Ball from Mom On Time Out
Mint Oreo Ice Box Cake from Tidy Mom
Mint Chocolate Chip Cupcakes from Shugary Sweets