Easy ice cream that can be made without a machine, and it's healthy for you. Yes, this Avocado Chip Ice Cream is healthy and delicious.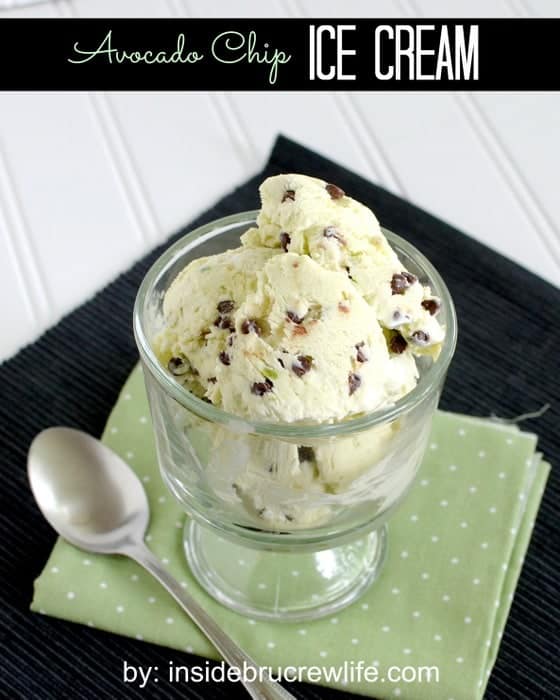 I made something really crazy...
you are going to have to trust me that it was really good.
It has been hot here...like crazy super hot.
The past week it has been over 100*.
All we have done is swim, stay inside, and eat ice cream.
We can beat you heat!!!
There was a ripe avocado on my counter just begging to be used.
Now usually it goes into guacamole. Mmmm that's one of my favorite snacks.
But I was feeling crazy, and all of a sudden
I had this idea to put it into ice cream.
No, I haven't been sitting in the hot sun for too long...
and no I haven't lost my mind...yet.
Stay with me...
I can honestly say, this was really, really good!!!
I had the same doubts as you, when the idea first popped into my head.
Then I smashed the avocado and stirred it into the condensed milk,
and I really starting doubting it.
I mean seriously, who puts avocados in their ice cream?
Apparently I do!
But after my first bite of the creamy goodness,
it was clear to me.
Avocado and ice cream were meant to be together.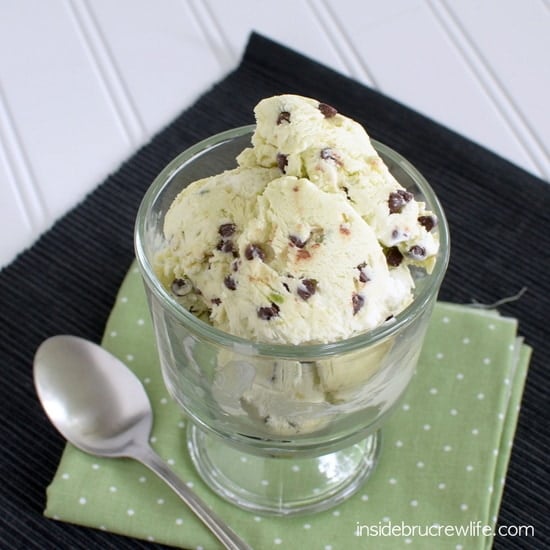 Now I did "trick" my kids into eating this concoction of mine
by telling them it was just chocolate chip ice cream.
Although, my daughter kept wanting to know what the little green specs were.
"It's just sprinkles, honey":-) hee hee!!!
No, I had to 'fess up and tell them what I had put into it.
They looked at me like I was a little off my rocker,
(kinda how you probably look right now)

BUT...they kept eating it.
Let's just say all of the avocado chip ice cream disappeared pretty quickly.
Are you convinced enough to try it???
Or have I grossed you out completely this time?