Easy no bake desserts are always a quick and easy treat to make up. These easy no bake Banana Cream Pies in a jar make the perfect end to any dinner.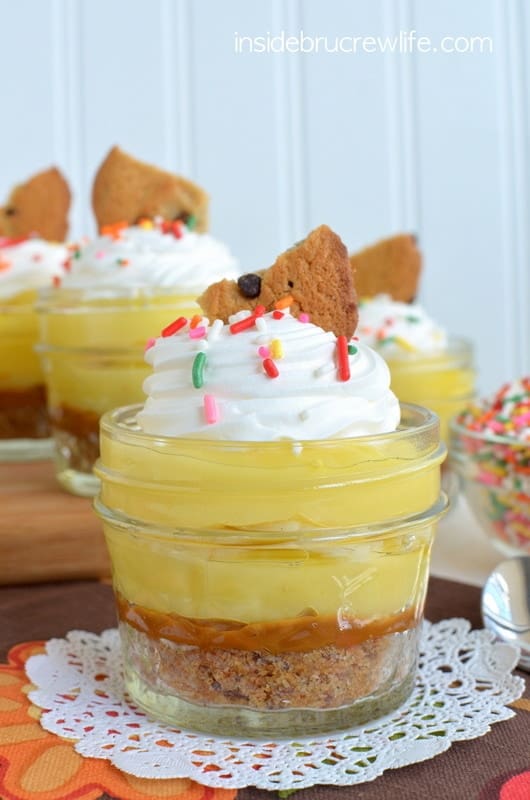 Did you know that today was Pi Day? March 14th = 3/14 = 3.14 Yeah, that's kind of losing me too. I only know because I have friends who freak about all things math.
Me? I just freak because it is another day to celebrate with a dessert. Pi Day to me means PIE DAY for the BruCrew!!! These cute little Banana Cream Pies in a Jar are waiting for us to enjoy after dinner tonight.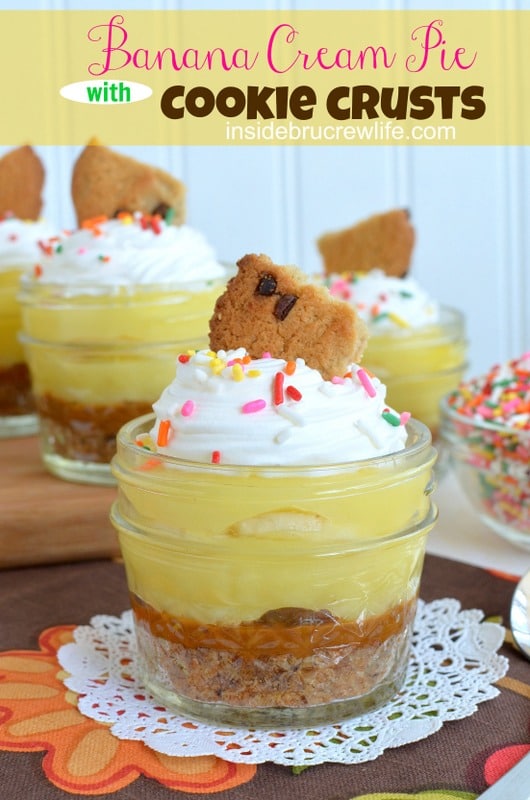 Now I don't know about you, but math is not my strongest subject. My son likes to remind me all the time about the paper I helped him with in Second Grade. He was working on greater than and less than. Super simple easy peasy thing, right? Well, no because I had never been taught about the alligator being hungry, and that his mouth always opens to the bigger bite. Where was that analogy when I was in school? Maybe I was looking at the cute boy in my class the day that was presented...
So anyway, my son finished his paper, and I looked it over for him. The example problem at the top of the paper had the mouth opening to the smaller number, so I assumed that the teacher would not send home a paper with an incorrect example. I made my son change every.single.problem on his paper. Later that week, he came home with all of them wrong. Of course, he was not happy and said, "Mom, I told the teacher it was your fault." UMMMM! Hello!!! That was so not my fault. I am still totally blaming the teacher for this one. Believe me, I still hear about this paper and it has been almost 7 years ago! 🙂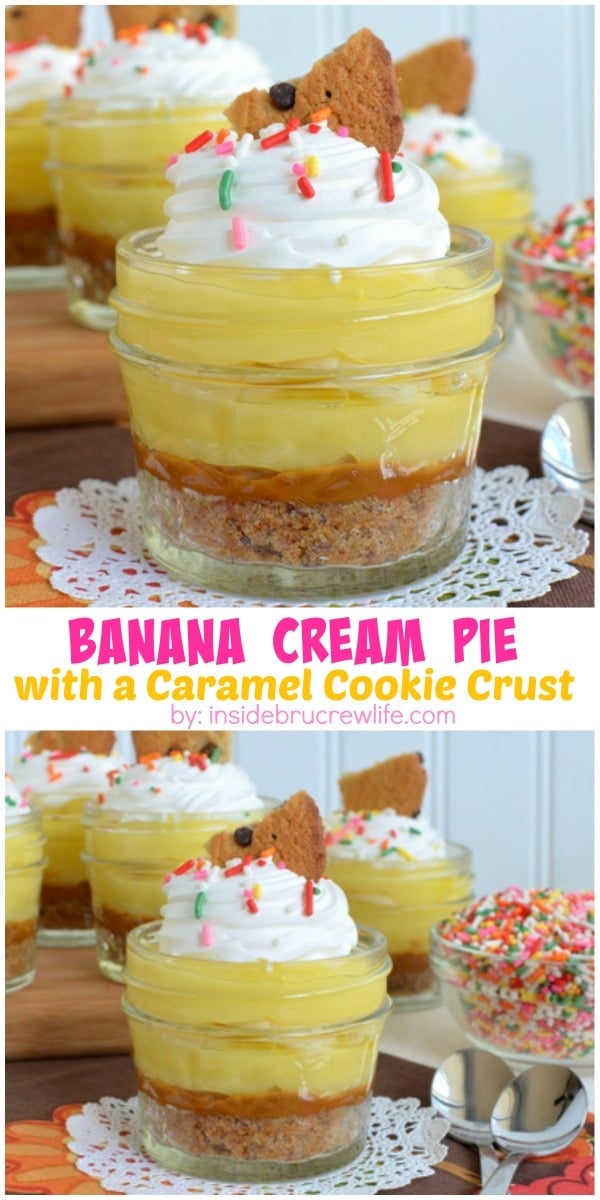 I'll just drown my math woes in a jar of banana cream pie. These are the easiest little treat to whip up. You start with a chocolate chip cookie crust. I just bought some at Walmart for a $1 because this is a no bake dessert, so I was not baking cookies for it. But if that is how you roll, go right ahead and bake away. Just make sure your cookies are crisp, so you can crunch them up into fine crumbs. I dropped the cookies into my Ninja Chopper
, and had the crust in the jars in under 5 minutes.
I had a can of Dulce de Leche in my cupboard, so I put a generous layer of that on top of the crust. You could also use any kind of thick caramel ice cream topping, if that is what you have or if you can't find the Dulce de Leche. (I suggest not licking the spoon...you might not want to stop eating it!!! Just a little FYI.)
Top with some instant banana cream pudding and real banana chunks and viola! Dessert is done. Go ahead and top with some Cool Whip and sprinkles and chunks of leftover cookies for a fun and spectacular presentation.
Want to know another secret? You could totally change out the pudding to another flavor if banana flavored desserts are not your thing. I'm thinking chocolate pudding with the caramel and cookie crust would totally rock my world too!
Stay up to date on all the BruCrew baking
by following here:
FACEBOOK | PINTEREST | TWITTER | INSTAGRAM
Want more Pie Day options?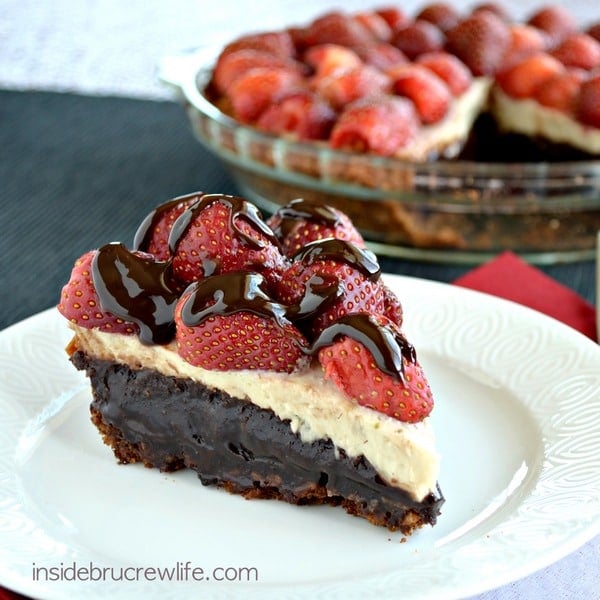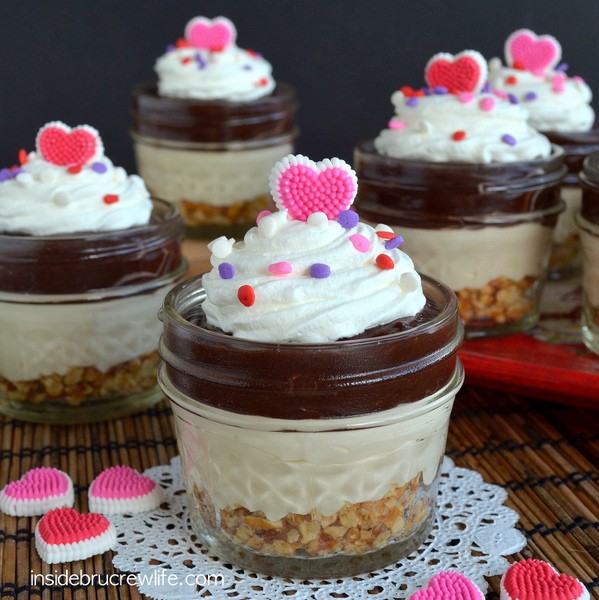 It's a Pie Day party over at Crazy for Crust...make sure you head over there and see all the fun pies that are being shared.
*This post contains an affiliate link. Thank you for letting me share the products we know and use and for supporting Inside BruCrew Life this way.