How about an Oreo cookie for breakfast? These Berry Burst Oreo Scones will make you smile all day long.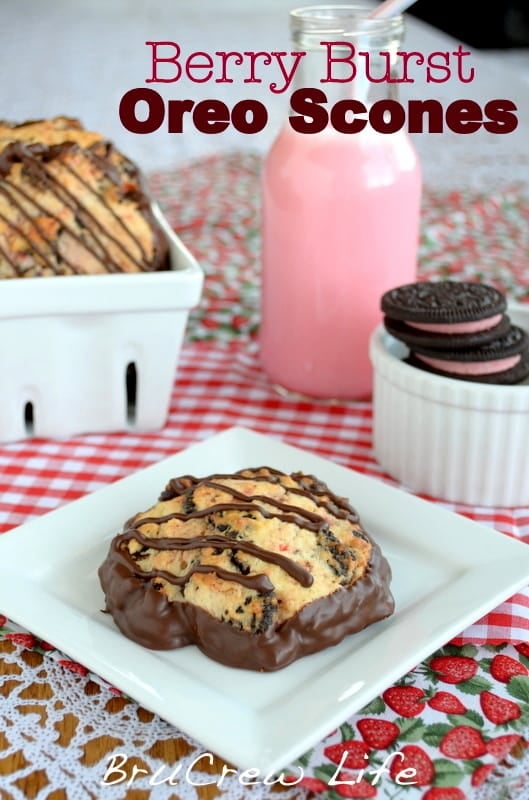 Oreo is celebrating 100 years of Oreo baking.
I went to the store with every intention
of getting the birthday cake Oreos...
in spite of hearing on Facebook that they really taste like the original.
Where is the cake batter filling???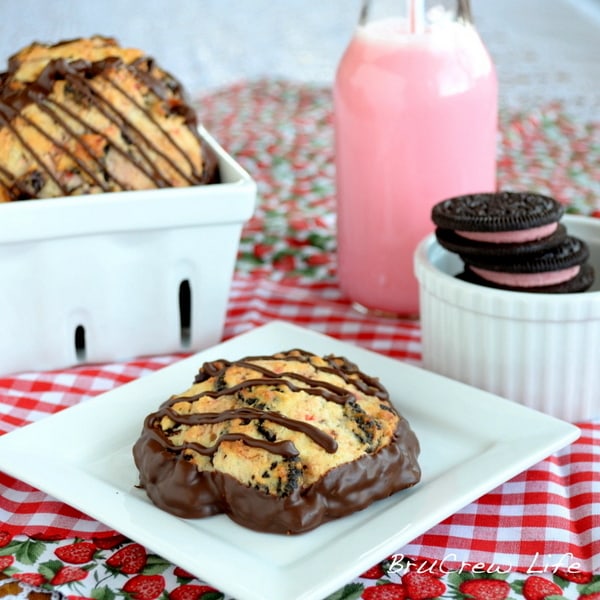 Well, I can't tell you what they really taste like because...
I was completely reeled into buying
the Berry Burst Oreos instead.
Hook, line, and sinker.
Why haven't I ever gotten these before???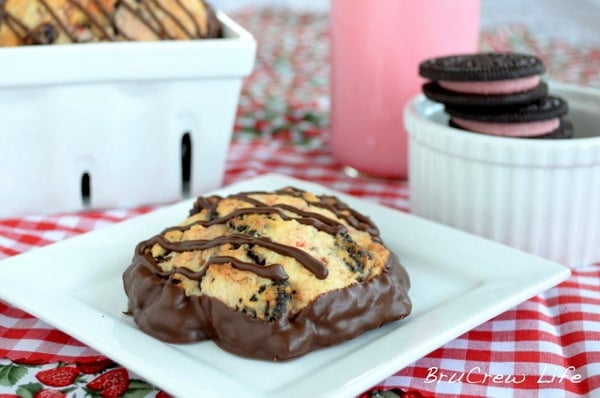 The Oreo cookies stayed hidden in the cupboard for a day or two
until my husband saw them hiding there.
He knows me very well,
and wanted to know what I was making with them.
The cookie hiding spot has been compromised....
so quick baking action was needed before they disappeared.
How about some Berry Burst Oreo Scones?
He just can't get over the fact that I buy junk food to make even junkier food!
Now I totally disagree...these scones have 3 of the food groups in them.
Bread, dairy, and fruit.
Sounds like healthy food to me...or at least breakfast food!
I am so glad that the cookies came out of hiding on the very day
we stopped at Starbucks and my hubby downed one of their scones.
The urge to make scones was there.
Plus who in their right mind
would turn down cookies and chocolate in a breakfast recipe???
I may or may not have eaten my fair share of these "healthy" fruit filled babies.
And the fruit filling in the oreo totally counts as a double dose of fruit.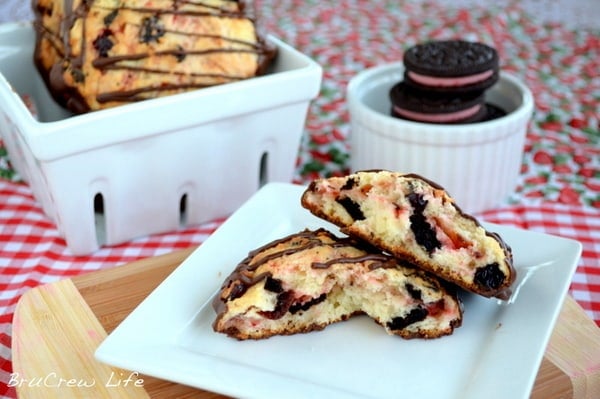 Sheeeesh!!!!
I need another bag of Oreos
and a new hiding place!
Maybe this time I will get the sprinkle ones.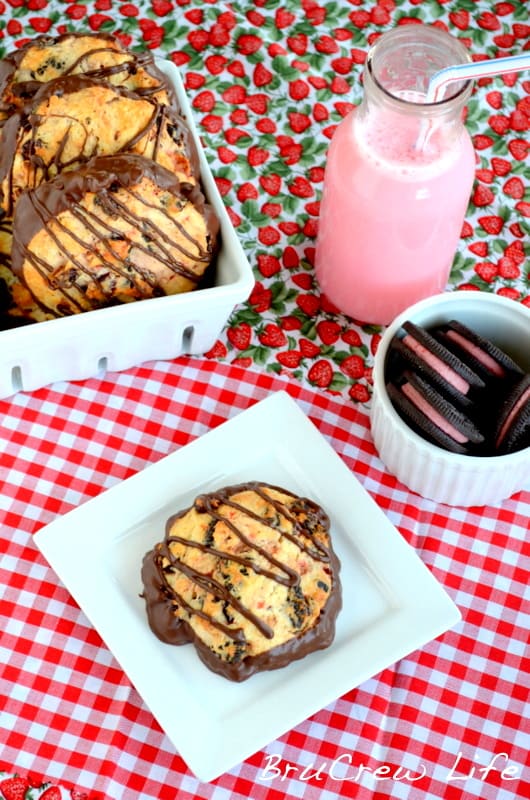 You know...
so I can make more bad food from snack food!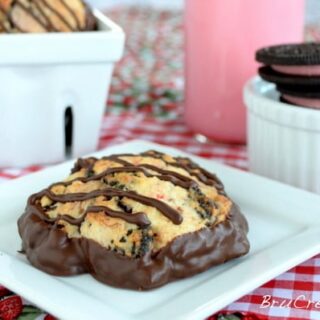 Berry Burst Oreo Scones
Scones made with Berry Oreos and chocolate drizzle will make you smile all day long.
Ingredients
2 cups flour
6 tablespoons granulated sugar
1 ½ teaspoons baking powder
¼ teaspoon salt
6 tablespoons butter, cold
⅔ cup buttermilk
1 large egg
1 teaspoon vanilla extract
1 ½ cup Berry Burst Oreos, broken
½ cup dried berry mix, sliced
1 ½ cup chocolate chips
1 tablespoon vegetable shortening
Instructions
Preheat oven to 400 degrees.
Whisk dry ingredients together. Cut the butter into the dry ingredients until they are small pieces. Form a hole in the center and add the milk, vanilla, and beaten egg. Stir until it is all combined. Stir in the cookie chunks and fruit.
The dough will be very sticky. Drop 12 large spoonfuls onto a baking sheet. Carefully press down and pull out, until each scone is about 3 inches wide.
Bake 20 minutes and cool on a wire rack until fully cooled.
Melt the chocolate chips and shortening in a microwave safe bowl, stirring often. Dip the bottoms of the cooled scones into the melted chocolate. Drizzle the extra chocolate over the tops of the sones and let set up on wax paper. Store in a very loosely sealed container.
Nutrition Information:
Yield:

12
Serving Size:

1
Amount Per Serving:
Calories:

302
Total Fat:

15g
Saturated Fat:

8g
Trans Fat:

0g
Unsaturated Fat:

5g
Cholesterol:

32mg
Sodium:

197mg
Carbohydrates:

42g
Fiber:

3g
Sugar:

21g
Protein:

4g
Nutrition facts are an estimate and are not guaranteed to be accurate. If you need special diet advice, please see a registered dietician.