Biscoff Fluff Brownies - fudge brownies filled with Biscoff cookies and spread and marshmallow fluff will satisfy any sweet tooth!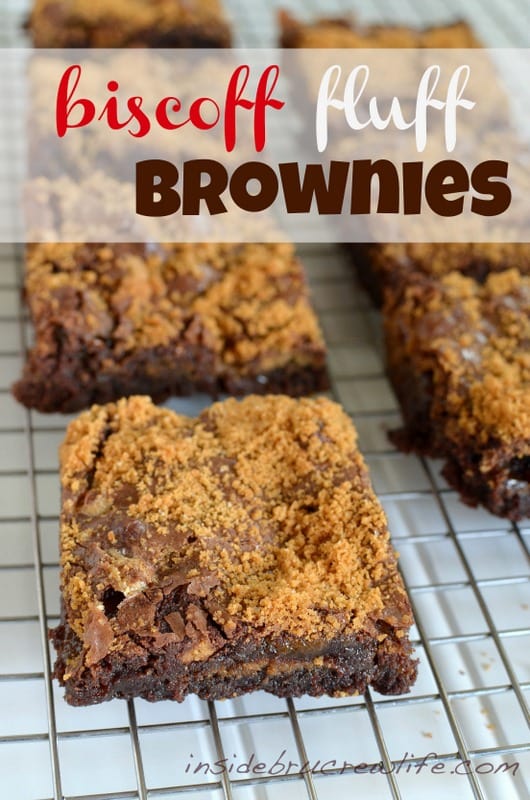 Do you ever use your phone as a flashlight? No, I don't mean use the flashlight app. Do you use the glow from the screen to see where you are going?
I would not recommend it. The glow distorts things in the dark, and it doesn't really show you how many steps you have left on a dark staircase.
And by dark stairs, I really mean pitch black stairs.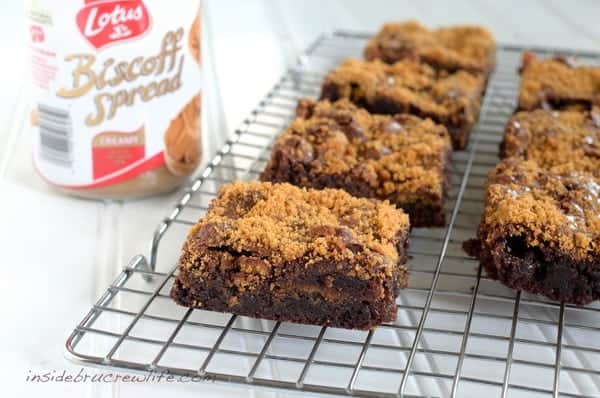 Yes, I tried this out on Friday. I thought for sure I was on the last step, but that glow got me.
Or it was the floor that got me.
Either way I ended up on my back with a twisted ankle. Thank goodness for my phone not flying too far out of my reach, so I could call my hubby in a panic.
I thought for sure it was broken. There was lots of tears and dizziness and laughing as I got a ride to the house in a wheelchair.
I'm still babying it two days later. The nurse at church says go get it looked at since it didn't swell, but, hey, I can walk.
And by walk, I really mean hobble. I'm sure I should milk this for all its worth!!!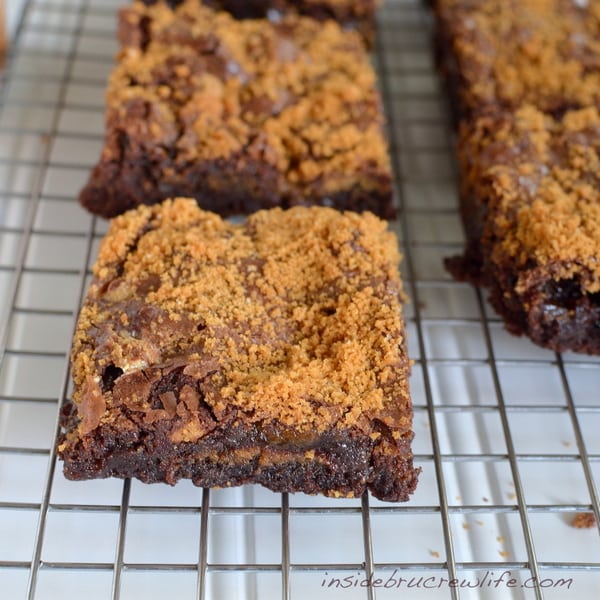 And this was the week I had decided to be serious about my exercising. There goes my morning Taebo and running routine.
I think the dessert devils are out to get me, because I didn't bake very much this past week. They don't like all this talk of exercise and healthy eating.
It wasn't the phone fault I fell...it was probably a sugar demon following me around just waiting for the right time to shove me.
Maybe I should spend more time this week making up to them with more Biscoff Fluff Brownies. I think super fudge-y gooey brownies might just do the trick.
Brownies this good can fix just about anything. But just in case, I'm not getting near any more dark stairs with only a glow to see by.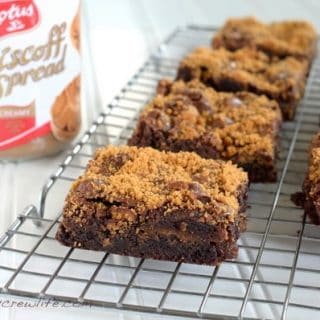 Biscoff Fluff Brownies
Chocolate brownies filled with Biscoff cookies, marshmallow cream, and Biscoff spread
Ingredients
1 - 9x13 box brownie mix
1 ¼ cups Biscoff cookies, broken in chunks
¾ cup marshmallow cream
½ cup Biscoff spread
¼ cup Biscoff cookie crumbs
Instructions
Preheat oven to 350 degrees. Spray a 9x13 pan with nonstick spray.
Prepare brownie mix according to the directions on the back of the box. Spread half the batter in the prepared pan.
Place cookie chunks on top of batter.
In a bowl, combine the marshmallow fluff and Biscoff spread until creamy. Drop by spoonfuls on top of brownie batter and cookies.
Cover with the rest of the brownie batter. Sprinkle the cookie crumbs on top. Bake at for 25-28 minutes. Let cool completely before cutting into squares.
Nutrition Information:
Yield:

24
Serving Size:

1
Amount Per Serving:
Calories:

113
Total Fat:

6g
Saturated Fat:

1g
Trans Fat:

0g
Unsaturated Fat:

4g
Cholesterol:

5mg
Sodium:

64mg
Carbohydrates:

15g
Fiber:

0g
Sugar:

6g
Protein:

1g