It's time to fill the cookie jar again. Whoopie Pies made from Biscoff spread are a highly delicious treat to have around. Perfect for packing in school lunches!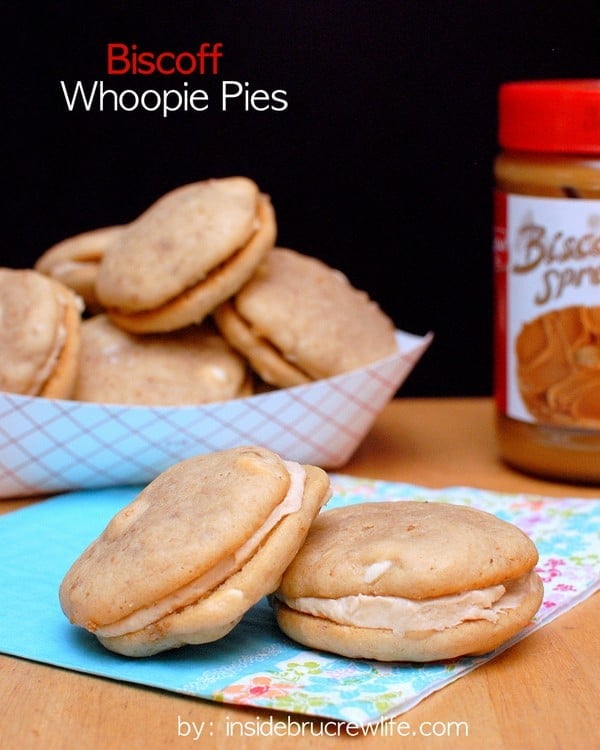 Note to Self:
Do NOT under any circumstance answer any texts or phone calls from my sister when it is close to midnight because we will stay on the phone for at least TWO hours laughing and giggling at silly stuff. Especially avoid these calls when I have to be up early the next day for church because I will not be very productive and might even become cranky!
Note to Self:
Remember to pull out the couch and refrigerator at least once a month when vacuuming. Those dust bunnies have discovered it is a good place to hide from the Dyson.
Note to Self:
When I go paintballing again, be braver and make a run for it because chances are I will get pinned down behind a black barrier while 5 members from the other team try to take me out. Just keeping shooting and maybe next time I can take out more than 2 of the 5.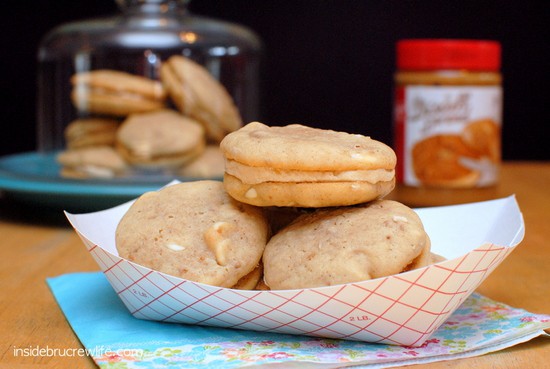 Note to Self:
Write a letter to the makers of Biscoff, BEGGING them to sell their delicious spread in my town. It is amazing and everyone needs to be able to buy it local. (Lucky for you, I have a great blog friend, who has become my "dealer" until I can find it here 🙂 *Update: Biscoff is now on the shelves of all stores in my area! Woo hoo!
**Biscoff spread is a peanut butter substitute spread made from biscoff cookies. It is great as a dip or on fruit...but my favorite way to savor it, is by the spoonfuls 🙂 (you can buy it in the same aisle as peanut butter)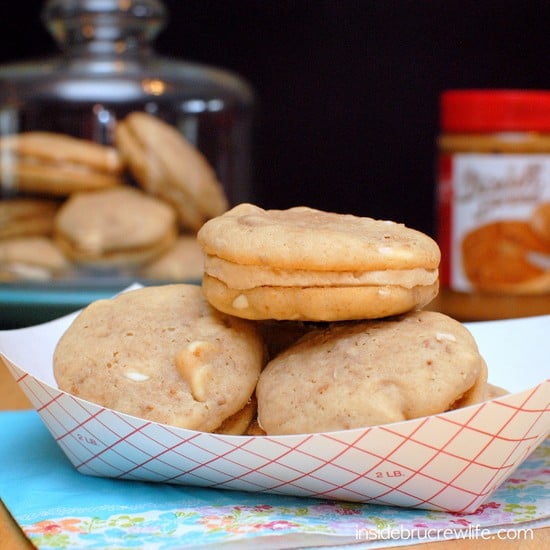 Note to Self:
Stay out of the kitchen and avoid making eye contact with these highly addictive cookies because eating more will cause my jeans to shrink.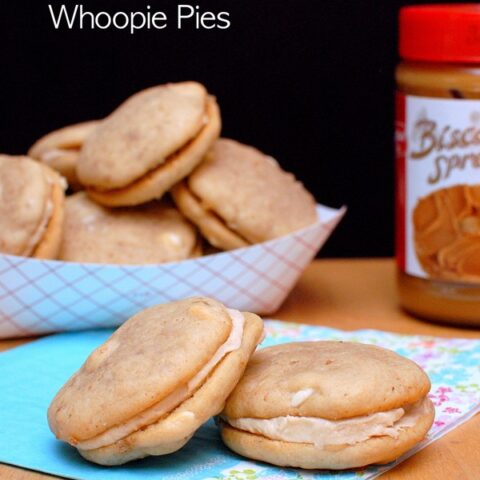 Biscoff Whoopie Pies
Biscoff and white chocolate chip cookies filled with Biscoff Butter Cream
Ingredients
For the cookies
½ cup unsalted butter, softened
1 cup granulated sugar
½ teaspoon baking soda
¼ teaspoon salt
1 large egg
1 teaspoon vanilla extract
2 cups all purpose flour
½ cup Biscoff cookie crumbs
½ cup buttermilk
1 cup white chocolate chips
For the Biscoff Butter Cream
¼ cup unsalted butter, softened
⅛ teaspoon salt
2 tablespoons Biscoff spread
1 ¼ cups powdered sugar
1 teaspoon milk
Instructions
Preheat oven to 375°.
For the cookies, in a mixing bowl, cream the butter, sugar, baking soda, salt and vanilla until creamy. Add the egg and beat until light.
Alternately add the flour and buttermilk, starting and ending with the flour. Stir in the cookie crumbs and white chips by hand.
Drop by ½ teaspoon onto a nonstick baking sheet. Bake for 7-8 minutes. Let cool 2 minutes on the pan and then remove them to a wire rack or wax paper to cool completely.
For the frosting, cream butter, salt, spread and milk until creamy. Slowly add the powdered sugar until fluffy.
Lay half the cookie out bottoms up and top with a spoonful of butter cream. Top with remaining cookies. Makes 24 whoopie pies.
Nutrition Information:
Yield:

24
Serving Size:

1
Amount Per Serving:
Calories:

217
Total Fat:

10g
Saturated Fat:

5g
Trans Fat:

0g
Unsaturated Fat:

4g
Cholesterol:

26mg
Sodium:

97mg
Carbohydrates:

30g
Fiber:

0g
Sugar:

20g
Protein:

2g
Nutrition facts are an estimate and are not guaranteed to be accurate. If you need special diet advice, please see a registered dietician.