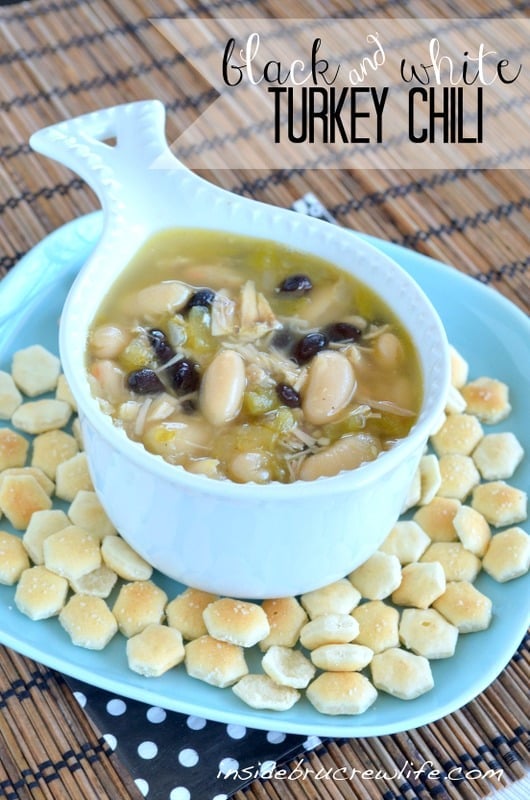 It's Black Friday and I am snug as a bug in my warm house eating pie for breakfast. Are you one of the crazy ones who gets up at 2 am to go searching for a deal? I just like my warm bed way too much to be one of those shoppers. Now I will admit we have braved the crowds a few times on past Black Fridays...just never early in the morning!
We spent a fun day with family yesterday. Our bellies were stuffed to the limits with turkey, stuffing, and mashed potatoes. And let's not forget the desserts!!! We don't mess around with desserts in our family...3 different pies, fudge, lemon bars, pumpkin dip and cookies, rice krispie treats, candy, and pumpkin rolls. It's quite possible we had more dessert than food. Ok, maybe not...but we sure had our fill of the sweet stuff. I personally felt it was my duty to sample every dessert...and they were all fantastic!!!
Thank goodness for elastic pants and soup to the rescue on the day after Thanksgiving. Do you have leftover turkey or chicken in your fridge too? This easy soup is the answer to your tight pants. It is so easy to put together and even easier on your waist. I need a few of these kind of recipes after eating so much yesterday.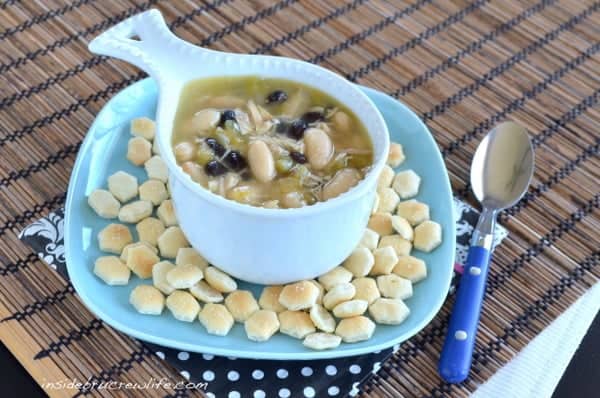 The best thing about this soup is that you can have it on your table in about 30 minutes. That leaves you all day to eat pie , I mean clean the house and put up Christmas decorations.
The other great thing about this soup...you can throw it all in the crock pot, set it to low, and forget about dinner all day too. I kind of never remember to put things in the crock pot in time, so I am thankful for easy breezy soups that come together fast when my kids are ready for dinner and they "can't wait" to eat!
One of these days I will be better organized and start planning my meals out a little better. Until then I have left over turkey in my fridge just waiting for sandwiches and soup.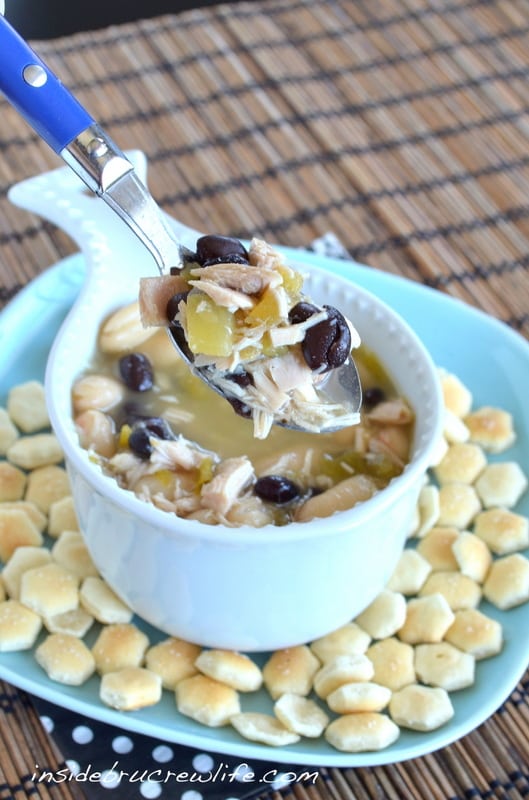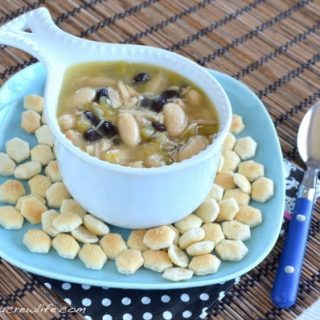 Easy Crock Pot Black & White Turkey Chili
Spicy turkey chili made with 2 kinds of beans and green chilies.
Ingredients
4 cups cooked turkey (or chicken)
½ teaspoon salt
½ teaspoon pepper
½ cup diced onion
2 teaspoons minced garlic
2 Tablespoons oil
2 - 4 ounce cans diced green chilies
2 - 15 ounce cans white beans
1 - 15 ounce can black beans
4 cups chicken broth
Instructions
In a deep saucepan, combine the onions, garlic, and oil. Saute until soft, about 3-4 minutes.
Add the chicken, salt, pepper, chilies and broth and stir together.
Remove ½ cup of the white beans and mash with 2 Tablespoons broth.
Stir into the soup with the rest of the beans. Heat to boiling.
Remove from the heat and serve with cheese and sour cream if desired.
Notes
You can also place all the ingredients in a crock pot and heat on low for 3-4 hours.
Nutrition Information:
Yield:

8
Serving Size:

1
Amount Per Serving:
Calories:

381
Total Fat:

9g
Saturated Fat:

2g
Trans Fat:

0g
Unsaturated Fat:

7g
Cholesterol:

76mg
Sodium:

877mg
Carbohydrates:

40g
Fiber:

11g
Sugar:

3g
Protein:

34g