Eating bacon, lettuce, and tomato sandwiches is one of our favorite dinners during the summer. This BLT Chicken Skillet has all the flavor of that summer sandwich in an easy-to-make skillet dinner that can be ready in less than 30 minutes.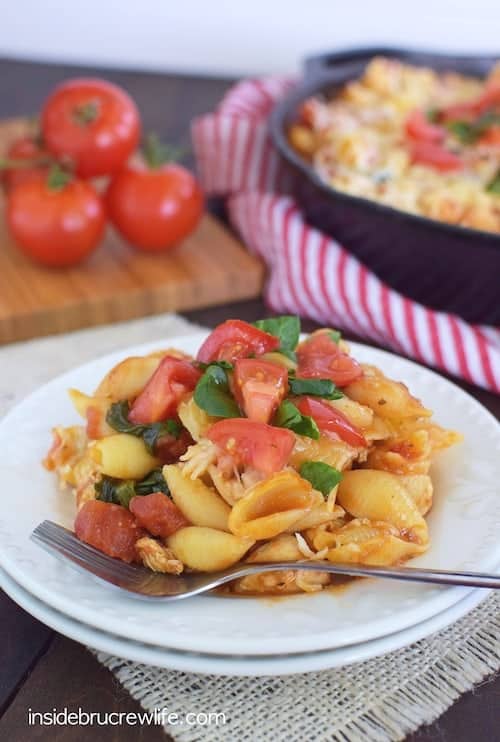 You, guys!!! I did something that I didn't think was possible.
Any time I complain about not having anything to make for dinner, my husband can open the cupboards, pull cans and boxes out, and come up with a dinner that tastes amazing. Usually I have to think about it for a bit, come up with a plan, then go to the store to get the missing ingredients in order to make things like this Chicken Supreme Pasta Bake. My dinner making mind doesn't usually work as well as his does under pressure. I usually crack, and we end up eating pizza. Not that pizza is a bad thing...
But mark it down, I made dinner without a plan or a grocery store run.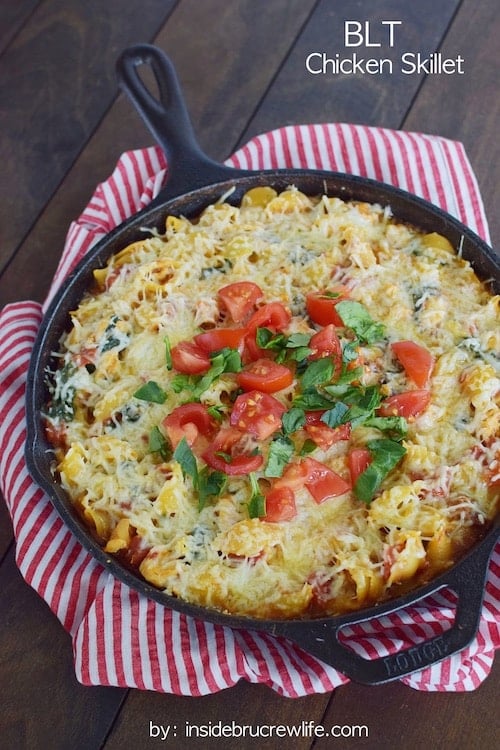 I actually opened the cupboard doors removed a few ingredients and tossed it all into a skillet. And it turned out absolutely delicious!
And the kicker? I served it without taking pictures! My family was loving the hot out of the skillet dinner I put in front of them. You see lighting in our house is much better around noon, soooooooo I have been doing something I said I wouldn't do. I make dinner early, photograph it, then serve it warmed up. Dinner still tastes good, but it's different reheated. But on busy school nights, it actually works out great to have dinner done and ready to go.
This time I was in full on experiment mode, so dinner was fresh. Peeps, I'm living proof that it can be done! The whole "open a cabinet door and throw whatever you find in a pan" really does work. Well, to some degree. Lucky for my family, I had chicken broth, tomatoes, and pasta in our cupboard, and some chicken, bacon, and cheese in the fridge. And adding bacon and cheese always gets rave reviews, so I guess it wasn't that much of an stretch.
My family loved it so much, that I made this pasta dinner again a few weeks later. Yes, this time it was made early for pictures and served heated up. It all gotten eaten, so I don't think my family minded that much. Although the weather wasn't cooperating with me that day for pictures, and editing is still giving me issues, so I might need to make it for a third time the next sunny day we get.
Until I decide to experiment for dinner again, I'm going to pat myself on the back for this spur of the moment dinner! Tell me, do you pre-plan your dinners? Or can you open the cupboards and throw together gourmet meals like a boss?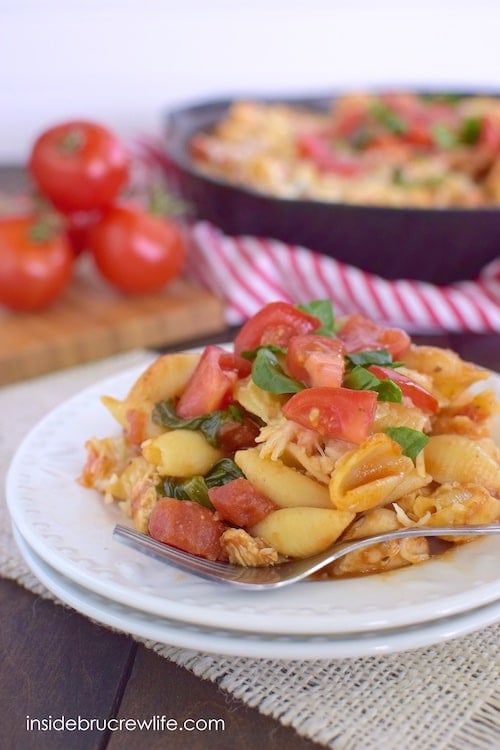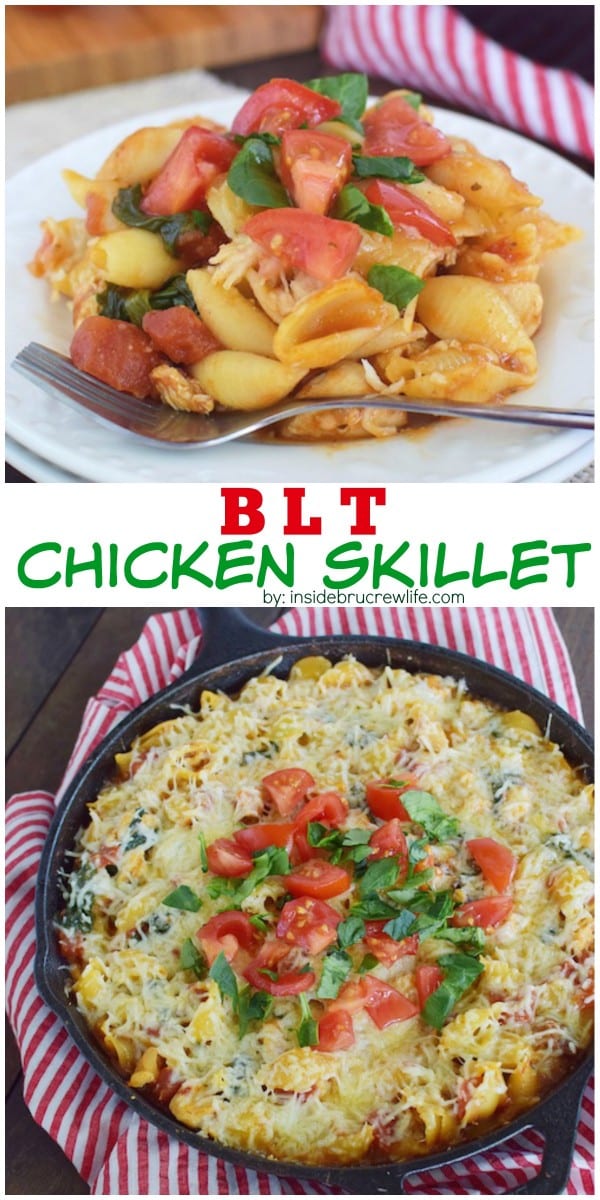 Here are a few more easy to make dinners that my family loved: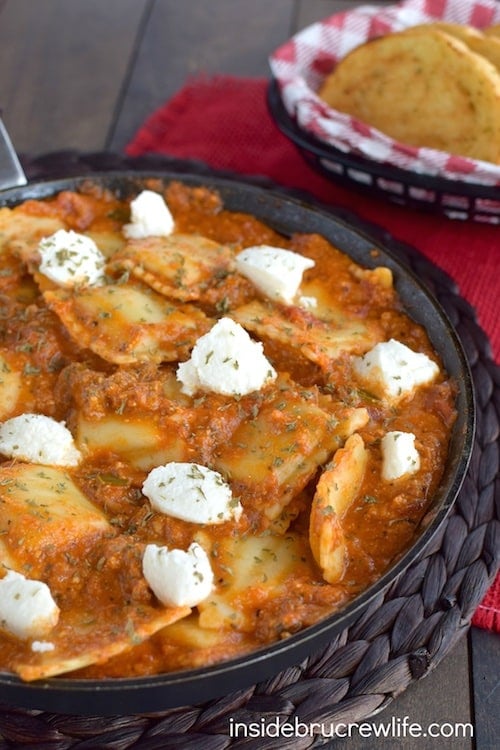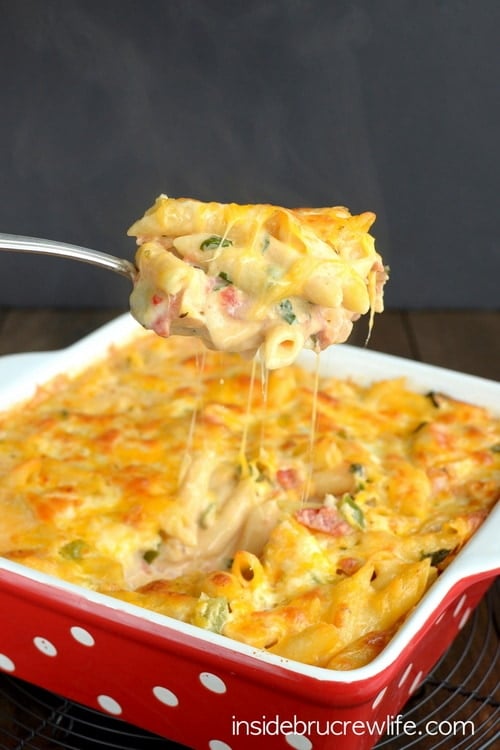 Chicken Bacon Ranch Pasta Bake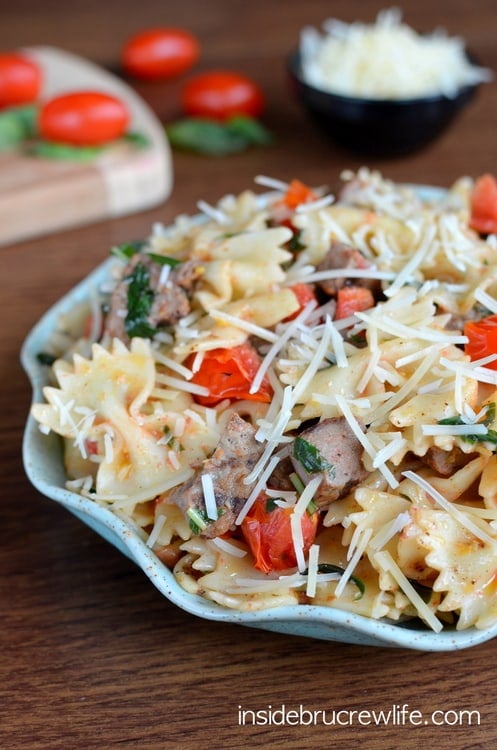 More easy to make pasta dinners from friends: