These easy, no bake Candy Cane Cookie Dough Truffles are a simple, yet impressive treat to put on your holiday cookie trays…or to stash in your freezer for when you need a chocolate fix.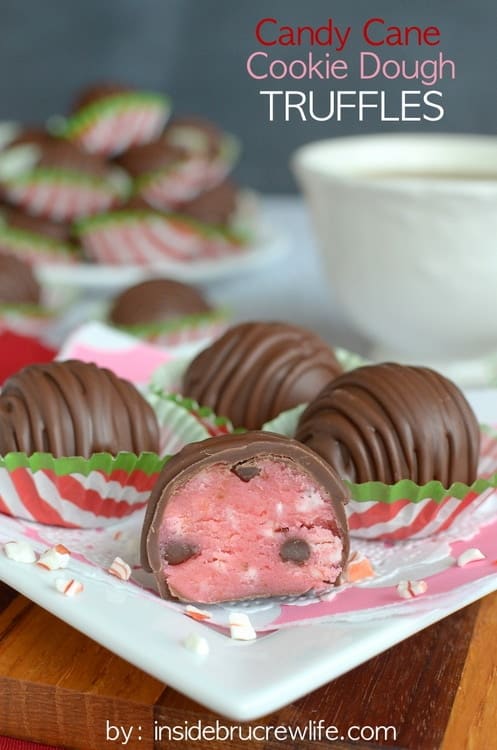 Where has this month gone?
Is anyone else in shock that Christmas is exactly one week away? I still have presents to buy, cookies to bake, cards to make, and of course I want to enjoy every crazy minute of the holidays. You would think that since I bake so many things all the time, that I would be ready with trays of treats. Not the case! You see peppermint treats started being made here in my house in October. Yes, I know that's when everyone else started baking pumpkin. But the life of a food blogger is much like a magazine. You see they start prepping those magazines in July, just so they are ready for December.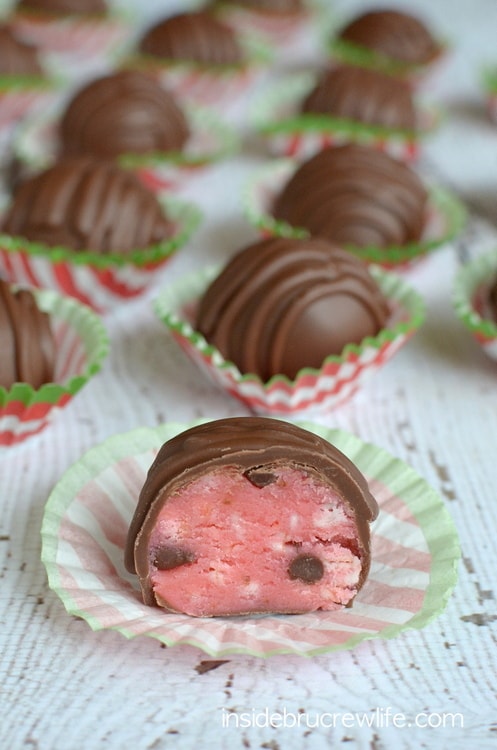 Food bloggers work kind of the same schedule. You see I already have a few healthy recipes made and photographed for January when everyone is starting fresh on their eating clean resolutions. And my brain has completely moved on to thinking about things like cherries and coconut.
Oh, believe me, my taste buds are still craving the peppermint goodies though!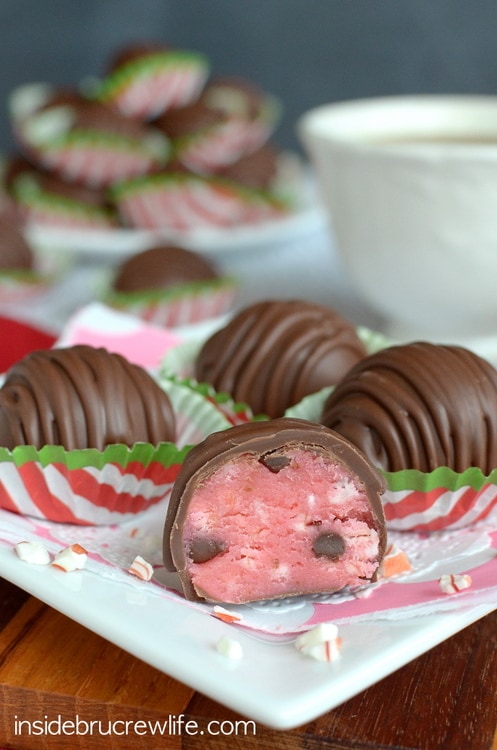 I actually made these fun little cookie dough truffles at the very beginning of December. Then into my freezer they went for when I needed an easy treat for a party.
They came in handy this past Sunday when we had 2 choir performances, dinner after church, caroling at the nursing home, and a surprise birthday party to attend. I was so glad I had these little goodies stashed away for a dessert emergency. It freed up my Saturday.
A lot of my readers have emailed me wanting to know how I come up with so many treats all the time. Basically my brain never stops thinking in dessert mode. Seriously! Like right now I am writing about cookie dough truffles, while my brain is totally running wild with ideas for cherry treats. Bed time is the worst. I never fall asleep right away, so you can imagine the thoughts that go through my head as I lay there in the dark. A few times I have actually gotten up and written down some ideas just so I wouldn't forget.
The idea for these cookie dough truffles came from Dairy Queen though. Earlier this month my husband went on a missions trip to Haiti. The night before he left we took the kids for ice cream as a family. DQ has a candy cane chocolate chip blizzard that is pretty amazing. My hubby and I shared one in a chocolate dipped waffle cone.
Right away I knew that flavor needed to be recreated. A few days later I put it into a fun no bake cookie dough truffle. The blizzard is pink, so I went ahead and tinted my dough pink with some food coloring. If you have a problem with eating pink food, just leave it out.
Now who wants to wrap all the gifts I still need to shop for? I pay very well in sweets 🙂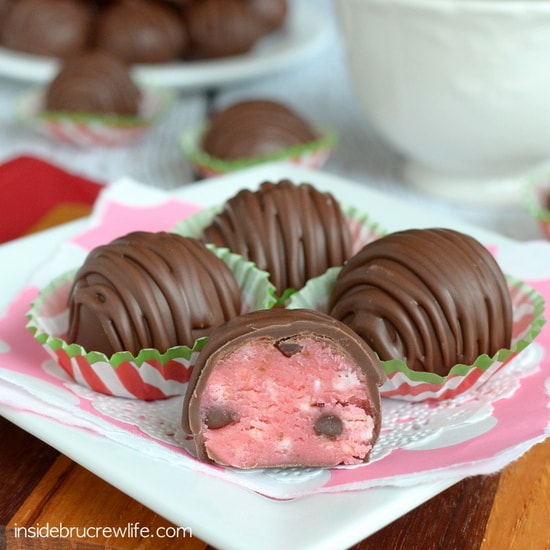 Make sure you don't miss any of the crazy baking
by following the BruCrew here:
FACEBOOK | PINTEREST | GOOGLE+ | TWITTER | INSTAGRAM | BLOGLOVIN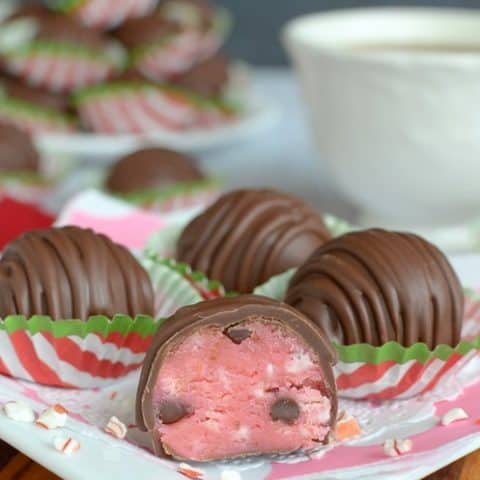 Candy Cane Cookie Dough Truffles
An easy no bake cookie dough truffle made with peppermint extract and candy cane pieces for the holidays.
Ingredients
8 Tablespoons butter, softened
3/4 cup brown sugar
1 - 14 ounce can sweetened condensed milk
1 teaspoon peppermint extract
2 1/2 cups flour
1/2 cup mini chocolate chips
1 cup crushed candy cane pieces
pink gel food coloring (optional)
2 - 10 ounce packages chocolate melts
Instructions
Cream together the butter and sugar in a large mixing bowl. Beat in the sweetened condensed milk and peppermint extract.
Slowly add the flour until combined. Add a little bit of gel food color with a toothpick and stir until you get the desired color.
Stir in the chocolate chips and candy cane pieces by hand. Roll the dough into 72 even balls.
Place on a baking sheet covered with parchment paper. Freeze for at least 30 minutes.
Melt the chocolate according to the package directions. Stir until melted and creamy. Use a toothpick to dip the truffles. Place on the parchment paper. Twist out the toothpick. Let set. Repeat with all the truffles.
Spoon the leftover chocolate into a plastic baggie. Cut a small tip of one corner. Drizzle over the truffles to hide the toothpick mark.
Let set completely. Store in a sealed container on the counter or the refrigerator. These can also be frozen for later.
Recommended Products
As an Amazon Associate and member of other affiliate programs, I earn from qualifying purchases.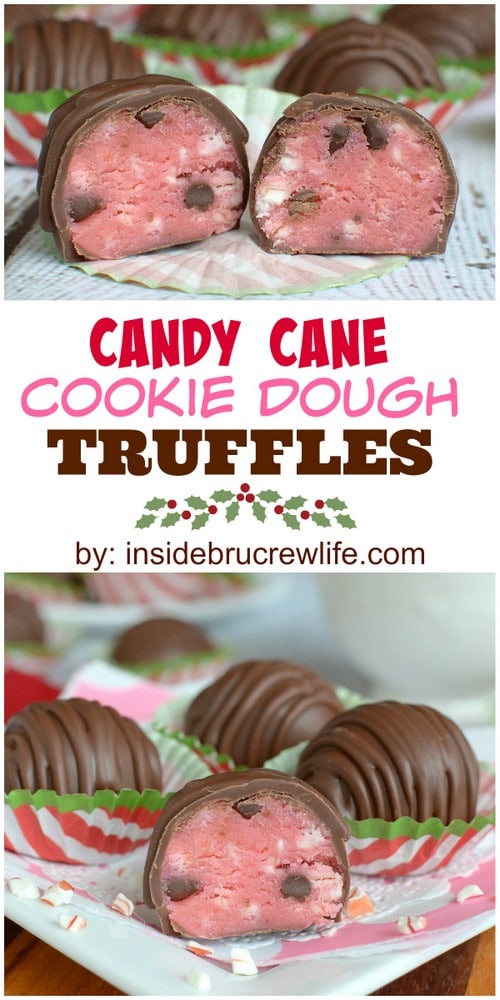 More treats that have candy canes in them: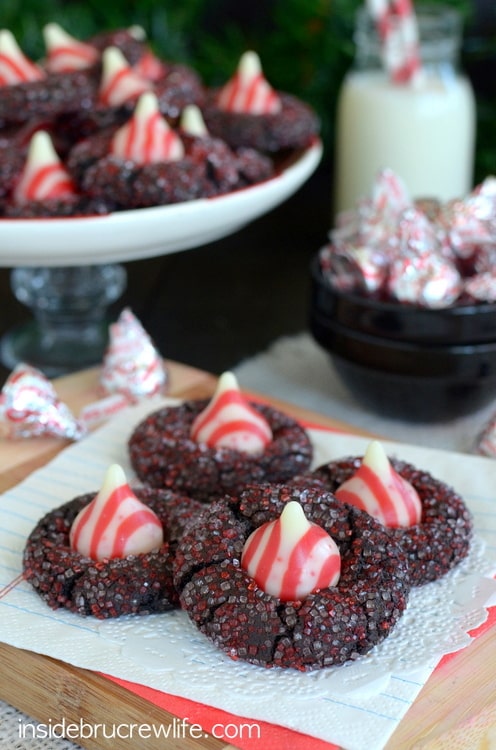 Chocolate Candy Cane Kiss Cookies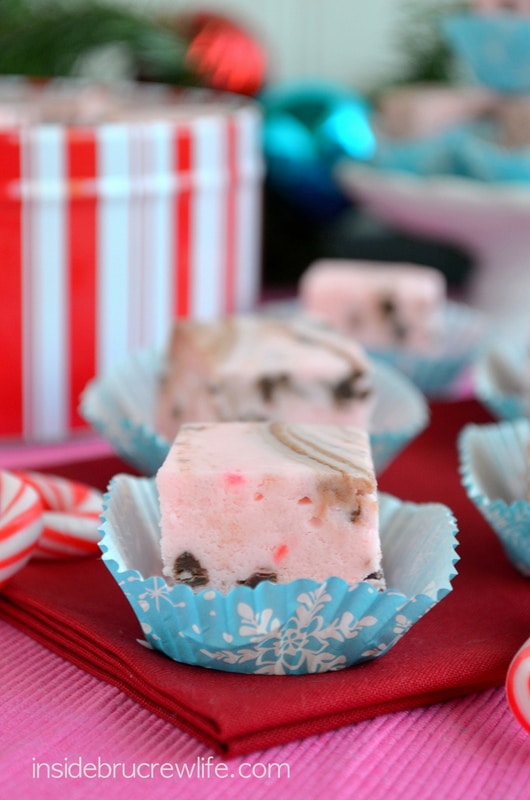 Chocolate Chip Candy Cane Fudge