These Candy Corn Gooey Cake Bars are loaded with candy and peanuts. Such a fun fall dessert bar!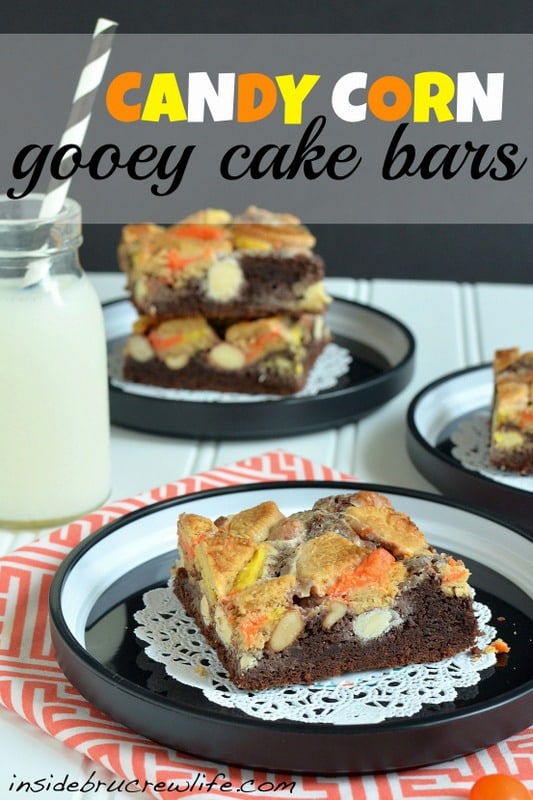 Fall is my favorite season of the year. I look forward to it all year long. In fact, I could really live somewhere that Fall lasted 9 months.
I do enjoy the hot Summer months, but 3 months is all I really like to see. As soon as I find such a place, I think I'm packing us up and heading out.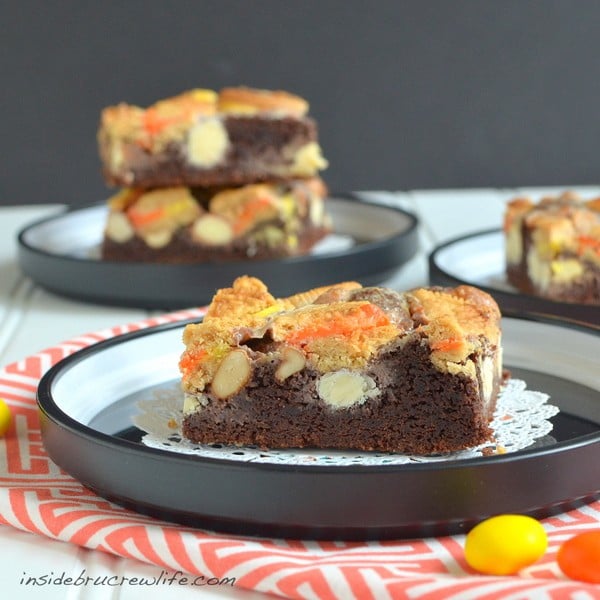 Slowly our weather is changing over. It has been cloudy and rainy for a few days and the leaves are just starting to change.
Fall just brings so many fun things with it. Some of my all time favorites about this season are:
1. Chilly mornings and warm covers...although that makes it just that much harder to get myself up and moving in the morning.
2. The beautiful changing colors of the leaves. They are so pretty and I just want to take pictures of every single tree I see.
3. Scarves, cardigans, boots, vests...the fashion lover in me is happy when I can get all my layers going on without sweating off all my makeup.
4. Bonfires, s'mores, and late nights hanging out with friends.
5. The return of the Salted Caramel Mocha...it is my absolute favorite drink right now.
6. Bringing out all my fun Halloween decorations. We love this holiday...give me spider webs and skeletons and fun spooky stuff! Plus it gives me a real reason not to dust!!
7. Going to Fall Festivals...my hubby knows how much I love them, so we try to go to at least one every Fall.
8. Making different butters each year. I have done apple, pumpkin, peach, plum, and blueberry in the past...I'm still undecided on this year's flavor.
9. Carving pumpkin faces with the kids and laughing at their faces when they touch the "guts".
10. Buying bags of candy with the intention of saving it for trick or treaters, but really knowing that I am going to bake with it or eat it all!!
What do you look forward to the most in Fall???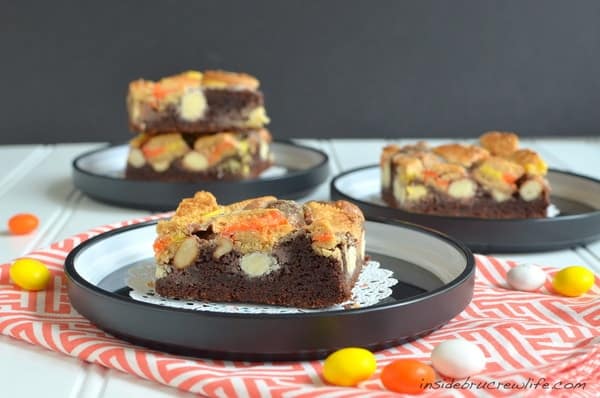 Now the candy corn Oreos and the candy corn M&M's in my cupboard
really were purchased just for baking.
I had them hiding in my cupboard for a few weeks before deciding what to make.
But then one day I was going through some of my old recipes,
and I came across the Oreo Coconut Gooey Cake Bars I made at Easter.
Instantly I knew that I wanted to do a Halloween version.
Of course we all know that candy corn is better when paired with peanuts,
so I ran to the store and grabbed some honey roasted ones to add to the mix.
I loved these soft chewy bars.
The subtle candy corn flavor from the Oreos was perfect with the peanuts.
Of course, anything that is drowned in a can of condensed milk has to be good.
I could just hug the first person that decided to pour that sweet goodness
on top of more sweetness.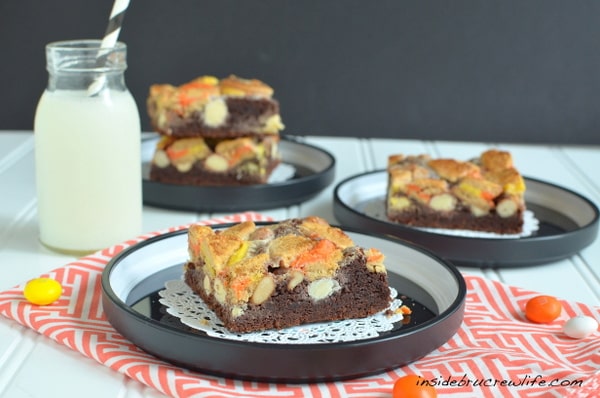 These fun Candy Corn Gooey Cake Bars just might be my new obsession.
You wouldn't mind seeing more fun variations...would you?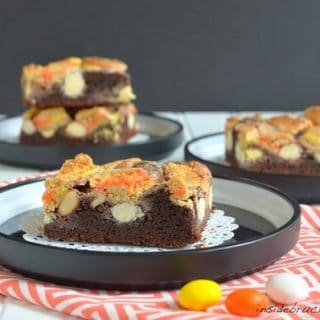 Candy Corn Gooey Cake Bars
Chocolate cake crust with a sweet topping of Oreos and M&M's
Ingredients
1 chocolate cake mix
½ cup butter, softened
1 egg
1 teaspoon vanilla
2 cups Candy Corn Oreo cookie chunks
1 cup peanuts
1 cup Candy Corn M&M's
1 - 14 ounce can sweetened condensed milk
Instructions
Preheat oven to 350 degrees. Spray a 9x13 pan with nonstick spray.
Mix together the cake mix, butter, egg, and vanilla until blended. Press into the bottom of prepared pan.
Sprinkle the peanuts and M&M's on the cake mix. Place the cookie chunks on top.
Drizzle the condensed milk all over everything. Bake for 30-35 minutes. Let cool completely before cutting into the bars.
Nutrition Information:
Yield:

24
Serving Size:

1
Amount Per Serving:
Calories:

259
Total Fat:

10g
Saturated Fat:

5g
Trans Fat:

0g
Unsaturated Fat:

4g
Cholesterol:

26mg
Sodium:

105mg
Carbohydrates:

40g
Fiber:

1g
Sugar:

37g
Protein:

4g