Make a batch of these Cherry Lemonade Donuts to celebrate National Donut Day. They are sweet and refreshing and perfect for summer breakfasts.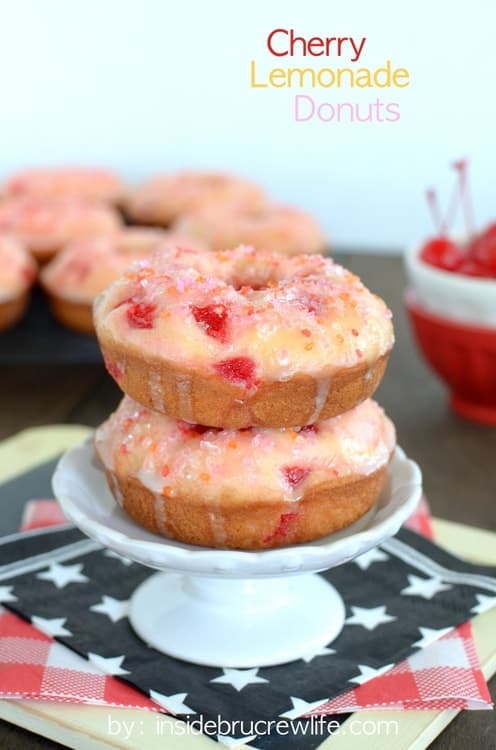 It's National Donut Day today. Doesn't that make you super excited? Ok, maybe I'm just a food nerd who likes fun food holidays that no one else really knows about. That's ok...I'm cool with it.
It has been a very long time since I made and posted donuts on the blog. I was looking back and the last donut post was June 2013. What? That is completely unacceptable. My donut pan is so mad at me for neglecting it for so long. In order to make it up to the pan, I plan on making lots and lots more donuts. I hope you are cool with that.
And if you don't have a donut pan...I suggest buying one ASAP. They are really so fun to make!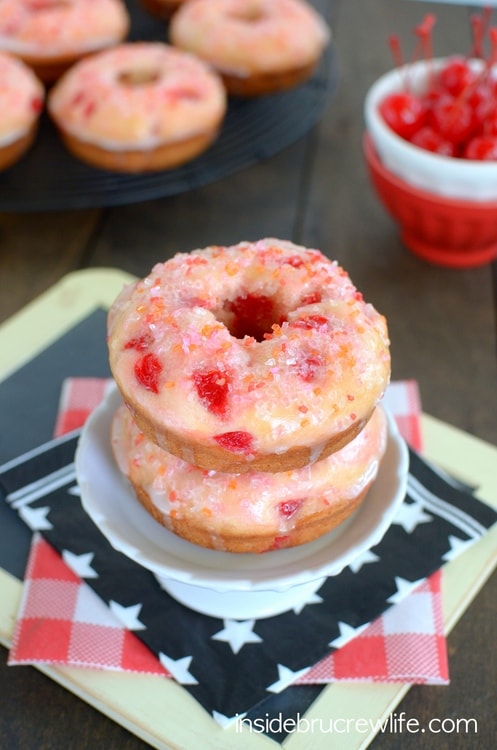 Do you know when I think about donuts the most?
At the gym while I am working out. You should hear the things that go through my head while I am doing clean and presses or burpees.
1. Only 2 more rounds to go. You can do this. Think of those (insert whatever happens to be on my counter) waiting for you to come home.
2. Did anyone see me take that mini break during toes to bars?
3. I hate...no strike that...I loathe Russian twists!
4. This sucks.
5. Why did I eat that cookie yesterday?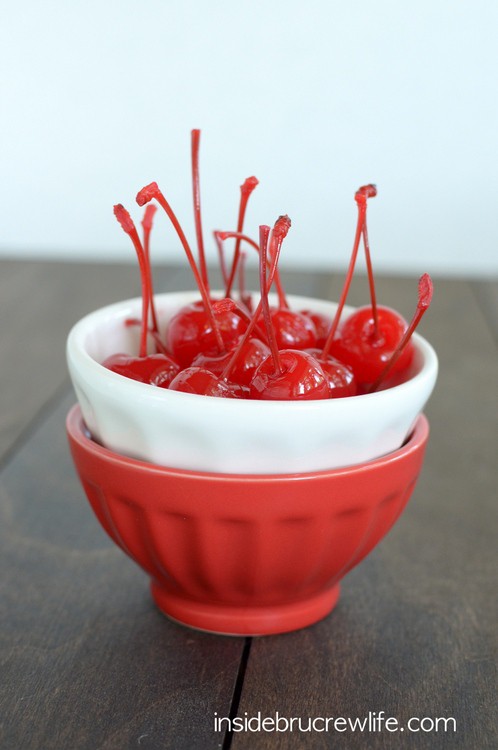 6. Only 1 more round to go now...you got this.
7. I think my insides are starting to bleed from all these sit ups.
8. Seriously? We have to do a 2000m row after all that?
9. Just push past the pain. No pain, no gain.
10. I should make donuts tonight.
And that's all in one hour at the gym. And yes, I think about making sweets while working out at the gym. That's perfectly logical, right?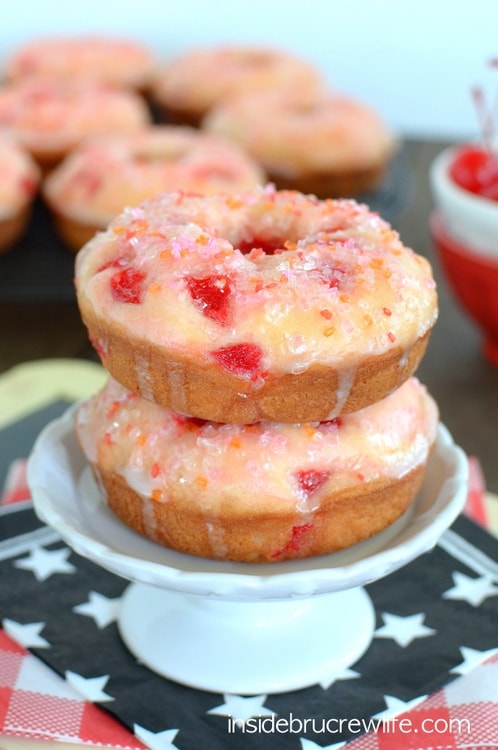 When I decided to finally end the donut drought around here, I went with cherry as my flavor choice. You could use fresh cherries in these donuts as well. I just happened to have an extra 3 jars of maraschino cherries in my cupboard, so I used one of those.
Use caution when chopping the cherries. I wasn't thinking and diced the cherries while wearing a shirt that had white on the front. Yup, you guessed it. I have cherry juice on the front of my shirt now. And red fingertips and fingernails. #foodbloggerproblems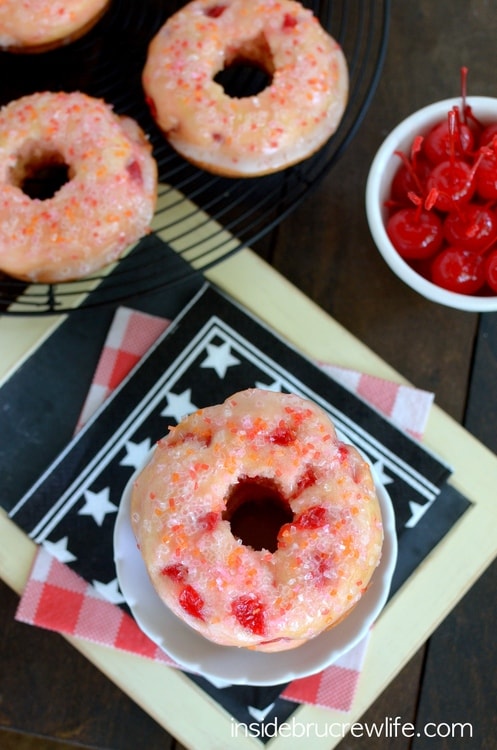 As I was getting ready to make my donut batter, I happened to open my freezer and saw a container of lemonade concentrate. Right away I knew that I wanted to use that for the liquid in my donuts. Cherries and lemonade...how much more summery can you get?
Do not add the water to the concentrate! You want to use it full strength, so that you can taste it after the donuts finish baking. Just to be sure the lemonade taste was still there, I also added a lemonade glaze to the top. And fun colored sanding sugar gives the donuts a shimmer. If I were you, I would use yellow sanding sugar. I have no idea what was going through my brain when I grabbed the pink and orange sugar. Really any color sanding sugar will work...do what you like. I do not recommend using regular sugar though in place of the sanding sugar. It would dissolve into the glaze. Kind of pointless if you cannot see the fun shimmers, right? You can buy sanding sugar at most stores that carry sprinkles.
One more donut making tip. Spoon the donut batter into a large ziplock bag and cut one corner off. Make sure the corner you cut off is big enough for the cherry chunks to get through. Then gently squeeze your batter into the prepared donut pan. Only fill the donut cavities half full. They will rise and bake over the tops of the pan if you fill them all the way up. If that happens, no biggie. Just use a knife to very carefully remove the donut "hole". Throw away the bag when you are done. Hooray for one less dish to have to wash!
Now what are you waiting for? Get out there and celebrate Donut Day, cherry style!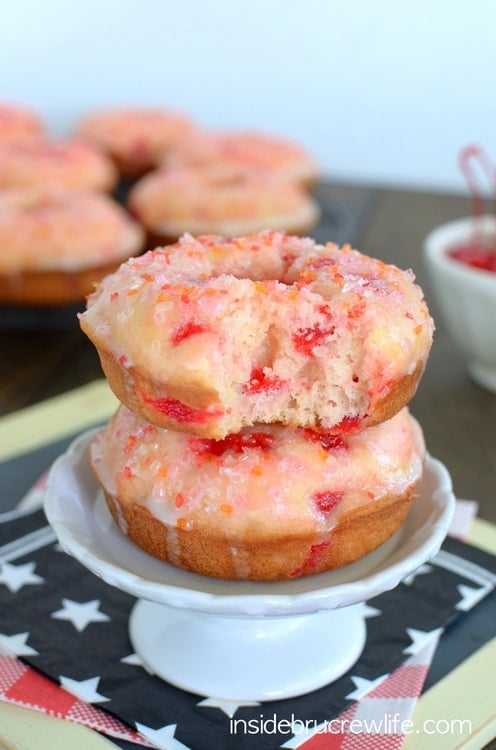 Stay up to date on all the BruCrew baking here:
FACEBOOK | PINTEREST | TWITTER | INSTAGRAM | BLOGLOVIN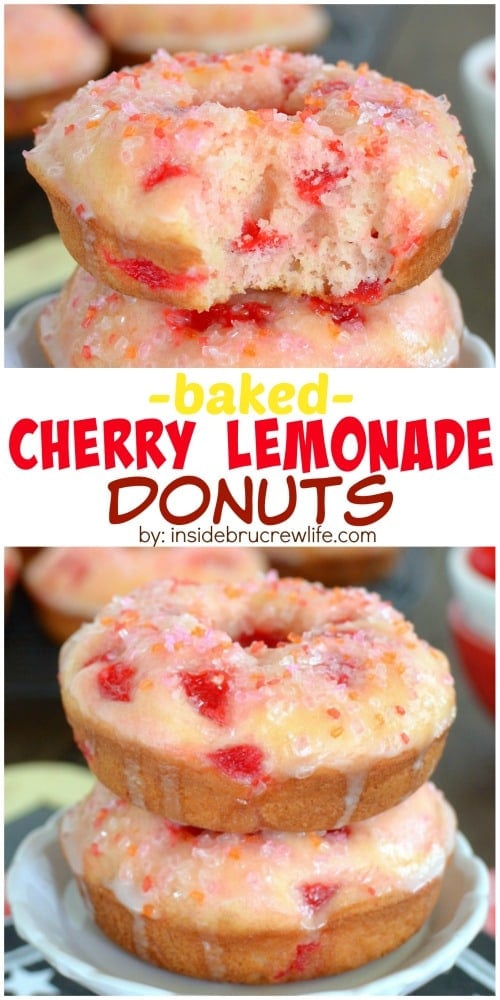 More donuts that are kid approved in our house: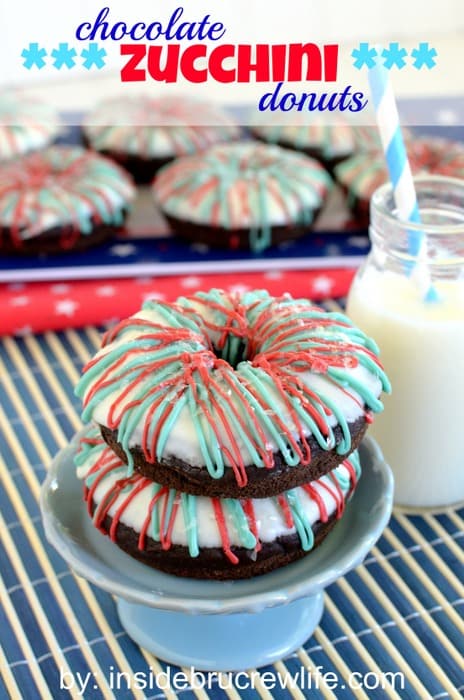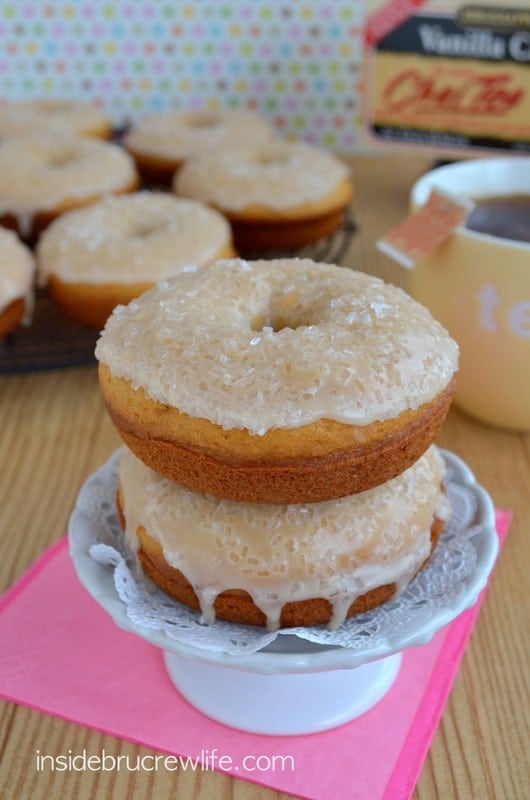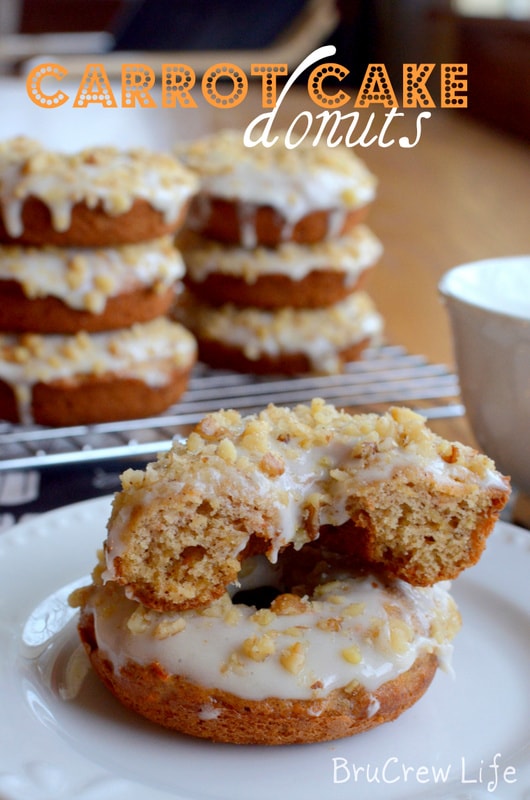 *This post contains an Amazon affiliate link. If you purchase through these links, I make a small percentage from the sales. Links like these allow me to continue upkeep on this blog.