…I would bring you some coffee and cupcakes,
so we could have a fun chat while our kids
played at the park or something.
Here are some random tidbits of things I
might share with you.
one.
I learned that it is not a good idea to do a lot of spray painting in flip flops. I spray painted 4 large vents for our church last week with BLACK spray paint. Later that night I thought I had walked through some dust or something. I realized it was spray paint "dust" after I had to scrub super hard to remove the flip flop outline from my feet:-)
two.
We decided to put our cable on hold this summer, and it was one of the best things we did. The kids were getting to used to just turning on cartoons and junk every morning. The no TV option actually made them use their imagination more. They found and played with toys that I hadn't seen in a while. Although I have to admit I am missing the Food Network and HGTV, but I will live without those. Thank goodness for Lost being on Netflix…my hubby and I have stayed up super late a few nights watching 4-5 episodes in a row. Why is it soooo addicting?
three.
Whenever I have a dessert idea or I see something super yummy that I want to remember, I write it down in a notebook that I carry in my purse. I have about 25 ideas written down right now…I think I have a real problem:-) At least you know that means lots of yumminess coming your way, right?
four.
People that honk at you to go the very second the stop light turns green, are kind of annoying! I probably tick them off even more by NOT going…I will take an extra couple seconds before pulling away when someone does that. (I am fully aware of the immaturity of my actions.) I just don't think it is nice to honk at someone unless there is a very good reason. Do you have any driving pet peeves?
five.
Why pay for a massage when you have three kids? When they want to play video games or watch a movie, I have a system. Each one has to massage my back for 10 minutes. This isn't as good of a deal for me as you would think…they like to punch when their hands get tired. And that doesn't feel as good when they hit the spine or shoulder blade:-)
Now it is your turn…what randomness would you share with me?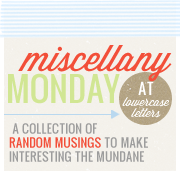 Thank you so much for reading my blog. If you liked this post, please leave a comment. Comments are a great way for me to see what is a blog hit or miss:-)