These healthier baked Mango Coconut Donuts are loaded with fruit and yogurt. Great way to start out the day!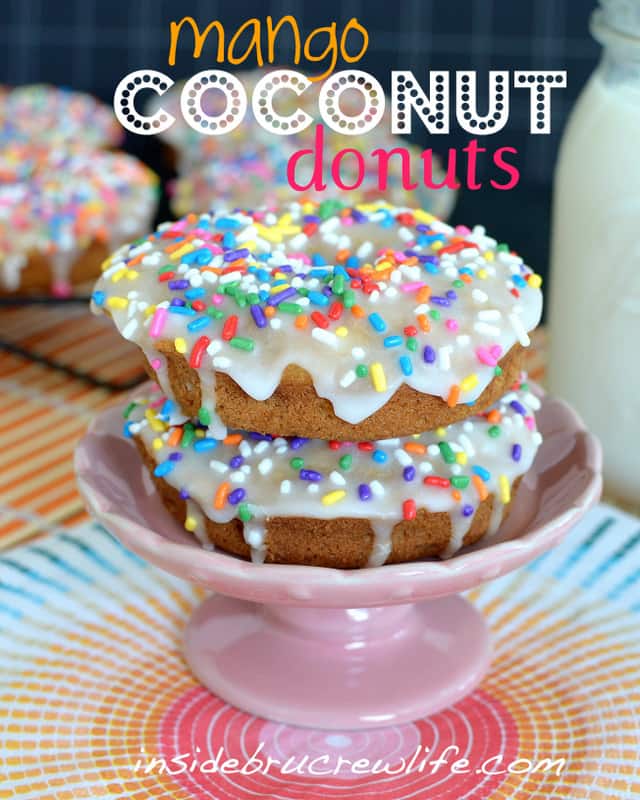 Some random thoughts going on here today...
one.
I have naturally curly hair. It took me a long time as a kid to get used to it and to actually even like it. But now I love how quick and easy it is to do in the morning. Squeeze some frizz cream and some mousse in it and let it air dry.
This past week it has been curling the absolute best. Do you know what that means? That it will need a hair cut in about 1 week.
Does anyone else have that hair problem? Your hair has an absolutely awesome week and then turns on you? That is how I know when to get a hair cut. I have never been one to schedule it every 6 weeks.
The problem is by the time I realize that it needs scheduled ASAP, I can't get into my hair girl for at least another week or two. So a few weeks ago, I just snapped and grabbed the scissors. I figured how bad could I mess it up. LOL!
I have learned to only trim little bits at a time. And with curly hair, no one is ever going to notice. Well, almost no one. Haha! I think my hair girl notices when I do a box color or when I do a "trim".
I have to say, this time I think I did pretty good. Gotta love when you have multiple good hair days in one week. I guess I better start mentally preparing myself for some bad hair days coming very soon!

The last 3 weeks have been very bad on the diet and workout scene. Basically I have not done much of either.
Let's just say that pants are getting snug, and I don't like it. Maybe I should remember that when I am stuffing my face every single time I bake something new.
It is time to start giving away baked goods again because I don't like the tight clothes. Or it is just time to practice some self control...
three.
I have this funny crazy habit. When I try to spell a word that I don't remember or am unfamiliar with, I have to spell it on my leg or hand.
It's like I can see it better that way. I just can't get it right doing it in my head. For some reason spelling it in the air is like spelling words with sparklers because I can see it that way.
four.
We have been outside a lot in the last few weeks too. And the bugs have been eating me alive!
I wonder if they can smell or taste all the sugar that I have been consuming, and that makes them think I am much more tasty than my husband. Because he doesn't have a single bite. How rude!!!
Going on a mini vacation and then coming back to 8 dozen cupcakes that need made and frosted in one day isn't as much fun as you would think. Ok, I'm sure fun didn't even cross your mind!!!
A friend of ours asked me to make cupcakes for his wife's surprise party. A small part of me almost said no because of the time frame of us being gone up until the day before, but I'm glad the bigger part of me said yes.
If I can bake all sorts of decadent and fun desserts for the internet world who I can't see, I definitely need to make yummy stuff for those who are around me weekly!
It sure is a good thing that 100 cupcakes in one day is totally doable!!!! I was feeling the stress of it though!!! Glad that's over!!!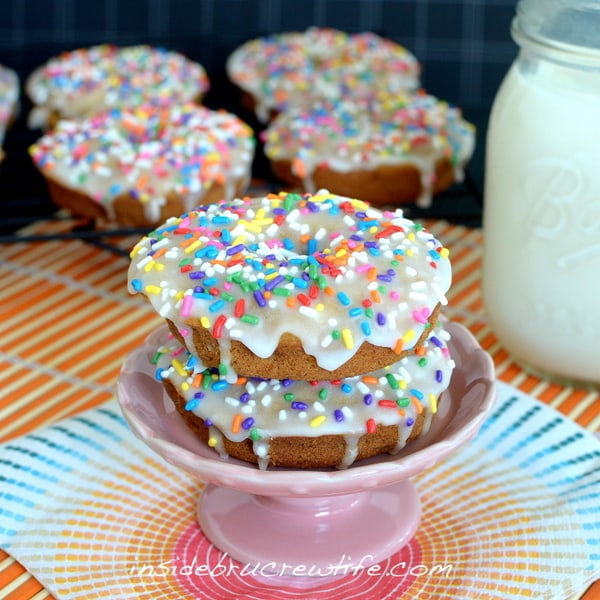 six.
I heart my donut pan...way more than my thighs think I should. The other day I was being all house wifey and putting away the dishes before vacuuming and doing laundry, when I saw my donut pan.
It has been a little while since the last donut creation, so I pulled out the pan. Yup, you guessed it. The vacuuming and laundry didn't get finished that day.
But I made cute Mango Coconut Donuts. That has to count for something right?
Want more fun fruity donut ideas?
Lemon Cake Donuts from a Latte' with Ott, A
Strawberry Donuts from Heather's French Press
Pina Colada Donuts from DJ's Sugar Shack
Sweet Potato Donuts from Inside BruCrew Life
Mango Coconut Donuts recipe: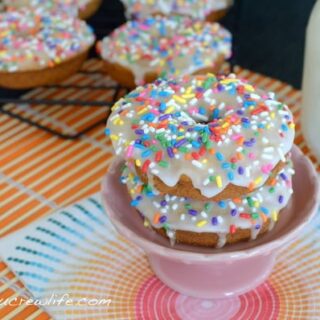 Mango Coconut Donuts
These healthier baked Mango Coconut Donuts are loaded with fruit and yogurt. Great way to start out the day!
Ingredients
For the Donuts
½ c. butter, softened
⅔ c. brown sugar
¼ c. applesauce
⅓ c. vanilla yogurt
½ c. mango puree (about 1 whole ripe mango, smashed)
⅓ c. coconut milk
½ tsp. salt
1 tsp. vanilla bean paste
2 tsp. baking powder
1 tsp. baking soda
2 c. flour
½ c. shredded coconut
For the Glaze
1 ½ c. powdered sugar
3 tbsp. coconut milk
Instructions
For the Donuts
Preheat the oven to 375 degrees. Spray a large donut pan with nonstick spray.
In a mixing bowl, cream the butter and brown sugar until fluffy.
Add the applesauce, yogurt, milk, salt, and vanilla and beat until creamy.
Sift together the baking powder, baking soda, and flour and slowly add to creamed mixture. Stir in coconut by hand.
Spoon the batter into a large ziplock bag and cut one of the corners off. Pipe into the prepared donut pan. Bake for 14 minutes.
Remove from the oven and let the donuts sit in the pan for about 3-4 minutes before removing them. Let cool on wire rack completely.
For the Glaze
Whisk together the the powdered sugar and coconut milk. Dip the tops of the donuts in the glaze and top with sprinkles. Let glaze set before eating.