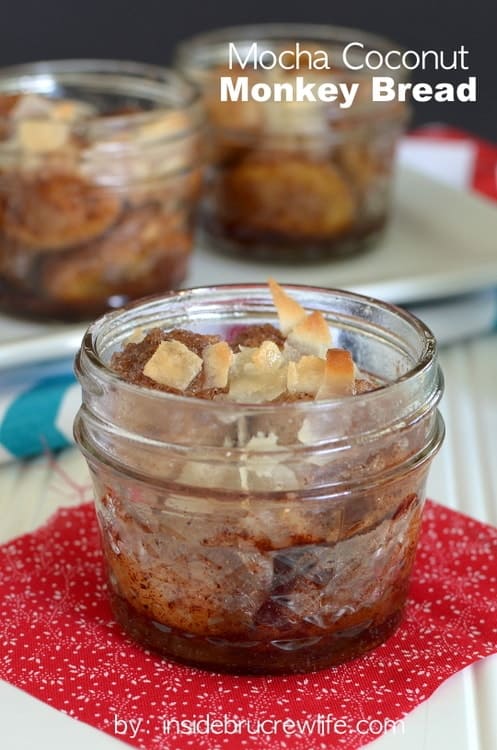 I have a crazy habit of always buying the newest food item. Hello, yup crazy foodie here.
So when Jif came out with their new chocolate spreads, it was a no brainer that I was going to get some. I mean it's chocolate. It was going in my cart for sure!!!
Since the chocolate one is basically Nutella, I decided to go with the Mocha Cappuccino. As soon as I got home, the spoon came out. What??? It basically begged me to guzzle it right from the jar. I had to force myself to put it away so there was some left to bake with.
The jar sat hidden in the cupboard for a few weeks…I just couldn't decide what I wanted to make from it. Cookies? No. Cake? No. Crescent rolls? No. Frosting? No.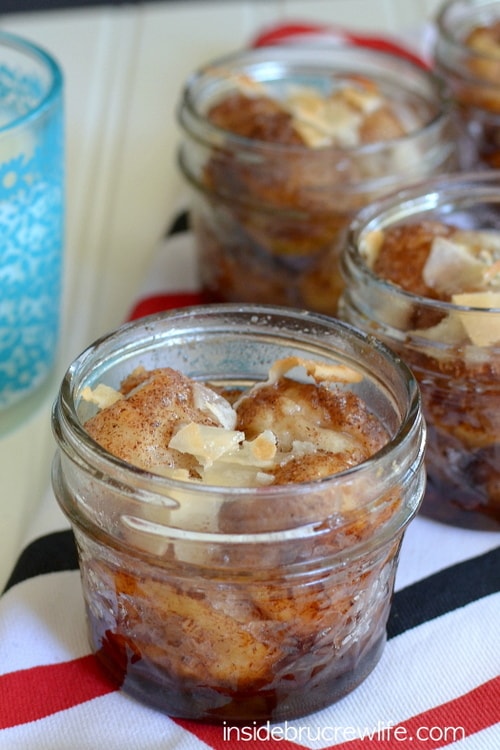 Then one day I opened my refrigerator and there right in front of me sat some refrigerated biscuits that I had gotten for monkey bread.
Monkey bread that I kept putting off making. And the lightbulbs just started going off.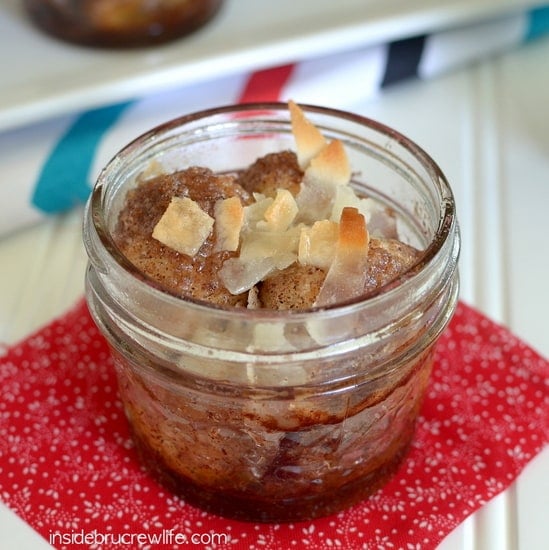 Monkey bread with a sweet mocha filling and a drizzle of coconut! This was it! I knew just how I was going to use the Jif spread!!! I was drooling just thinking about it.
The first time I made these, I used foil lined cupcake liners. They were good but I wasn't wowed!
So a few more weeks went by, and I finally remembered to buy more biscuits. (yes, I could have attempted to make my own…but I like the convenience of a can) I had all the ingredients out again…I knew something had to be done differently.
But what could make a cinnamon sugar laden biscuit even better??? Maybe a fun and cute little jar would make the difference.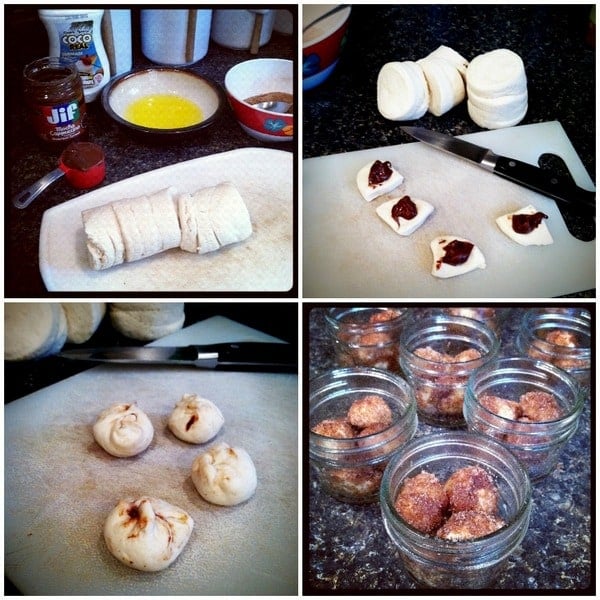 I knew buying all those different sized canning jars was going to come in handy. Down to the storage room, I went to dig out the smallest mason jars. They were the perfect muffin size.
Glass jars meant none of the buttery sugary goodness could escape. See all of it trapped at the bottom?
Yup, this batch wowed the socks off me!!! I will never tell now many of the jars I licked clean. Nope not gonna tell!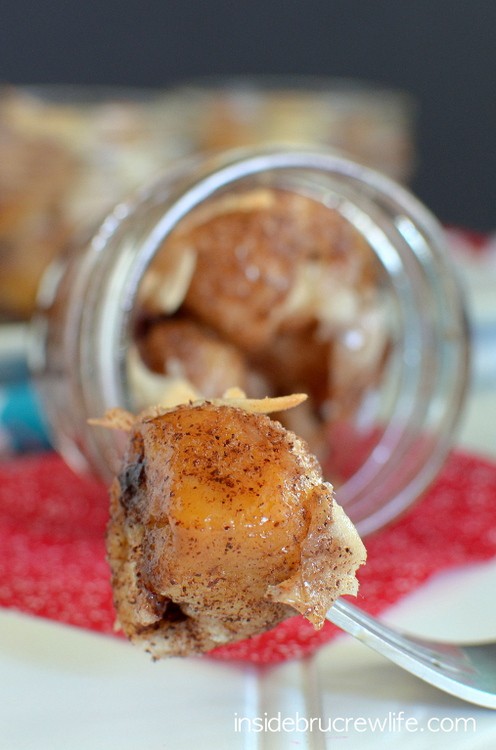 You know you want some of these biscuits filled with mocha filling, dunked in butter, rolled in sugar, and drizzled in cream coconut…so, why aren't you in your kitchen making these now????
Check out more Mocha Coconut goodies:
Mocha Coconut Fudge from How Sweet Eats
Coconut Mocha Cupcakes from My Baking Addiction
Coconut Espresso Whoopie Pies from BruCrew Life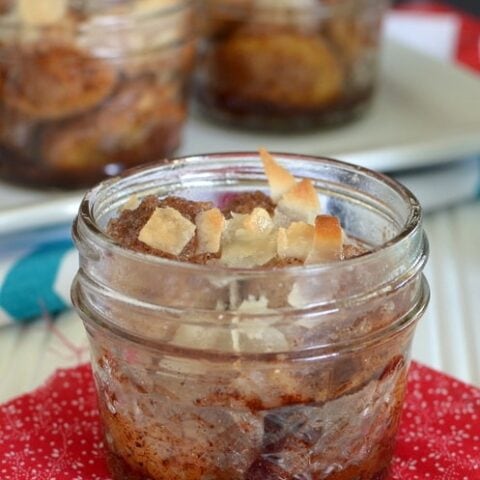 Mocha Coconut Monkey Bread
Biscuits filled with a mocha spread and rolled in cinnamon sugar.
Ingredients
1 can refrigerated biscuits (10 biscuit size)
1/2 cup packed brown sugar
1/2 cup granulated sugar
2 tablespoons cinnamon
6 tablespoons unsalted butter, melted
1/2 cup Jif Mocha spread
1/4 cup shredded sweetened coconut
1/4 cup cream of coconut
Instructions
Preheat oven to 350°. Spray small glass canning jars with non stick spray and set aside.
Stir together the 2 sugars and the cinnamon in a bowl.
Cut each biscuit into 4 pieces. Flatten each piece and place a small amount of the mocha spread in the middle. Fold each corner up and over the spread. Pinch the dough closed to keep the spread in.
Dip the dough ball in the melted butter and roll in the sugar mixture. Place 5-6 pieces in one jar.
Sprinkle the top with a teaspoon of coconut. Continue filling and rolling until all the biscuits have been used.
Place all the jars on a baking sheet. Bake for 15-17 minutes.
As soon as the bread comes out of the oven, drizzle the tops of each jar with a little bit of cream of coconut. Let cool slightly before eating. Best served warm. Store sealed. Make 7-8 jars of monkey bread.
Nutrition Information:
Yield:

8
Serving Size:

1
Amount Per Serving:
Calories:

425
Total Fat:

26g
Saturated Fat:

13g
Trans Fat:

0g
Unsaturated Fat:

10g
Cholesterol:

38mg
Sodium:

191mg
Carbohydrates:

45g
Fiber:

4g
Sugar:

33g
Protein:

7g
Nutrition facts are an estimate and are not guaranteed to be accurate. If you need special diet advice, please see a registered dietician.