One question that I get asked all the time is, "What type of perm do you have?" and "What type of product do you use?" My hair is naturally curly…all the time. Now I can straighten it, but it takes time and frizzes or curls at the slightest moisture in the air. So, I really don't take the time to do it often. Here is a peak into my bathroom cupboard…if I am in the store and see a product for curly hair that I haven't tried, it goes in my cart. As you can see, I am well stocked for many curly days ahead. The front row really are ones that I recommend time and time again. My routine is wash and towel dry. Use Suave captivating curls mousse right away to uncombed hair. Scrunch really well. I let it dry about an hour or so, then use a small amount of the Tresemme curl cream on the ends and then spray some Aussie sprunch spray in. After it dries completely, I spray it with more Aussie for some lift and hold.

TWO.
I am seeing on Facebook that people are starting to listen to Christmas music already. Seriously? Not going to happen in my house until after Thanksgiving. I am just now enjoying all my spooky skeletons that have come out of hiding:-) The only time skeletons and Christmas music go together is on Nightmare Before Christmas. No jingle bell shaking skeletons will be found in our house. Please tell me you don't listen to Christmas music this early!!!

THREE.
If you ever have the chance to go paintballing…Do it. It is so much fun. And I promise it doesn't hurt…that much anyway;-) Just make sure you are always on the same team as your husband if he goes with you. Because chances are that if he has the opportunity to take a shot at you, he will. (just speaking from experience here) We were able to go with a group from our church a few weeks ago. And if was a blast! Even if he did take me out in one of the rounds;-)
I want to say a huge THANK YOU to everyone that sent glasses in for the people of Haiti. It has been really neat to see all the packages coming in from all over the United States. I am looking forward to being able to hand deliver them to the missionaries very soon. Thank you again…I have the best blog readers!!!!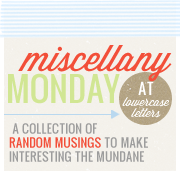 Thank you so much for reading my blog. If you liked this post, please leave a comment. Comments are a great way for me to see what is a blog hit or miss:-)