Themed desserts make a party that much more fun. This Pumpkin Fudge Eclair Cake would be perfect for either a Halloween or Thanksgiving party. Just change your sprinkles and candies for the appropriate holiday.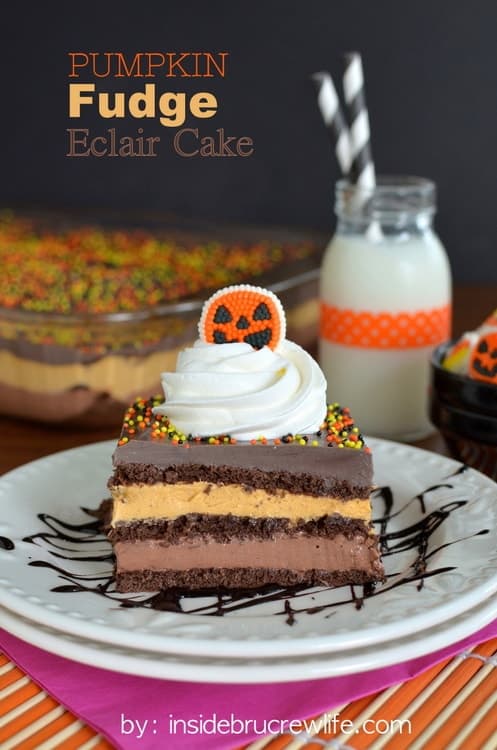 Ok, so one day later after telling you I was over pumpkin, and here I am posting...yup, pumpkin.
Go ahead and tell me how wishy washy I am. I can handle it. For the record I made this last week, or maybe it was the week before that. It was definitely before I started to feel iffy on pumpkin.
Anyway, I was looking through pictures and realized that Halloween is next week, so if I want to share this fun Halloween themed eclair cake, it had to be now. So pumpkin it is! Not that I don't like pumpkin. Maybe it's because the weather dropped from sunny and warm to sunny and down right cold but now all I can totally think about is mint. And chocolate.
But I always think about chocolate, so that's nothing new.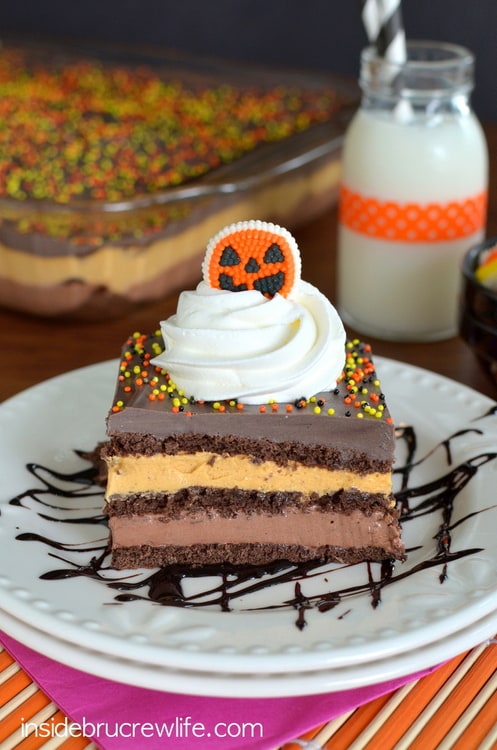 The sudden drop in temperature meant we had to scramble to make sure the furnace was working. New air vents and a night of smelling warm, dusty air, and we are now ready to face the cold. Well...not really ready for it at all, but prepared to handle it better.
My office is at the back of our house and is always pretty chilly. I think that finding my little space heater should be top priority today. My fingers are a little chilled as I try to type right now. Or I could go bake. That always helps warm things up. Well at least it warms the kitchen. Maybe I should move my computer into the kitchen?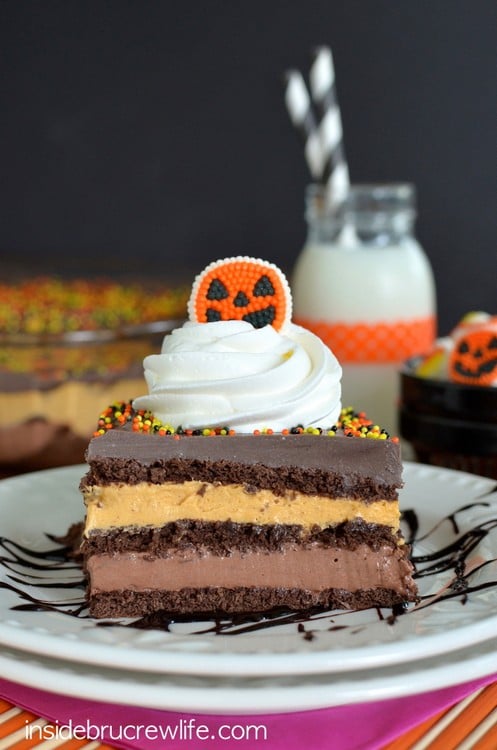 Did you find the pumpkin spice pudding after I shared this Pumpkin Cookies and Cream Fudge? I sure hope so because it is one of the key ingredients in today's recipe.
Eclair cake is definitely one of those desserts that you look forward to seeing at any potluck dinner. My kids go crazy for this stuff. You would think they didn't get any kind of sugar treats the way they down this stuff. But we all know that's far from the truth. I crank out desserts, and they help me eat them. It's just what we do around here.
Anyway, I thought it would be fun to make some layers in the eclair cake with different flavored puddings. And of course since I still had a box of pumpkin pudding in my cupboard, that just made sense to go with that. Chocolate pairs so well with pumpkin that I knew a fudge pudding had to be the other layer.
The best part of this cake are the chocolate graham crackers. They are so good dipped in peanut butter or frosting. Just a thought for the leftovers when you finish making this cake.
What flavor pudding should I use in the next eclair cake?
I'm totally thinking mint 🙂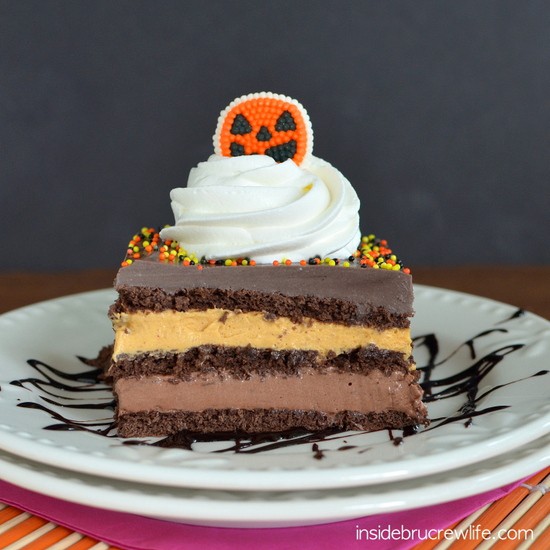 Stay up to date on all the BruCrew baking here:
FACEBOOK | PINTEREST | GOOGLE+ | TWITTER | INSTAGRAM | BLOGLOVIN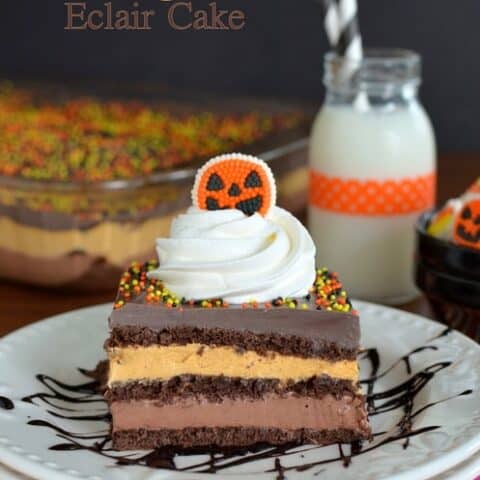 Pumpkin Fudge Eclair Cake
Pumpkin and fudge pudding layered with chocolate graham crackers makes an impressive dessert for any Halloween or Thanksgiving party.
Ingredients
1 - 3.4 ounce box instant pumpkin spice pudding*
1 - 3.4 ounce box instant chocolate fudge pudding
3 cups milk, divided
2 cups Cool Whip + extra for topping
1 box chocolate graham crackers
1 - 16 ounce container canned chocolate fudge frosting
2 Tablespoons sprinkles
Halloween candies
Instructions
Whisk together the pumpkin pudding and 1 ½ cups milk. Fold in 1 cup Cool Whip. Set aside.
Whisk together the chocolate pudding and 1 ½ cups milk. Foldin 1 cup Cool Whip.
Place a layer of graham crackers in the bottom of 9x13 pan that has been sprayed with non stick spray. Gently spoon the chocolate pudding mixture over the crackers in the pan.
Place another layer of graham crackers on the pudding. Gently spoon the pumpkin pudding over those crackers.
Top with one more layer of crackers. Break crackers to fit if necessary.
Place the canned frosting in the microwave for 30-45 seconds. Stir until melted and smooth.
Pour over the top layer of crackers and smooth out. Top with colored sprinkles. Refrigerate until set.
Cut into 24 squares and serve with extra Cool Whip and candies if desired. Keep refrigerated.
Notes
*If you cannot find the pumpkin pudding, use vanilla pudding and stir in ½ cup pumpkin puree + ½ teaspoon pumpkin pie spice before adding the Cool Whip.
Nutrition Information:
Yield:

24
Serving Size:

1
Amount Per Serving:
Calories:

142
Total Fat:

7g
Saturated Fat:

4g
Trans Fat:

0g
Unsaturated Fat:

2g
Cholesterol:

8mg
Sodium:

55mg
Carbohydrates:

19g
Fiber:

1g
Sugar:

13g
Protein:

2g
Other ways to use up the pumpkin spice pudding mix: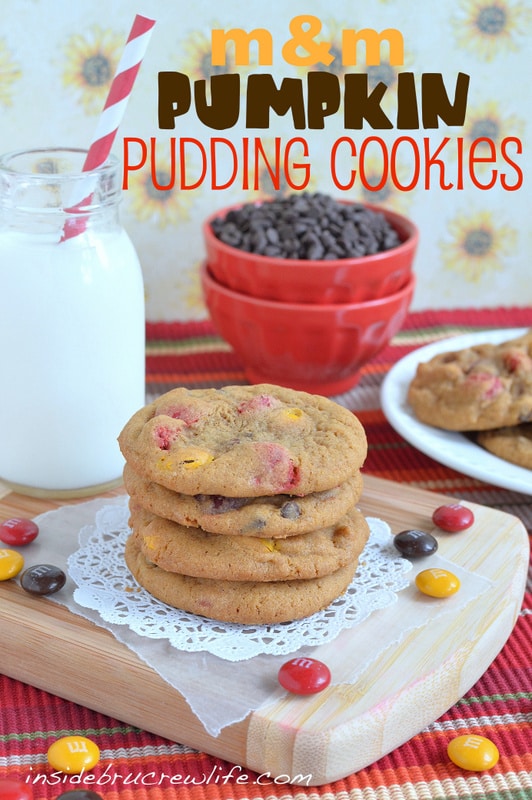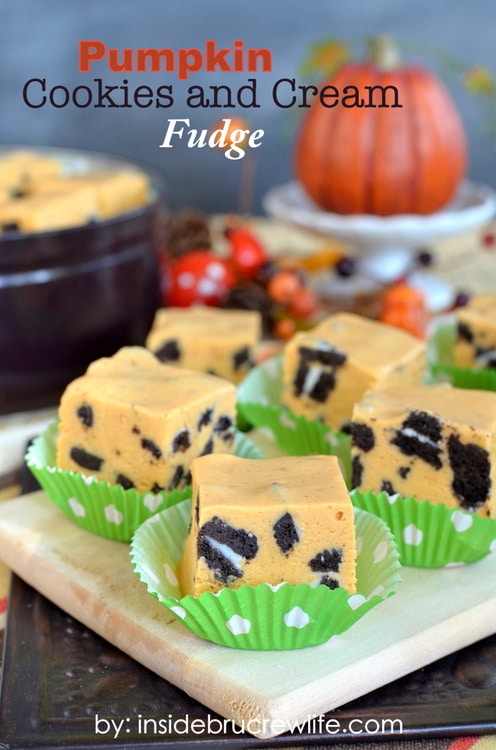 Pumpkin Cookies and Cream Fudge