I did it!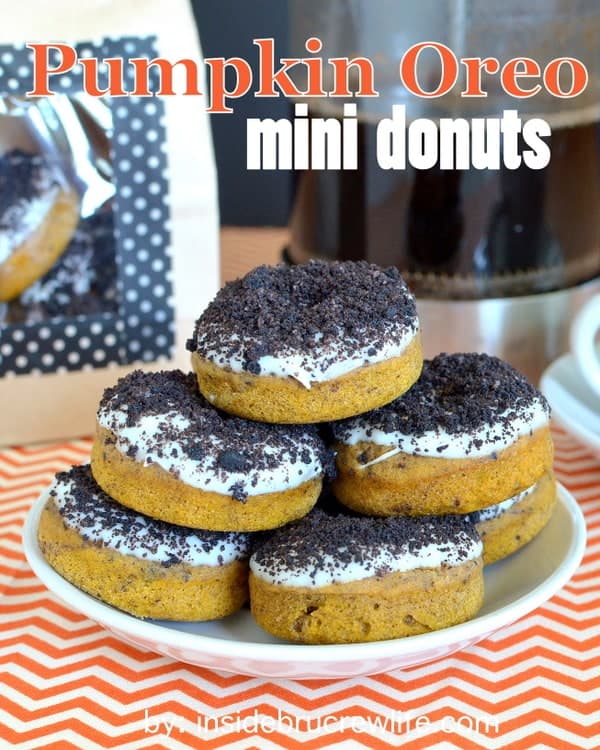 I broke out the pumpkin.
Yes, I know it is still August and it has been in the 90's again this week.
Does that mean I am rushing Fall to get here? Kind of...you see Fall is my absolute favorite season of all.
The cooler weather, the smells, the bonfires, the jeans, the hoodies, the leaves...should I keep going???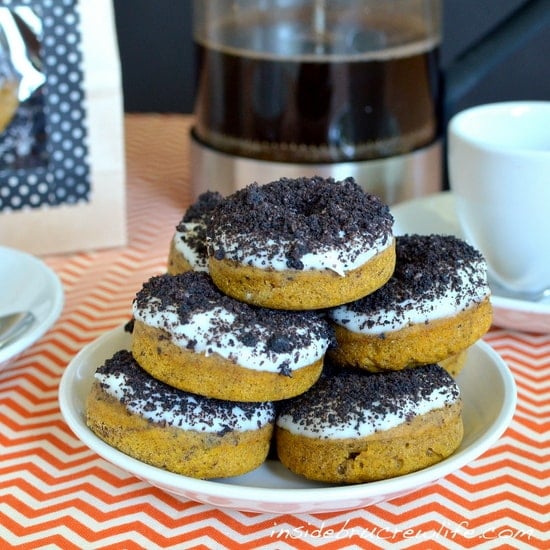 Plus, once the kids go back to school, it signals the end of summer in my brain.
They are in school, so no more summer sun and fun. Might as well bring on the best season of all.
I know that there are some who hate to see summer go...don't get me wrong. I love summer too!
But I happen to LOVE Fall quite a bit more!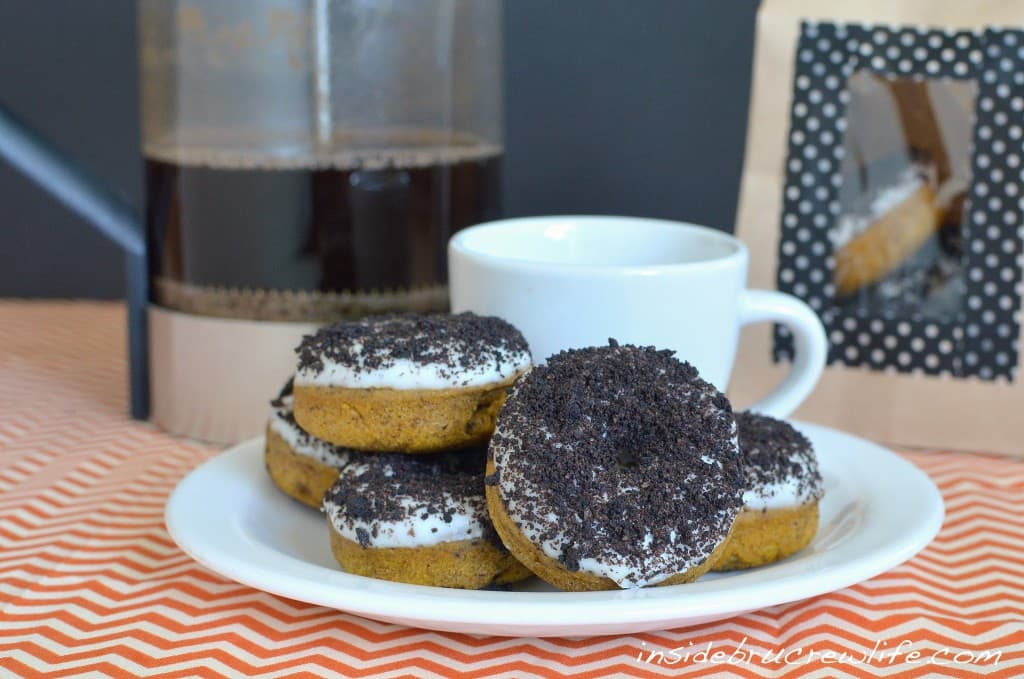 When we were on vacation a few weeks ago, we had donuts for breakfast. Dunkin Donuts to be exact.
Oh, how I love their chocolate cream filled powdered donut! It has been my favorite for many, many years.
Did you know they now have an Oreo donut with cream filling? Let's just say it gave the chocolate cream filled one a run for its money.
Yes, I ate two cream filled donuts for breakfast in one day morning...fine about 5 minutes. I'm thinking the beach running that I did while I was there was a very good thing.
So, as soon as we got home I bought some Oreos and was all set to make a home version, but then I saw the can of pumpkin in the cupboard just staring at me all sad like, and the wheels just started spinning!!!
These Pumpkin Oreo Donuts are one of my favorites...right now anyway! Pumpkin goodness mixed with Oreo goodness is a match made in heaven!!!!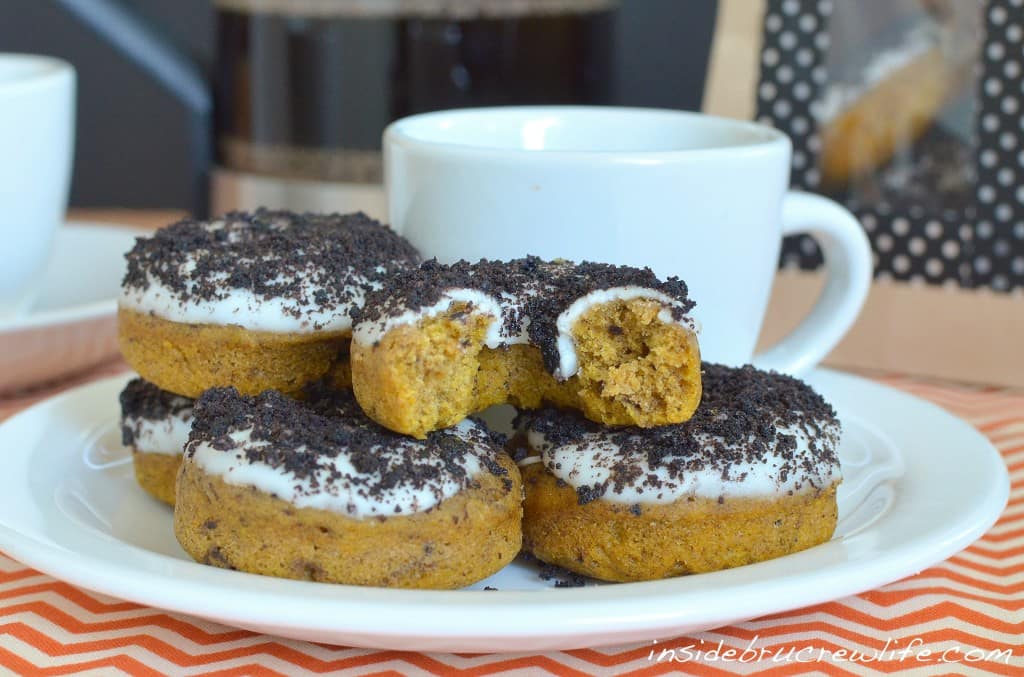 Looking for more pumpkin recipes?
Pumpkin Oreo Cheesecake
Pumpkin Caramel Latte Donuts
Pumpkin Spice Brownie Bites
Nutella Marshmallow Pumpkin Bread
Chocolate Covered Pumpkin Twinkies
Pumpkin Oreo Donuts recipe: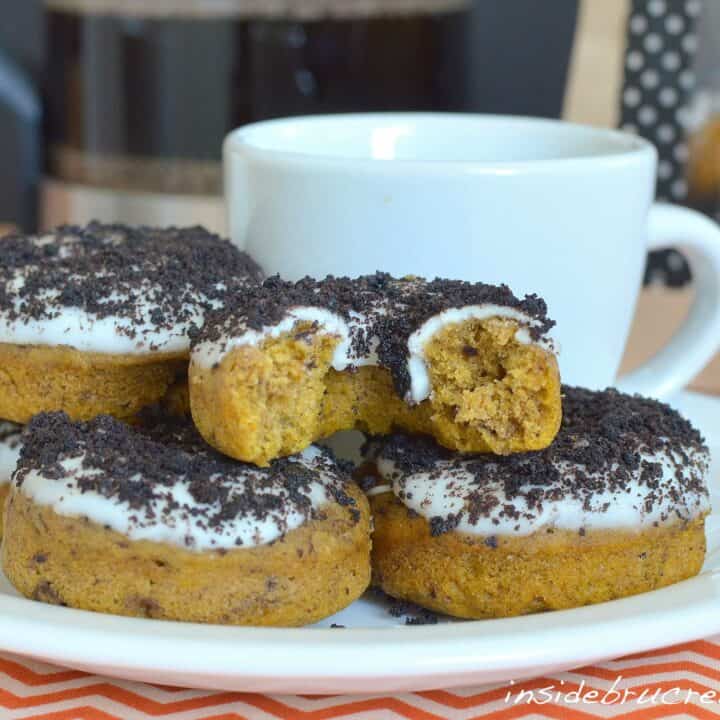 Pumpkin Oreo Donuts
Pumpkin Donuts with Oreo crumbs and white chocolate topping
Ingredients
For the Donuts
¼ cup butter, softened
⅓ cup brown sugar
2 Tablespoons applesauce
½ cup pumpkin puree
⅓ cup vanilla yogurt
1 teaspoon vanilla
1 teaspoon cinnamon
¾ teaspoon baking powder
¾ teaspoon baking soda
¼ teaspoon salt
1 cup all purpose flour
¼ cup Oreo cookie crumbs
For the Topping
¾ cup white chocolate melts
½ cup Oreo cookie crumbs
Instructions
Preheat oven to 325 degrees. Spray a mini donut pan with nonstick spray.
Beat the butter and sugar. Add the applesauce, pumpkin, vanilla, and yogurt and mix until creamy.
In a bowl, stir together the baking powder, baking soda, cinnamon, salt, flour, and cookie crumbs. Add the dry ingredients into the butter mixture and beat until combined.
Place the donut batter in a large ziplock bag and cut one corner off. Fill each donut cavity at least ¾ full. Bake for 10 minutes. Let cool in pan for a few minutes before removing to wire rack to cool completely.
In a microwave safe bowl, heat the white chocolate melts for 30 seconds and stir until melted and creamy. Heat longer if needed.
Dip the tops of the coooled donuts into the melted chocolate and sprinkle with cookie crumbs.
Notes
Only dip a few donuts at a time before sprinkling. The chocolate will set up and the crumbs won't stick if you wait too long.
Recommended Products
As an Amazon Associate and member of other affiliate programs, I earn from qualifying purchases.
Nutrition Information:
Yield:

26
Serving Size:

1
Amount Per Serving:
Calories:

86
Total Fat:

4g
Saturated Fat:

2g
Trans Fat:

0g
Unsaturated Fat:

1g
Cholesterol:

6mg
Sodium:

102mg
Carbohydrates:

12g
Fiber:

0g
Sugar:

7g
Protein:

1g