Pumpkin Oreo Truffle Dip: A light fluffy pumpkin dip recipe made from an Oreo truffle mixture. You can dip just about anything in this amazing dip. Some of our favorites were pretzels, chocolate graham crackers, and apple slices.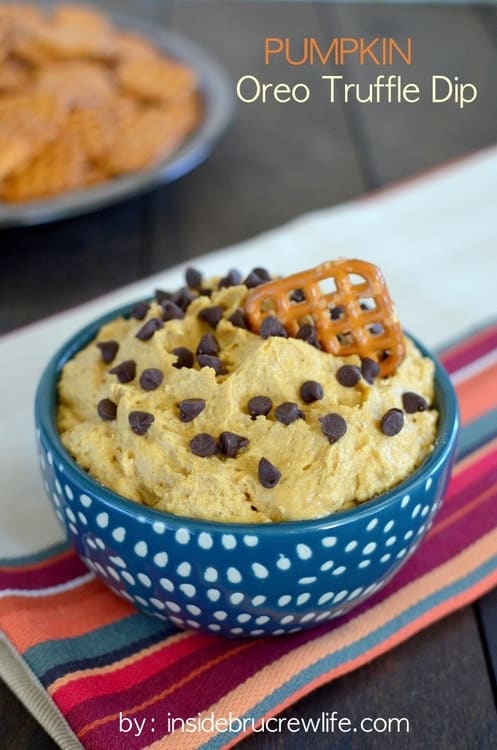 As much as I love making desserts, I can be really lazy at it sometimes. Like this pumpkin Oreo truffle dip...
It was going to be cute little Oreo truffles, then I changed my mind and was going to do a truffle bark, but then I got the awesome idea to add some Cool Whip and make it dip-able.
Seriously, it was the best idea ever because it shortened my time in the kitchen, and it tasted out of this world!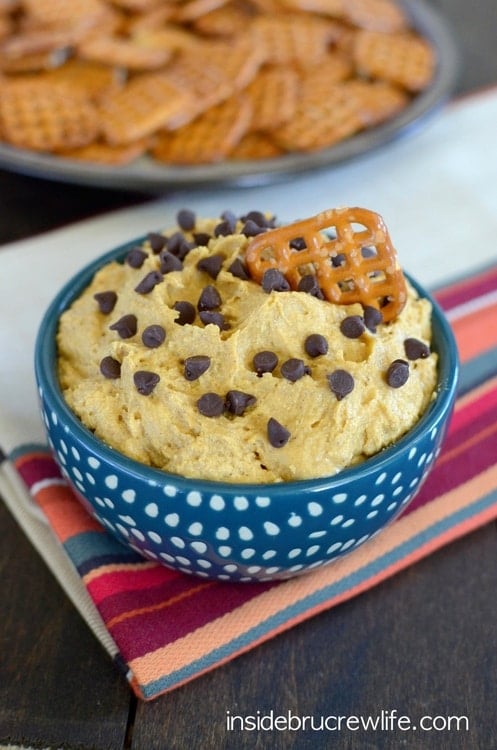 Are you tired of pumpkin treats yet? Please say no, please say no! I have quite a few more fun ones just waiting to be made and shared, and if you are over pumpkin already it's not going to be very fun around here.
Although, I think I have been doing a good job of having some variety in between each pumpkin recipe. You aren't too pumpkin-ed out from me yet, are you?
Every fall I go a little bit crazy with the pumpkin desserts. I just looked at my list of recipes to make...there might be like 10 on there. Plus, I still have a few already made and photographed. It's a good thing pumpkin season can be stretched out through the end of November.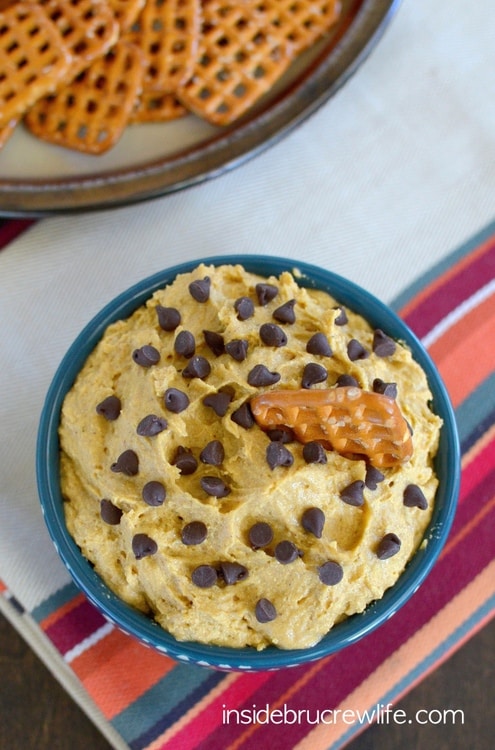 A few weeks ago we had a fall bonfire to attend. I knew I wanted to do something pumpkin that was different.
Like I said, this started out as pumpkin truffles and slowly became a dip. Gotta love how my mind works mid dessert making! But I have to say, this was one of my favorite things so far. Ok, I realize I say that about every pumpkin treat I have made this year. Humor me, ok? I am slightly biased at my own desserts.
Oreo truffle dip is so easy to make. 1 whole package of Golden Oreo cookies gets crushed into crumbs and then beaten into a package of cream cheese. Then it starts to get fun because I added some pumpkin puree and spices.
Then to make it light, fluffy, and creamy I stirred in some Cool Whip. I know some people have a problem with it, but around these parts it's a staple. At any given time there are probably 3-4 containers in my fridge/freezer.
Try this fun dip with pretzels, apple slices, or chocolate graham crackers. There really is no wrong thing to dip into this. I may have even eating some by the spoonfuls.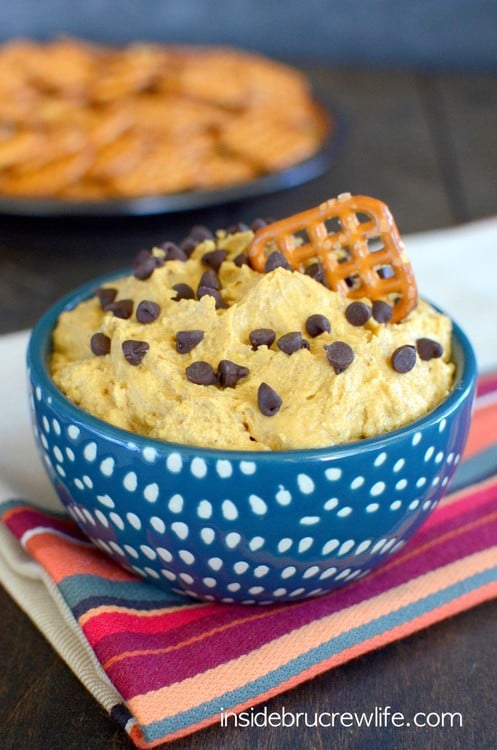 More sweet dip recipes that are fun to dip things in: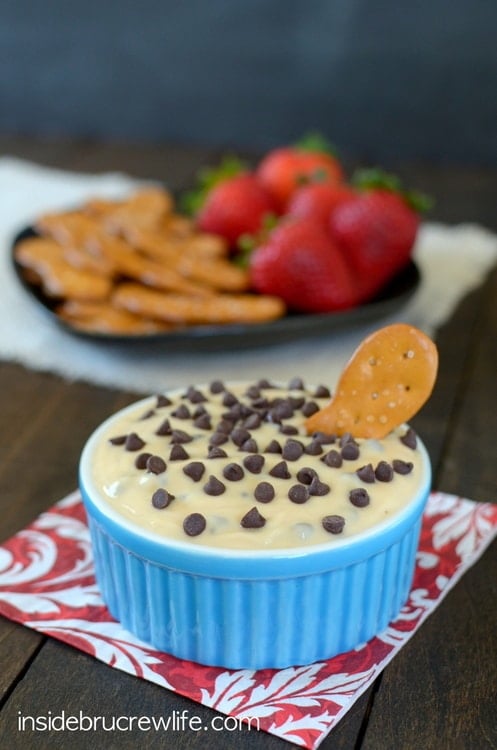 Salted Caramel Chocolate Chip Yogurt Dip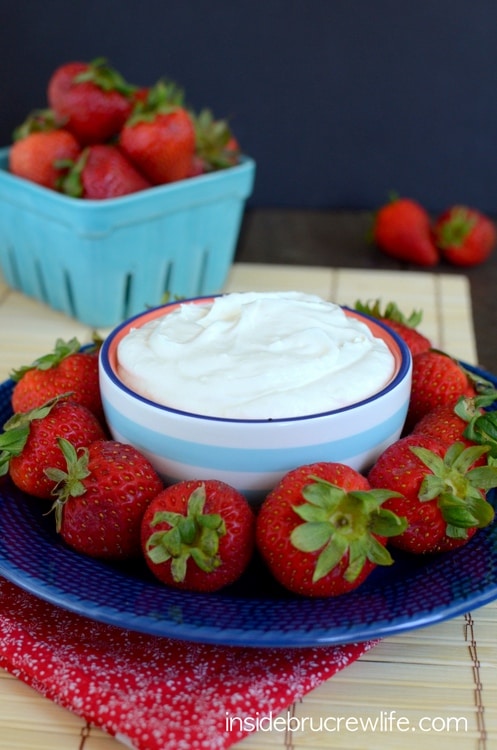 Coconut Cream Dip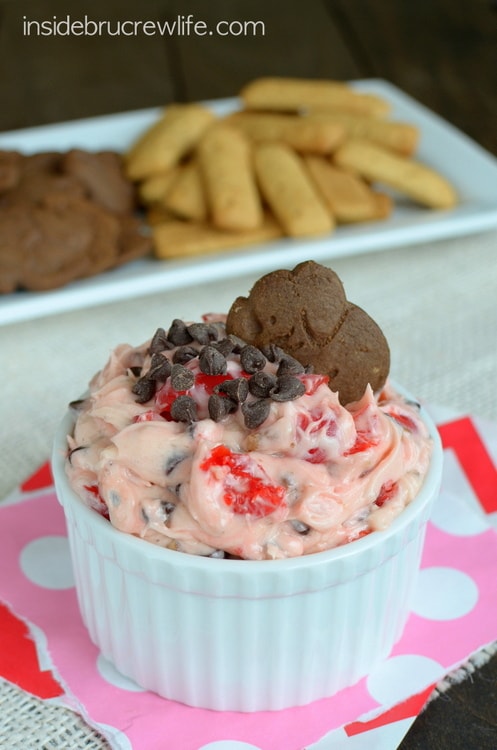 Cherry Chocolate Chip Dip
More delicious sweet dips from friends:
M&M Brownie Batter Dip from Something Swanky
Pumpkin Chocolate Chip Cookie Dough Dip from Shugary Sweets