Pumpkin Spice Latte Brownies: Layers of pumpkin brownies, Pumpkin Spice Oreo cookies, and a no bake coffee cheesecake make this dessert a fun and festive way to celebrate fall.
**Make sure you sign up for the BruCrew email, so you see these recipes in your inbox each morning.**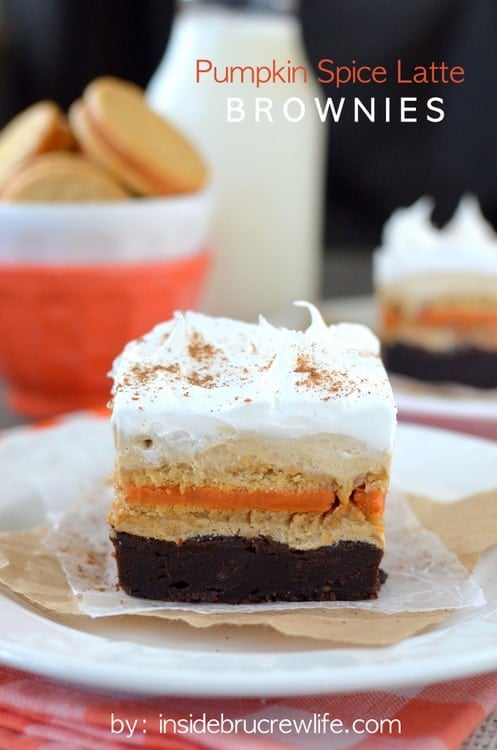 CLICK HERE TO PIN THIS RECIPE FOR LATER!
Dear Work out of the Day,
Thank you so much for being so tough and ridiculous the other day. My back was wanting to be in pain for 3 days straight. (Insert sarcasm here!) No really! I like getting up early and doing crazy twists with 20 pound balls that make me hobble like a 90 year old granny. And kettle bells, sledge hammers, and pull ups are all so much fun to do in the same day. Can we please do this every day? (Yes, the sarcasm is still here.) Hopefully tomorrow will be better...and by better I really mean easier.
Signed,
The hunched over 38 year old who feels 90
Dear Fall Colored Hair,
I know I think every year I am going to miraculously like having darker hair. Can you please remind me next year that I do not like you? Remind me to just keep the blonde because it makes me feel more "me".
Signed,
The Girl with the Blah Hair
Dear Sweet Tooth,
Could you just take a vacation for a little while? These last few pounds are really not going anywhere with you around. It's really hard to work out and eat healthy when all you want to do is devour all the sweets in the house. I think it's time to call in reinforcements. You aren't going to like my friend self-control, but I think it's time you two met.
Signed,
The Girl Who Can't Lose the Cupcake Butt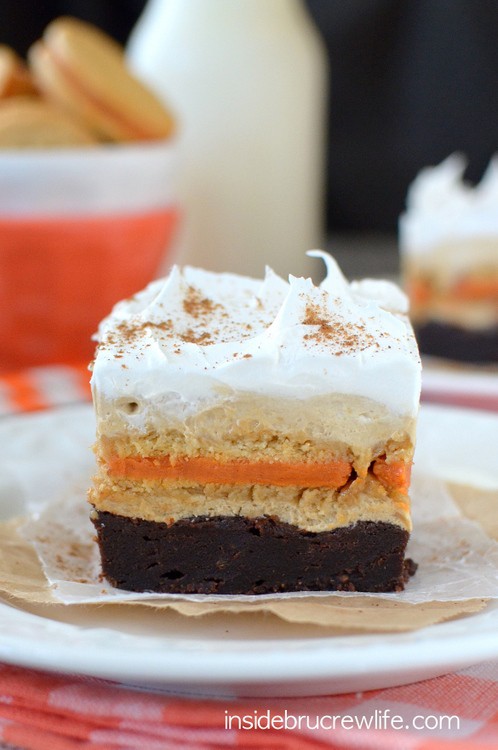 Dear Tiramisu Brownies,
Thank you for being so delicious and inspiring me to use the new Pumpkin Spice Oreos in a new and fun way. Pumpkin, brownies, coffee, and Oreo cookies are definitely a treat that needs to be made again. Although, I just sent the sweet tooth away, so this might seem confusing to you. Just disregard all other notes previously written. I wasn't myself...blame it on the fall-colored hair.
Signed,
The Crazy Baker who Still Loves Pumpkin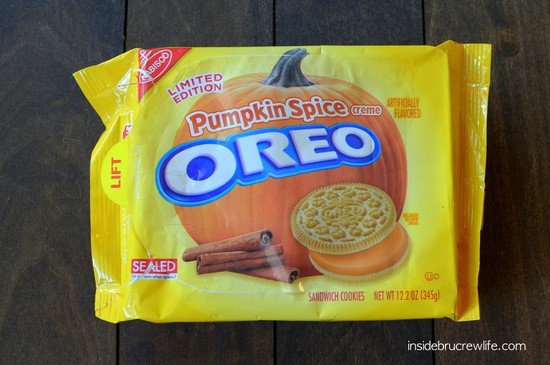 Have you tried the new Pumpkin Spice Oreo cookies yet? They are fabulous!!! The sweet golden Oreo cookie with a pumpkin spice cream center is perfect for the fall!
I kept stalking my stores until I found them in my town. 2 packages made their way home with me that day. I know what you are thinking...only 2 packages? Moderation people. Remember that sweet tooth I sent away? It's bad...I can't keep feeding it.
I have been wanting to make a coffee icebox cake, so I combined that with the 2 ingredient pumpkin brownies. You know those brownies, right? A box mix plus a can of pumpkin puree baked into a fudgey layer of goodness...please tell me you've see this too? Well, I tried it and it totally works. But just so you know, they are very different from normal brownies. Good, but definitely different.
A no bake coffee cheesecake layered with coffee dipped Oreo cookies layered on top of these brownies was just the thing to do with the new Oreo cookies.
It's a very good thing my hubby had a meeting to go to this day...my sweet tooth was wanting to dive into the pan of pumpkin spice latte brownies head first.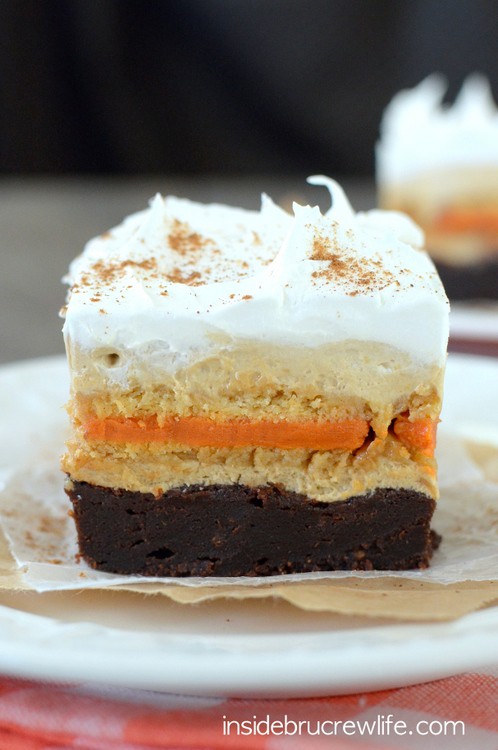 Stay up to date on all the BruCrew baking here:
FACEBOOK | PINTEREST | TWITTER | INSTAGRAM | BLOGLOVIN
Sign up to receive an email in your inbox for each new recipe:
EMAIL SUBSCRIPTION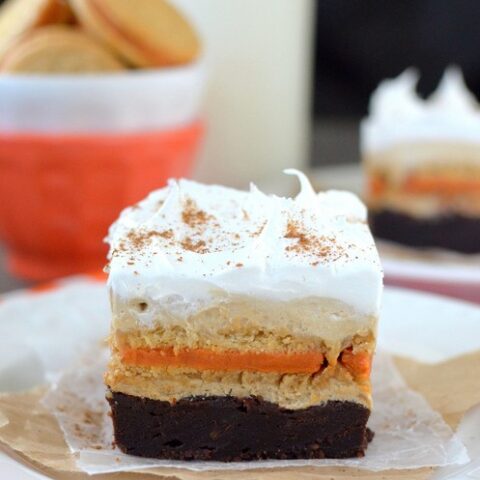 Pumpkin Spice Latte Brownies
Layers of cookies, brownies, and no bake coffee cheesecake make these Pumpkin Spice Latte Brownies a fun recipe to celebrate fall.
Ingredients
1 brownie mix (for a 9x13 pan)
1 - 15 ounce can pumpkin puree
1 teaspoon cinnamon
½ teaspoon nutmeg
½ cup milk
2 Tablespoons instant coffee granules
1 - 3.4 ounce box instant vanilla pudding
1 - 8 ounce cream cheese, softened
1 - 8 ounce container Cool Whip, divided
24 Pumpkin Spice Oreo cookies
½ cup cooled coffee
Instructions
Preheat the oven to 350 degrees. Spray a 9x13 pan with non-stick spray.
Combine the brownie mix, canned pumpkin, cinnamon, and nutmeg until mixed. Spread the prepared dish. Bake for 30-32 minutes. Remove and cool completely.
Stir together the milk and instant coffee. Whisk the pudding mix into the milk.
Beat the cream cheese until creamy. Add the pudding and beat again. Fold in 2 cups of Cool Whip. Spread half the pudding mixture over the cooled brownies.
Dip the Oreo cookies in the cooled coffee and layer over the pudding mixture. Cover the cookies with the remaining pudding mixture. Top with the remaining Cool Whip. Refrigerate at least 4 hours or overnight. Sprinkle with cinnamon before serving. Store in a sealed container in the refrigerator. Makes 24 squares.
Notes
*Use regular Golden Oreo cookies if you cannot find the Pumpkin Spice. This will change the flavor slightly and the color.
**You can also make the brownies according to the box directions if you do not want pumpkin brownies.
More fun brownie desserts to try this fall: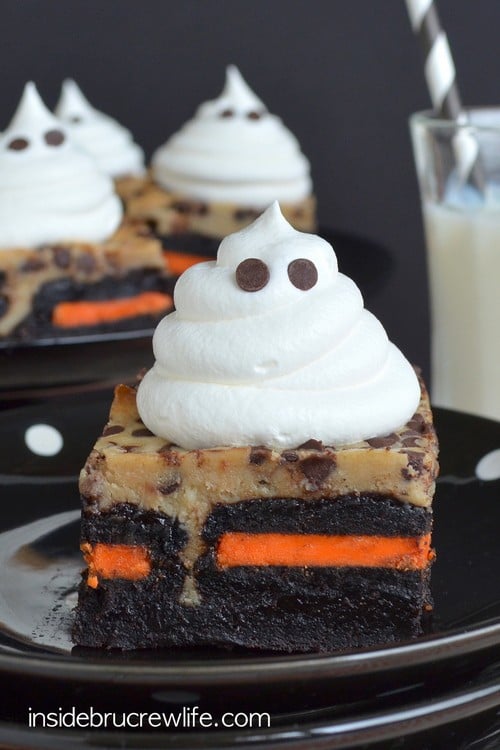 Coffee Cheesecake Oreo Brownies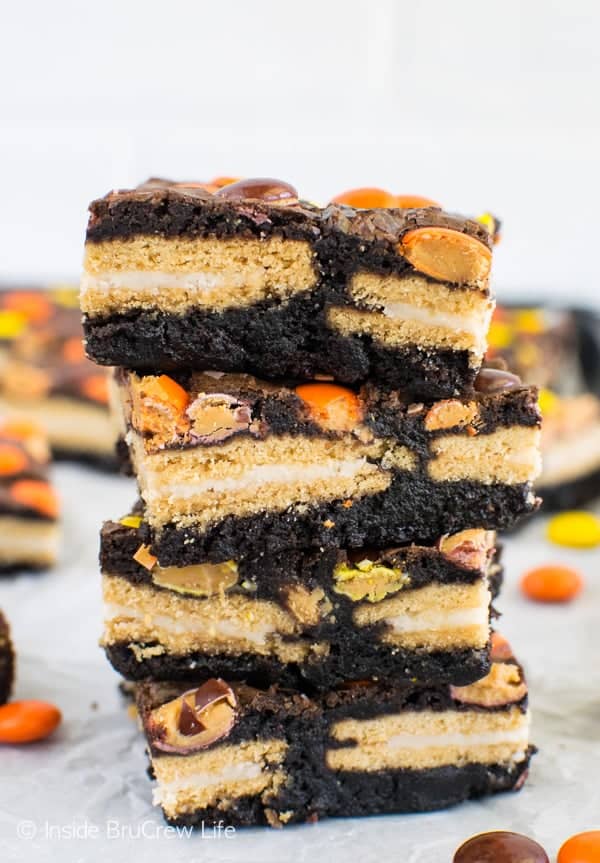 Oreo Reese's Brownies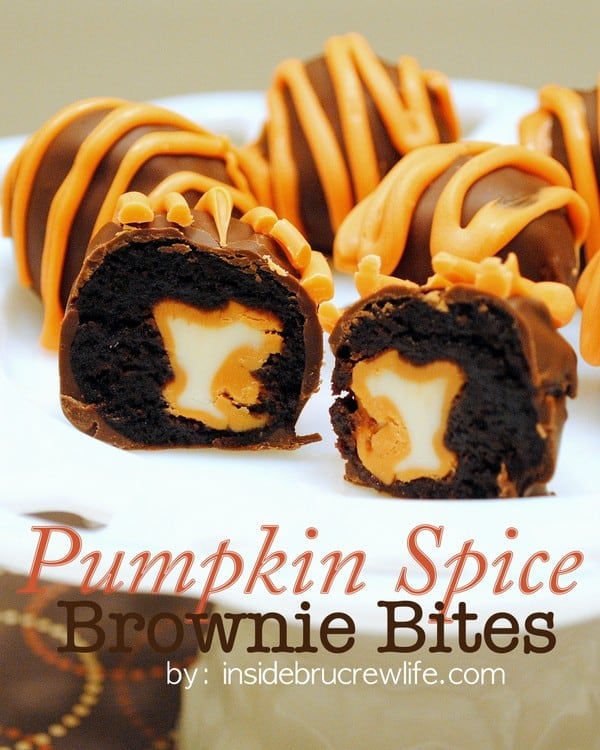 Pumpkin Spice Brownie Bites