These little Raspberry Chocolate Chip Brownie Brittle Parfaits are an easy, but stunning treat to serve after dinner or at any party.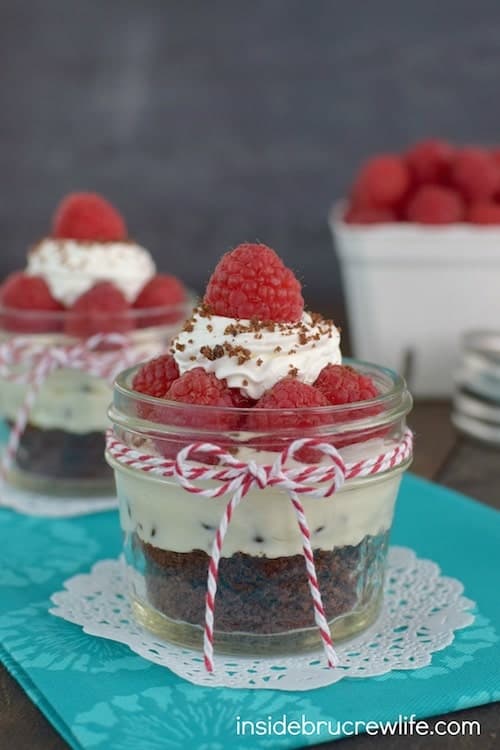 One thing that I love doing every few weeks is a shopping date with my daughter. We love to get coffee and then head out to see what bargains we can find that day. We enjoy going to the mall for special pieces or jewelry, but lately we have been finding so many good deals at resale shops.
You do have to find the right resale shop for your age though. We have one that caters to more younger & hipper fashion choices. As a mom of 3 teenagers, I do not find many things that I would wear anymore.
My daughter loves looking through the racks there to find cute clothes. I love that the prices are much cheaper than the mall prices. Then we head over to another resale shop that caters to the "mom" styles.
Gotta love getting more for your money by being a thrifty shopper, right?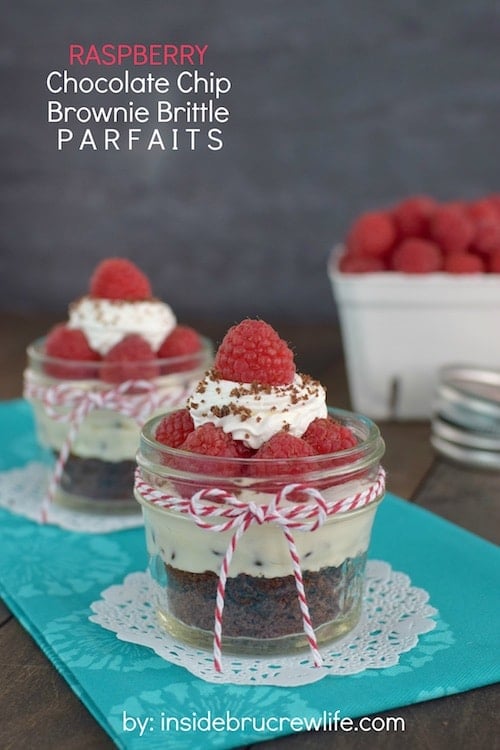 These shopping "dates" are great bonding times for my girlie and I. We laugh over some of the clothing choices we find, we chat about why something is or isn't the greatest choice for our body types, and we giggle when something doesn't fit quite right.
The other day she tried on a shirt that had fluttery sleeves, and she said it was like having bright orange bat wings. We laughed about that shirt the whole way home. It really was a cute shirt...until you lifted your arms and you looked like you were going to fly away. Flap, flap little orange bat!
These fun shopping trips are going to be something we both remember doing when she gets older and goes off to college. Lalalala! Not even listening to what I just wrote!!! Until then, I am going to have fun shopping and giggling with her over coffee.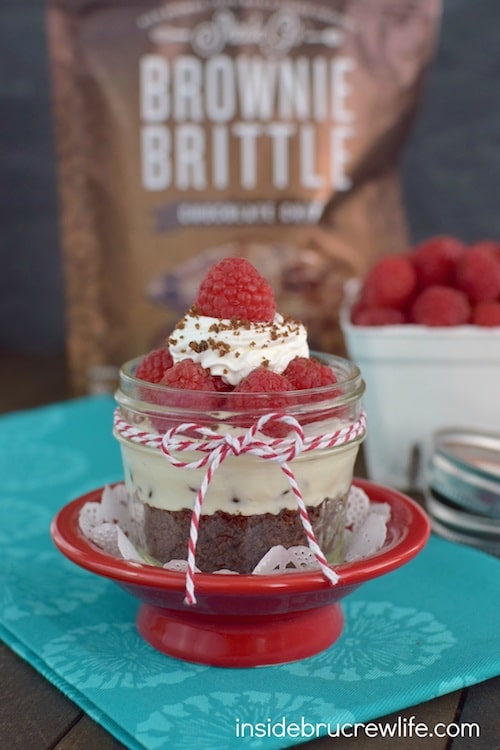 Something else we remembered this month is how much we enjoy munching on Brownie Brittle. I had the opportunity to sample this delicious crunchy goodness last summer, and it quickly became a favorite around our house. It is now available in big bags at most of the grocery stores in our area, so we keep a few bags on hand for snacking. Let's not talk about how much of this goodness I have consumed lately!
My daughter loves to take some to school in her lunch box to share with her friends too. She has turned quite a few of her friends into brittle fans.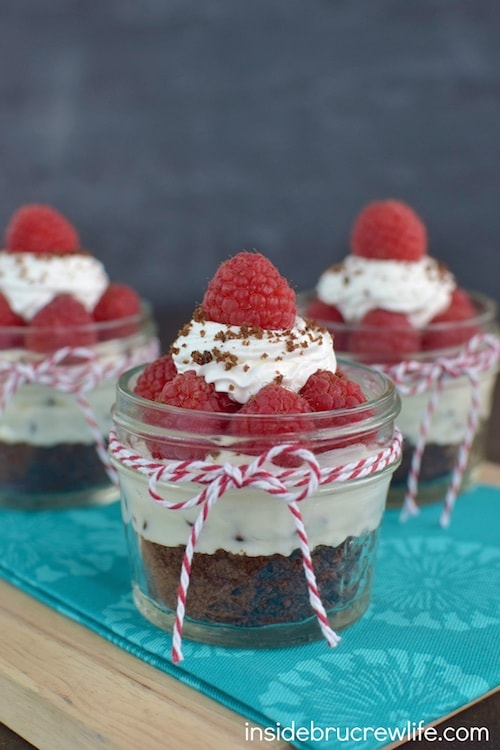 Something I really enjoy doing is using the Brownie Brittle in fun desserts like this Caramel Chocolate Chip Brownie Brittle Fudge. It is so versatile and can be used just like you would use cookie crumbs. Since I am a huge fan of no-bake desserts, I love finding ways to use the brittle this way.
Cute little jar treats never go out of style, so I decided to crush a bag of the Chocolate Chip Brownie Brittle and to use it as the base of a parfait. Since the brittle had chocolate chips on it, I also made a no-bake chocolate chip cheesecake layer to go on top of the crumbs. Fresh raspberries on top gave it some fun color. Plus, right now I have been loving raspberry everything.
Apparently my kids are loving raspberries too because when I went to get the fruit out of the fridge, the box of berries was missing. There is a raspberry loving thief in our house...my bets are on my shopping buddy. She has a thing for raspberries too. At least our grocery store is only a few minutes away, so getting more fresh raspberries wasn't a problem.
The crunch of the crust, the creamy cheesecake, and the fruity taste of raspberries took this parfait over the top. Plus, did I mention it was all no-bake?
Perfect little treat to end any meal with, right? I'm also thinking how good these would be for any party or picnic this summer. Just add the one layer of raspberries and put the lid on, then throw them into a cooler, and you are ready to take your treats on the go.