Chocolate chip cookie dough, strawberry pie filling, and toasted marshmallows join forces to make a fun Strawberry S'mores Skillet Cookie for your dessert fun.
I have to admit that s'mores are my favorite summer treat. Toasted marshmallow and chocolate gets me every single time. I just can't say no!
Each time I walk in the kitchen and see our hot chocolate basket with the jar of marshmallows, my mind starts to think about how I can s'mores something else. For some reason I could not get the idea of strawberry s'mores out ofmy mind this time.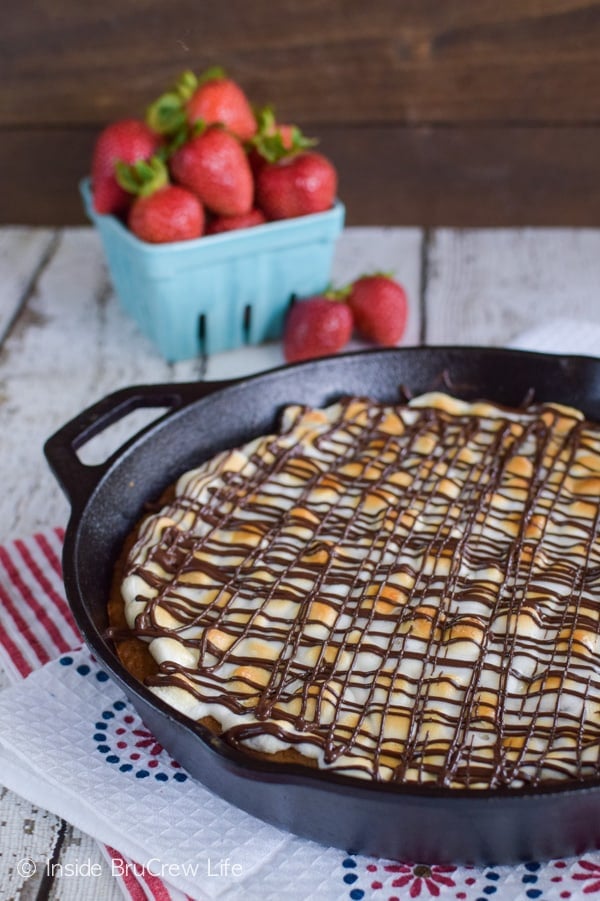 Of course you all know by now that I have a slight aversion to letting my kids toast marshmallows. I mean pointy sticks, fire, kids...you see the problem, right? I may not like it, but they end up toasting...I mean burning plenty of marshmallows each time we make a bonfire in the back yard.
Adding marshmallows and chocolate to things like these s'mores cookie cups or this s'mores popcorn results in delicious s'mores treats without the mess of marshmallow guts all over everything. Please tell me my kids are not the only ones burning marshmallows and wiping sticky marshmallow fingers all over the lawn chairs. Yes, even teenagers still do that!
Since my brain seems to always think in marshmallow goodness, it was no surprise that I added them to the top of this skillet cookie.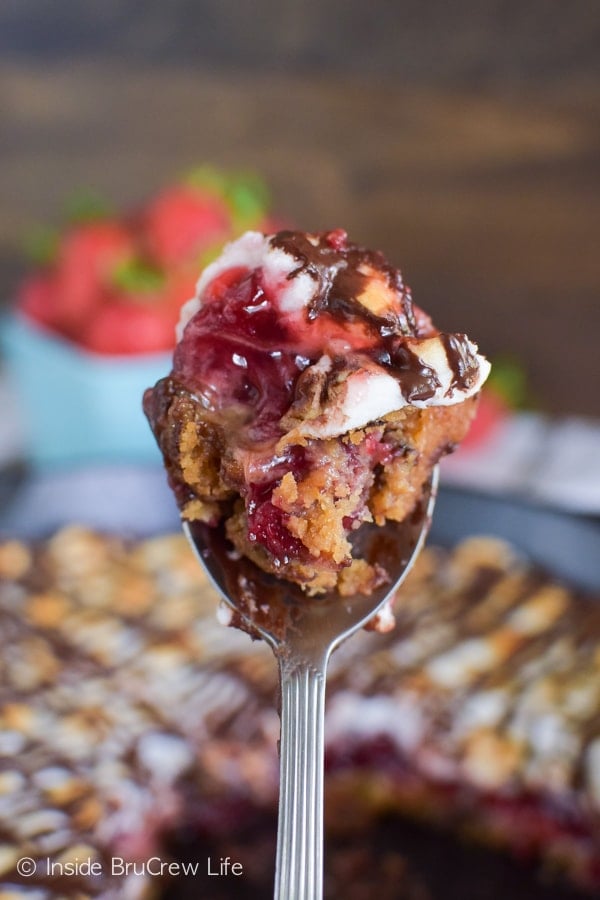 Oh, that ooey, gooey s'mores goodness is calling my name again. I'm going to admit that I made this twice in the past few months...and both times I'm pretty sure I ate most of the gooey cookie goodness. My thighs and jeans are not very happy with me right now!
Spoonfuls just kept disappearing every time I walked through the kitchen.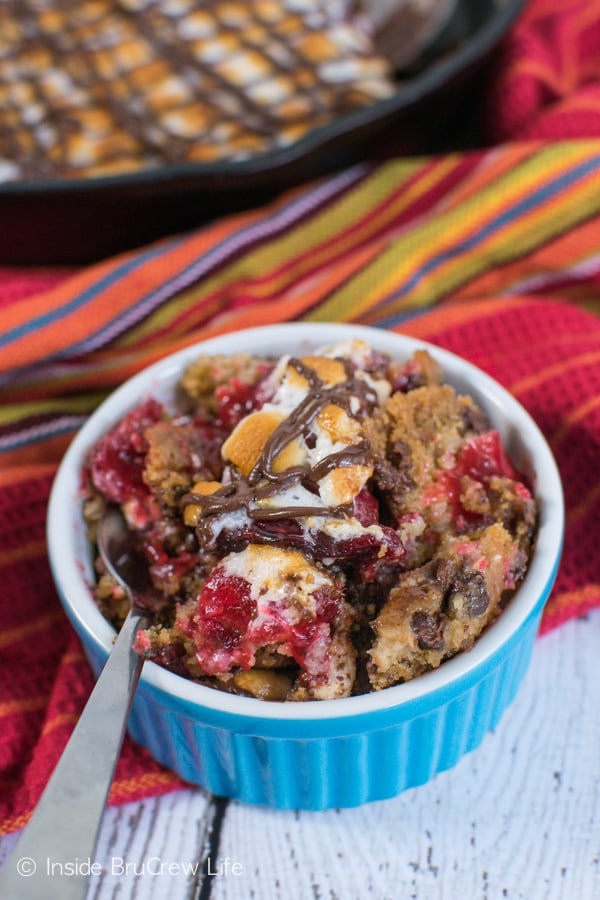 I was trying to clean out some of the items in our cupboards. I might have a tendency to always buy cookies, candies, pie fillings, and chocolate every time we go grocery shopping. Some times it can be dangerous to open the cupboard doors because you never know what might fall out at you.
Therewas an extra can of pie filling in the cupboard just waiting to be used, and roll of cookie dough hidden in a drawer in the refrigerator. Fate decided that they needed to go together!
Press the cookie dough in the bottom of a cast iron skillet
. Then top it with the pie filling. You can use a fork to "smash" some of the bigger berries. Bake it for 30 minutes, then sprinkle it with a healthy dose of marshmallows. Bake it a few more minutes, then turn on your broiler. This will give the melty marshmallows some color. Just make sure you watch them carefully because you do not want to scorch the top!
The last part of this easy skillet cookie is a drizzle of chocolate. You can't have a s'mores treat without lots of chocolate, right?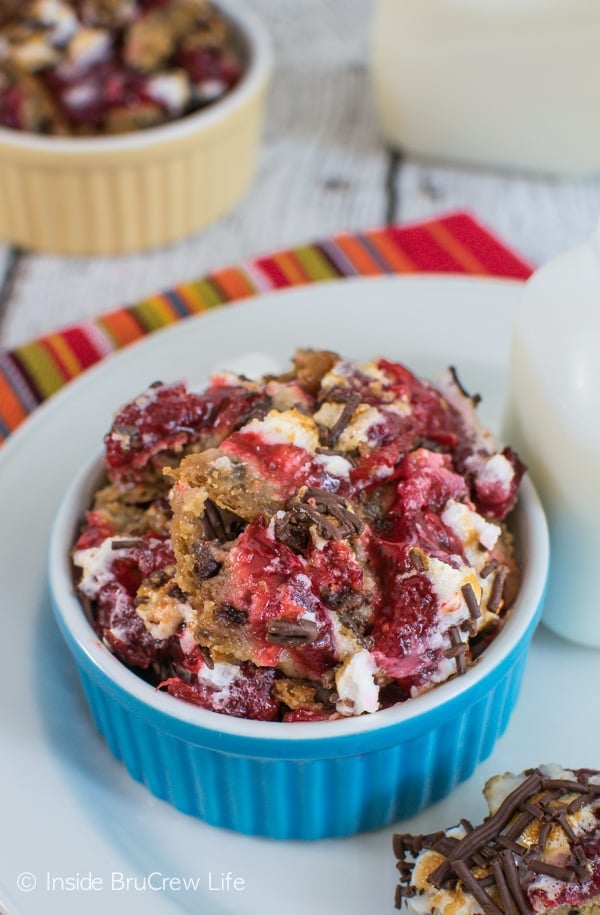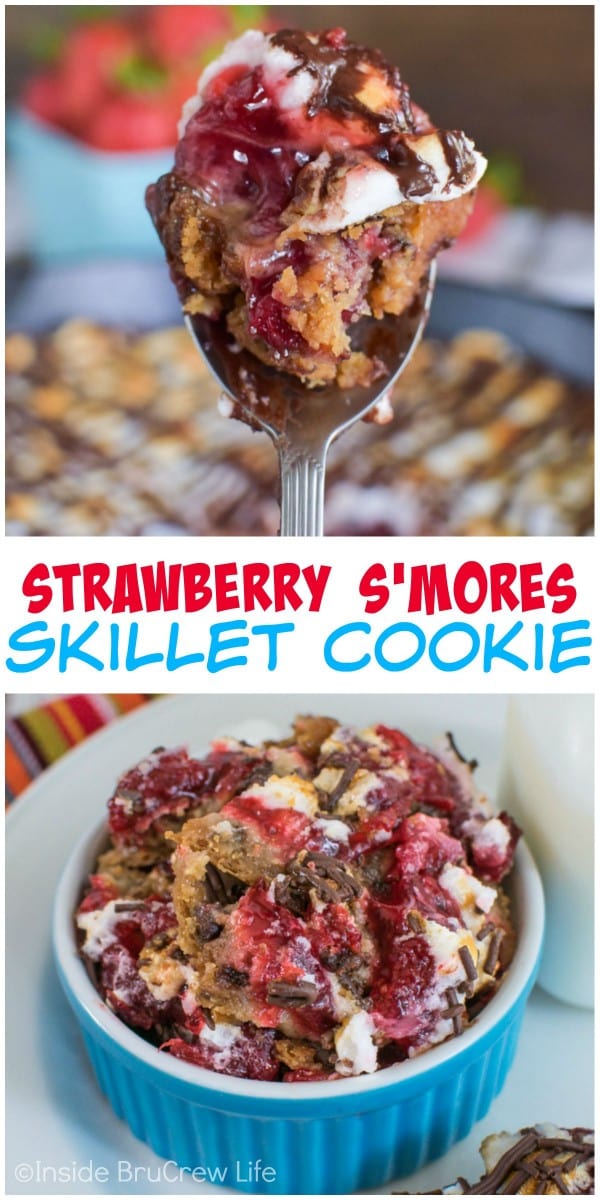 More treats to make in your skillet: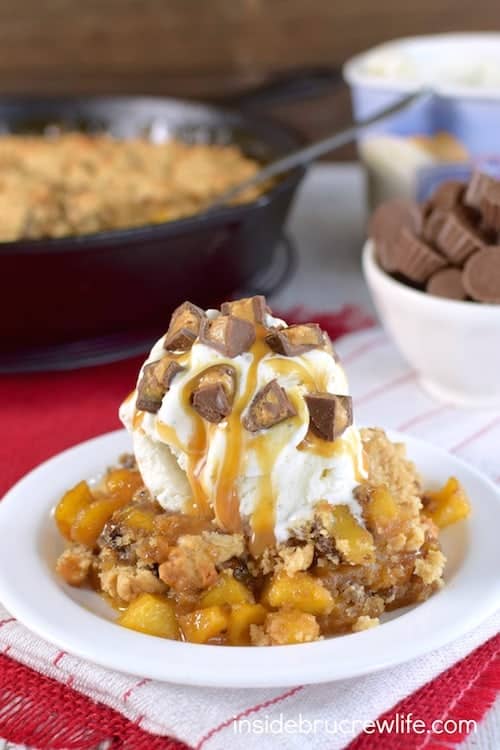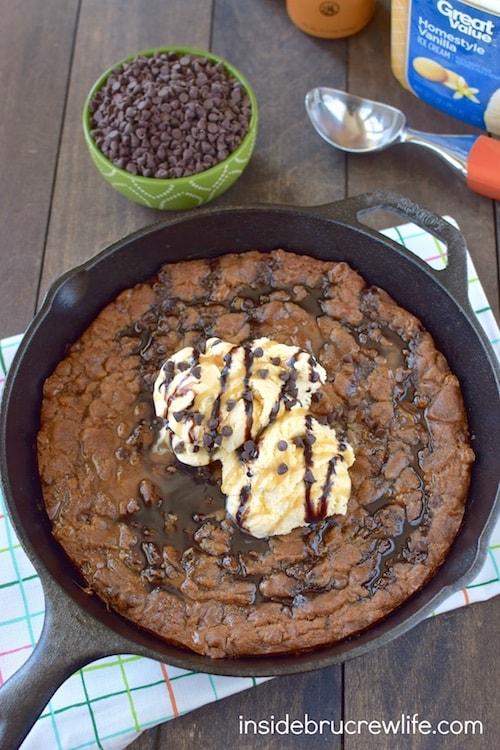 *This post contains an affiliate link. Purchase made through this link help support this blog. Thank you for letting me share products that we know and use.