A few weeks ago I had the opportunity to go to  the Build Your Blog Conference where I got to meet so many of you.  It was so much fun, and I learned so much.  Although I have to say that meeting the faces behind the blogs I read was by far my favorite thing.   I thought it would be fun to share a few of my favorite "tips" that I learned from attending this particular conference.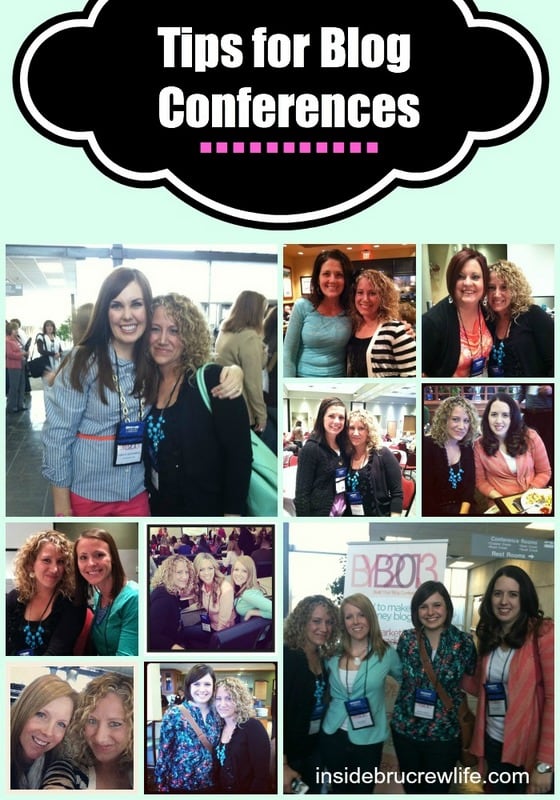 1.  Roommates are important.  It helps to cut costs, gives you someone to eat breakfast with, and someone to chat with when you want to go exploring later.  (I had the best ones 🙂
2.  Make sure your phone batteries are fully charged…you will want to take lots of spur of the moment pictures of new friends, old friends, or even the notes on the screen in class.
3.  Take lots of business cards to pass out every where you go.  Everyone else will be doing the same thing, and you want to be able to network fully!
4. Don't chicken out when you see a "bigger" blogger close by.  They are just normal people doing the same thing you are.
5.  Bring a water bottle with you for during class.  You will be doing lots of walking to and from class, so stay hydrated.
6.  Wear comfortable and cute clothes.  You will be sitting in class all day, so be comfortable.  There will be lots of pictures, so choose clothes that you feel good in too.
7.  Smile!  Everyone else is just as nervous as you are.  Your smile could help them get over their nerves.
8.  Be organized and know where you are going.  Print directions and agendas so you know where you are going.
If you have the opportunity to attend a blog conference, go for it.  I am looking forward to many more conferences in the near future.
Now let's get to the party…
*****************************
THE MOST VIEWED LINK
*****************************
COPY CAT TEXAS ROADHOUSE ROLLS from Chasing Supermom
******************************
THE FAB 5 TREATS
 *******************************

PEANUT BUTTER KRISPIES WITH FUDGE from Sweet Southern Blue – two of my favorite no bakes in one glorious treat!
PINCH ME NOT CUPCAKES from Love To Be In The Kitchen – what a fun green surprise in these yummy citrus cupcakes.
LUCKY CHARM FUDGE from The Velvet Moon Baker – Lucky Charms are one of my favorite cereal and I LOVE that is in fudge!  Must.Make.This!
GIRL SCOUT COOKIE HELLO DOLLIE BARS from Sunflower Supper Club – I would have absolutely no will power around these bars.
PULLED PORK SANDWICHES from The Real Housewives of Riverton – pork, barbecue,and a crock pot…this is my kind of dinner!!!
*****************************
THE FAB 5 TRICKS
******************************
NAPKIN PILLOWS from A Bright and Beautiful Life – I think I need to go buy some napkins so my couch has new fun pillows.
SHAMROCK WREATH from Alderberry Hill – I love cute and cheap crafts that are adorable!!!
FAMILY SUBWAY ART from Pink Polkadot Creations – these are great for filling frames on your shelves or walls.
NATURAL KITCHEN SINK CLEANER from Design, Dining, & Diapers – I have all these ingredients…my sink is going to thank me!!!
**********************************
 I can't wait to see your RECIPES, your CRAFTS, and your HOME DECOR.
I want to see it all, so go ahead and link it up.
Please don't link up giveaways or etsy shops though!
And also be sure to visit a few links and 
PLEASE leave some comment love!!!
I would love it if you shared the link party by linking back too.
Thank you!