Looking for a way to use up those ripe bananas on your counter? Make a loaf of this Triple Chip Banana Bread and watch it disappear. Just make sure you grab a slice before it is all gone.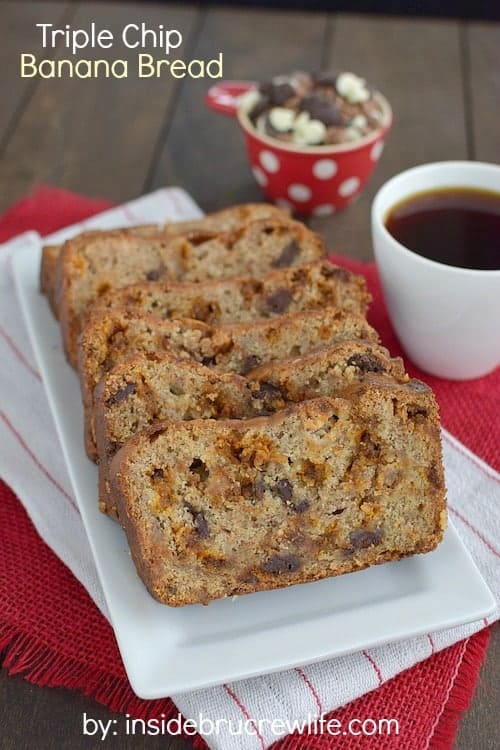 Bananas are a hit or miss thing in our house.
One week I can buy a bunch of bananas with the idea to bake something delicious, but then my family eats all of them as soon as they ripen. Don't they know that those bananas were supposed to become Double Chocolate Banana Muffins?
Or I get in banana-eating mood and eat all of the green ones before they can ripen. Yes, I am a crazy person who can only stand to eat fresh bananas when they are green. They have to crunch when I open the peel. My hubby laughs whenever he sees me eating these "banapples" because he loves a perfectly ripe banana. In fact, he prefers to eat his with the spots on them. To me, those are only good for baking when they hit that point.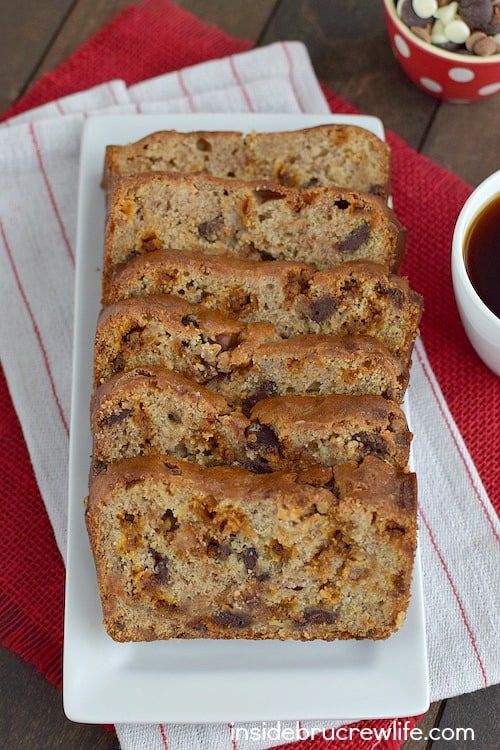 Then some weeks I buy the bananas, and they sit there forever. Ok, not forever, but until all of a sudden my kitchen becomes a fruit fly factory. One of these days I'm going to remember to try washing the bananas as soon as I come home and see if that really works.
Good thing I love to make banana treats because if a whole bunch goes brown and spotty, we are going to be munching on Banana Nut Cinnamon Rolls and Banana Toffee Cake all week for breakfast. Both recipes are just perfect with a warm cup of coffee in the morning. Or in the afternoon if I'm being honest.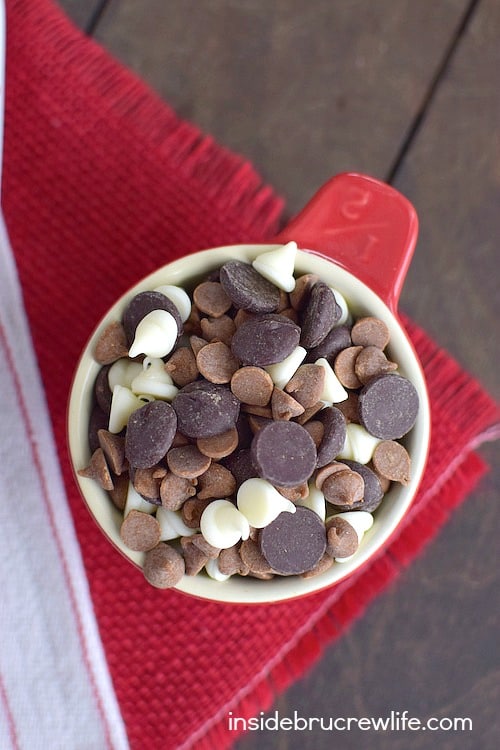 This time when the bananas turned I decided it was time to ramp up this Sour Cream Banana Bread with some extra chip-loving. Extra chocolate chips always get rave reviews here. Now I actually wasn't even going to photograph this bread because I only changed the recipe slightly. So, I sliced it up and let the kids go to town on it.
After my daughter took one bite, she turned and asked if I was going to blog this bread. I told her no, and she just shook her head and said, "Mom, this is awesome. You need to share it."
I'm glad I jumped up and took pictures of it right away, because that loaf of bread didn't last very long with 3 hungry kids munching on it. Ok, fine, I may have downed a few slices too. My daughter was right...this bread was totally awesome and had to be shared. Make a loaf and thank my daughter for her smart thinking.
I am one of the breakfast contributors for Food Fanatic. Head on over and print this Triple Chip Banana Bread recipe for later.