These Whoppers Granola Bars are the perfect after school snack for your children. Homemade granola bars are a great way to cut costs when making treats.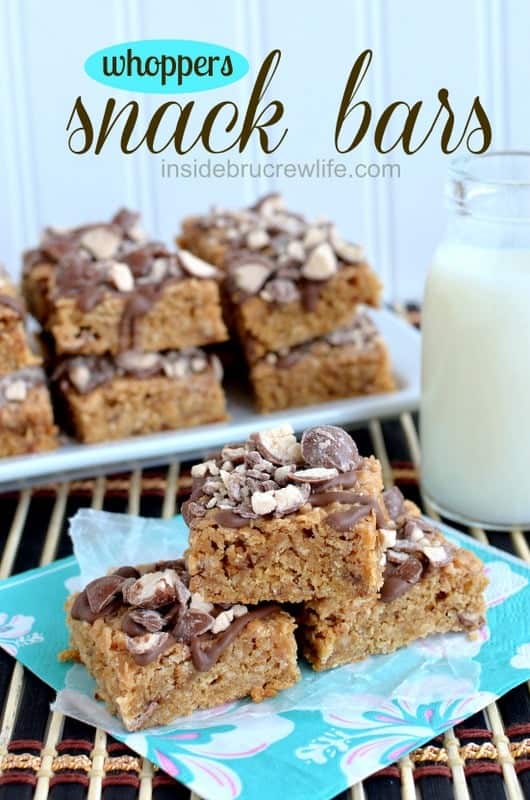 These chewy homemade granola bars are filled with chopped Whoppers and then drizzled with chocolate and more candy.
Talk about amazing!!! I seriously couldn't stop sneaking bites.
Luckily for me (and my jeans), I have three kids who come home ravenous from school every single day. And they know that mom has this crazy sugar gig going on, so there is almost always something delicious waiting on the stove for them to munch on when they burst through that kitchen door.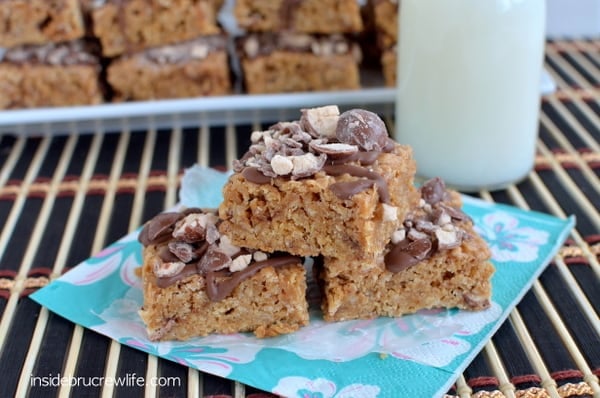 Thank goodness for them saving me from chowing down on all the bars.
I know these have all sorts of candy in them and chocolate drizzled on top, but I like to think that homemade granola bars are a little bit healthier than those hard pre-packaged ones you can buy at the store.
At least I know what I have put in them. Please don't burst my bubble and tell me I am sugaring up my children every day. They eat plenty of veggies and fruit every single week, and they are active in sports. Moderation is the key here.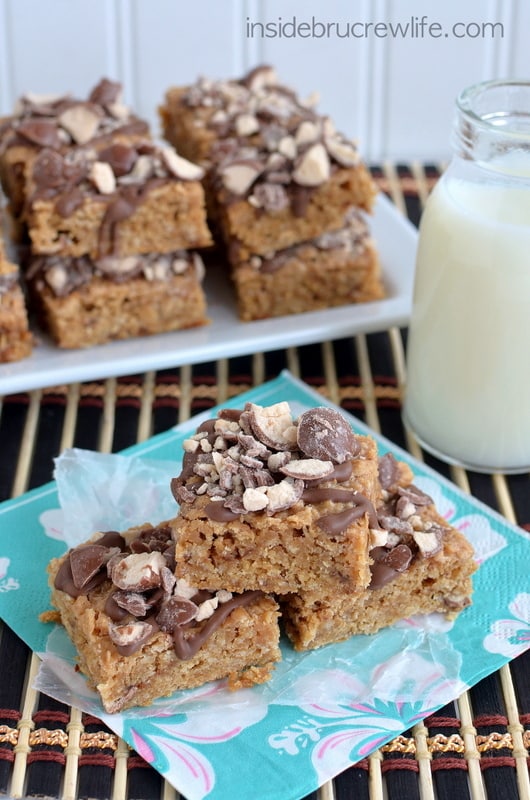 These homemade granola bars are nothing like the store bought ones. Clearly!
You start with a sugar and butter base. Sounds good so far right? Then add in the basics, like eggs, flour, and oats. This is when you can start to have fun with the recipe.
I use this base for all my bars. It is fun to see what you can create. These Caramel Oatmeal Bars have caramel bits and potato chips in them. So think outside the box and add in your favorite candies or snacks. I have a few more versions to make before the school year is over.
Or just make these Whoppers Granola Bars and watch your kids smile when they get home from school. Just don't do any taste testing before the kids get there...you might decide to hide the bars and pull out the apples for the kids to munch on while you hide in the closet with your new granola bar BFF.
Looking for more after school snacks:
All three of our kids recommend these easy recipes.
Stay up to date on all the BruCrew baking by following here:
FACEBOOK | PINTEREST | TWITTER | INSTAGRAM