Smoothies are a great way to watch what you are eating and add protein to your meals.  Try this Coconut Mango Smoothie for a light and refreshing meal during the holidays.
From November through December it is usually a food eating frenzy around here.  Cookies, cakes, pies, fudge, and much more can be found just about anywhere we go.  And I feel the need to "sample" all of it…in the name of research of course

Now I realize that most people associate smoothies with summer time.  But I am here to tell you that is a misconception.  Smoothies are a wonderful option to balance out all the eating you will be doing during the holidays too.  You get your dairy, fruit, and protein all in one glass.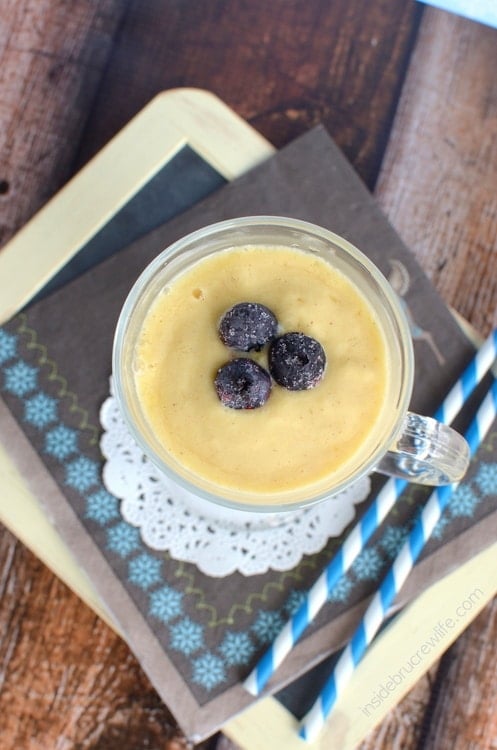 Kids also love smoothies…I like to call this one a "milkshake" and watch my kids come running.  They are ice cream monsters…so, please do not tell them this has no ice cream whatsoever 😉  I'm sure one day they will figure out that I have been "tricking" them with frozen fruit and greek yogurt, but for now mums the word.  The consistency of this smoothie has the creamy, smooth texture of ice cream, but without all those extra sugar calories.
That just means bring on the fudge…oh, wait that's not how this is supposed to work.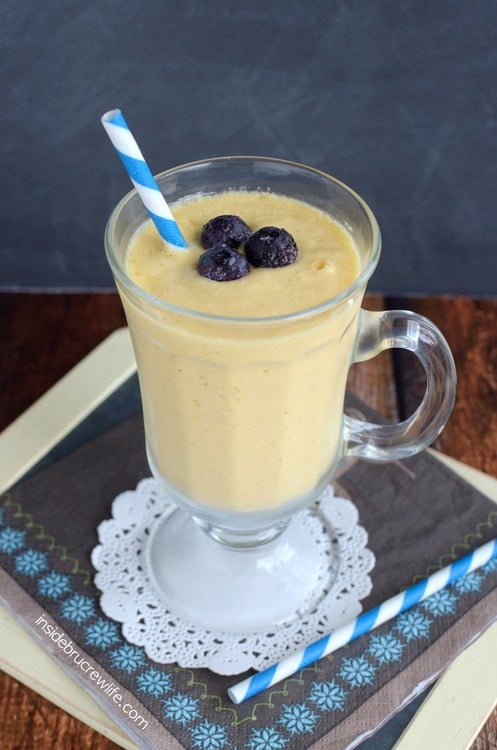 Smoothies are also great for those days when you have to run errands and need to eat on the go.   I love how quickly I can have a smoothie made using the Hamilton Beach Smoothie Smart Blender.   I drop all my smoothie ingredients into the blender and hit the Auto Smoothie button.  45 seconds later I have a perfectly blended smoothie.
Pour it into a to go cup using the no mess pouring spout, and you are ready to head out to the stores for a day of shopping…or fudge testing.  Whichever comes first.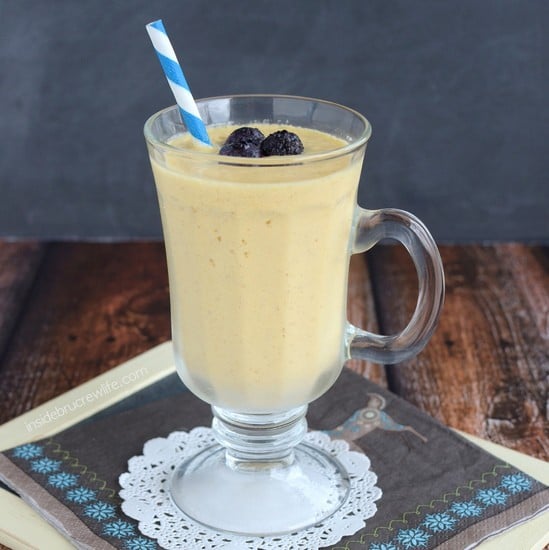 Are you ready to enjoy your own smoothies this holiday season?  I am partnering with Hamilton Beach to give one of you a Hamilton Beach Smoothie Smart Blender AND a Hamilton Beach Single Serve Blender.  You are going to love using both of these.   Enter using the rafflecopter below.  Contest is open to US residents 18 years and older.  Thank you for reading and good luck.
Frozen fruit, milk, yogurt, and protein powder pulsed together makes a delicious and filling meal.
Ingredients
1 cup frozen mango chunks
1 cup unsweetened coconut milk
1/2 cup greek yogurt
1 scoop vanilla protein powder
1/4 teaspoon cinnamon
Instructions
Combine all ingredients in a blender. Pulse until smooth and creamy. Pour into a glass and top with extra frozen fruit, if desired. Makes 1 serving.
http://insidebrucrewlife.com/2013/11/coconut-mango-smoothie/
Copyright Inside BruCrew Life
*Prizes have been provided by Hamilton Beach.  All opinions are 100% my own.