This Sparkling Cranberry Punch is a delicious drink that is easy to make and tastes so refreshing. A mixture of cranberry and apple juice with 7Up gives it the perfect sweet and tart flavor that everyone will enjoy. It is a great party punch for any occasion!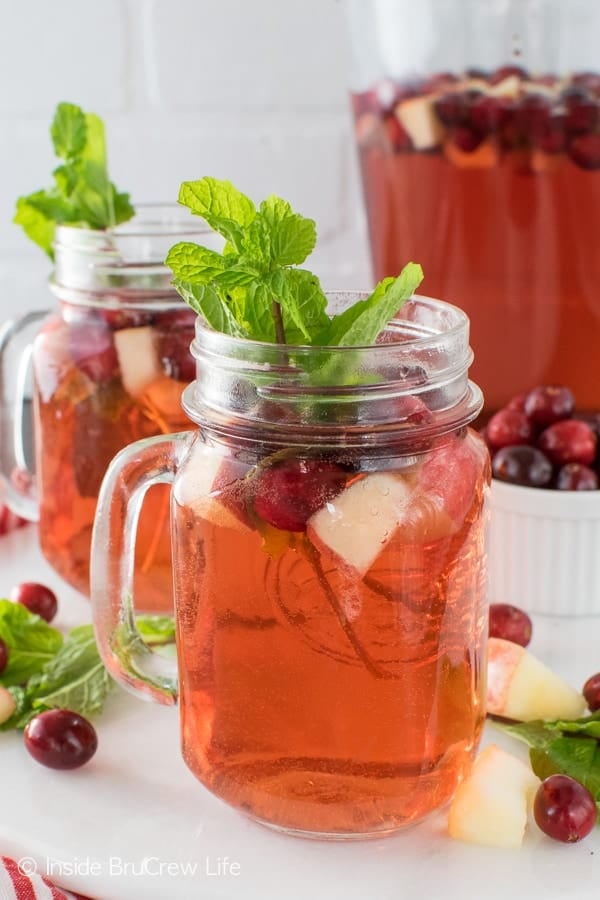 Do you have party plans for this weekend? This year we do not have any big plans for ringing in the new year. I'm thinking a movie, a batch of Cookies and Cream Popcorn, and some party punch.
It's so funny how as a kid you look forward to those nights when you can stay up late. Then as an adult you just want to curl up under the covers and go to sleep.
Watch a ball drop? No thanks. I'm perfectly ok with watching my eyelids droop instead!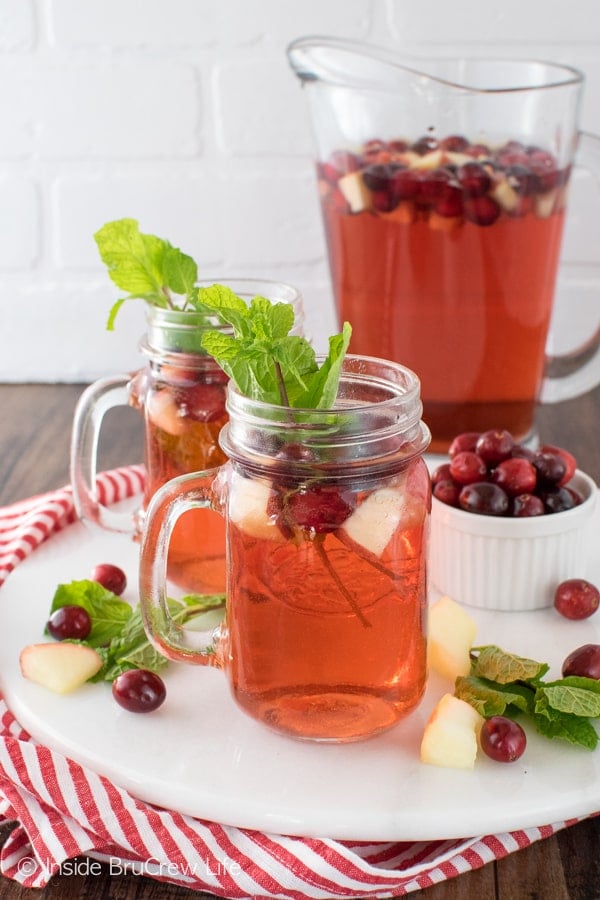 Easy Party Punch:
This easy party punch is the perfect mixture of cranberry apple juice with 7Up added for some fizzy bubbles. It is such a great drink to make for any party because everyone can enjoy this apple punch.
We used a cranberry 7Up to boost the cranberry flavor even more, but you can use a regular 7UP or Sprite. Just make sure you remember to stir the pop in right before you serve the punch because the fizz will disappear if you do it early.
This is the perfect holiday punch with 7up because of the bright red color and flavors. It's perfect for Thanksgiving when fresh cranberries are in season. Adding a spring of mint really makes it a pretty red and green Christmas punch too.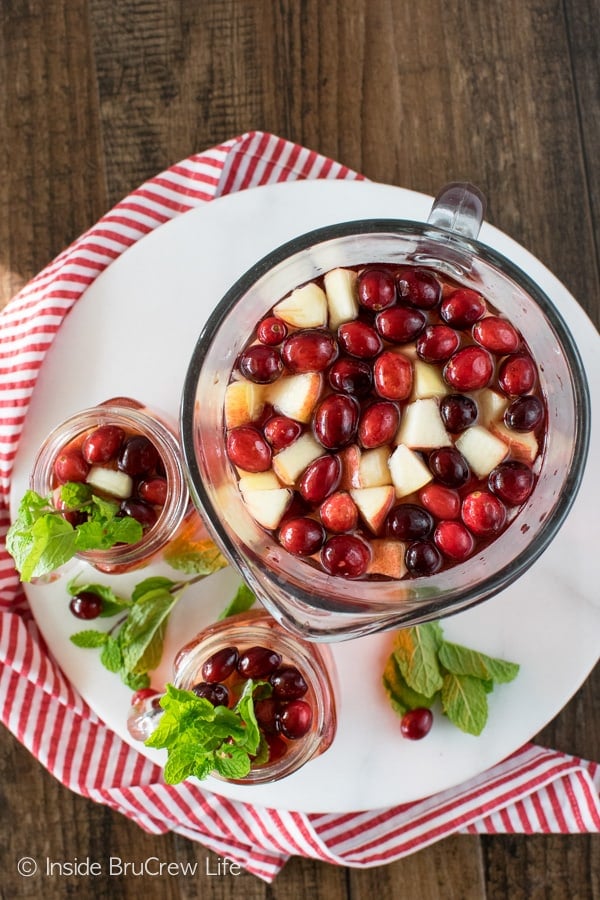 Ingredient List:
A combination of cran apple juice plus a clear soda makes this easy punch come together in seconds. Be sure to refrigerate the juices and 7Up ahead of time, so they are cold.
Cranberry Juice
Apple Juice
7Up - feel free to use any flavor
Fruit - cranberries, apples, mint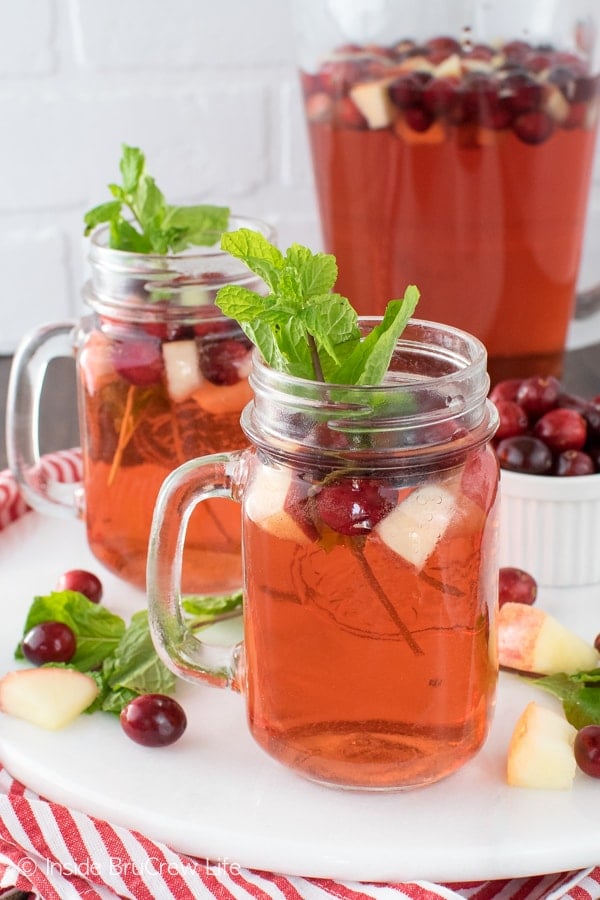 How to make Cranberry Punch:
Stir together the juices and refrigerate until chilled.
Add the soda or pop to the pitcher or punch bowl right before serving.
Float fresh fruit for added flavor and color.
Variations:
Use apple cider instead of apple juice.
Any clear soda such as Ginger Ale or Sprite can be used in place of the Cranberry 7Up.
Sparkling water can be used to reduce the amount of sugar in the punch.
Make it an adult drink by adding champagne instead of pop.
Floating fruit is a great way to make a punch a little more festive. This punch is a mixture of apple and cranberry juice, so floating fresh cranberries and apple chunks in the punch will let people know what flavor it is. A sprig of mint leaves in each glass give it a pretty color and taste. Use fun colored straws when you serve the fruit punch for kids.
Can this punch be made ahead of time?
Yes, you can mix the juices together ahead of time, so they are nice and chilled. Add the chilled soda until right before serving though, so it does not lose the fizziness.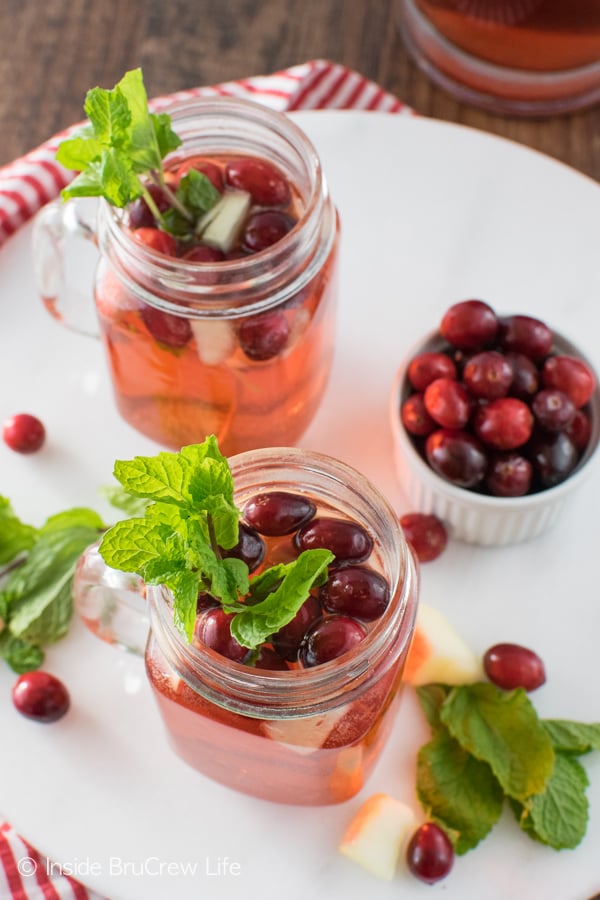 Other simple punch recipes: