Swirls of colors make these Red, White and Blue Cheesecake Bars a fun dessert to share at holiday parties this summer. Brighten your Memorial Day and 4th of July picnics with this easy patriotic recipe!
Add a batch of these Fireworks Cookies and Cream Cookies and your picnic will be perfect.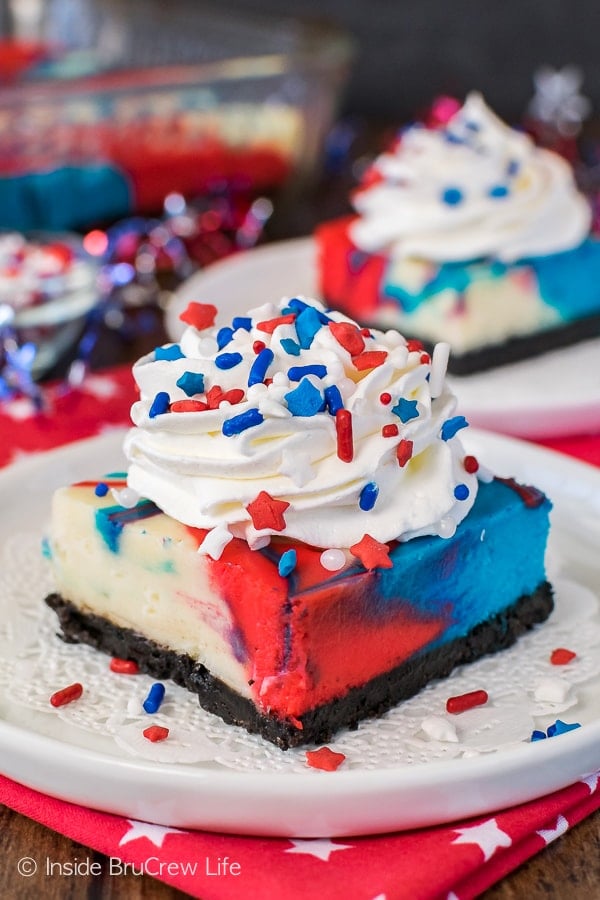 CLICK HERE TO PIN THIS RECIPE FOR LATER!
Happy last day of school friends! Bye, bye routine and order and hello sleeping in and lazy summer days. This month has been a blur with all the end of the year school activities and life stuff.
Tonight our oldest graduates from high school. We are so proud of him for accomplishing this big milestone in his life. He is just ready to mark high school off his list.
We are planning a fun open house for him this weekend. Lots of food and desserts and friends to celebrate with were our only requirements.
Although, since it is a holiday weekend, we aren't sure how many people will actually show up. That's ok. That just means more M&M Blonde Brownies for me. Not going to complain if that happens!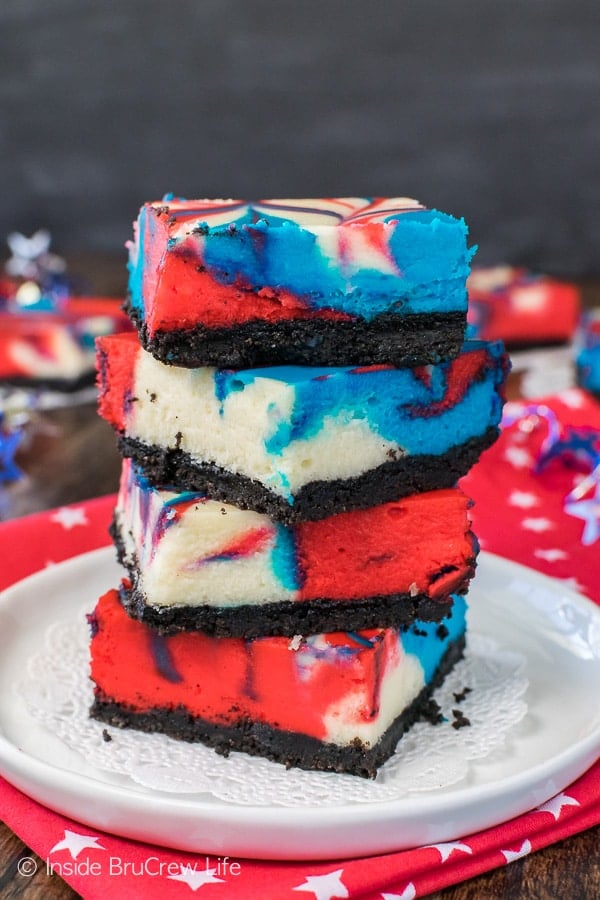 Since we will probably have lots of leftovers from the party, I'm not sure what we will be doing for Memorial Day this year.
My guess is that we will be just relaxing in our backyard eating leftover Italian beef and Chocolate Cheesecake Pie Bites. After a busy weekend, that sounds like the perfect plan to me.
One of the desserts I was thinking about making for the party this weekend were these Rainbow Vanilla Cheesecake Bars. I love that they are so easy to customize for any party. You can make your swirl of color match any party theme.
I was totally planning on making them in our school colors. Until I got to the store and saw all kinds of red, white, and blue decorations. One of my favorite things to do for the holidays is to make a dessert that is fun and colorful.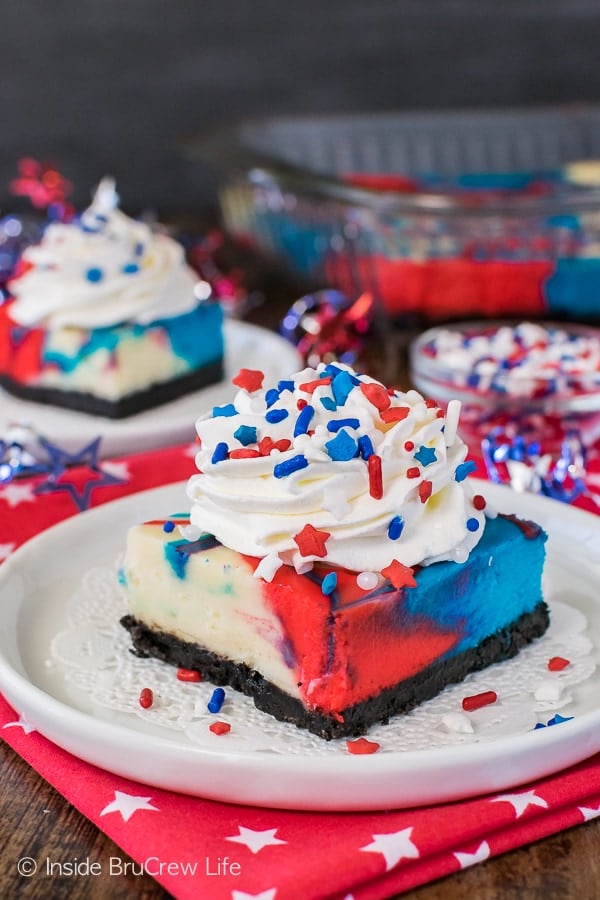 I was looking through the 4th of July treats I have made over the years for the blog, and there was nothing red, white, and blue in the cheesecake section!
I am a sucker for fun holiday desserts, so I knew I had to make these Red, White and Blue Cheesecake Bars right away. For testing purposes, of course!
Plus, my in-laws were coming early for the graduation festivities, and they both love cheesecake, so I had to have dessert. I knew they wouldn't care that it was a holiday treat in the middle of a non-holiday week.
I'm glad they enjoyed the bars, but I'm even happier that I had help eating the cheesecake because summer is here now. My shorts are begging me to lay off the sweets ASAP!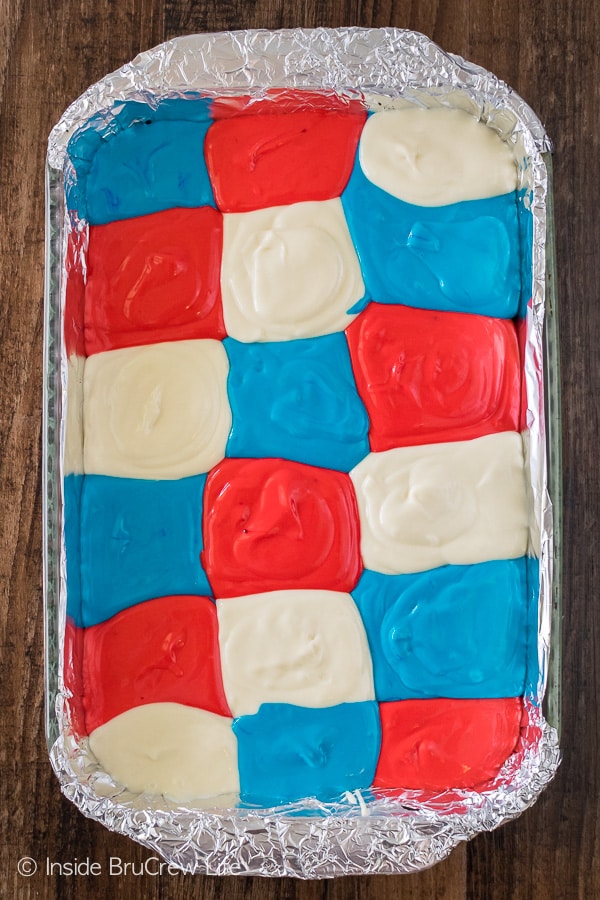 How to make Red, White and Blue Cheesecake Bars:
Make sure you set your cream cheese out at least 30 minutes ahead of time. It's much easier to beat it into the sugar if it is softened first.
Crush the cookies and mix them with some butter. Press the mixture into a pan. I like to line my pans with foil first, then spray them with nonstick spray, but that's not necessary. It just makes it easier to get the cheesecake out to cut into nice neat squares. Bake and cool the crust.
Once you get your cheesecake batter mixed together, decide how many colors you will be using. For this one I divided the cheesecake evenly into three bowls, then I colored two of them red and blue. I like to use gel colors because you don't have to use as much to get vibrant colors.
Once you have all your colors mixed together, drop them by spoonfuls all over the top of the cooled cookie crust.
Then take a butter knife and gently drag it through the colors. I like to go up and down and then back and forth. Make sure you do not pull the knife through the crust though!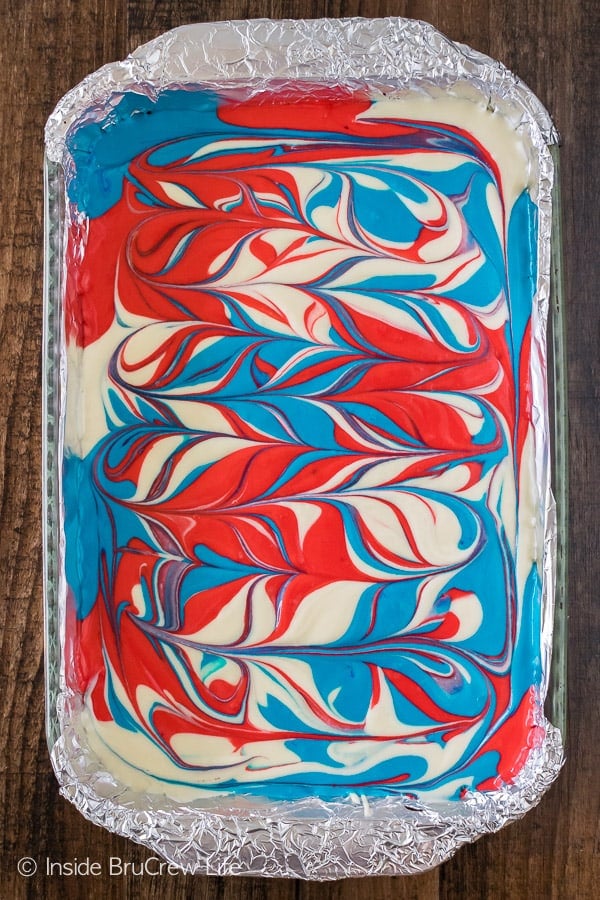 After you get your swirls how you like them, it's time to bake. My favorite way to bake cheesecake is with a pan of water on the bottom rack of the oven.
The pan of cheesecake goes on the oven rack right above it. You read that right. No water bath is necessary!!!
Trust me. I wrote the entire Cheesecake Love cookbook and did steam baths for almost every single one.
The longest part of making a cheesecake is the wait time after. Cheesecake has to chill for 4-6 hours so that it has time to set up before you cut into it.
I suggest making your cheesecake bars the night before, so they can chill overnight.
Plus, then you will have a sweet treat ready for breakfast. Oh, wait. That probably isn't the best idea if you want to wear your skinny shorts this summer! LOL!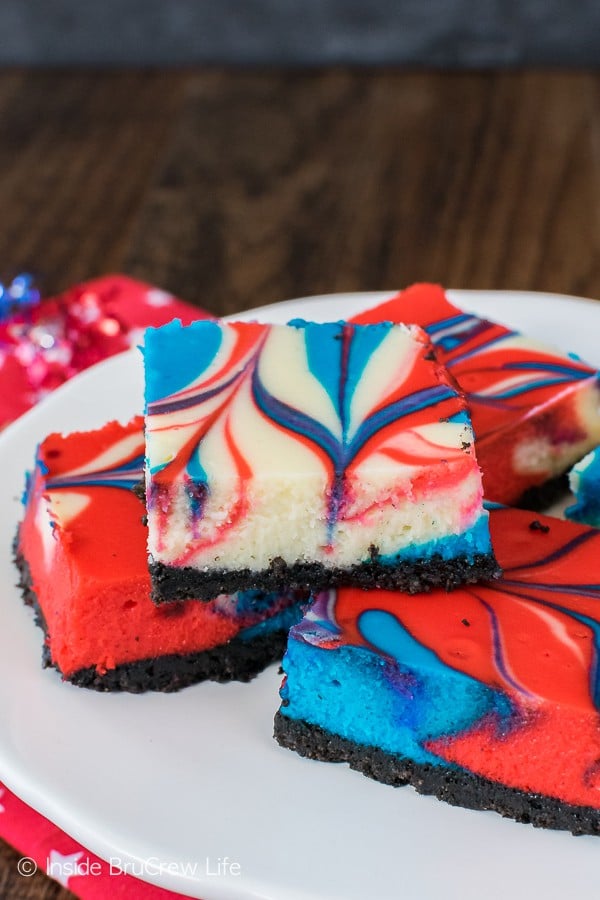 More Fourth of July treats:
Firecracker Cupcakes – swirls of red white and blue and a candy fuse make this a fun picnic dessert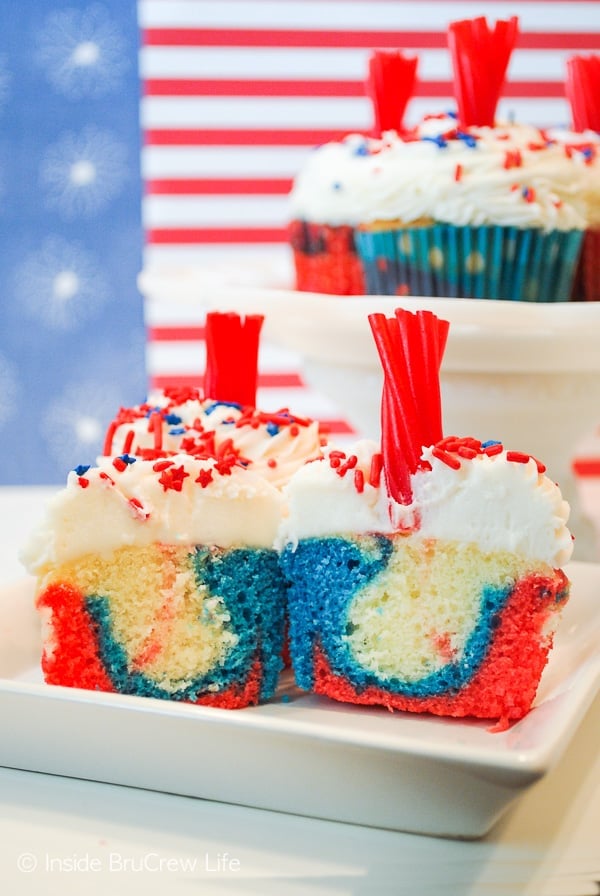 Patriotic Glazed Funfetti Donuts – simple vanilla baked donuts get a fun red, white, and blue twist from the marbled glaze on top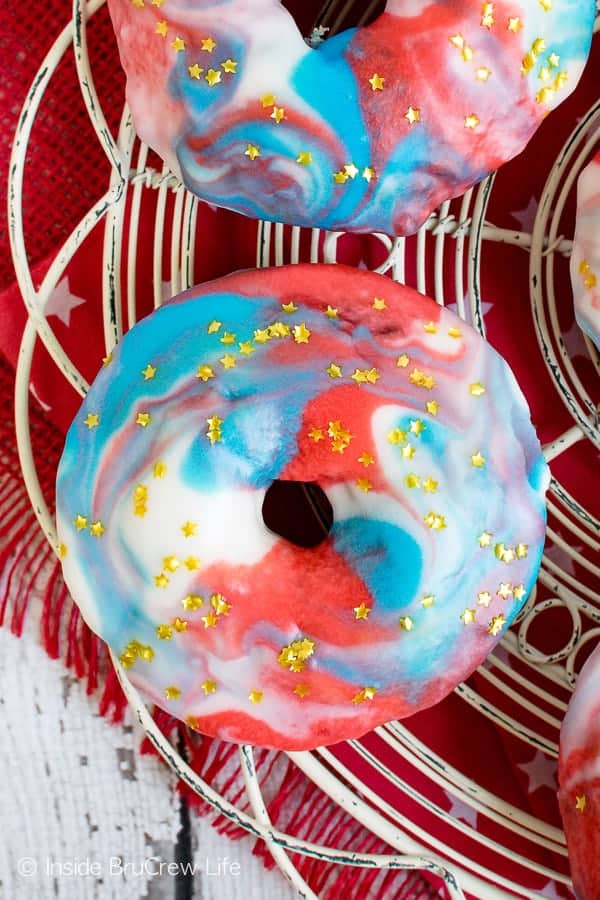 White Chocolate Berry Pudding Cake – pockets of pudding and fresh berries make this a delicious summer cake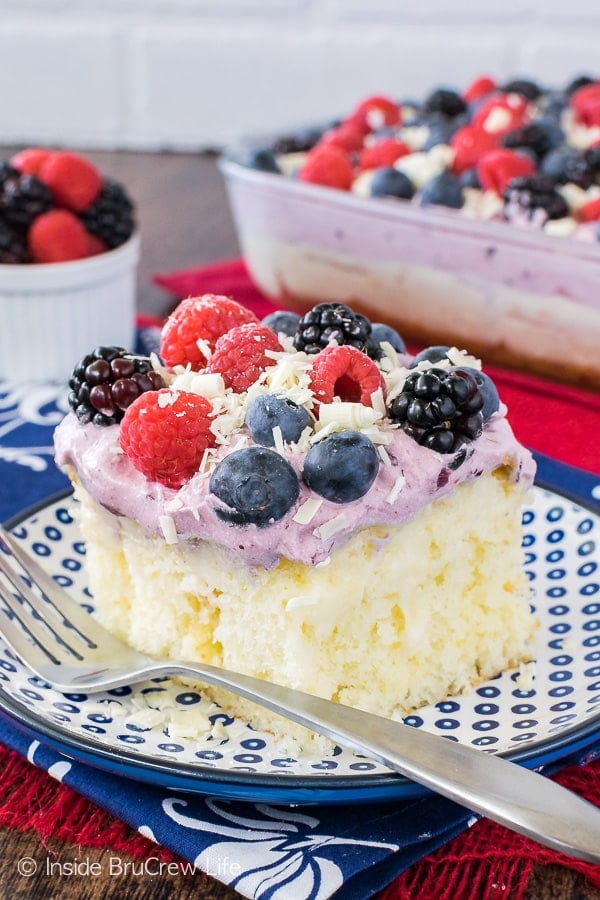 Looking for more red, white, and blue desserts for your holiday picnics?
Stay up to date on all the BruCrew baking here:
FACEBOOK | PINTEREST | GOOGLE+ | TWITTER | INSTAGRAM | BLOGLOVIN
Sign up to receive an email in your inbox for each new recipe:
EMAIL SUBSCRIPTION
Yield: 24 cheesecake bars
Red, White and Blue Cheesecake Bars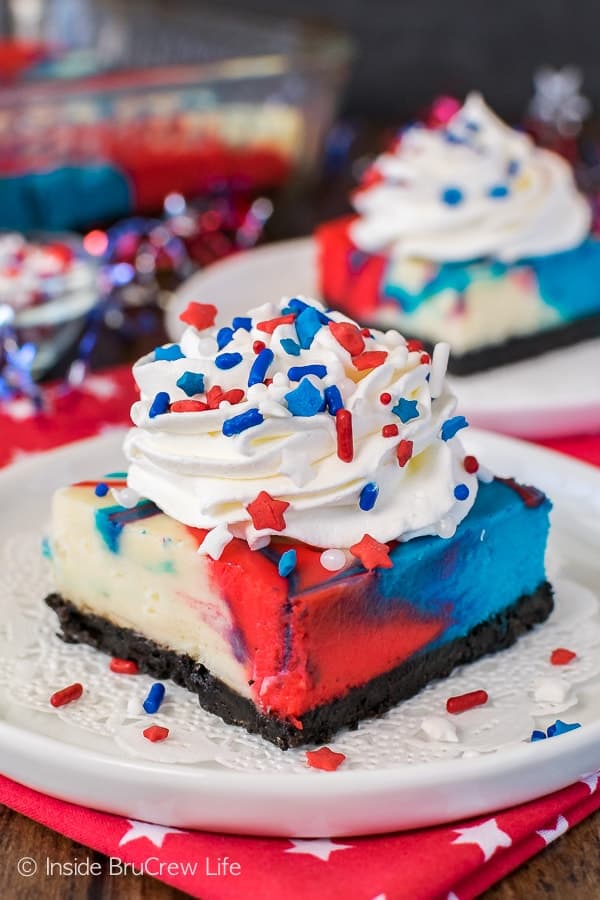 Swirls of colors make these Red, White and Blue Cheesecake Bars a fun dessert to share at holiday parties or picnics this summer.

Prep Time 30 minutes

Cook Time 55 minutes

Total Time 1 hour 25 minutes
Ingredients
For the Crust
30 Oreo cookies
4 Tablespoons unsalted butter, melted
For the Cheesecake
3 - 8 ounce packages cream cheese, softened
1 1/2 cups granulated sugar
1/4 cup sour cream
2 teaspoons vanilla extract
1/4 cup all purpose flour
3 large eggs
red & blue gel food colors
Instructions
Preheat the oven to 325 degrees. Line a 9x13 pan with foil.
Place the cookies (cream included) in a food processor. Pulse until the cookies become crumbs.
Stir in the butter until mixed in. Press the mixture evenly in the bottom of the prepared pan. Bake for 10 minutes. Remove and cool.
Place a large baking sheet on the bottom rack of the oven. Fill it halfway with water. Let the oven preheat again.
Beat the cream cheese and sugar until creamy. Add the sour cream, vanilla, and flour and beat again.
Add the eggs and beat until they are mixed in. Divide the batter evenly into 3 bowls. Use the food coloring to tint two of the bowls red and blue.
Spoon the mixture evenly over the crust, alternating the colors. Drag a butter knife through the batter going up and down and back and forth until you get a good swirl pattern. Do not over mix.
Place the pan on the oven rack above the pan of water. Bake for 45 minutes. Remove from the oven immediately and place on a wire rack.
Let the cheesecake cool on the counter for 1 hour, then refrigerate for 4-6 hours. Cut into squares and serve with Cool Whip and sprinkles, if desired.
Nutrition Information:
Yield:
24
Serving Size:
1
Amount Per Serving: Calories: 251Total Fat: 16gSaturated Fat: 8gTrans Fat: 0gUnsaturated Fat: 4gCholesterol: 58mgSodium: 155mgCarbohydrates: 26gFiber: 0gSugar: 20gProtein: 3g

Nutrition facts are an estimate and are not guaranteed to be accurate. If you need special diet advice, please see a registered dietician.

This post does contain an affiliate link. Inside BruCrew Life may receive a small percentage from sales made through these links. As always, these free links do not cost you any extra. Thank you for letting us share products with you this way.