These mini Chocolate Pumpkin Cheesecakes are a fun and delicious dessert for Thanksgiving dinner parties. A chocolate cookie crust and two layers of cheesecake taste so good together.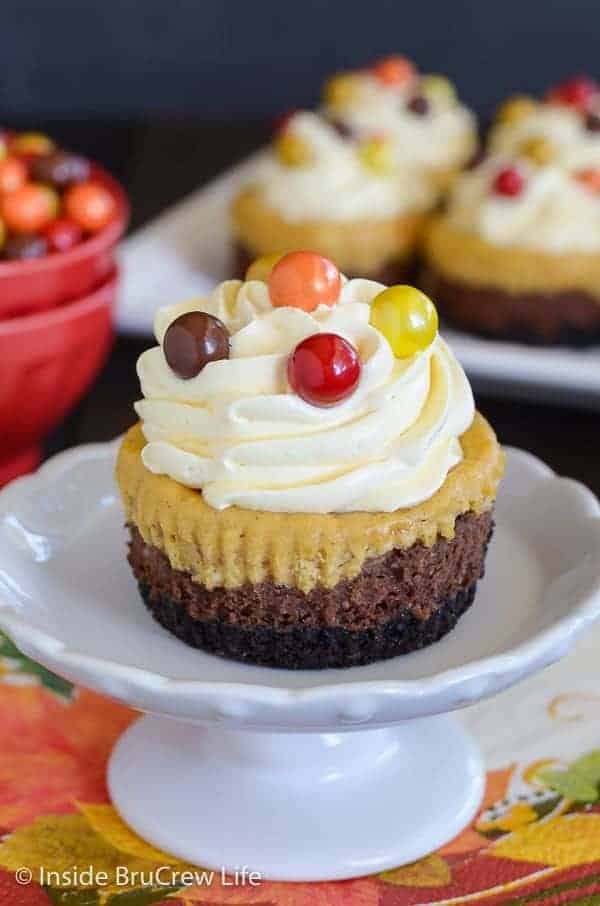 CLICK HERE TO PIN THIS RECIPE FOR LATER!
As we head into one of the busiest seasons of the year, I want to stop and to be thankful for all the things that God has allowed in our lives. Sometimes it is easy to only see the negative things around us. It's easy to loose sight of all the good that we actually have.
I want to remember to be content with everything in my life. I want to be thankful for the good AND the bad.
Does that mean I am full of joy and a delight to be around all the time? No way. I have my bad moments/days/weeks too. It's a daily choice to be joyful in the things God allows me to walk through.
I want to remember to enjoy life just how it is. It is ok to slow down and relax even when life gets busy. It is ok to celebrate the little things that happen day to day.
Yes, even those terrible, no good, rotten days. Celebrate that you made it through in one piece. Celebrate that you handled it with grace and patience. Celebrate that everyone is still alive.