This Banana Pudding Cheesecake combines the best banana cheesecake recipe with a classic banana pudding. Layer it with fresh bananas and whipped topping and you get an amazing banana dessert!
If you are a fan of banana and cheesecake, you need to try this mini Chocolate Banana Cheesecake too.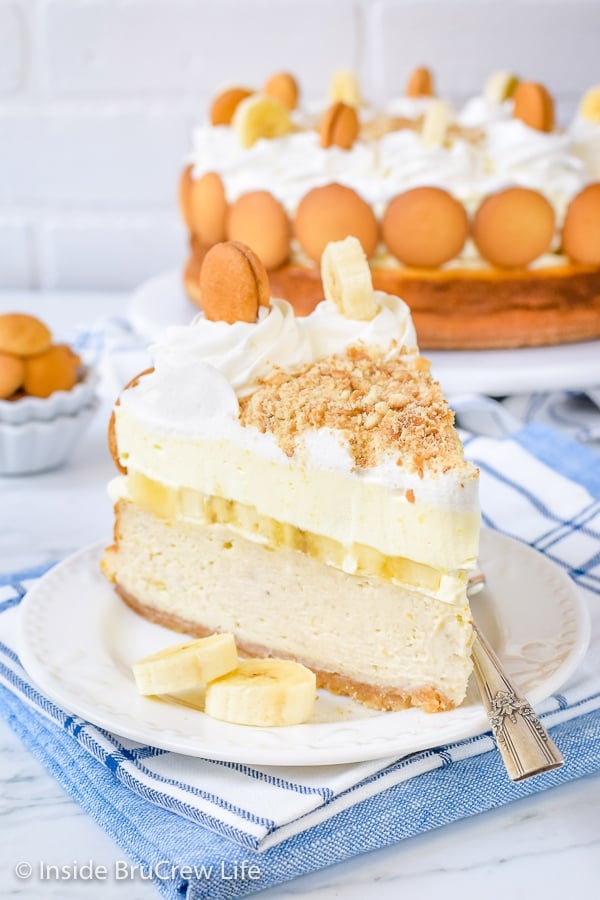 Banana Cheesecake
Cheesecake is one of our favorite things to make for dessert. Over the years we have come up with so many recipes for cheesecake bars, full sized cheesecake, mini cheesecakes, and no bake cheesecakes.
This banana cheesecake recipe is a combination of two of our favorite classic desserts…banana pudding and banana cheesecake. A few years ago we made this Banana Split Cheesecake, and it is still one of our our all time favorites because it is made with real bananas.
I decided to make that same banana cheesecake, but this time I added a simple banana pudding layer on top. The combination of thick creamy cheesecake with light fluffy pudding turned out so good. It may be our new favorite cheesecake.
Packed with banana pudding flavor, this twist on banana cheesecake will be a new favorite with your family too.