Serve some eye popping fun at Halloween parties this year! Oozing red gel frosting and edible googly eyes add a spooky flair to these peanut butter Halloween Eyeballs. Your friends will thank you when they see these candy eyeballs staring back at them from the dessert table.
Need more Halloween treats? These homemade Butterfingers and these decorated monster cookies are fun to make and eat.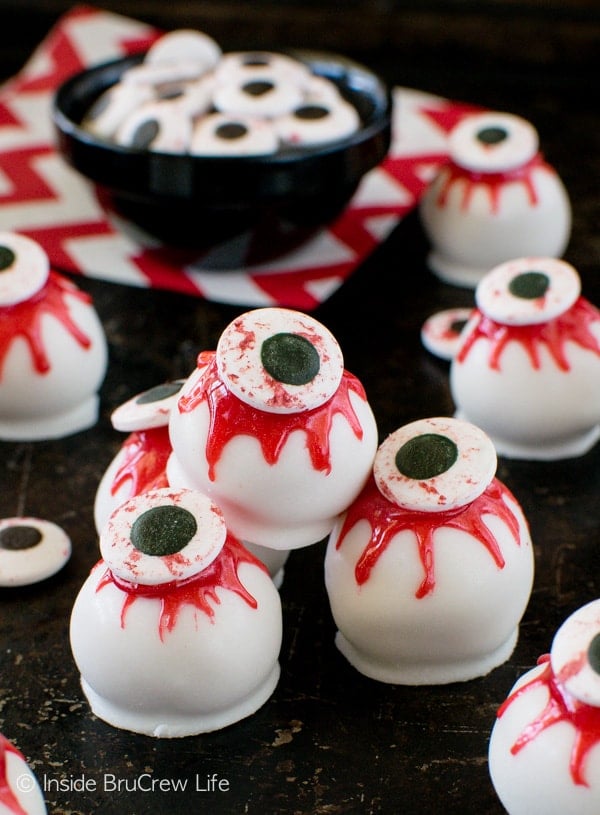 Every year in October our boys ask if I am going to make these spooky Halloween eyeballs again. A few years ago I jazzed up peanut butter balls for a party, and now my family asks for these candy eyeballs for Halloween every year.
Of course, I will never turn down an opportunity to make and eat chocolate and peanut butter treats.
Why We Love These Candy Eyeballs
Our zombie eyeballs are the perfect Halloween candy. They are made with real peanut butter and white chocolate, so they taste amazing.
We added red gel to give them that extra spooky touch. Plus, these buckeyes are decorated with edible googly eyes making them "look" extra special!
These are the perfect no bake treats to make your favorite trick-or-treaters laugh. Just don't forget to save a few zombie treats for yourself!