The layers of chocolate, marshmallow, and Oreo cookies make this S'mores Oreo Icebox Cake a dessert worth splurging on. This is a delicious cake to bring to summer picnics or barbecues.
It's also no-bake, so it's perfect for those days when it is too hot to even think about baking.
*Love these recipes? Be sure to sign up for the BruCrew email to have these recipes delivered to your inbox each time a new one is shared.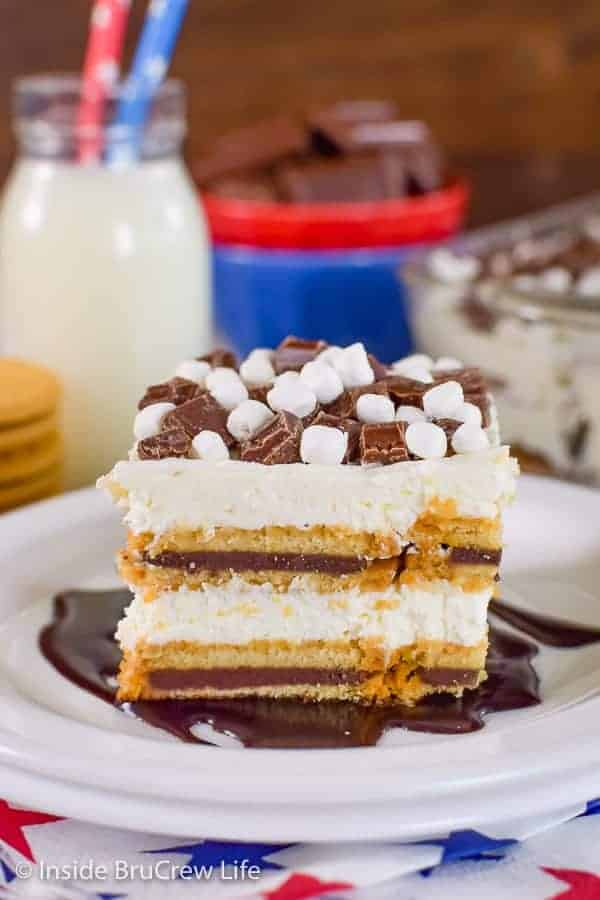 CLICK HERE TO PIN THIS RECIPE FOR LATER!
So, I have realized lately that most stores know just how to get consumers to make those extra little purchases. You know the ones, right? The little purchases that you throw into your cart at the very last second.
Magazines are usually the main one that get me every time. I will be standing in the check out line just minding my own business (or scrolling through Instagram), and then I look up and see a new issue with some tantalizing recipe on the front. And before you know it, that magazine and probably 2 others are in my cart.
Target has gotten wise to this little tactic because they also put the newest Oreo cookies at the beginning of the checkout aisles. I'm a sucker for new Oreo flavors, so I always end up buying those too.