This No Bake Strawberry Cheesecake is great for any occasion. It is light, fluffy, and full of fresh strawberry lime flavor. A golden Oreo cookie crust adds the perfect touch to the strawberry mousse cake.
Want more easy strawberry desserts? Check out this no bake strawberry pie and this strawberry fluff salad. They are two of our favorites to make when we have fresh strawberries.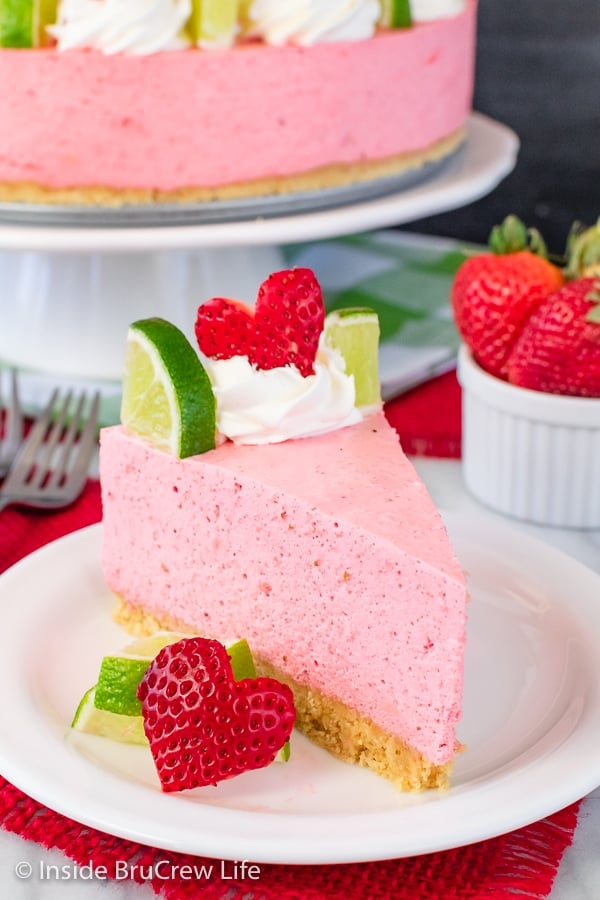 This show stopping no bake strawberry cheesecake is topped with whipped cream, strawberries, and limes. It is the perfect dessert to make for any occasion. The strawberry filling is simple to make and has such a light and refreshing flavor from the daiquiri mix.
The idea for this strawberry daiquiri cake has been swirling around inside my head for a while now. So I decided to tweak the recipe for these no bake strawberry cheesecake cups by turning it into a full size cheesecake. The result was a delicious dessert that everyone loved.
This easy cake is perfect for anyone who loves strawberries and wants an impressive dessert without a lot of hassle. With just 15 minutes of prep time, this pink cake will be the hit of any party or gathering.
Why Make This Dessert
The mousse cake is so easy to make and comes together in minutes.
No baking required. Sweet dessert to make when it is too hot to turn on the oven.
Fresh strawberries give the filling a sweet taste and make the top so pretty.
The vibrant pink color makes it a great dessert to make for Valentine's day.
Go ahead and serve this strawberry mousse cake at your next celebration and watch it disappear in minutes. It really is a great dessert for any time of year.
[Read More…]