This Rocky Road Fluff Salad is a great no bake recipe for summer picnics and potlucks. The easy chocolate mousse is loaded with nuts, chocolate, and marshmallow goodness. If you love Rocky Road ice cream, you will love this pudding dessert.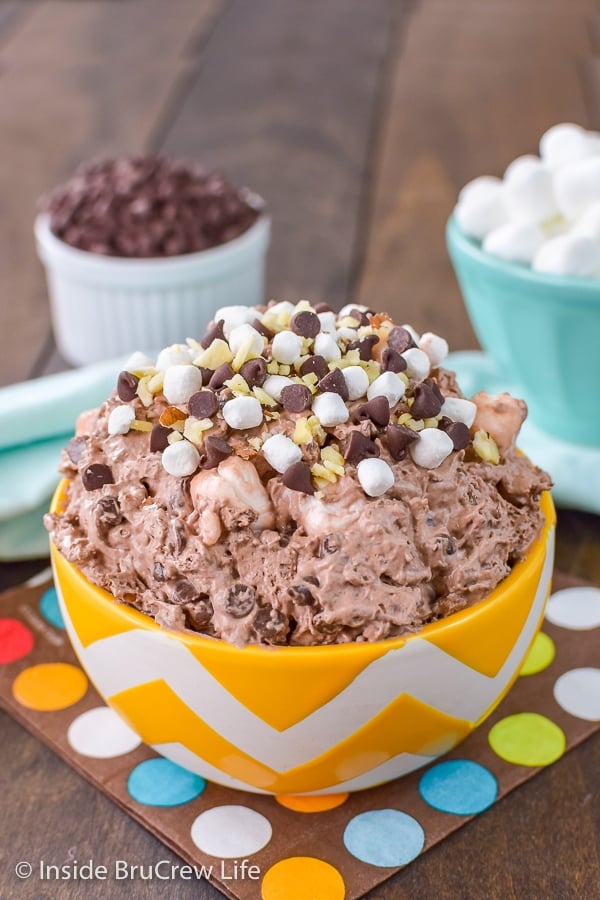 Dessert Salad:
Let's talk about salad for a minute. When you first hear the word salad, I am sure you think green leaves, vegetables, and dressing, right?
But did you know that a salad is actually a dish consisting of small pieces of food mixed with a sauce? So, this chocolate pudding dessert could be called a salad! It has small pieces of nuts and chocolate mixed together with a fluffy chocolate pudding "dressing". Sounds like a salad to me. Wink, wink!
One of our most popular fluff salads is this Banana Split Fluff Salad. It is an easy no bake dessert that is perfect for summer picnics.
Since that dessert salad was such a hit online, I started thinking about other fun variations. Rocky road ice cream is one of my favorites. I love soft marshmallow mixed with chocolate and nuts, so I added those flavors to this chocolate delight recipe.
This chocolate fluff salad with rocky road toppings turned out to be the best idea of the summer so far!