This pretty Marshmallow M&M's Fudge is a great no bake dessert that can be made in just a few minutes.
The pastel candies make it a great treat for Mother's Day, bridal showers, baby showers, or weddings. Use different colors to make it work for other parties and events.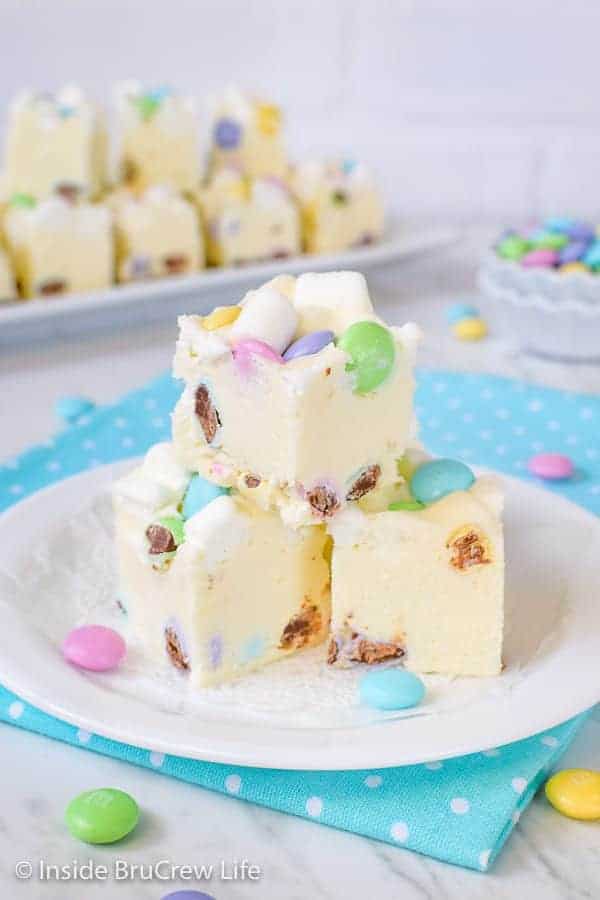 CLICK HERE TO PIN THIS RECIPE FOR LATER!
I realize that I just shared a fudge recipe with you last week, and that this easy fudge staring back at you has Easter candy in it.
Stick with me. I promise this Easter fudge makes sense. After all, you probably have just as much Easter candy lurking in your house as I do, right? We need someway to use it all up before the next holiday.
These M&M Blonde Brownies are is my favorite way to use up extra bags of those colorful chocolate candies. Ok, ok, so eating M&M's by the handfuls is actually my all time favorite way to "get rid" of chocolate. But my shorts and swimsuits would really prefer it if I didn't do that very often. [Read More…]