This amazing Funfetti Cheesecake is loaded with bright colored sprinkles and topped with a hot pink white chocolate glaze. Such a fun and festive dessert to make for any celebration.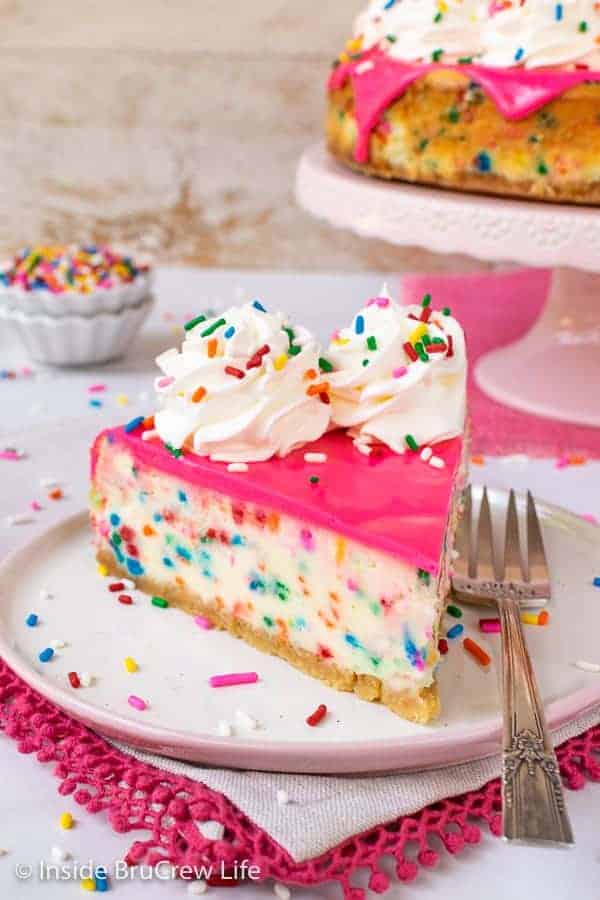 CLICK HERE TO PIN THIS RECIPE FOR LATER!
A few weeks ago I was cleaning and rearranging some things in our pantry when I realized that I have 3 bins full of sprinkles. And these are not tiny little bins. So my question is how many sprinkles are too many? Because apparently I have quite a few.
I guess that means I should start using more sprinkles in my baking. A lot more sprinkles. And maybe I should just stop buying sprinkles until I use up what I have.
Of course, since I had sprinkles on my mind, I had to make something right away. Since I have been wanting to make a cake batter cheesecake loaded with lots of rainbow colored sprinkles, this was the perfect time to do it. [Read More…]