Creamy Tomato Soup is a comforting classic that can easily be made at home. With its smooth and creamy texture, this homemade tomato soup is great to serve on its own or as a starter to a meal. It's a delicious choice to make any time of year.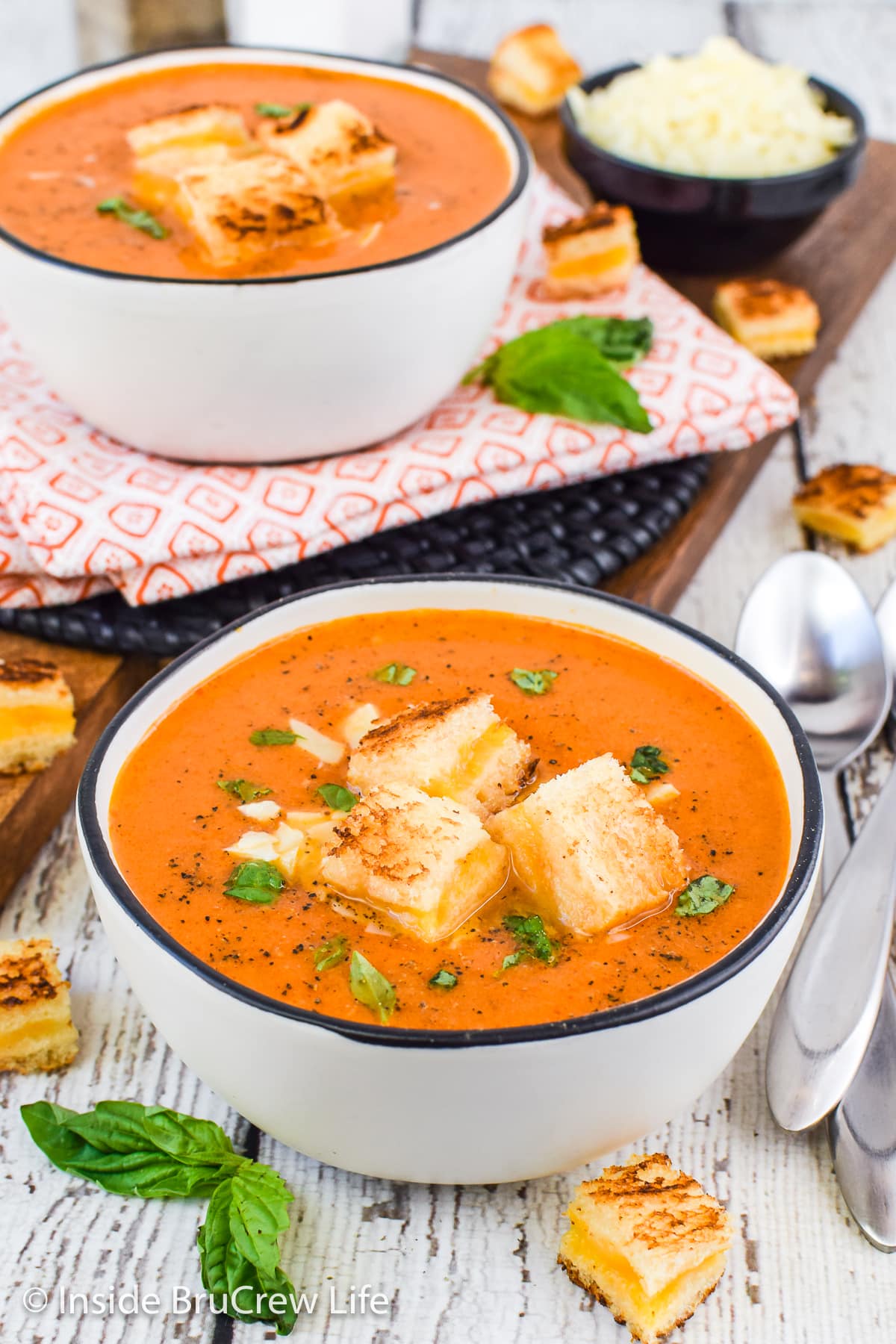 Jump to:
Making soup when it's cold outside is a great way to warm up. It's also such a comforting meal that just makes you feel cozy.
We love having tomato soup with a loaf of garlic herb bread or grilled cheese. There is something about that classic combo that you never outgrow.
Recently we had extra canned tomatoes in our pantry, so I made a big pot of homemade tomato soup. This tomato soup recipe ended up being an absolute hit with my family. In fact, my husband said multiple times that this was the best soup he has ever had.
Why Creamy Tomato Soup is the Best
Skip the store bought soup! Tomato soup is one of the easiest soups to make on the stove top in minutes.
Only 5 ingredients - These 5 fresh ingredients give this soup a bright color and vibrant flavor. It is so much better than opening a can of tomato concentrate.
Customizable flavor - This creamy soup can be made to your taste preferences. Feel free to adjust the cream to make it more or less rich. Add other ingredients like onions, garlic, or herbs like thyme or rosemary to enhance the flavor.
Wholesome and nutritious - Many store bought canned soups contain sugar, salt, preservatives, and/or artificial flavors. When you make soup at home, you have control over the ingredients and can avoid these extra additives.
Quick and easy - Using just a few ingredients you can have a pot of soup on the dinner table in less than 30 minutes.
Cost effective - It is a great way to use up extra ingredients in your kitchen or garden. Plus, you can freeze the soup base, which will save you time and money later.
Key Ingredients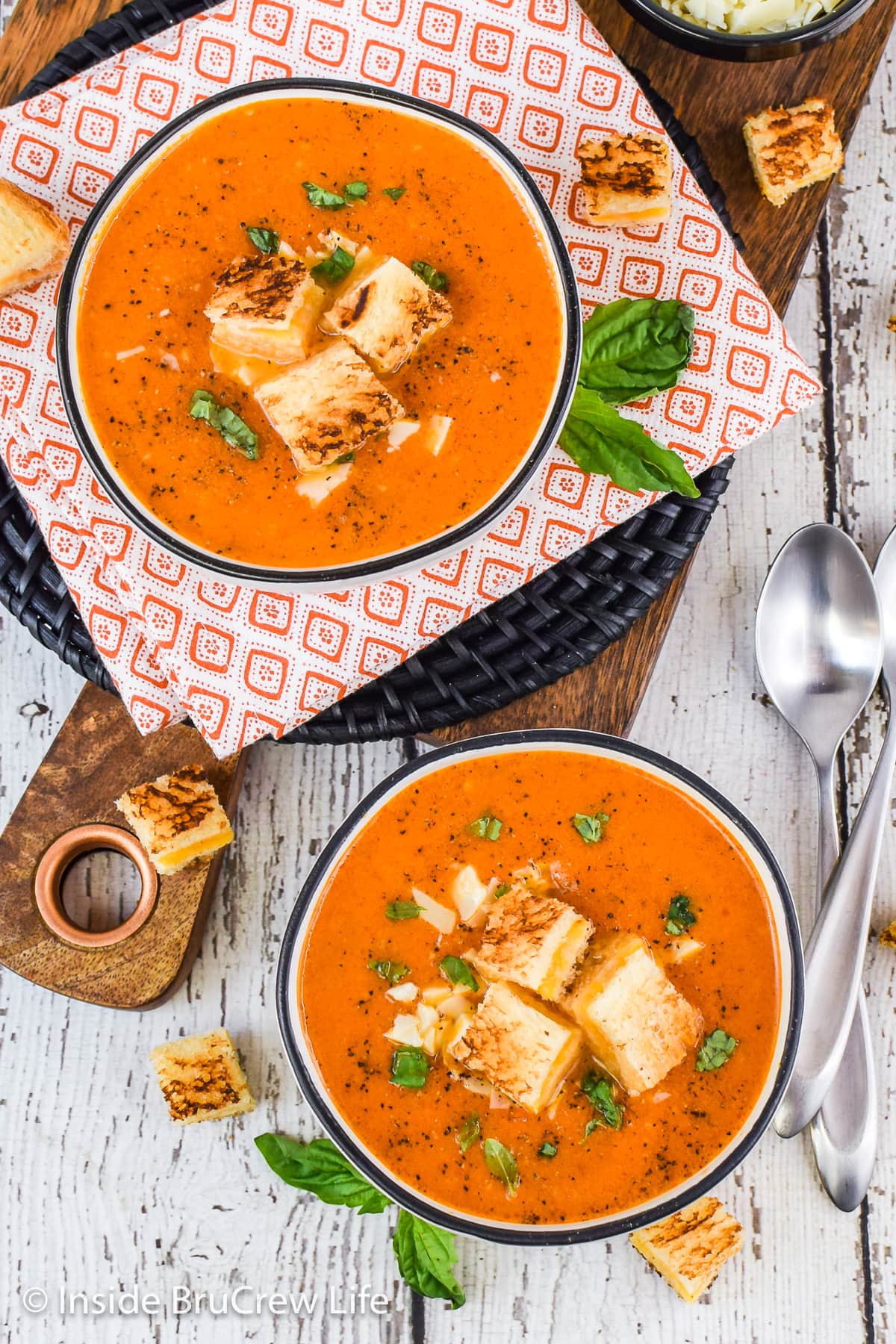 This recipe for creamy parmesan tomato soup is made with just FIVE simple ingredients. You may have most of these in your kitchen right now.
Whole Canned Tomatoes - Puree the tomatoes in a food processor before starting.
Chicken Broth - Adds flavor to the tomatoes as it simmers. Use vegetable broth if you want to make a vegetarian based soup.
Garlic - Adds more flavor.
Heavy Cream - Gives this tomato soup recipe a creamy taste and texture. Light cream is not recommended because it can curdle. The fat content in the heavy cream protects the dairy from curdling.
Grated Parmesan Cheese - This type of cheese adds a saltiness and rich flavor without getting stringy.
Creamy Tomato Soup Toppings
Adding extra things to the top of a bowl of tomato soup makes it even better, in my opinion. Here are a few things you can add to your quick and easy tomato soup recipe, if you like.
Shredded Cheese - Parmesan, Cheddar, Mozzarella
Croutons
Fresh Basil or Chives
Grilled Cheese cubes
BruCrew Tip: Shredded parmesan cheese, fresh basil, and grilled cheese cubes is my favorite combo.
How to Make Tomato Soup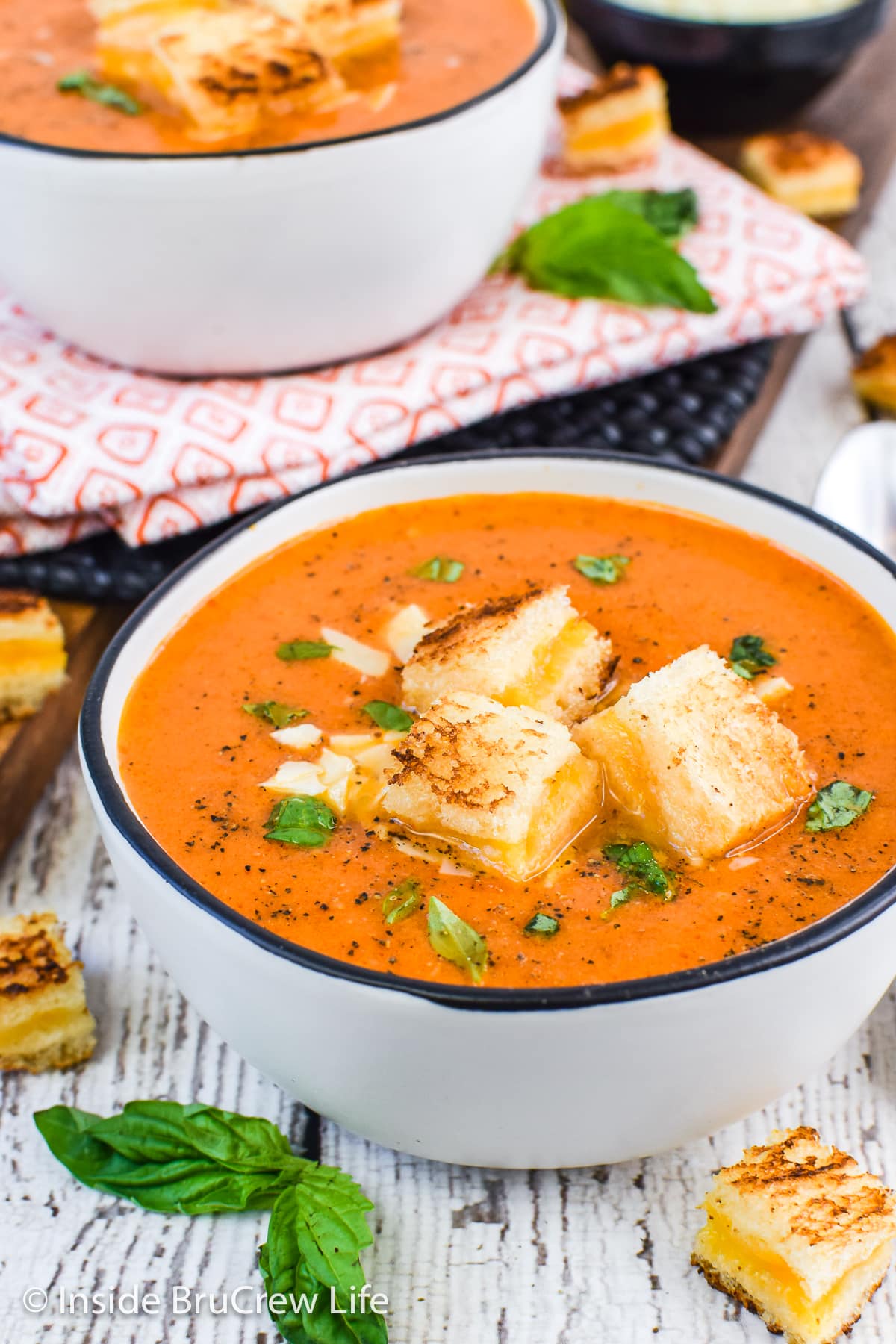 This cream of tomato soup recipe has so much more flavor than the classic canned tomato soup you grew up on. It comes together quickly in one pot.
Puree tomatoes. Pour two cans of whole peeled tomatoes into a food processor or blender. Pulse until smooth.
Make the soup base. Pour the tomatoes into a large pot. Add broth and garlic. Let this come to a low boil over medium heat. Remove from the heat.
Add cream and cheese. Stir in heavy cream and grated Parmesan cheese. Place on the stove and continue heating until it comes to a very low boil again. Reduce the heat and simmer for about 15 minutes.
Blend until creamy. Use an immersion blender to puree the mixture into a creamy soup. You can skip this if you don't mind the bits of garlic in your soup.
BruCrew Tip: Fill serving bowls with different toppings and set them on the dinner table along with the pot of homemade cream of tomato soup. Let everyone get creative by adding toppings to their own bowl.
Storing Leftover Soup
In the Refrigerator - Place leftover soup in an airtight container in the refrigerator for up to 3 days. Reheat on the stovetop or in the microwave stirring occasionally.
In the Freezer - You can freeze tomato soup with heavy cream. Let it cool to room temperature. Pour the soup into single serving bags or large serving bags, allowing room at the top for expansion as it freezes. Write the date on the bag and freeze for up to 3 months.
To Reheat - Thaw in the fridge overnight or heat from frozen. The soup can be reheated in a pan on the stove top over low-medium heat or microwaved. Make sure to stir really well to incorporate the ingredients and bring it back to its original consistency.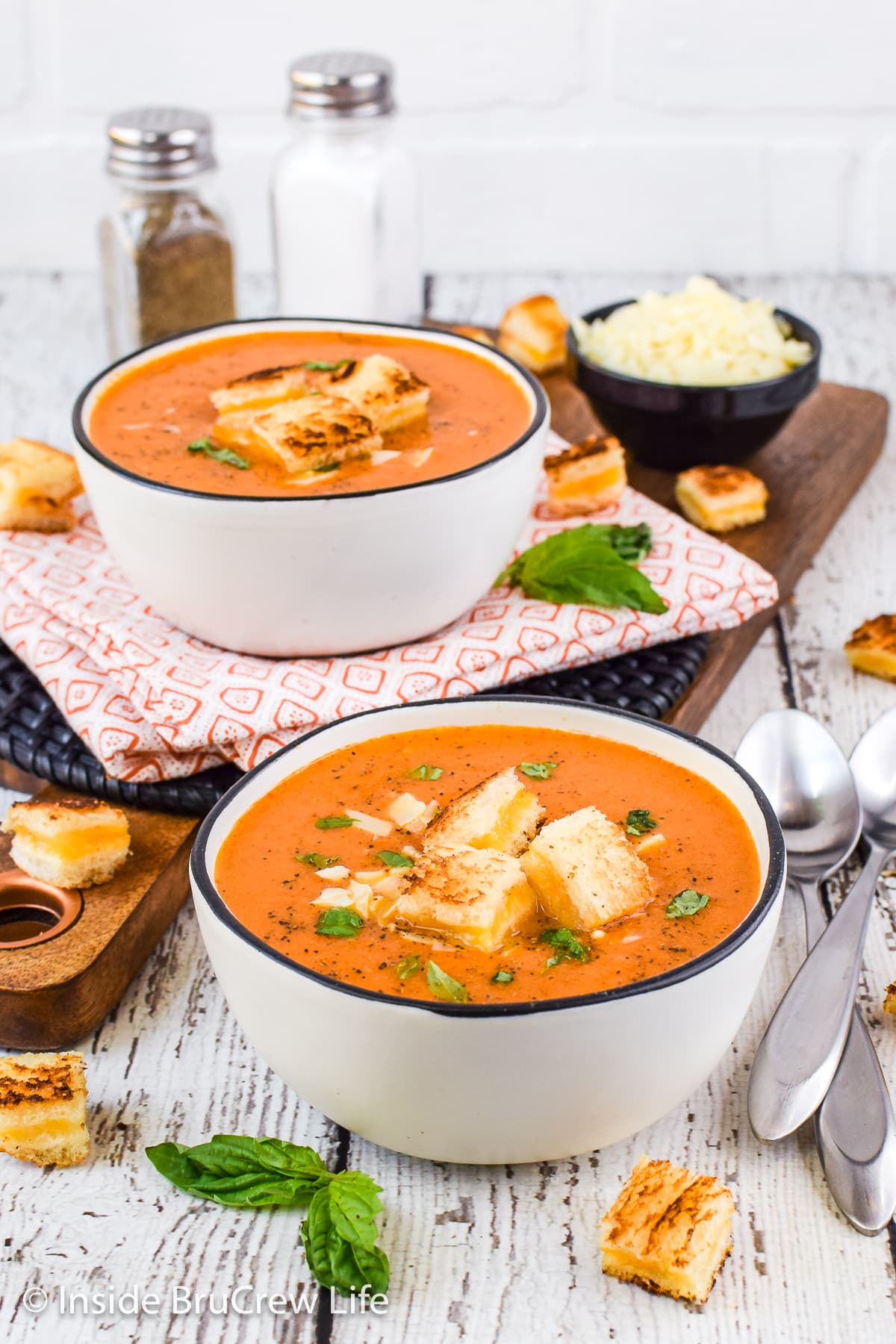 What to Serve with Tomato Soup
This tomato soup is hearty enough to enjoy with a loaf of bread or some grilled cheese sandwiches for dunking. Here are a few of our other favorites.
Tips and Tricks
Save time. Buy cans of crushed tomatoes instead of pureeing the whole tomatoes.
Add some spice. Diced chiles will give the soup a spicier flavor. You can also add some cayenne pepper to the soup for some heat.
Use a non-reactive pot. Tomatoes are acidic and can react to certain metals such as aluminum, copper, or cast iron giving the soup a metallic taste.
Taste test often. Sample the soup often to make sure the flavor isn't bitter.
Neutralize the flavor. If your tomato soup is bitter you can neutralize the flavor with red wine vinegar, sugar, honey, butter, or ¼ teaspoon baking soda.
Adjust the consistency. Add more or less broth depending on how thick or thin you like your soup.
Be careful. If you are using a blender or food processor to puree the soup, do not over fill the container because the steam from the hot soup can cause the lid to pop off.
Make it vegan. Use vegetable broth and a non-dairy cream such as coconut cream.
FAQ
Can I make this soup in advance and reheat it later?
Yes, this is a great soup to make 1-2 days ahead of time. Remove it from the fridge and slowly reheat the soup over low-medium heat until it reaches your desired temperature.
Can you freeze tomato soup?
Yes, you can freeze this particular soup if you use heavy cream. If you are using any other milk in this tomato soup recipe, I would recommend freezing the tomatoes and broth first, then add the milk and cheese LATER when you are reheating it.
Why does my tomato soup taste bitter or sour?
Some tomatoes are more acidic than others which can cause a bitter or sour taste. You can neutralize the flavor by adding red wine vinegar, sugar, honey, butter, or ¼ teaspoon baking soda. Make sure to only add a little at a time to the homemade tomato soup until the flavor improves.
Why did my tomato soup curdle?
Tomatoes are an acidic fruit and can cause curdling when dairy is added. Adding cold cream liquids to a hot mixture can also cause it to curdle. Temper the cream with a little bit of the hot soup before adding it to the rest of the soup.
Can I use fresh tomatoes?
Yes, but it is more time consuming than opening a can of tomatoes. You will need to roast, cool, and crush the tomatoes before making the soup.
Other Easy Soup Recipes
Do you love a recipe you tried from Inside BruCrew Life?
Please leave a 5-star ⭐️ rating and a review in the comments section below.