Looking for a smooth and creamy homemade tomato soup that can be ready in under 30 minutes? One sip of the Best Creamy Tomato Soup and you will never buy store bought again. Our friends and family love this recipe and yours will too.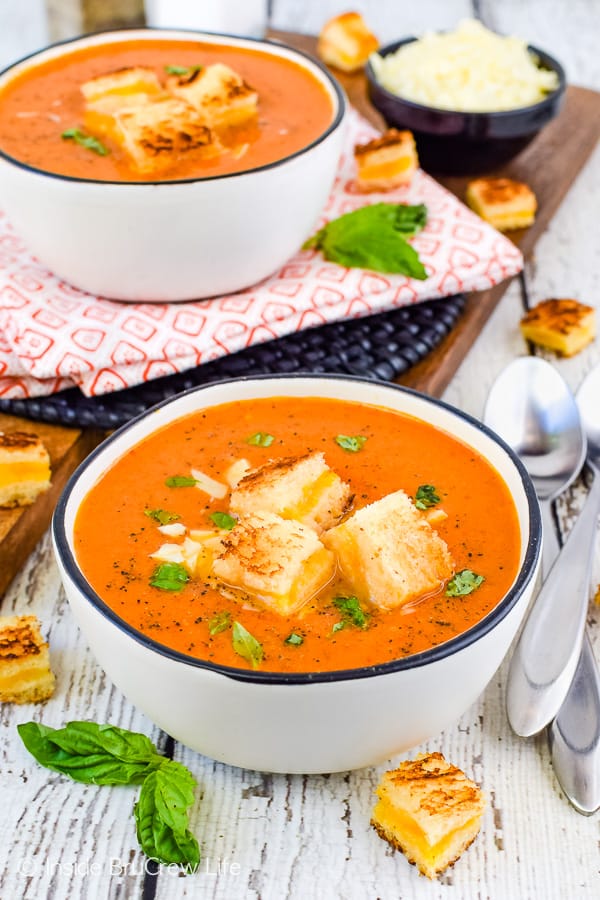 With all the cooler weather we have been having, all I have been craving for dinner is a pot of creamy tomato soup.
Do you remember having tomato soup and grilled cheese sandwiches for dinner when you were a kid? It's a classic combo that you never outgrow.
I used to make the same thing for our kids when they were little too. Dipping cheese sandwiches into the hot soup doesn't change from generation to generation.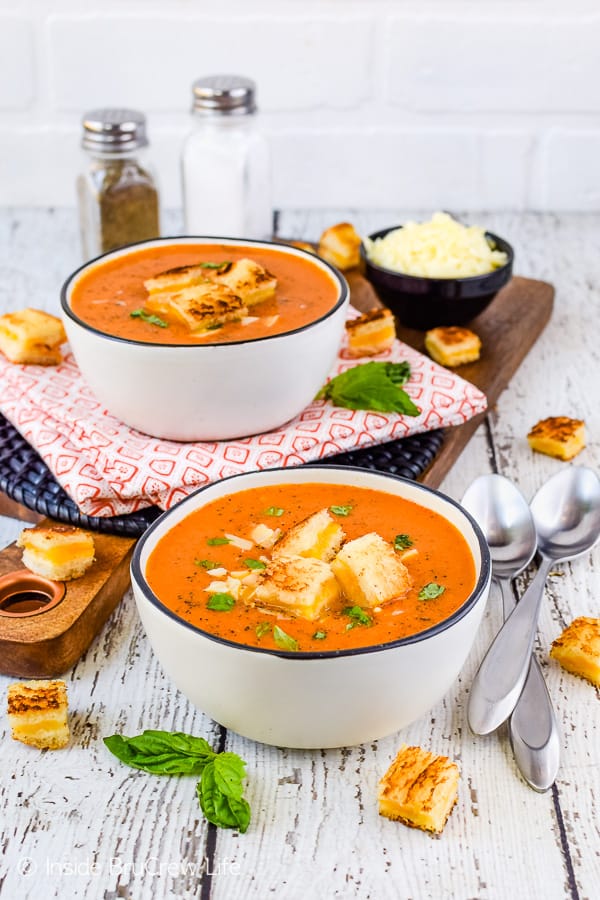 I had a few extra cans of tomatoes that needed to be used before they expired, so I decided to puree a few and simmer them with some chicken broth and minced garlic.
While the soup cooked I also put together the cheese sandwiches and garlic herb bread to use as dippers.
This homemade creamy tomato soup recipe ended up being an absolute hit with my family. In fact, my husband said multiple times that this was the best soup I have ever made.
I think cleaning out the pantry and fridge more often is something I should do when I'm meal prepping.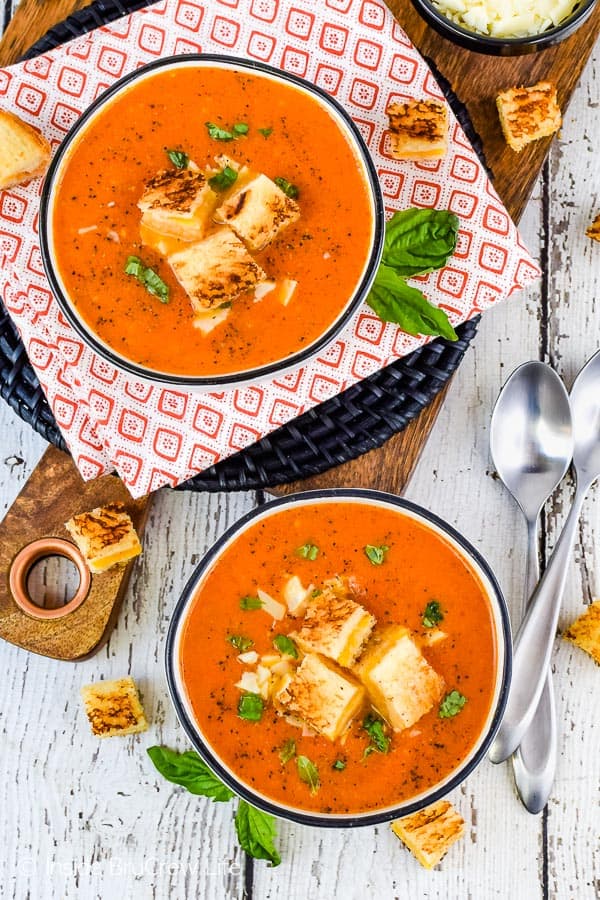 Ingredients for Tomato Soup:
This recipe for homemade creamy tomato soup is not made with crazy or extra ingredients. In fact, all you need are FIVE simple ingredients, plus some salt and pepper.
Whole Canned Tomatoes - puree the tomatoes in a food processor before starting. You can also use crushed tomatoes.
Chicken Broth - Adds flavor to the tomatoes as it simmers
Garlic - Adds flavor
Heavy Cream - gives this tomato soup recipe a creamy taste and texture
Grated Parmesan Cheese - This type of cheese adds a saltiness and rich flavor without getting stringy
This cream of tomato soup recipe has so much more flavor and pizzaz than the classic canned tomato soup you grew up on. Trust me, my family devoured this soup in record time. And so will yours.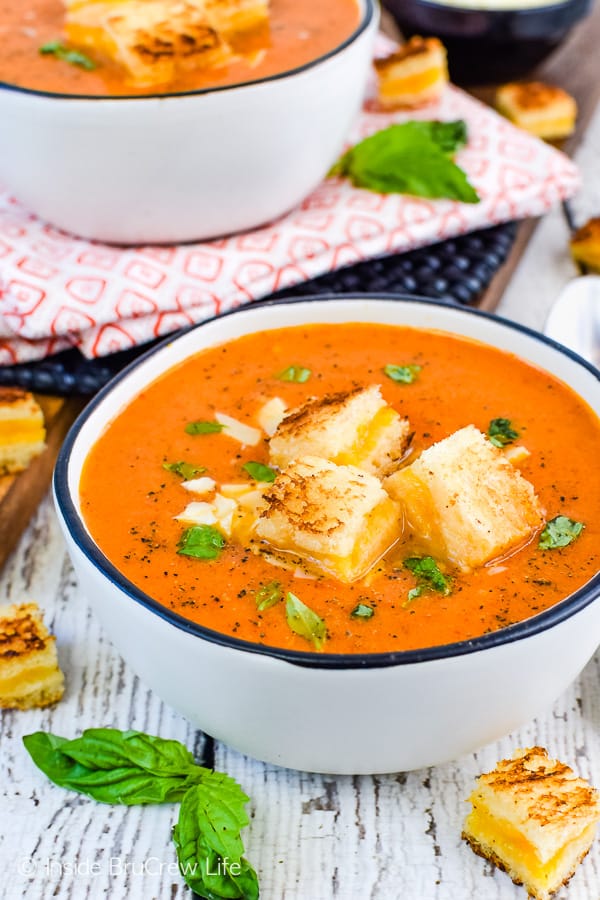 Tomato Soup Toppings:
You betcha! Adding extra things to the top of a bowl of creamy tomato soup makes it even better, in my opinion. Here are a few things you can add to your quick and easy tomato soup recipe, if you like.
Shredded Cheese - Parmesan, Cheddar, Mozzarella
Croutons
Fresh Basil
Grilled Cheese cubes
Chives
Drizzle of Sour Cream
Any combination from above
I found that the shredded parmesan cheese, fresh basil, and grilled cheese cubes made this bowl of creamy tomato soup I have ever had. Hands down!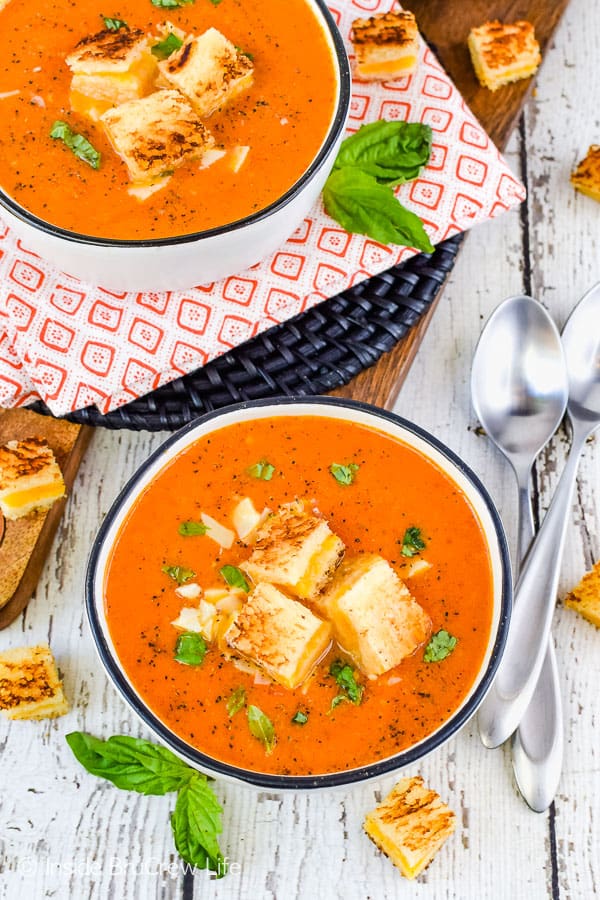 How to make Homemade Creamy Tomato Soup:
Puree two cans of whole peeled tomatoes in a food processor or blender. You could also use crushed tomatoes and skip this step.
Pour the pureed tomatoes into a large pot. Add the chicken broth and two heaping Tablespoons of minced garlic.Let this come to a low boil over medium heat. Taste test the mixture to be sure your tomatoes are not bitter.
Stir in heavy cream and grated Parmesan cheese. Continue heating until it comes to a low boil again.
Reduce the heat and simmer for about 15 minutes.
Use an immersion blender to puree the mixture again. You can skip this step if you don't mind the little bits of garlic in your soup. We prefer it creamy, so I always puree it again.
Fill bowls with different toppings and set them on the dinner table with the pot of homemade cream of tomato soup and let everyone create their own bowl.
Make it a Full Meal: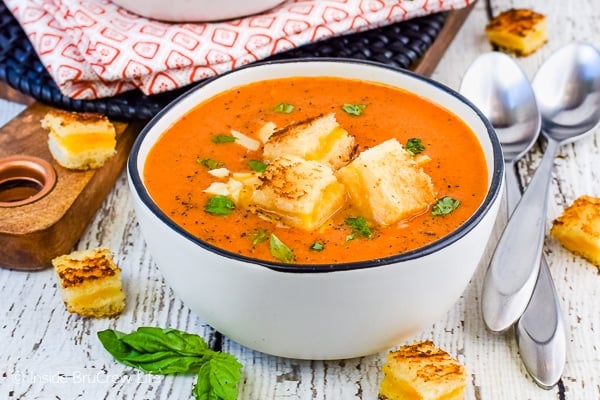 Recipe Questions:
Can you freeze tomato soup?
Yes you can freeze this particular soup if you used heavy cream. If you used any other milk in this tomato soup recipe, I would recommend freezing the tomatoes and broth first, then add the milk and cheese LATER when you are reheating it.
Why does my tomato soup taste bitter or sour?
Some tomatoes are more acidic than others which can cause a bitter or sour taste. Here are a couple different things that we have tried that neutralize the flavor. Just add a little bit at a time to the homemade tomato soup until the flavor improves.
Baking soda (only ¼ teaspoon at a time because too much can cause a metallic taste)
Red wine vinegar
Sugar or Honey
Butter
Why did my tomato soup curdle?
Tomatoes are an acidic fruit. Taste the tomato mixture before adding the cream. If it tastes bitter or sour, add a pinch of baking soda BEFORE adding the cream.
Adding cold cream liquids to a hot mixture can also cause it to curdle. PRO TIP: Temper the cream with a little bit of the hot soup before adding it to the rest of the soup.
Light cream is also more prone to curdle than heavy cream. The fat content in the heavy cream protects the dairy from curdling.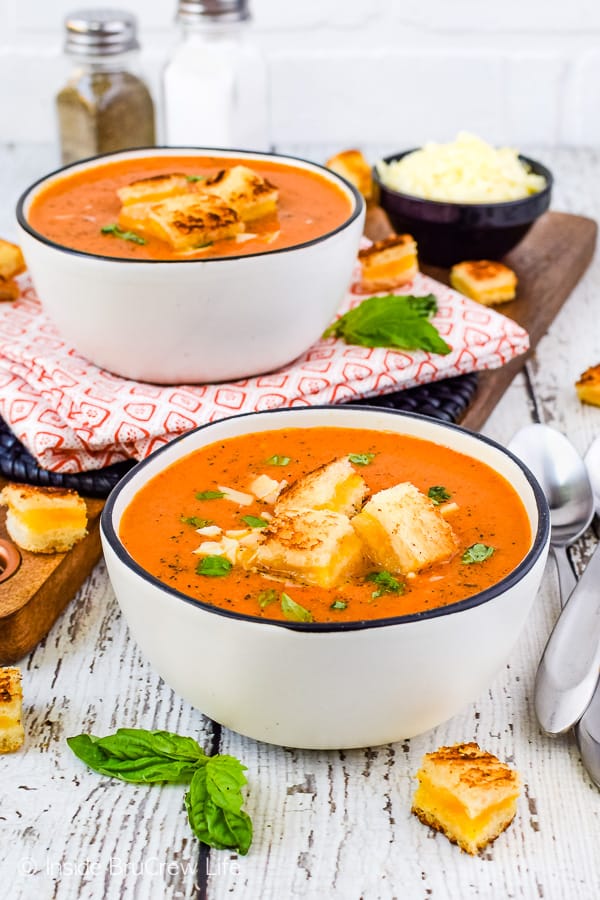 Other easy soup recipes:
Easy dessert recipes you'll love:
CLICK HERE TO PIN THIS RECIPE FOR LATER!