Enjoy a pan of Chicken Supreme Pasta Bake for a delicious comfort food dinner. This easy chicken pasta bake comes together in no time when you combine chicken supreme pizza toppings with pasta and melted cheese.
If you love cheesy pasta dinners, make sure you try this Chicken Ranch Pasta Bake too. It's a family favorite here.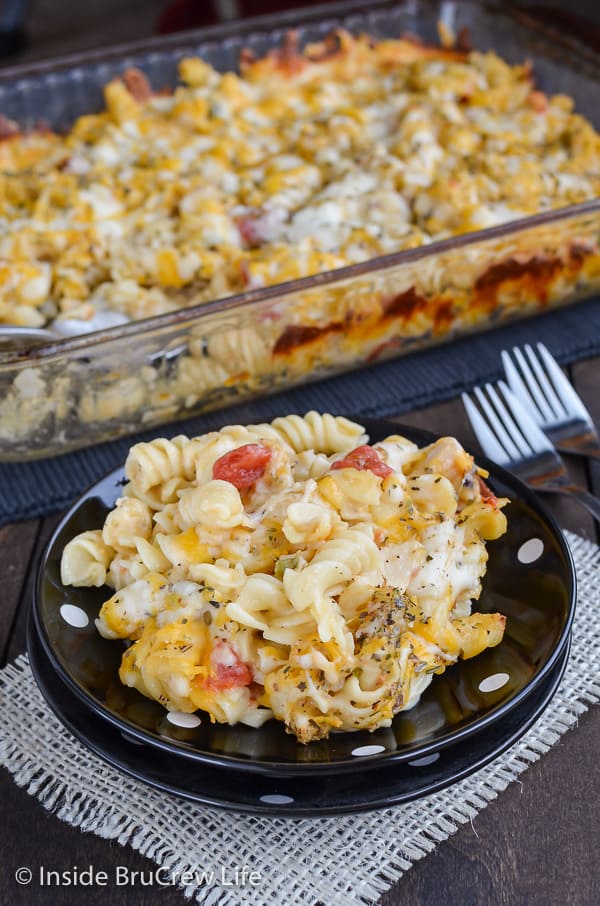 A few years ago I set a goal of making more dinners around here. I have to say that I feel like that is still going pretty well. Over the years I have experimenting with more with savory foods and healthy dishes along with all the sweets and treats each week.
Let's talk comfort food for a minute. Do you have a certain food group that you just absolutely love? And no, I'm not talking dessert here.
For me, that food would have to be pasta. 9 times out of 10 I will choose a pasta dish when we go out to eat.
Although, I have been branching out lately and ordering different things. It really is true that the older you get, the more your tastes buds change. Or grow up. I guess it all depends on how you look at it.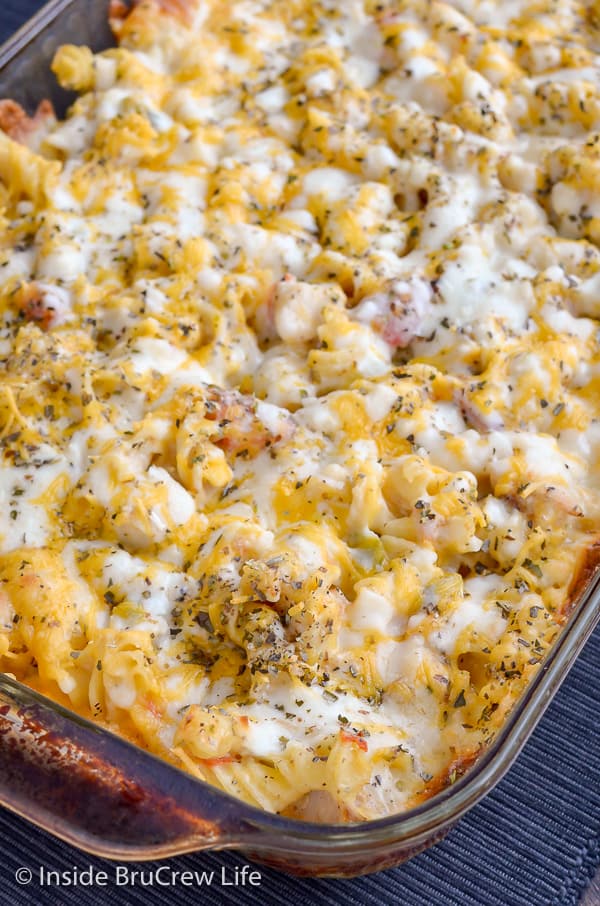 Chicken Pasta Bake
Another comfort food meal that we love is pizza. We usually make Homemade Pizza Dough and Homemade Pizza Sauce at least once a month for Friday night movie nights.
The other times we order from different pizza places. Homemade, store bought, pizza shop...we pretty much enjoy them all.
So, when I wanted to make another cheesy pasta dinner, I combined my two favorite comfort foods into this amazing chicken pasta bake.
Since Chicken Supreme is one of my favorites, I incorporate those pizza toppings into a chicken pasta. If you are in a hurry, this chicken supreme casserole is made in on the stove top and is ready to eat in under 30 minutes.
But let's be honest. Topping it with more cheese and baking it into an ooey, gooey pasta bake is so much better. More cheese always get our vote! It's one of the reasons we all love this Cheesy Chicken Pasta and this Buffalo Chicken Pasta.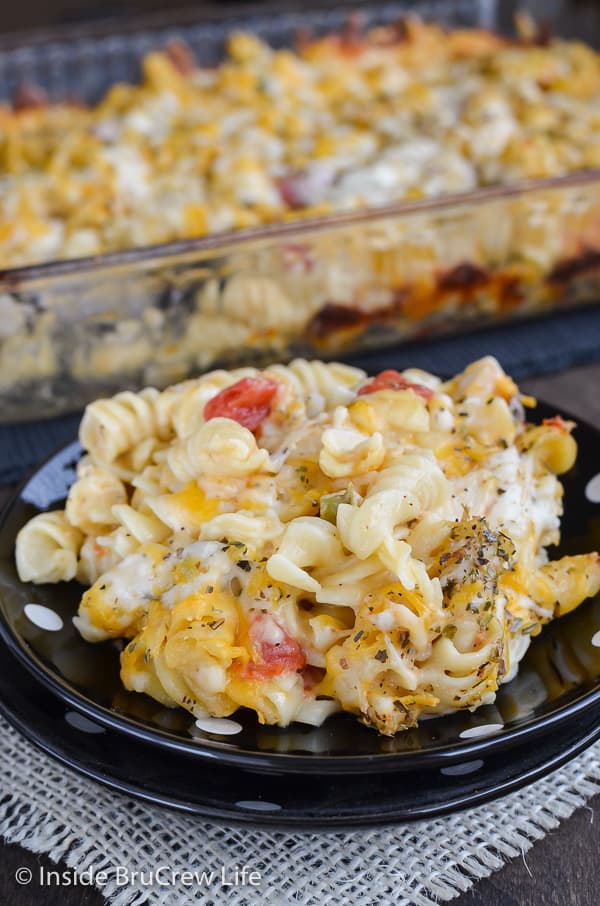 What You'll Need
This chicken pasta casserole without canned soup comes together pretty quickly when you prep your ingredients ahead of time. Chop the cooked chicken and vegetables ahead of time and keep them in containers in the refrigerator.
When you are ready for dinner, cook the sauce, and add all the prepped ingredients to the pot. Easy, peasy, and definitely cheesy!
Pasta - any pasta variety can be used in this casserole
Veggies - a mixture of onion, green pepper, mushrooms, and diced tomatoes
Butter - unsalted so you can control the amount of salt in the dinner
Flour - used to thicken the sauce
Chicken Broth - adds flavor to the sauce
Plain Greek Yogurt - any kind or brand works
Cheese - a mixture of shredded cheddar and mozzarella cheese
Chicken - You can cook your own chicken, or you can be like me and buy a rotisserie chicken from Sam's for quick meal prep. You could even use canned chicken if that's what you have on hand at the moment.
Spices - salt, pepper, oregano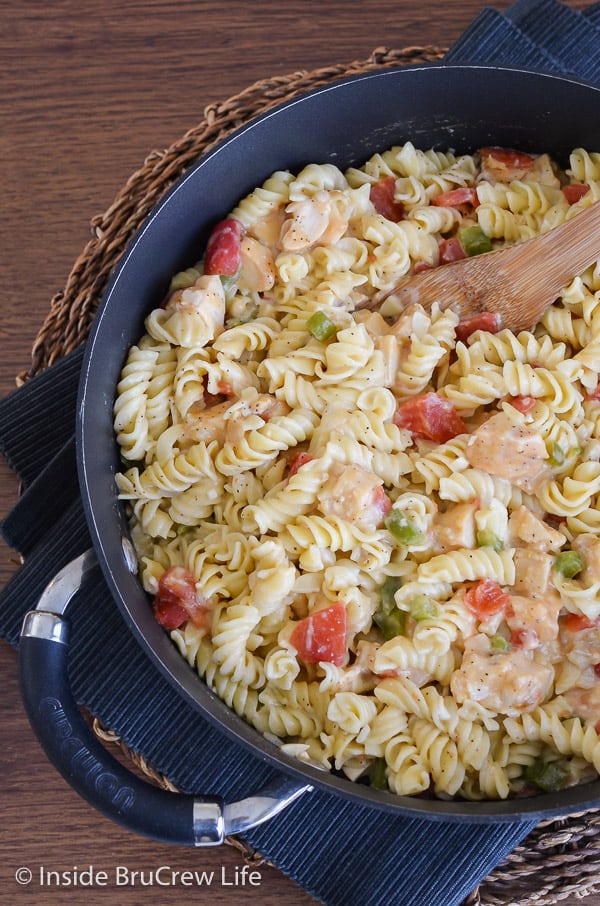 How to make Chicken Supreme Pasta Bake
This easy chicken pasta bake is easy to make and tastes so good. The added yogurt adds more protein to the cheesy dinner.
Sauté the chopped veggies in a skillet with butter for 2 minutes.
Add the garlic and sprinkle the veggies with flour and cook for another minute or two.
Whisk in the chicken broth and stir it over medium heat until it thickens.
Stir in the yogurt and some of the cheese and stir until melted and creamy.
Add the cooked pasta, shredded chicken, and canned tomatoes and mix together.
Season to taste with salt and pepper.
Spoon the cheesy pasta into a greased pan and top with more cheese and seasonings and bake until melted and bubbly.
Make it a Full Meal
Fresh Garden Salad
Steamed Broccoli
Frequently Asked Questions
Can chicken pasta casserole be made ahead of time?
Yes, you can prepare all of it ahead of time. Place the covered casserole in the refrigerator before baking. It will keep for 2-3 days. Remove from the fridge 30 minutes before baking.
Can you freeze this chicken pasta bake?
Yes, you can. Prepare the pasta completely. Spoon it into a tin pan and let the pasta cool before topping it with the extra cheese. Cover tightly and freeze for 1-2 months. Thaw overnight in the refrigerator. Cook until heated through.
Can you use other ingredients in this cheesy pasta casserole?
You sure can. Broccoli would be delicious instead of the peppers and onions. And bacon would be a delicious addition to the chicken.
More Easy Pasta Dinners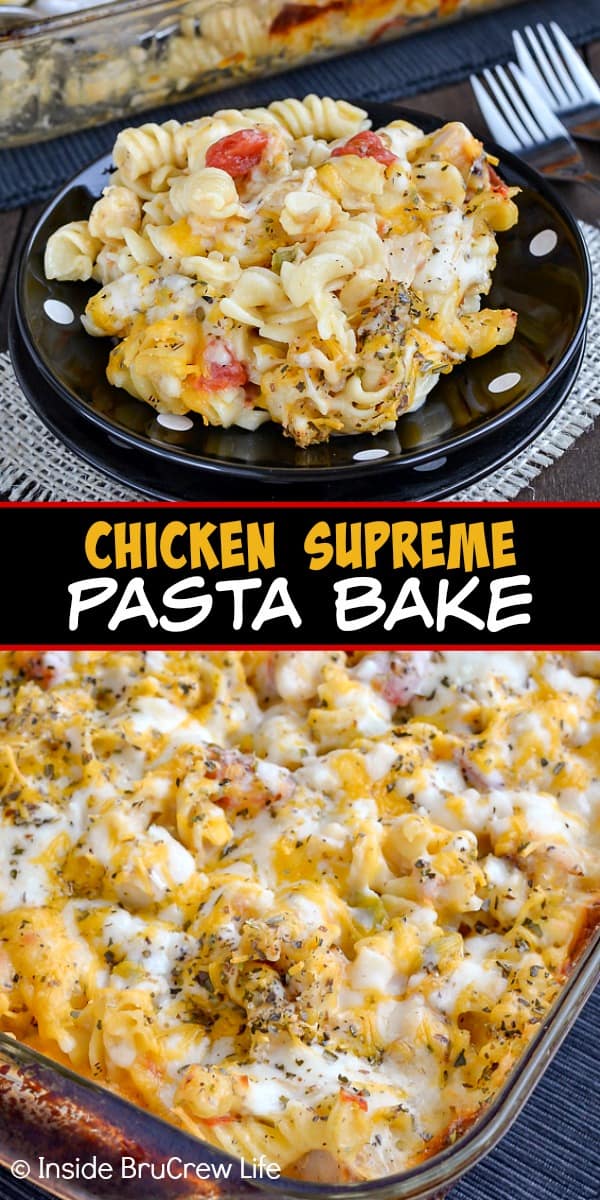 *The post for Chicken Supreme Pasta Bake was first published on March 25, 2014. The photos and post were updated and republished on January 8, 2020.