Earlier this summer our family went Cruising with Norwegian Cruise Line. There are so many different activities, delicious food, and great excursions when you book a trip on Norwegian.
This pretty party boat left out of Miami and headed to two different Bahama ports with us onboard.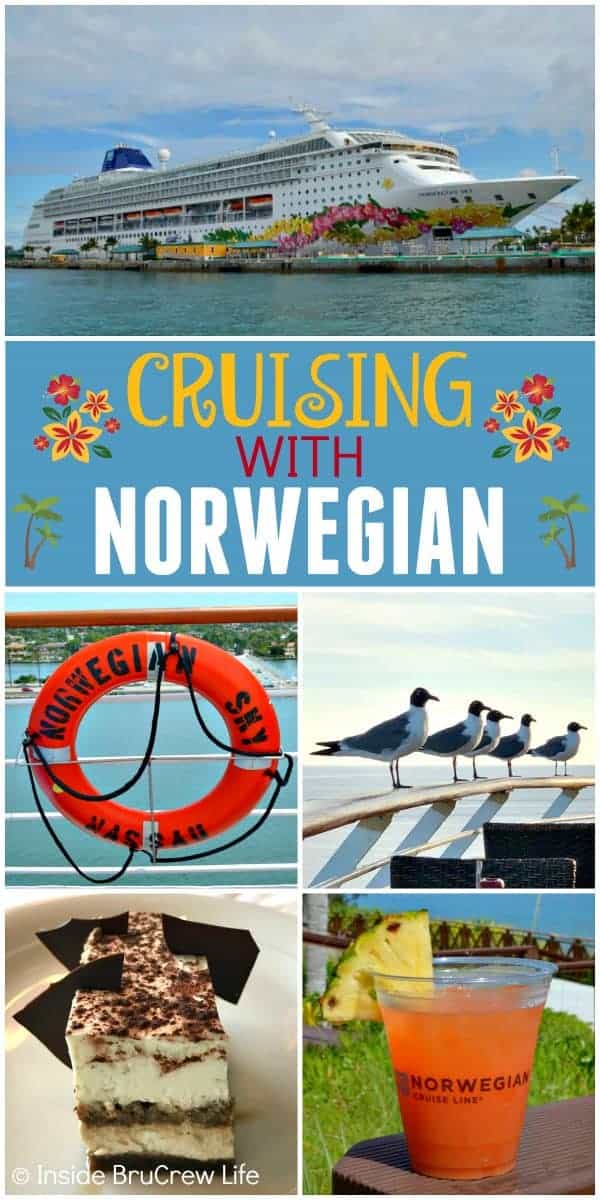 CLICK HERE TO PIN THIS POST FOR LATER!
We actually had a completely different trip booked, but unforeseen circumstances with the boats maintenance had us scrambling days before the other ship left port to find another cruise.
One of my sister in law's is a travel agent, so she was able to find us this short 3 day cruise on Norwegian for a good price at the last minute. The best part was that she found two balcony rooms side by side that were still available.
So after finding fun things to do while driving the Florida Keys and exploring Key West in a day, we drove to Miami and got on board the all inclusive Norwegian Sky.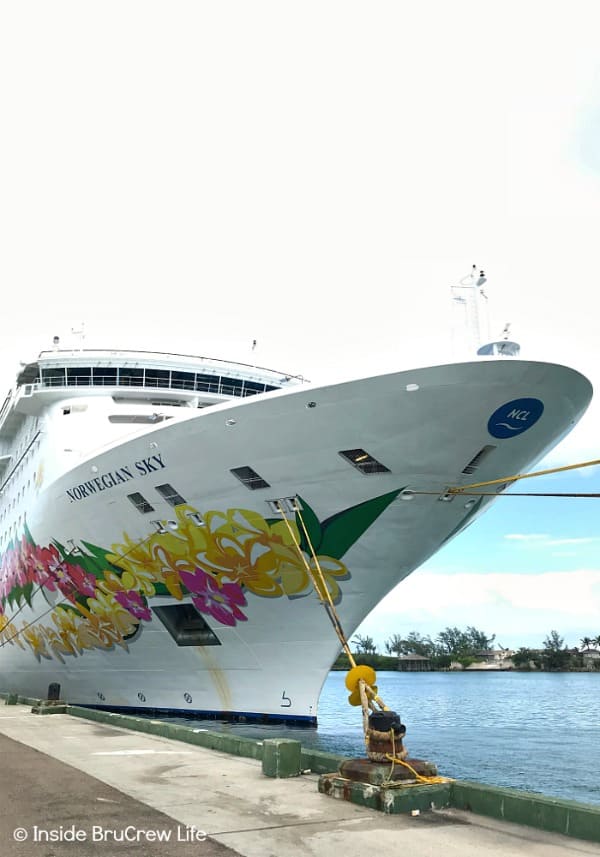 You guys! I seriously recommend a balcony room if you ever go on a cruise. Over the years we have been on multiple cruises and always had inner rooms which was totally fine.
But this cruise spoiled me.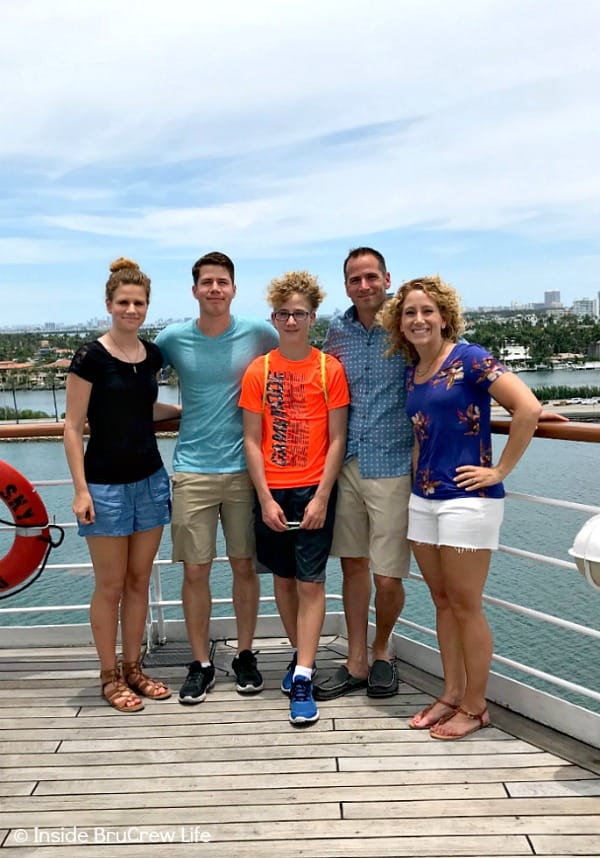 I absolutely loved having a balcony outside our room. It just seemed to open up the room more and also made the room seem so much bigger.
Not to mention that sitting outside on your own private balcony with a cup of coffee is the perfect way to start out each morning.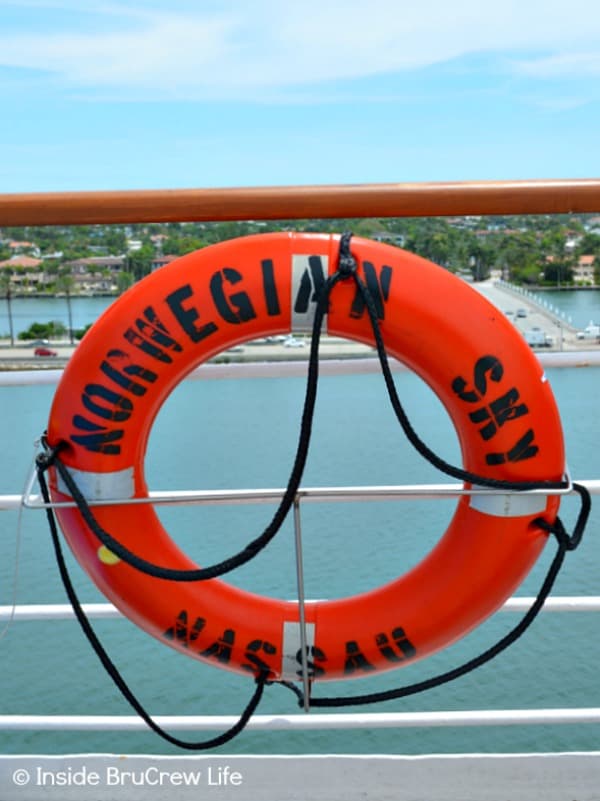 Here is a picture of our room. See how much brighter and bigger the room seems with the curtains open. I'm not sure I ever want another inner room again.
Although, those rooms are usually cheaper, so I won't say never.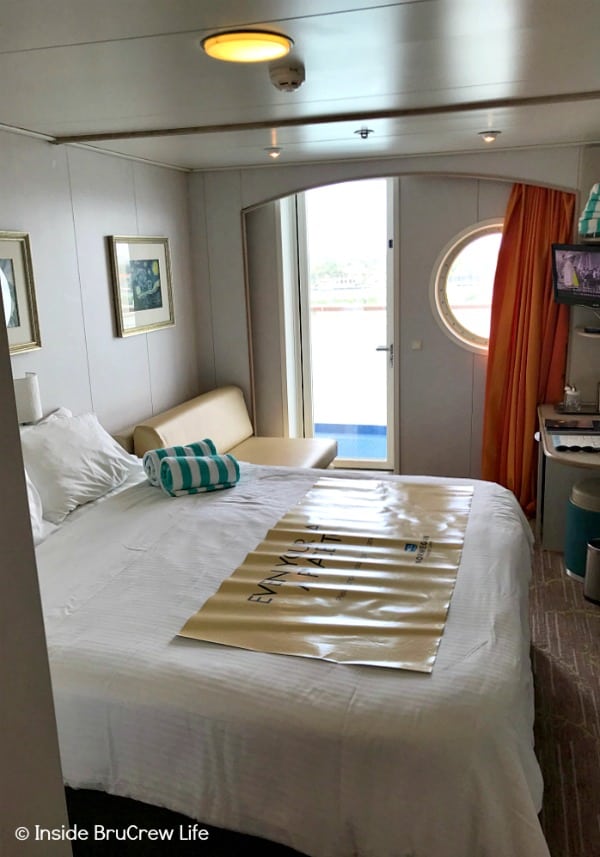 While we waited for our big bags to be brought to our rooms we explored the different levels of the cruise ship.
It is always a good idea to explore the boat before everyone else gets on board because it is less crowded.
Here we are standing on one our room balconies.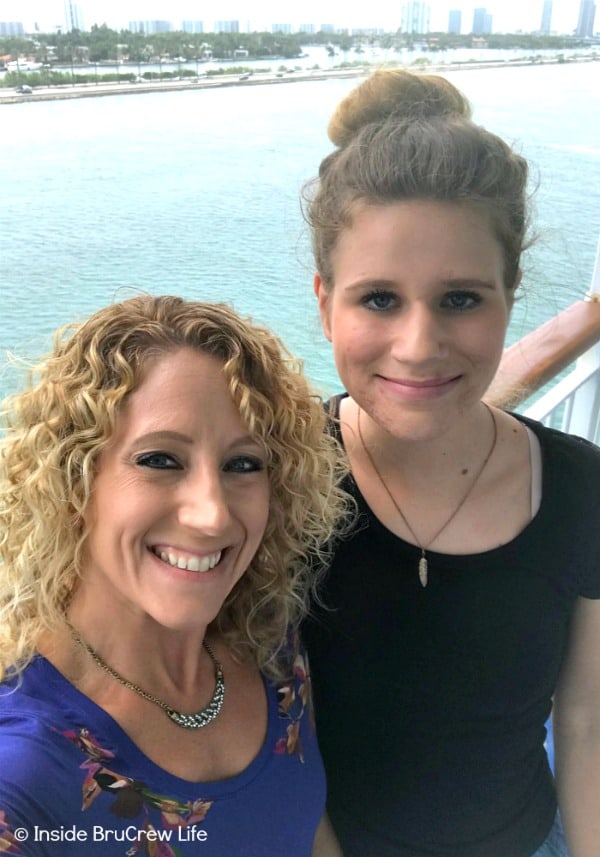 The pool deck is what we refer to as the party floor. It was always crowded and there was music and games going on every time we walked through.
We usually hung out on the back of the boat in less crowded areas. Does that make us old...or boring?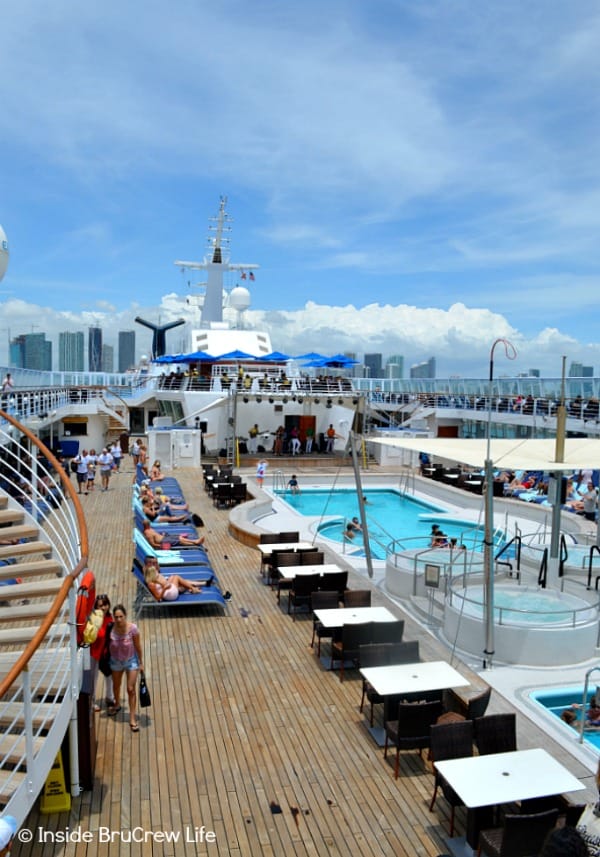 The glass elevators in the center of the boat were so pretty. The kids still get excited about seeing the whole center of the boat from the inside of the elevator.
Not going to lie, I kind of love seeing it this way too.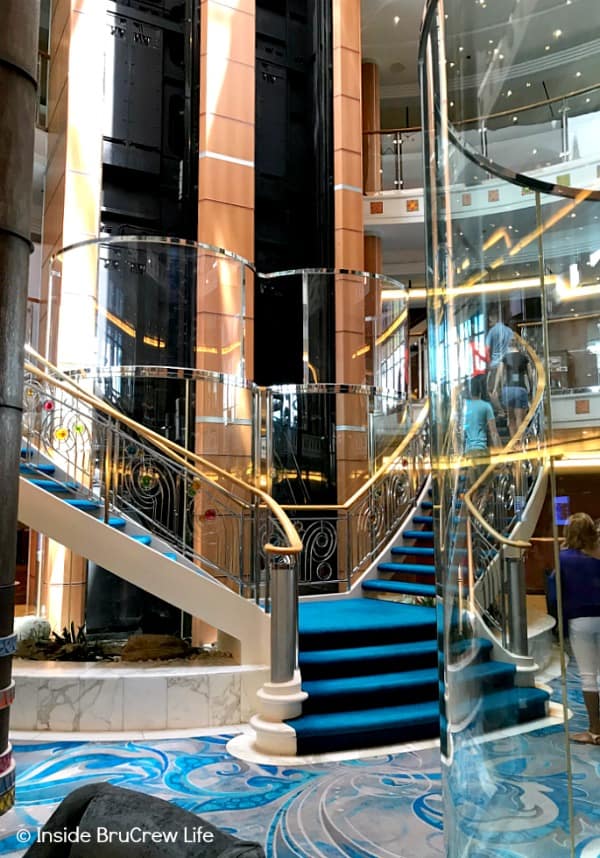 While we were exploring we found a shuffle board court, so we had to stop for a friendly competition before exploring more.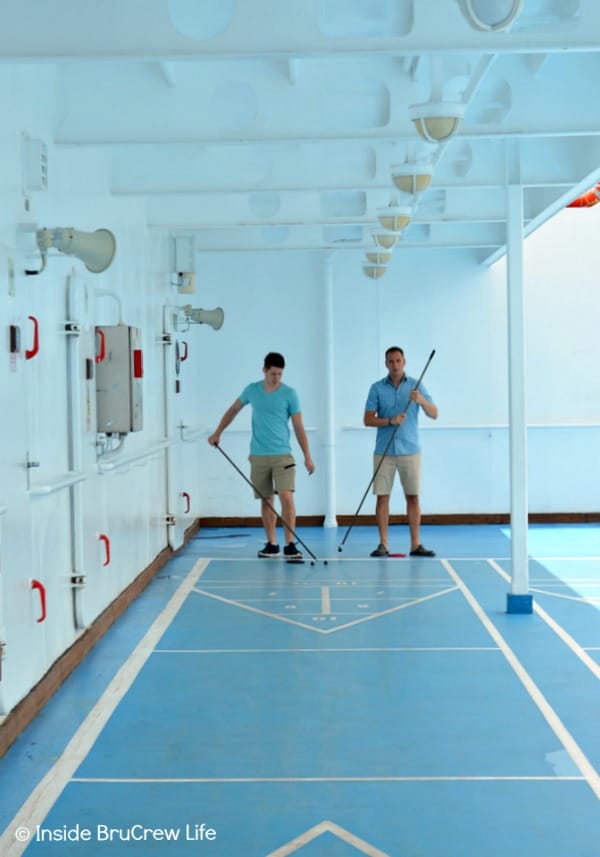 Freestyle Cruising on Norwegian
Norwegian offers freestyle cruising. This concept does away with a set schedule and offers you more flexibility. You can choose when and were to eat your evening meal. We ate at the Crossings Restaurant each night where we had a different waiter each time.
It is always so interesting and eye opening to chat with the waiters we had. They all were from different countries and would work for 6-9 months at a time before going home for a short 2 month break to see their families.
Talk about dedication and motivation to provide for your families. I can't even imagine having my husband gone for so long!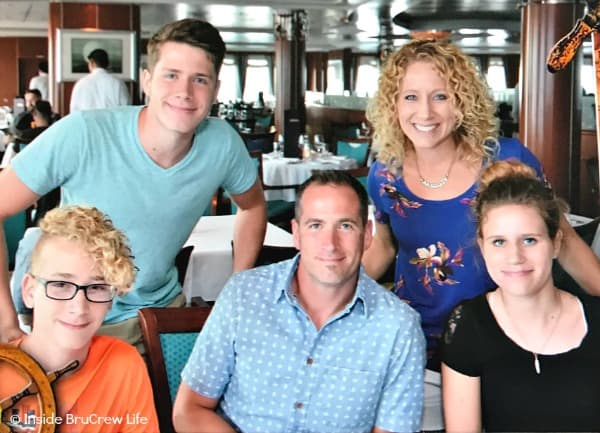 Every night after dinner we would head to either the back deck or this room and play a couple rounds of cards.
It was seriously such a fun and relaxing time with our three kiddos.
And then when the kids were ready to head back and just chill in the room for the night, my hubby and I would wander around the boat checking out all the 12 different bars and lounges.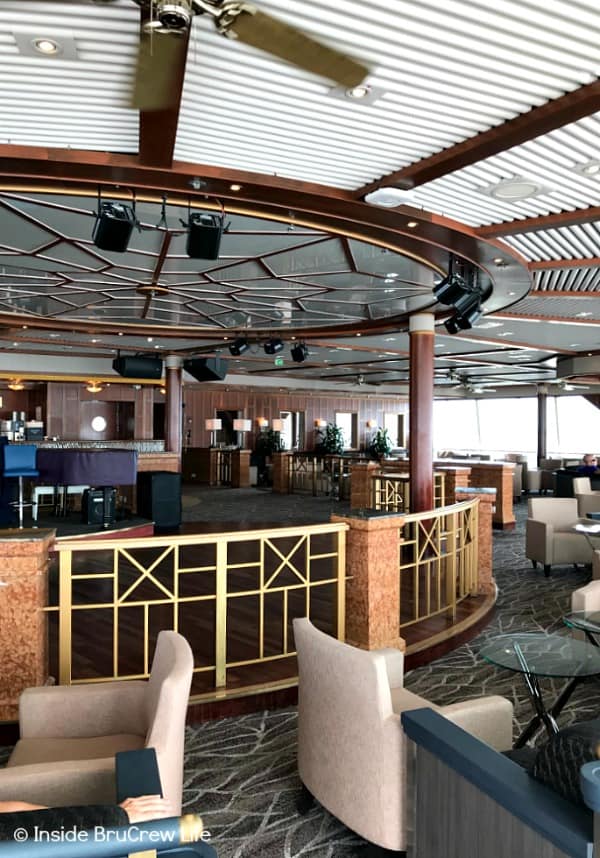 Open Bar on Norwegian Sky
One of the things that we liked about cruising out of Miami on the Norwegian Sky was the open bar. Gotta love free drinks any time you want!
The Norwegian Sky offers free beer, wine, and certain premium drinks at any of the lounges, bars, or restaurants. The open bar was also available on Grand Stirrup Cay meaning you could enjoy free drinks on land and while at sea.
This cruise ship also offers free soda and juice for the younger passengers on board. Bottled water, specialty coffees and lattes, and energy drinks are not included. If you want to order those, be prepared to pay extra.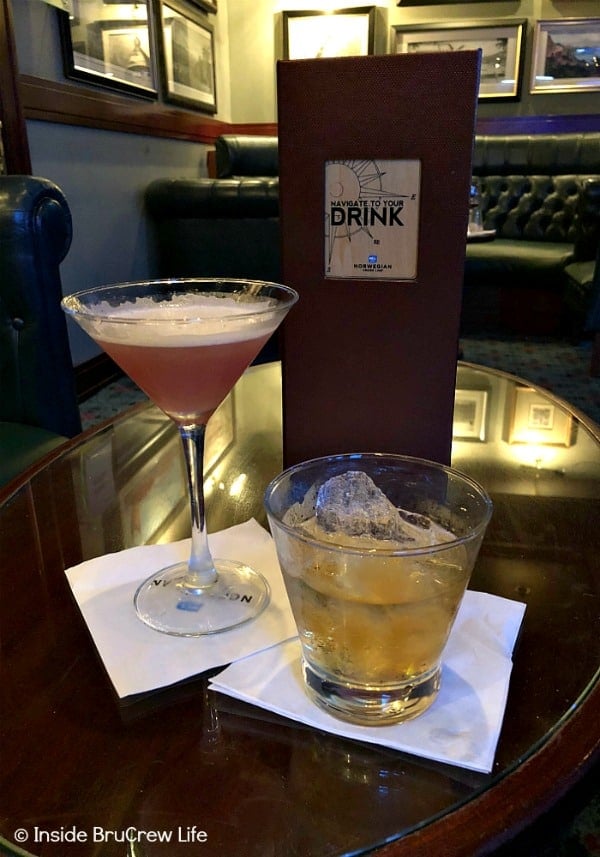 Shore Excursions
Our first stop was at Grand Stirrup Cay for a day of beach fun. We booked a cabana and did some snorkeling on the beautiful island.
The second day was a stop in Nassau, Bahamas where we spent the day exploring the Aquaventure Water Park at Atlantis.
I have so many pictures from both of those adventures that I am planning on sharing more later. So watch out for fun beach and snorkeling pictures soon.

Eating all the desserts is always my mission when we go on cruises. I did my part and made sure I tried all the things. But apparently I was slacking in the photo taking department.
When I got home I realized that I didn't take very many pictures of all the amazing desserts I tried.
Here is a layered chocolate espresso cake from one of the lunch bars, tiramisu from dinner, and chocolate dipped pineapple that was sent to our room. These were the only food pictures I took this time.
I feel like as a dessert blogger I kind of slacked in that area.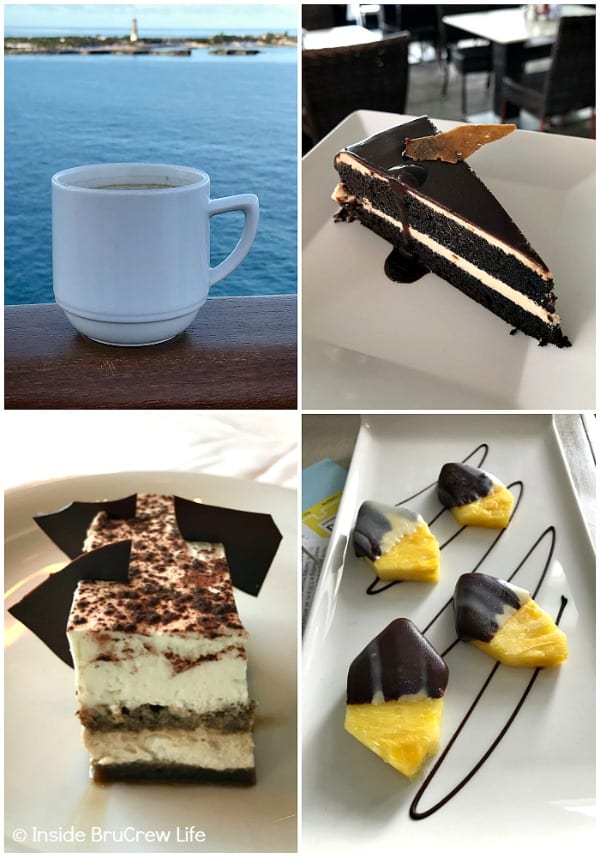 To be honest, I think I was enjoying the time away from social media and electronic devices. So, I just didn't pull my phone or camera out very often.
Usually I take lots of pictures of us around the boat and at dinner, but this year I didn't do that. Thank goodness for the photographers that walk around every night taking different pictures.
We purchased a few of them, so we could have the memories of our family together.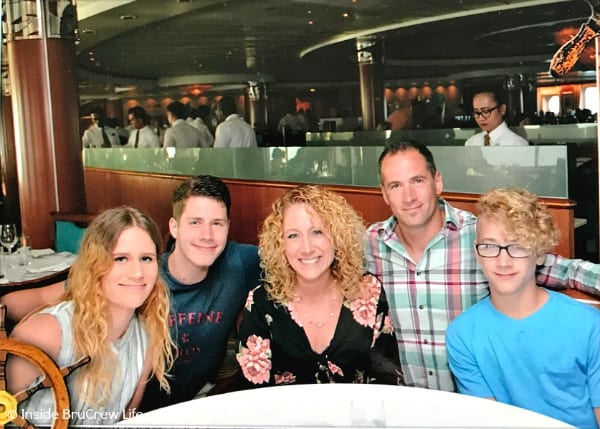 The seagulls were relentless when we were in the different ports. You had to be very careful if you were eating outside. Because those sneaky birds would swoop in and steal food if you weren't watching.
This row of seagulls were just waiting for us to finish up breakfast. I think they were hoping we would leave something behind when we got up to leave.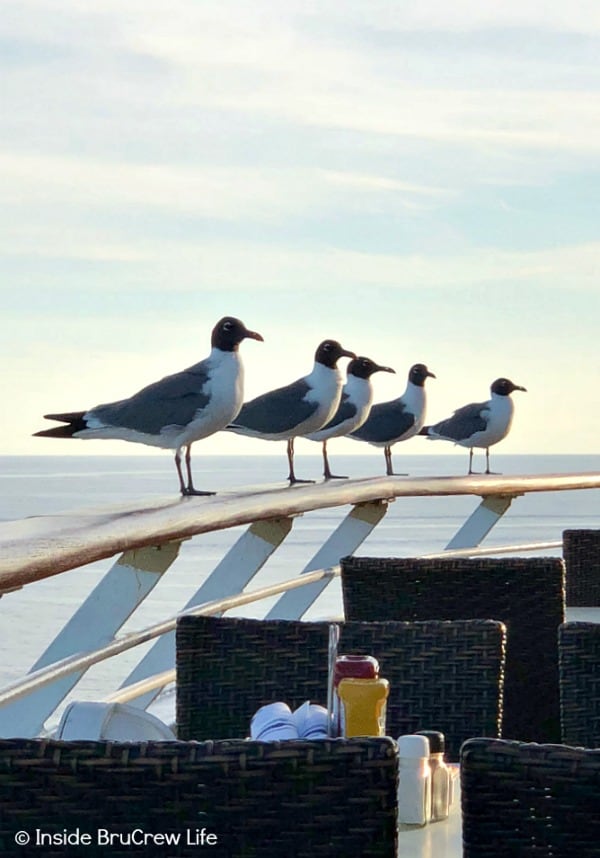 We had an amazing family vacation. Spending time with your family and unplugging from everything else is always a much needed thing. We all need that undivided attention and focus.
It's so nice to renew and refresh our mind and souls every once in a while. I can't wait until our next trip.