This Homemade Strawberry Ice Cream is rich and creamy and has the best strawberry flavor. It is so easy to make and is the perfect treat for hot summer days.
Love ice cream? Try this chocolate peanut butter ice cream recipe and this cherry vanilla ice cream too.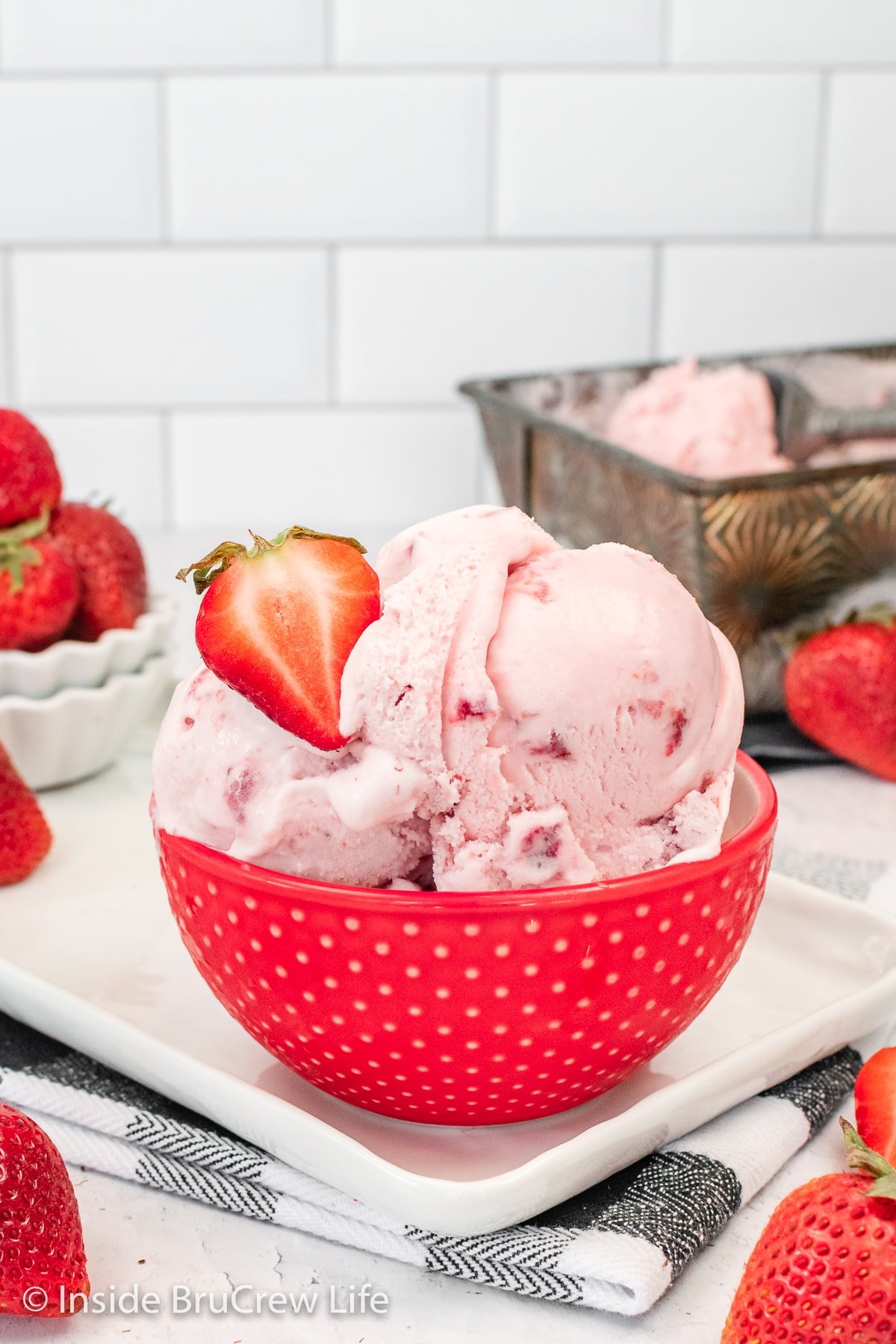 I scream, we all scream for ice cream during the summer. Nothing is better than a bowl of your favorite ice cream or ice cream tacos when it is hot outside. This homemade cookies and cream ice cream, coffee ice cream, and this homemade strawberry ice cream are some of our favorites.
Strawberry ice cream is one of the hardest flavors to make at home. It can be difficult to get a creamy texture that has enough berry flavor.
After trying a few different techniques and ingredients, I finally came up with the perfect strawberry ice cream. It is creamy, scoopable, and loaded with fresh strawberries.
Why Make This
You will love how easy it is to make this delicious dessert. It is creamy, delicious, and perfect for hot summer days.
Fresh ripe strawberries are the key to getting the best flavor in this ice cream. Skip the store bought berries and head to a farm or the farmer's market for ripe, juicy berries that have just been picked.
A mixture of heavy cream and milk along with a small amount of cream cheese gives the ice cream base the right amount of fat to make it creamy and not icy.
One of the best things about this strawberry ice cream recipe is that there are no eggs or cooking required.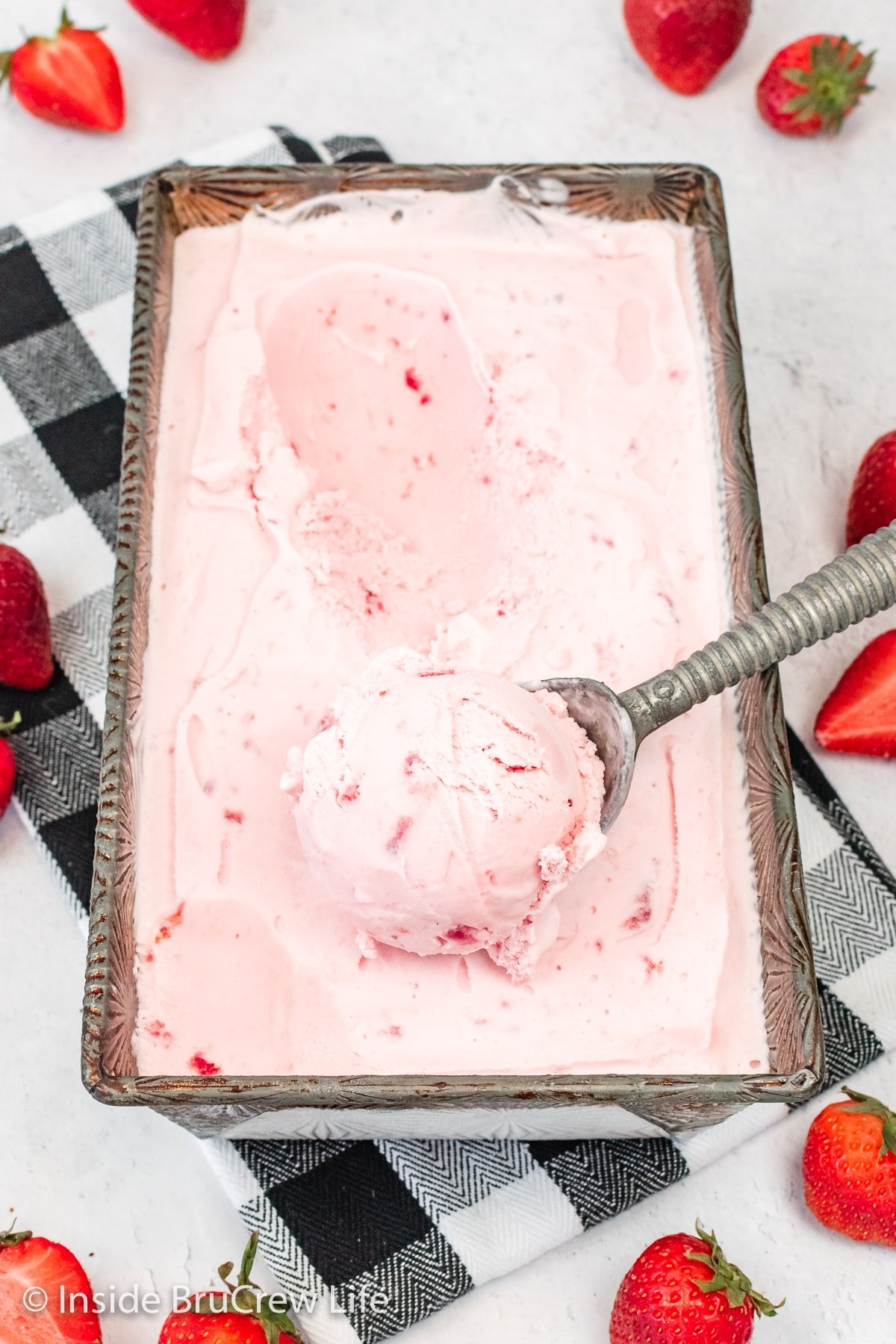 Key Ingredients
The best strawberry ice cream has a creamy base that is loaded with fresh berries. I love all the chunks of strawberries that are spread out in this homemade ice cream.
Whole Milk - We recommend this for the richest texture. You can use other milks, but it may freeze a bit icier.
Heavy Cream - Gives the base a creamy rich texture.
Cream Cheese - Adds a little bit more creaminess and keeps the ice cream from freezing hard.
Sugar - Sweetens the homemade ice cream.
Honey - Adds more sweetness and keeps the ice cream from freezing solid.
Strawberries - Fresh ripe juicy berries will give this ice cream the best strawberry flavor.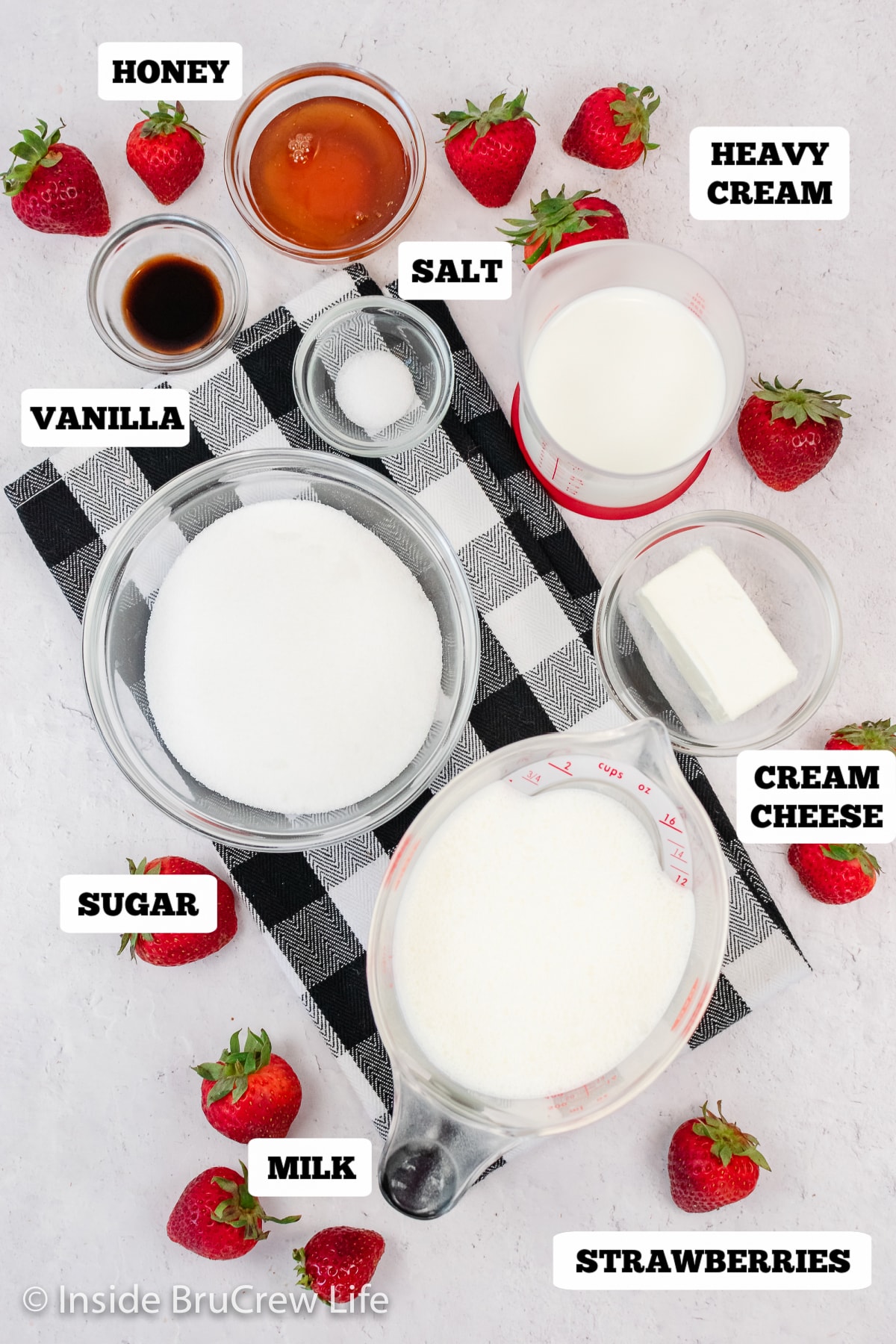 How to Make
An ice cream maker makes it so easy to churn your own homemade ice cream in minutes. The hardest part is waiting for it to be done, so you can dig in.
Stir together the sliced strawberries, a little bit of sugar, and the honey in a mixing bowl. Use a fork or potato masher to mash the berries into a sauce. Refrigerate.
Beat the cream cheese and a little bit of sugar until creamy. Add a little bit of milk at a time until it is all mixed in.
Stir the cream cheese milk mixture, heavy cream, salt, vanilla extract, and the rest of the sugar in a large bowl. Refrigerate for an hour.
Stir the mashed strawberries into the ice cream base.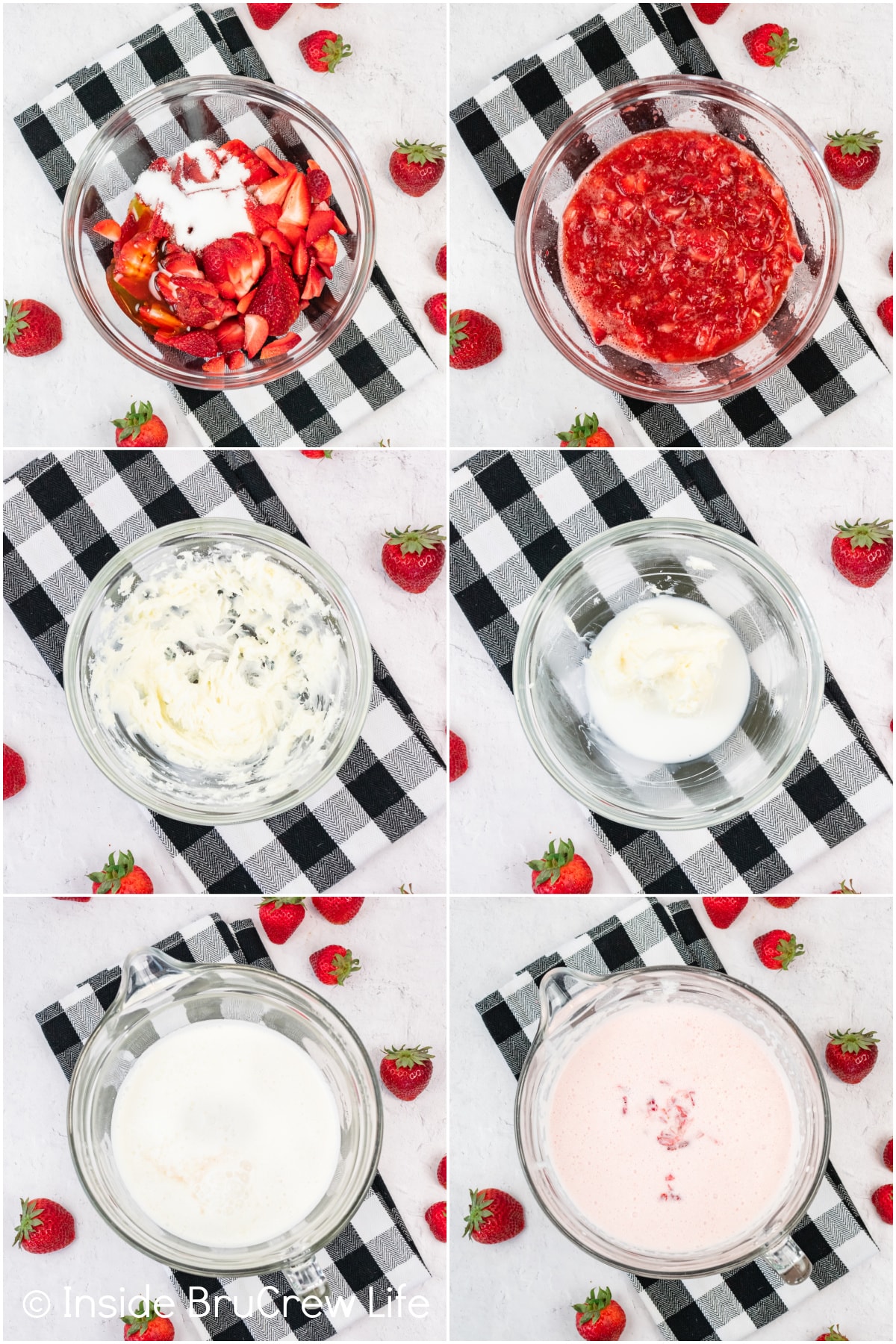 Pour the strawberry milk into your ice cream machine according to the machine directions.
Churn until it is thickened to a soft serve consistency. This will depend upon the make and model of the machine you are using.
Spoon the ice cream into a freezer safe container and press parchment paper or wax paper directly on top of the ice cream.
Freeze the soft serve ice cream for several hours. This helps to cure the ice cream, makes it hard, and allows you to scoop it.
Storage
Keep ice cream in a tightly sealed container in the freezer at all times. A metal bread pan works great too. Place 2-3 layers of plastic wrap around the pan to keep it from getting freezer burned.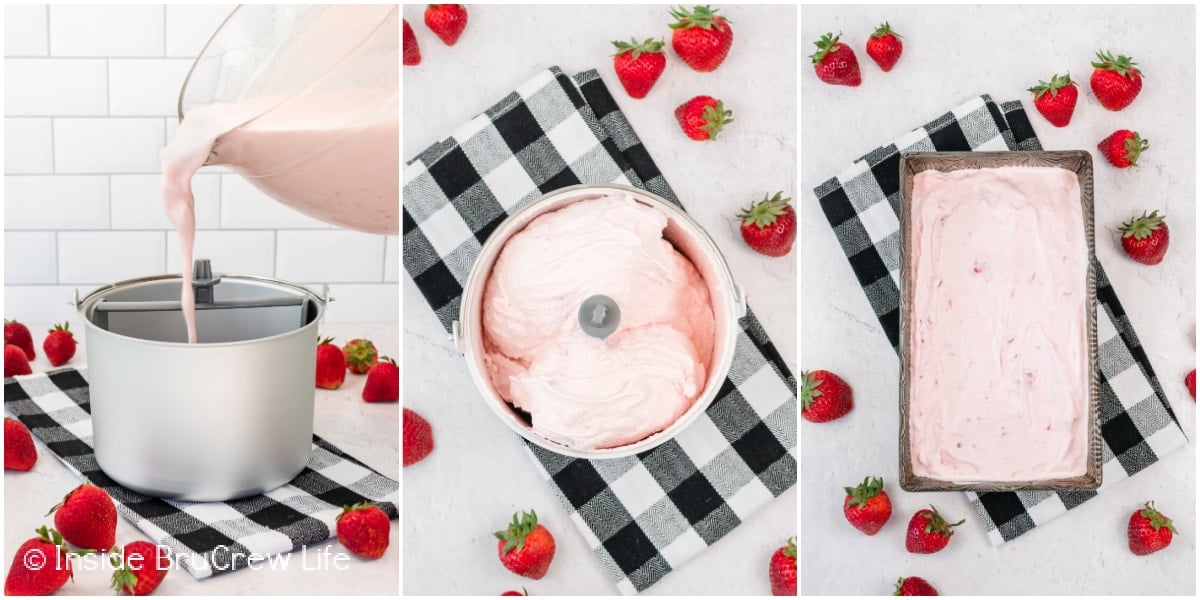 Tips and Tricks
If you are using an ice cream maker that comes with a freezer bowl, you will need to freeze the bowl at least 24 hours ahead of time. If you are using a compressor ice cream maker, chill the bowl 15 minutes prior to churning.
Strawberries are a very watery fruit, so mashing them with sugar helps to break down the berries. This way they do not freeze rock hard.
Farm fresh berries will give you the best flavor and fragrance in the ice cream.
When you start churning the strawberry mixture, place your ice cream container into the freezer. That way the container is chilled when you transfer the soft serve ice cream to it.
Placing parchment paper or wax paper directly on top of the soft serve ice cream protects it from developing ice crystals on the top as it hardens.
Cover the container and freeze for a few hours, so the ice cream can harden before serving.
Serve scoops of ice cream with strawberry sauce and homemade whipped cream.
FAQ'S
How long do you churn ice cream?
This depends on what ice cream maker you are using. Some models will be done in 20-30 minutes, while others could take as long as 30-45 minutes. Keep churning until it reaches a soft serve consistency.
How do you keep strawberries soft in ice cream?
Adding sugar and honey to the fresh strawberries keeps them from freezing hard as rocks. Also, mashing them into smaller pieces distributes the fruit better.
Why is my ice cream icy?
Not having enough fat content in the milk you use will cause it to be icy. Using a lower fat milk or half and half is usually the issue. Whole milk and cream will give you a rich and creamy texture.
Sugar and honey also bind with the ingredients to keep them from freezing into crystals.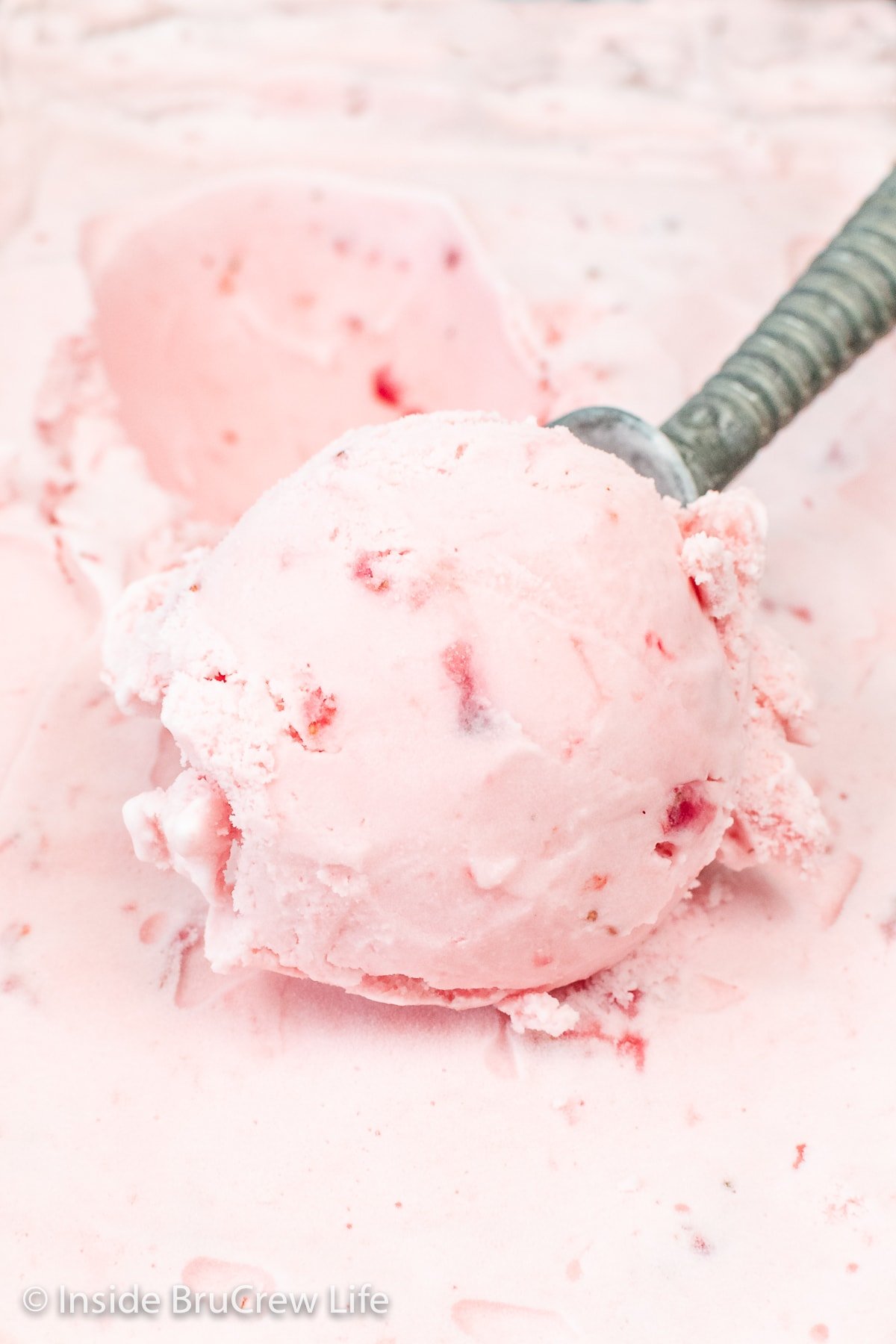 More Strawberry Recipes
Do you love a recipe you tried from Inside BruCrew Life?
Please leave a 5-star ⭐️ rating and a review in the comments section below.