Over the past few years the safe cooking temperature for pork has changed. This has provided some confusion for most people because for decades people were told pork needed to be well done.
Generations of people have grown up eating over done and dried out pork. They had no idea that it could be done any other way.
I have partnered with the National Pork Board to bring you this information. Graphics were provided by pork.org. As always, thoughts and opinions are my own.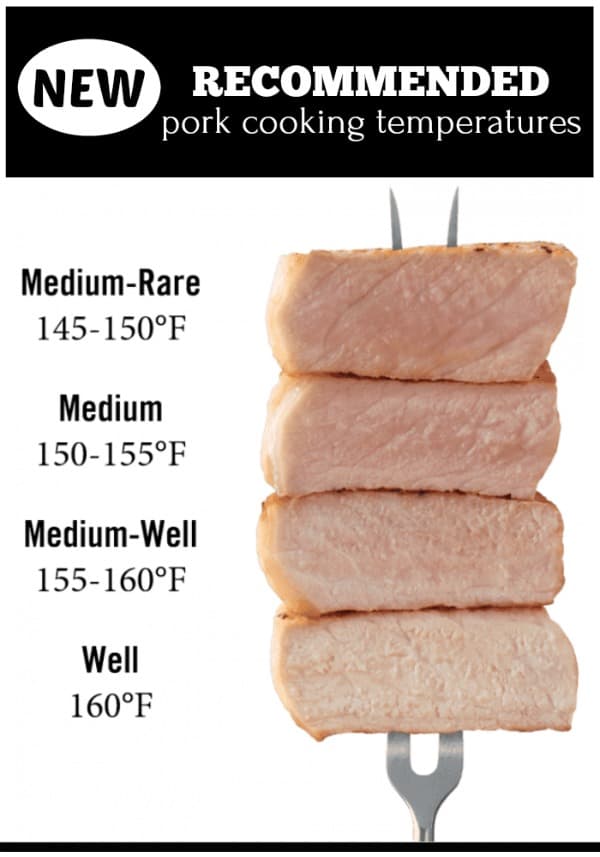 Recommended Pork Cooking Temperatures:
Up until a few years ago, the recommended temperature for all cuts of pork was 160°. Now thanks to biosecurity and animal health, pork is safer to eat at a lower temperature.
So say goodbye to dried out, over cooked pork dinners!!! It's official. You can (and should) cook your pork to 145° because pork does not have to be cooked until the juices run clear!
According to the National Pork Board and the USDA's Food Safety and Inspection Service, the minimum safe internal cooking temperature for cooking pork chops, pork roasts, and tenderloin is an internal temperature of 145°F followed by a three minute rest.
This provides the optimal eating experience. Pork cooked this way has such a different taste, texture, and flavor. I highly recommend purchasing a meat thermometer and try cooking your pork to medium-rare or medium.
FYI: Ground pork and any pork that has been enhanced should always be cooked to 160°F.
Adhering to the pork cooking temperature guidelines will result in the best eating experience for flavor and safety.

Why has the recommended pork cooking temperature changed?
The reason for the pork cooking temperature being changed is because the way pigs are raised has changed.
The main reason for the higher temperature was to remove trichinosis. Pigs that were raised outdoors could get a parasite called Trichinella from the dirt, and it could be passed onto humans if it wasn't killed in the cooking process.
With all the changes in biosecurity and with pigs being raised indoors, this is NOT a risk anymore.
Commercial pig farms are all indoors now. This means the pigs are not rooting around in the dirt and are not exposed to Trichinella. They are raised in a much more comfortable and safe environment.
Tips for Buying Pork:
One important indicator of pork quality is the color. Redder is always better. A deep colored cut of pork means it has a high water-holding capacity. Look for cuts of pork that are red and firm because they will be juicy and flavorful.
Make sure the pillow pack is not full of liquids. If the liquid has already seeped out of the meat leaving it grayish-white, it means it has already lost a lot of its moisture and will result in a drier pork once cooked.
Look at the marbling in the pork cuts. A meat's marbling indicates its fat content. The amount of marbling is mostly a personal consumer preference. Keep in mind that fat = flavor. If you are concerned with fat content you would want to opt for less marbling, while those looking for more flavor will want to choose more marbling.
Be sure to pick the right cut of meat for what you want to make. See the guide below on How to Cook Pork and Chose the Right Cut for Recipes.
Here's another fun fact. It is illegal in the US to inject pigs with hormones. Any commercial farmer found doing this would lose their ability to sell pork in the US. So any labels that you may find on packages in stores claiming to be "hormone free" are just a ploy to get you to pay more money.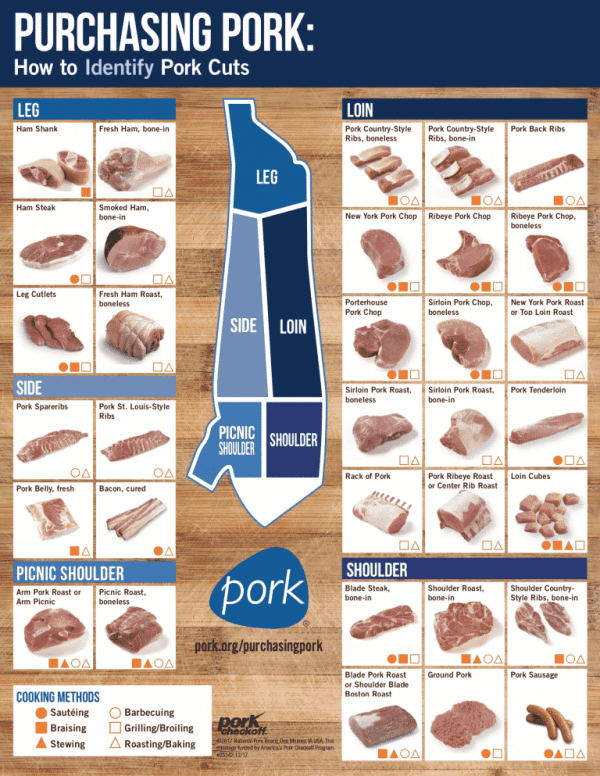 Have you ever wondered about what goes on behind closed doors of a pig farm?
Last year I had the opportunity to visit a few farms in Sioux Falls and learn about the reason for safety and caution on a farm. We even experienced showering from head to toe before entering and exiting a facility.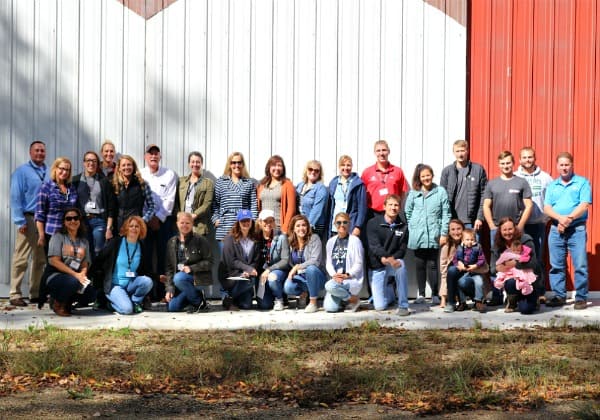 A few months ago I was also able to visit a few pig farms in Michigan with the National Pork Board. This time we didn't go into the barns with the infant pigs, so we just had to put on blue bunny suits and plastic shoe covers as a safety precaution.
The biosecurity and safety measures that are used when someone visits a farm is for the pigs safety.
I honesty didn't know much about pig farming or biosecurity before I visited these farms. If you are curious about what biosecurity is, it is just a fancy word for keeping pigs healthy.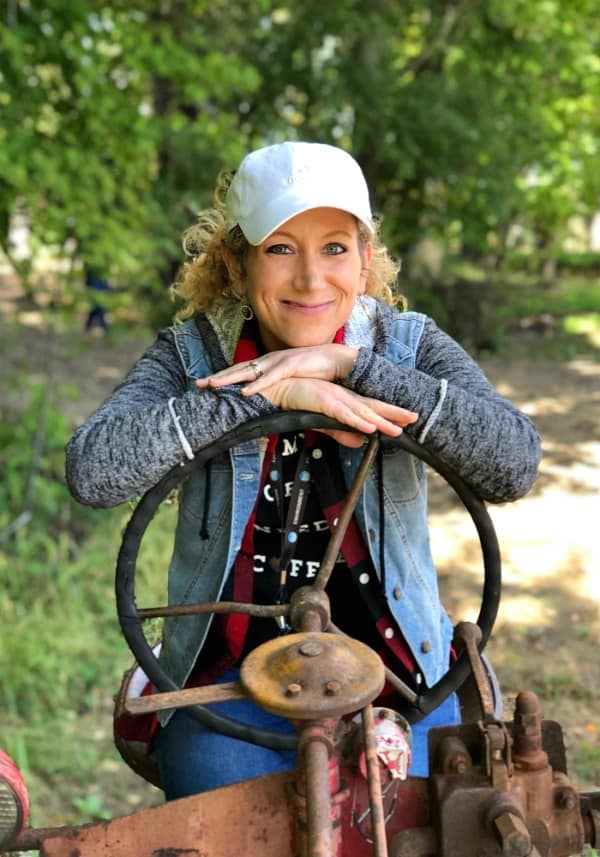 The farmers keep their barns and stalls clean to help minimize disease and illness in their pigs. They also need to be careful about outside visitors bringing in other diseases that could affect their barns and livelihood.
Most farmers do not like to use antibiotics, but they realize that keeping the pigs healthy while they are growing is very important. If an animal does need antibiotics, it is tracked and closely documented.
Any meat that is tested by the USDA and is found to have any traces of antibiotics is thrown away and the farm is flagged. If this happens a second time, that farm cannot continue to process their meat there.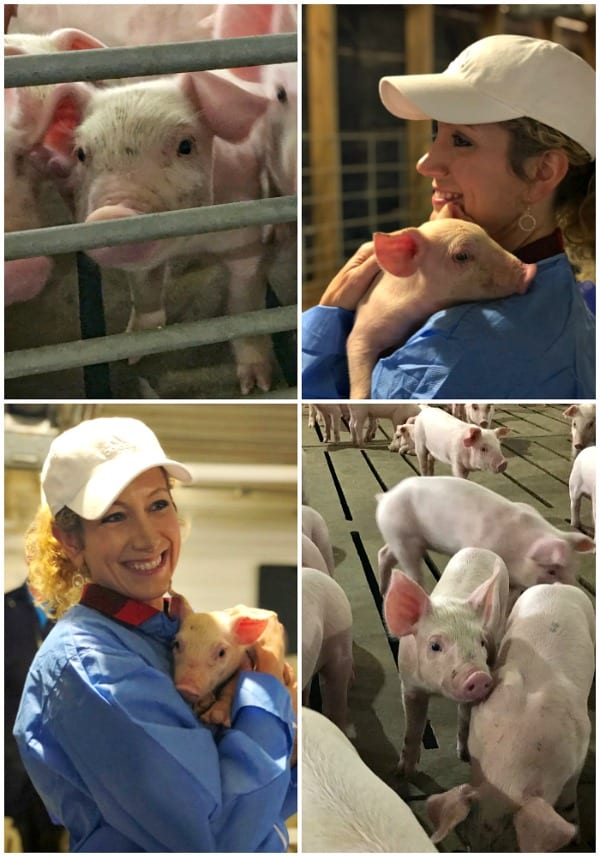 As I visited the pig farms in Michigan, I was excited to see how friendly and open everyone was.
These farmers are always learning and applying research to improve the life and health of their pigs. Every single farmer is doing the best that they can to be a good steward of the land and resources that they own.
They also want to be good neighbors and care takers as they provide people with high quality meats.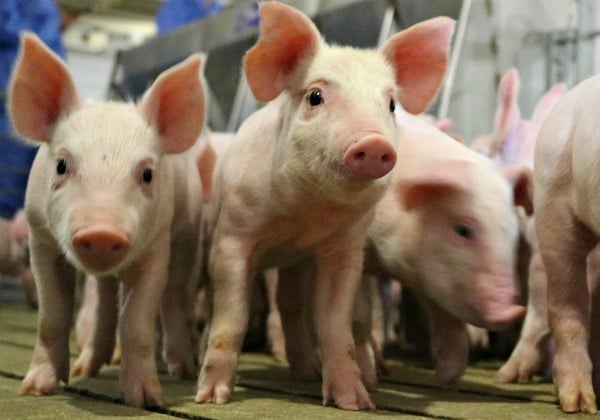 Many of these farmers are adding air filtration systems in their barns, are requiring visitors to show in and out, and are installing climate control systems. Anything that comes into contact with the pigs has to be cleaned and disinfected thoroughly.
Even the trucks that are used to transport pigs to market and to and from farms are completely washed and then heated or "baked" to 160° for 10 minutes. This process kills any bacteria or disease that may be present.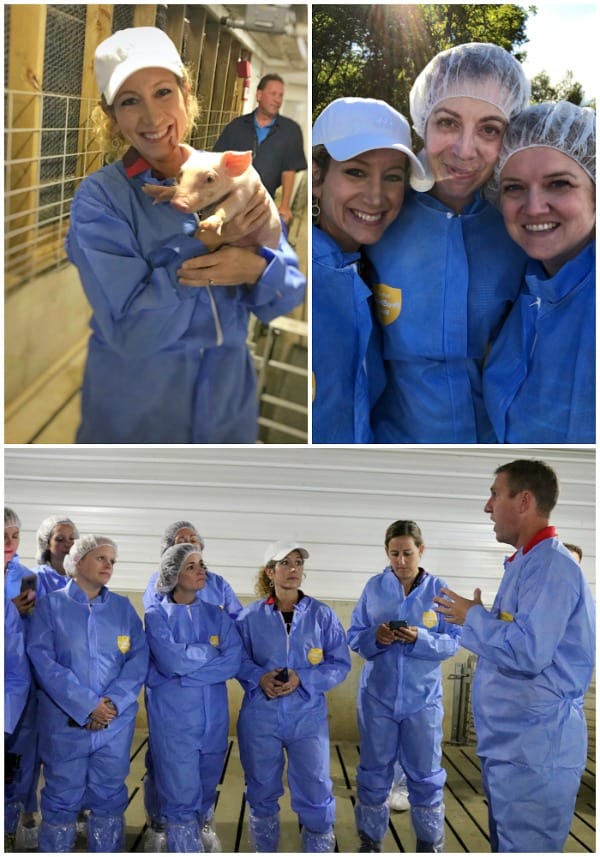 Easy pork recipes you may enjoy:
*This post has been sponsored by the National Pork Board. As always, all thoughts and opinions are 100% my own.
**Inside BruCrew Life is a participant in the Amazon Services LLC Associate Program. We may receive a small percentage from sales made through these links with no added cost to you. Thank you for helping to support us and for letting us continue to provide free recipes for you.