Enjoy a big bowl of this homemade Chocolate Peanut Butter Cup Ice Cream on a hot summer day. This easy ice cream recipe is quick, egg-free, and tastes incredible.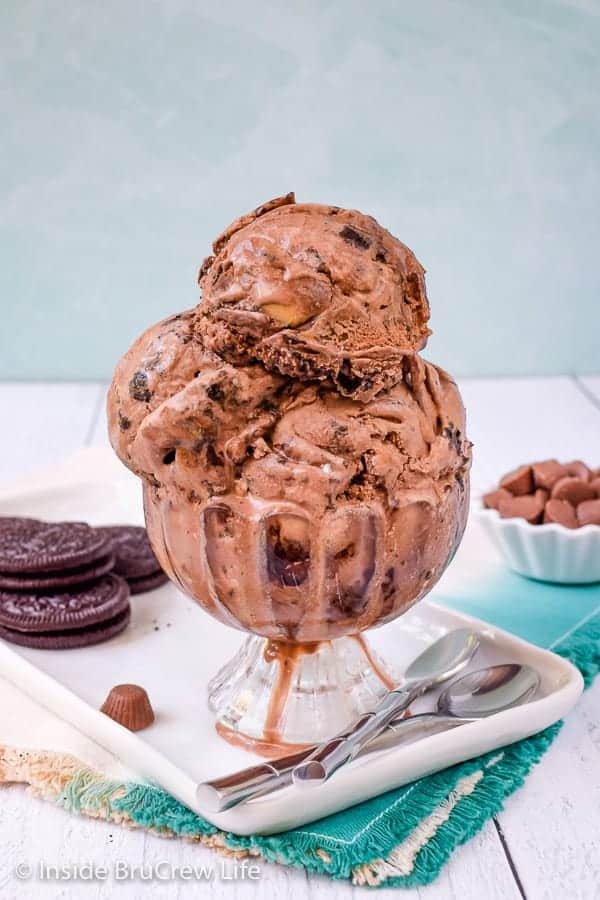 When I go to the grocery store to buy ice cream, I look for the ones loaded with the most extra fun mix-ins. Give me all the brownie chunks, fudge ribbons, cookies, candies, and peanut butter swirls I can find.
My husband on the other hand is perfectly content with a bowl of mint chocolate chip or vanilla bean. That's about as wild and crazy as he gets with his ice cream choices.
It's funny to see how our kids tastes in ice cream follow ours. Our daughter loves Moose Tracks or Ben and Jerry's chocolate fudge brownie ice cream. I have to admit both of those are absolutely amazing. And then our boys usually just ask for strawberry and vanilla.
Maybe it's a girl thing to like your ice cream loaded with all the good stuff?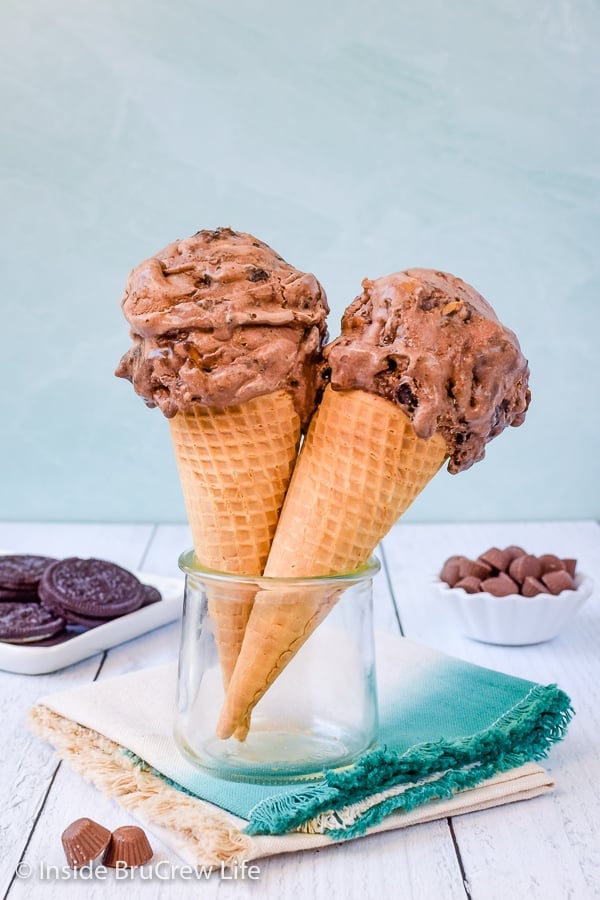 Since July is National Ice Cream Month and July 21st is National Ice Cream Day I just had to make another fun and totally loaded ice cream for our freezer.
Now most of the time I like to make an easy no churn ice cream because it seems like it is less work. But last month I made this Vanilla Bean Blackberry Fudge Swirl Ice Cream, and I realized that you can make homemade ice cream without much work at all.
There are no eggs and no cooking involved in this easy ice cream recipe. If you have a bowl, a whisk, and an ice cream maker, you are ready to get started.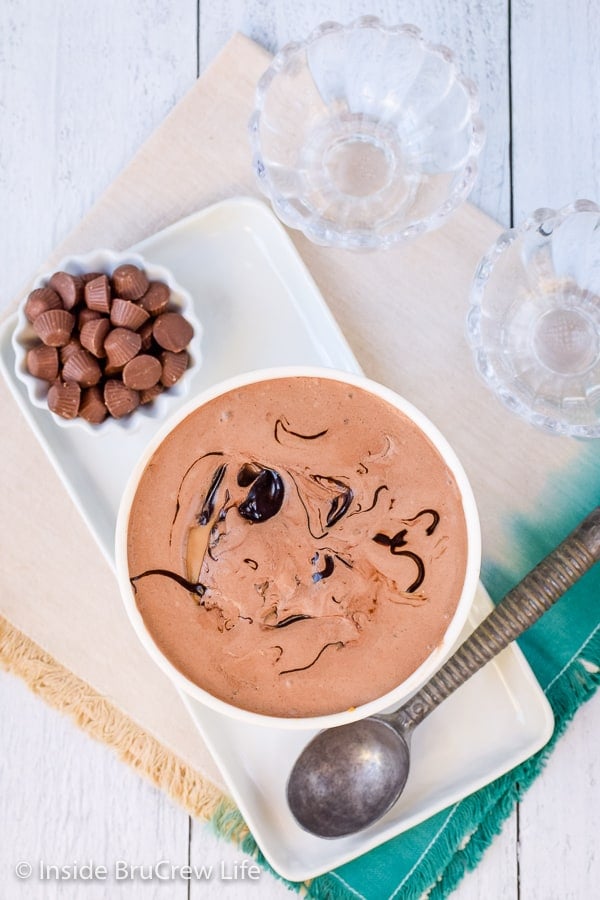 The biggest decision you will need to make is what mix-ins will you choose for your ice cream.
Ice Cream Topping Ideas:
Cookies - Oreos, Chips Ahoy, Nutter Butters, animal oookies, graham crackers
Candy - peanut butter cups, M&M's, Reese's Pieces, gummy bears, Butterfingers, Snickers, cookie dough bites
Toppings - peanut butter, hot fudge, caramel, marshmallow, fruit preserves
Other - sprinkles, chocolate chips, pretzels, nuts, brownies
There is really no bad idea when it comes to adding extra things to ice cream. I like to open the pantry and start pulling out half opened bags of cookies, candies, and sprinkles to use up when we make ice cream.
How to make Chocolate Peanut Butter Cup Ice Cream:
Start by whisking together whole milk, heavy cream, sugar, and cocoa powder in a large bowl. The cocoa powder will resist mixing into the cold milks, but keep whisking until you get a frothy chocolate milk. Then refrigerate the mixture for at least 30 minutes. This allows the cocoa powder to really dissolve and get hydrated by the milk.
Pour the chilled chocolate milk into your ice cream maker and churn for 20-25 minutes or until it looks like soft serve. Pro Tip: If you have a machine that does not use rock salt, make sure you freeze the container the day before.
Quickly stir the Oreo cookie chunks and miniature peanut butter cups into the chocolate soft serve ice cream. Pour half the ice cream into a large freezer safe plastic container.
Drop spoonfuls of melted peanut butter and hot fudge on top of the ice cream. Use a knife to swirl these in gently. Do not over mix because you want big swirls of the toppings when you scoop out the hardened ice cream later.
Repeat with the rest of the ice cream and toppings. Cover the ice cream and freeze for a few hours or until hard.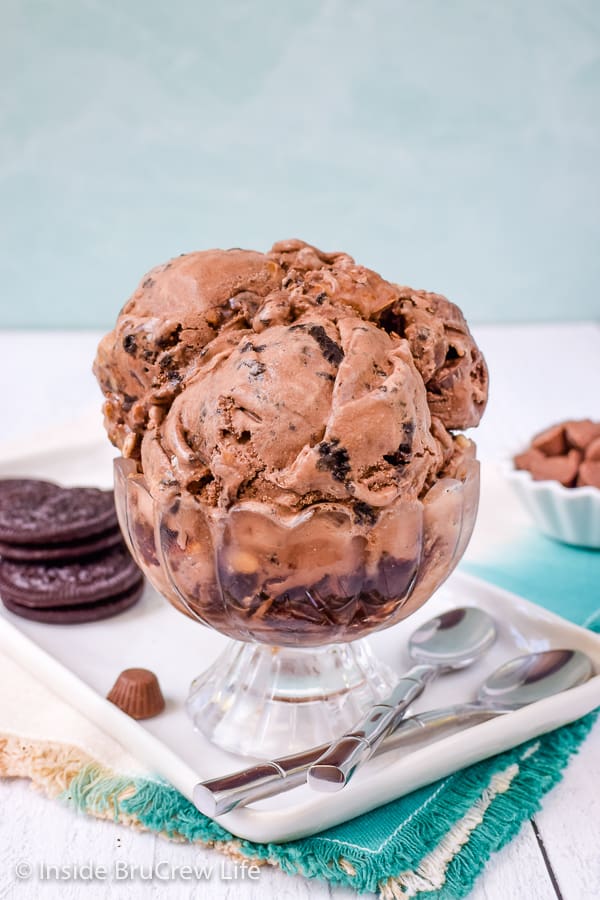 Tips to remember when making Homemade Chocolate Ice Cream:
Make sure to buy good quality cocoa powder. For a richer, darker chocolate ice cream, use a dark chocolate cocoa powder.
Keep in mind that cocoa powder looses its potency over time, so if your container has been open for quite some time, it may be time to replace it.
You can use whatever milk you have on hand, but whole milk and heavy cream will give you the creamiest and richest texture.
The ice cream can be served fresh out of the ice cream maker but it will be very soft and melt very quickly. If you want the ice cream to have a store bought texture, make sure to freeze it for a few hours.
Have fun choosing your extra toppings to swirl into your homemade ice cream.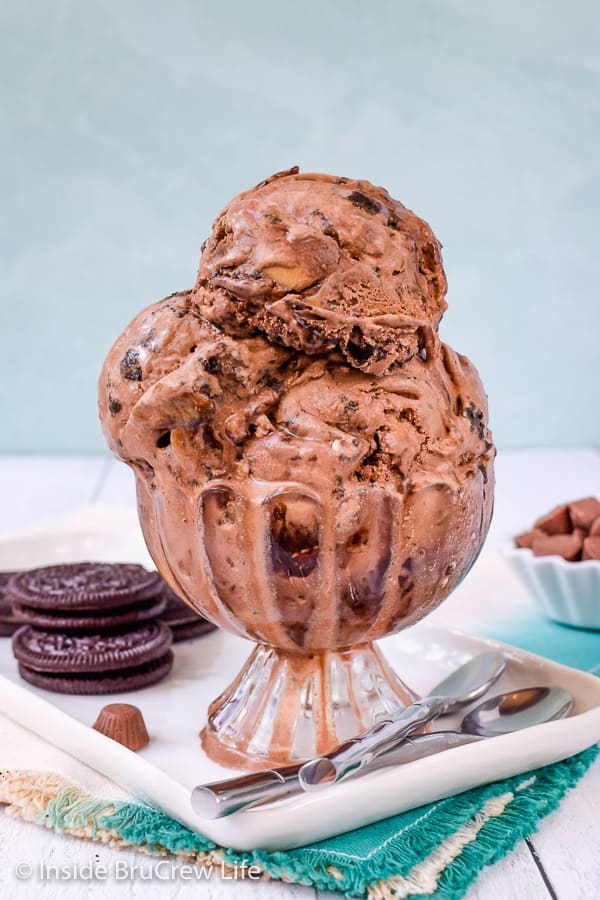 More easy ice cream recipes:
Swirls of cookie chunks and strawberry preserves give this no churn Lemon Oreo Strawberry Swirl Ice Cream a pretty color and taste.
Chocolate chips and swirls of brownie batter add a fun taste and texture to this easy Brownie Batter Coffee Ice Cream.
Caramel swirls, candy bars, and nuts will have you reaching for another bowl of this Caramel Snickers Ice Cream in a hurry.
Peanut butter cups and chocolate swirls add a fun taste to this easy Peanut Butter Brownie Batter Swirl Ice Cream.