Chocolate and coffee lovers…BEWARE!!!
You are going to fall in love with these
Espresso S'mores Cookies
!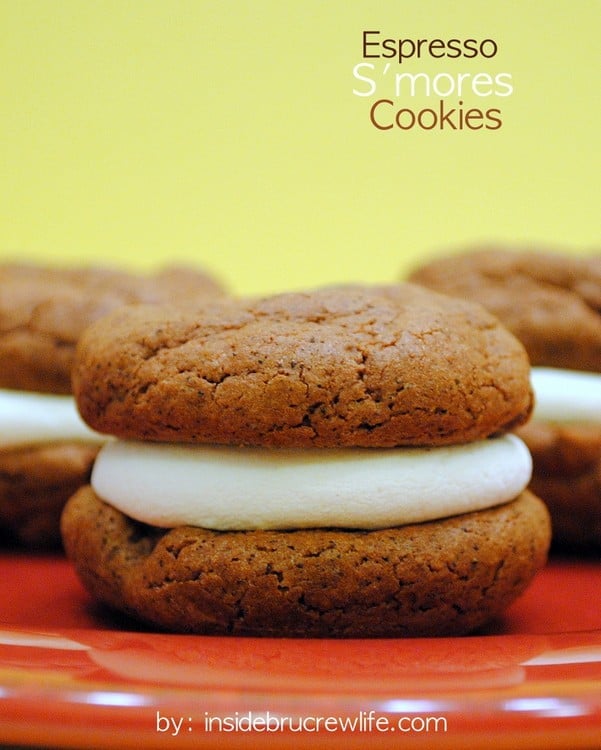 In fact I think they have become one of my FAVORITE cookies.
They are very fudgey even a couple days later.
Of course I recommend eating them straight from the oven…
seriously way better that way!!!!
And they are small,
so you can justify eating more than one at a time. 🙂
Always a plus in my world.
They also just might make a great wake up call in the morning…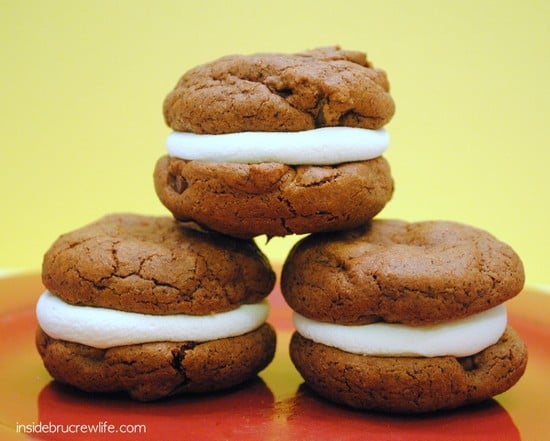 I mean I always have coffee with my breakfast, don't you?
Of course these cookies were amazing by themselves, but my first thought was…these would make a wonderful s'mores base.
So I took them with us when we visited my inlaws camp site this weekend,
and yup, they were amazing with a warm oooey gooey marshmallow inside two of these fab cookies.
It was way too dark for pictures to turn out,
so I came home and popped a couple of them in the microwave.
And I actually liked them better in the microwave because
the cookies got warm and gooey too!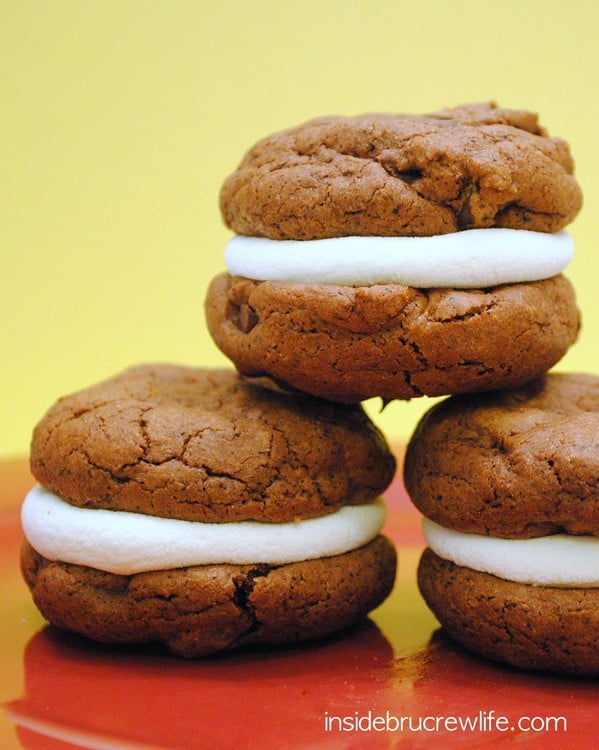 Chocolate coffee cookies filled with gooey marshmallows is a fun way to do cookies.
Ingredients
8 ounces semisweet chocolate, coarsely chopped
1/4 cup butter
3/4 cup packed brown sugar
2 eggs
1 1/2 cups flour
2 Tablespoons espresso powder
1/2 teaspoon baking powder
1/2 teaspoon salt
1 cup semisweet chocolate chips
9 large marshmallows, cut in half
Instructions
Place chopped chocolate and butter in a saucepan over low heat. Stir until melted. Let cool slightly.
Beat the sugar and cooled chocolate until light and fluffy. Add eggs and beat again.
Combine the flour, espresso powder, baking powder, and salt. Slowly add this to the sugar mixture. Stir in chocolate chips by hand. Refrigerate the dough until chilled.
Roll dough into 36 balls. Place two inches apart on baking sheets. Bake at 350 degrees for 9-10 minutes, or until browned around the edges. Cool cookies completely on wire racks.
Place a few cookies at a time on a glass plate upside down. Top with half a marshmallow. Heat for about 10 seconds or until the marshmallow puffs up. Top with another cookie. Repeat with remaining cookies and marshmallows. Make 18 s'mores cookies.
Notes
https://insidebrucrewlife.com/espresso-smores/
Copyright Inside BruCrew Life