Start the school year out right with a delicious and fun cookie. These Salted Caramel Brownie Cookies are soft and delicious. Perfect treat to have waiting when the kids get home from their first day of school.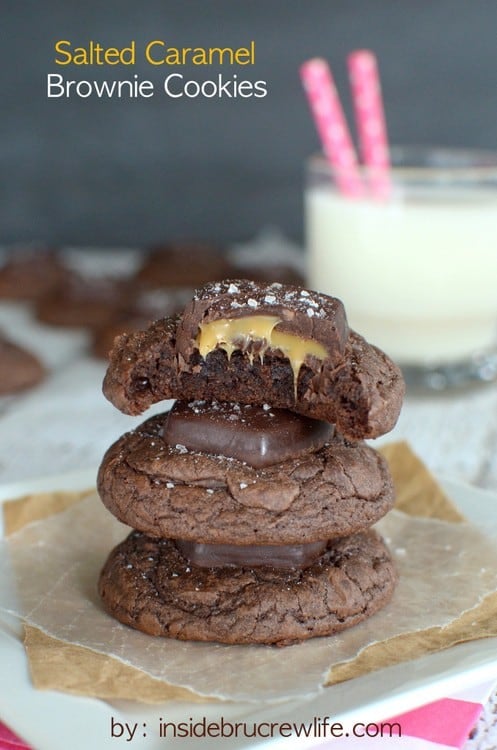 Summer is officially over. My house is so quiet right now. Well, other than the leaking toilet in the bathroom. It is very noticeable now that there are no yelling kiddos to cover it up.
All the pencils, notebooks, highlighters, and binders have been purchased, labeled, and sent off with our 3 kids this morning. The first day of school is always bitter sweet. I do love and miss my kids when they are gone...but I also love the absolute quietness of my day.
Although, we were at a few sports meetings in the last few weeks and I'm pretty sure I will be enjoying my quiet days even more this year. Three kids + four sports + 2 parents = CHAOS!!! After school is going to be a mad house with getting everyone to their practices and games.
Cookies are going to be needed to keep me sane.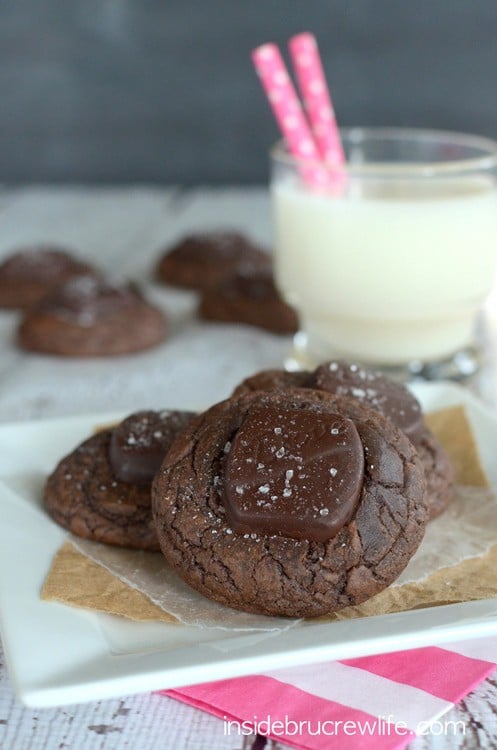 Last week I was walking down the candy aisle at Target...surprise, surprise. That happens way more than I care to admit. Although I usually come clean and confess all my candy buying habits here.
Anyway, I looked over and the Dove chocolate bags were literally jumping off the shelf and into my cart. It was a strange thing to see for sure, but who am I to resist chocolates that beg to come home with me.
I was good though, and only bought the salted caramel dark chocolate ones. Because...well because salted caramel. No other explanation is needed.
Ever since I made these Salted Caramel Mocha Brownie Cups a few years ago, I have become obsessed with using that flavor every few months.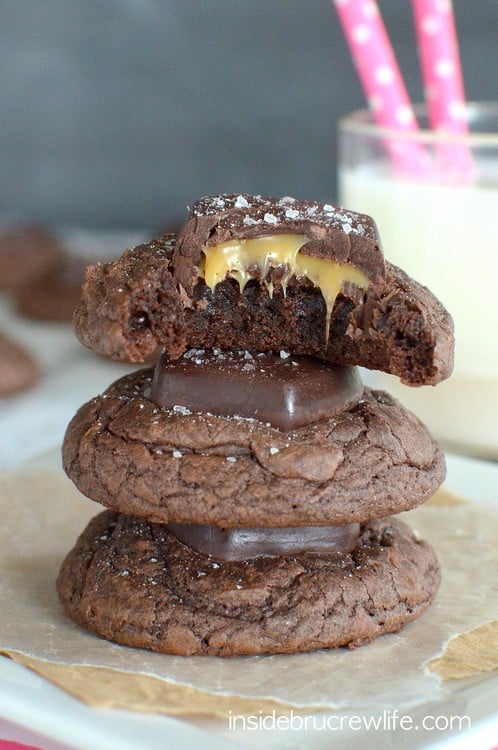 These cookies are made very similar to these Chocolate Chip Cookies and Cream Cookies. The only difference is that I went with a little less butter because I wanted them to stay fat and puffy.
Just be careful with these cookies around because if you eat them all there is a good chance those adjectives will describe you too. Your jeans will not like me much I'm afraid, so I suggest baking them and then sharing the salted caramel goodness with everyone you know.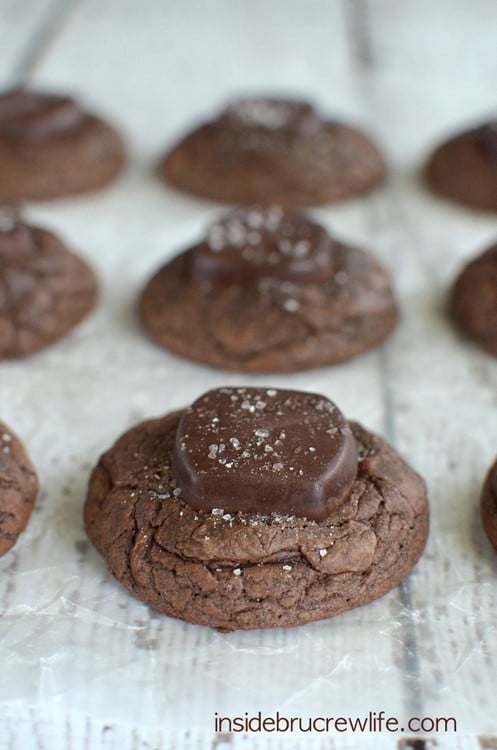 How to make Salted Caramel Brownie Cookies:
Brownie cookies are so easy. This one is kind of a cheater cookie though because they start with a boxed brownie mix. Add an egg, some melted butter, and softened cream cheese. Seriously. That's it.
Now to keep the dough from spreading too much, I like to refrigerate the dough for at least 30 minutes before rollint it into 30 even balls. PRO TIP: The dough will be sticky so spray your hands with some nonstick spray while you work.
Bake your dough balls on a baking sheet for 10 minutes. I really recommend you do not over bake them. After the timer goes off, pull the pan and let the cookies sit for another 2 minutes. The reason for this is that the cookies will continue to cook on the hot pan.
Then move them to a piece of parchment paper on your counter, and press an unwrapped chocolate into the top of the cookie. The heat from the cookie will cause the chocolate to get all soft and melty. This is exactly what you are looking for.
If you sprinkle the salt too soon, it will just bounce off the top. Wait until the tops of the chocolates are shiny and then sprinkle the salt on. Use your preference on how much you want on each one. I happen to like a lot, so I go a little crazy with it.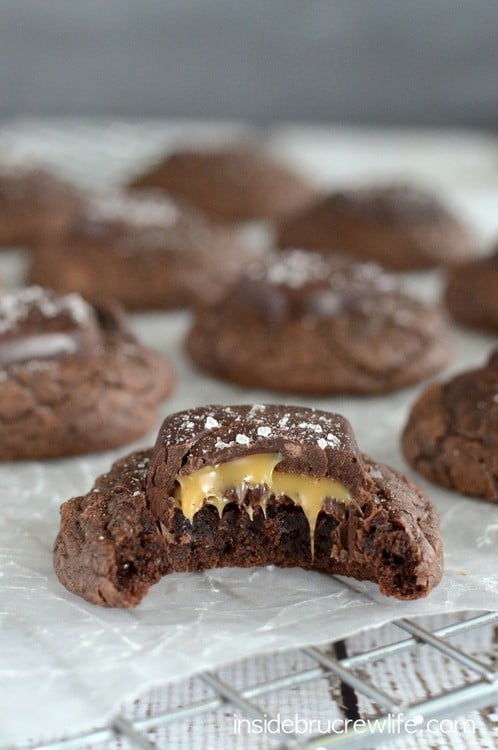 More salted caramel goodness for after school snacks or for when the house is quiet: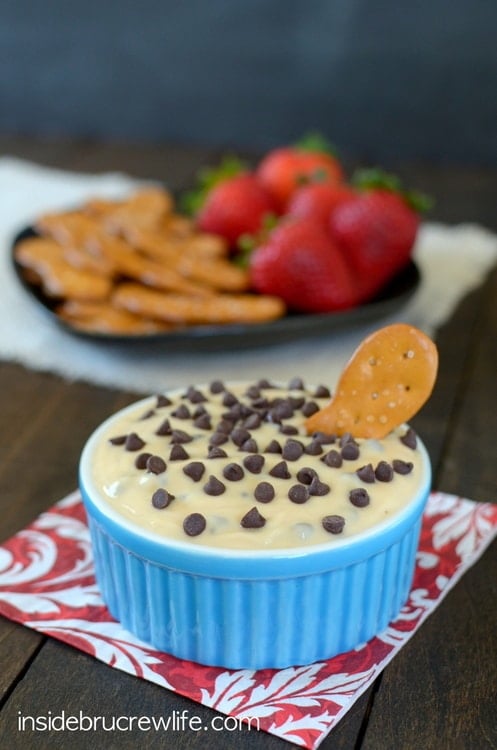 Salted Caramel Chocolate Chip Yogurt Dip