Looking for something delicious to dip your chicken and fries in? This Honey Chipotle Sauce is a great sweet and spicy dip that gets rave reviews.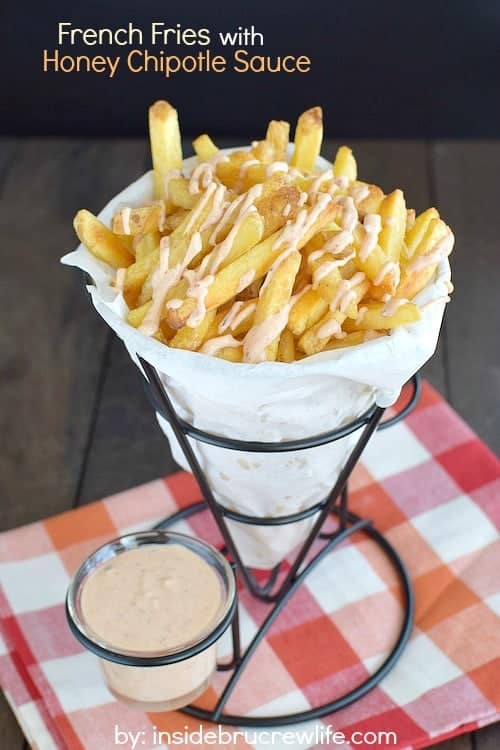 After I graduated high school, I worked in a clothing store in the local mall for a year before heading off to college. With only 30 minutes for lunch breaks, I would head over to a fast food restaurant in the mall for a sandwich and fries every day.
Those salty fries dipped in mayonnaise were what got me through long days in the men's department selling shirts and ties.
Oh, how I wish I still had that teenage metabolism to be able to eat like that now. That's definitely not something I can even think about doing now!!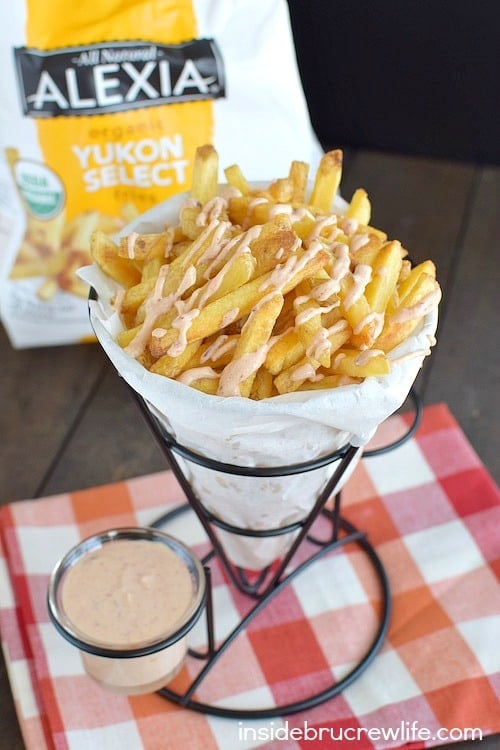 Recently I partnered with Alexia Foods to use one of their frozen sides in an easy meal plan or recipe.
I love their frozen line of French fries, onion rings, and potato puffs, so I couldn't wait to find a way to incorporate one of those into dinner.
Their products are made with premium, all-natural ingredients, which makes me happy knowing that my family is eating the real deal.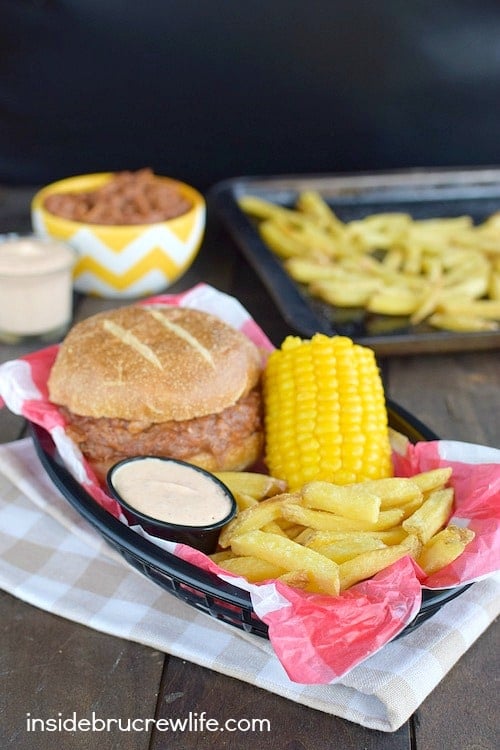 I headed to the store and bought some french fries, some pretzel buns and pulled pork, and corn on the cob.
Now I know what you are thinking - that sounds like a summer-time meal, and you would be right.
With the spring weather teasing us with warm and chilly days each week, I wanted to channel some summer lovin' around our dinner table.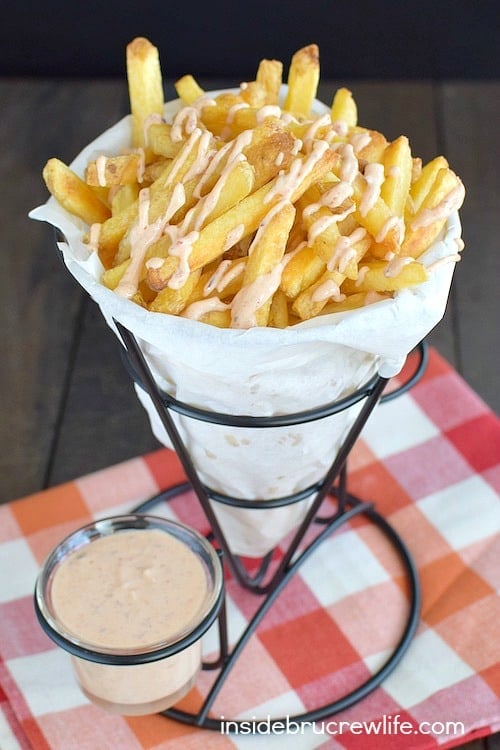 Honey Chipotle Sauce
The last step to our meal was to create a fun dipping sauce to go with the fries.
Any kind of food that can be served with little sauce cups gets big smiles around here. Since our family also loves spicy food, I incorporated some chipotle sauce and some honey into a bowl of Greek yogurt.
My metabolism cannot handle eating those heavy calorie-laden sauces anymore, so I am always looking for ways to lighten up recipes with Greek yogurt.
We usually always have a can of chipotle peppers in our cupboard for adding some heat to our food. I like to puree the entire can of peppers, use what I need, then freeze the rest in a silicon ice cube tray for adding to later meals.
The crispy, salty fries dipped in the sweet and spicy dip was absolutely amazing. We couldn't stop dipping fry after fry.
You will definitely want to make this french fry dip for any regular day meal or game day parties. This is one dip that your family and friends will love.