Enjoy a pan of Loaded Pizza Cauliflower Nachos for dinner tonight. This easy low carb meal will satisfy your cravings for nachos and pizza.
Ok, so maybe it won't, but at least you will be satisfied that you ate a healthy lean and green dinner.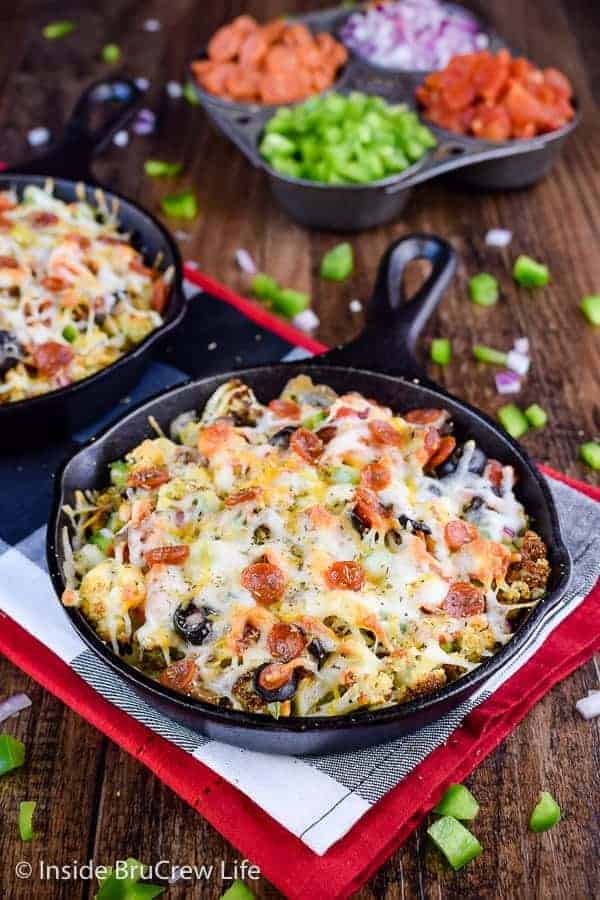 Do you have certain foods that you eat on certain days? Fridays tend to be our pizza day.
Our kids know we will either make some Homemade Pizza Dough and make our own pizza creations, order from a local pizza shop, or make pizza inspired things like this Tomato Basil Pizza Dip or these Stuffed Crust Pepperoni Pizza Bites.
Now this doesn't mean that we shun pizza on the rest of the days. If one of us gets a pizza craving on Saturday or Monday, it's pretty easy to convince the rest of us to eat more cheesy goodness.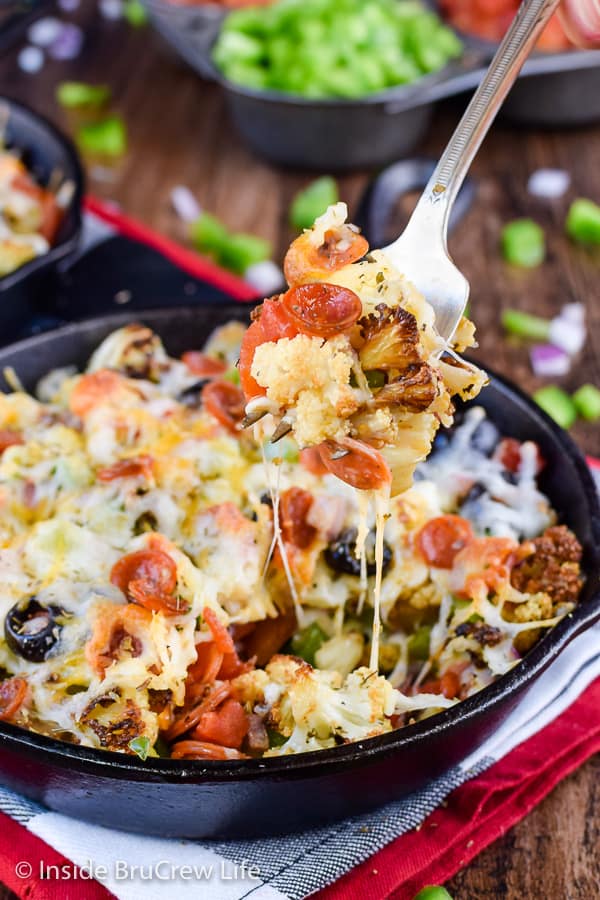 Of course, there are the days when I decide to give healthy food a pizza twist. Remember this Healthy Pizza Zucchini Salad from a few months ago? Yup, we still love that.
Over the past few months, I have fallen in love with cauliflower. It's crazy how many different things you can substitute cauliflower for and have it taste amazing! This veggie is magical for sure!
A few weeks ago I substituted cauliflower for chips in these Chicken Caprese Cauliflower Nachos, and my family went bonkers for them.
Well, three out of the four of us did anyway. That youngest boy is just a picky little stinker and only likes ramen and Chick-fil-a.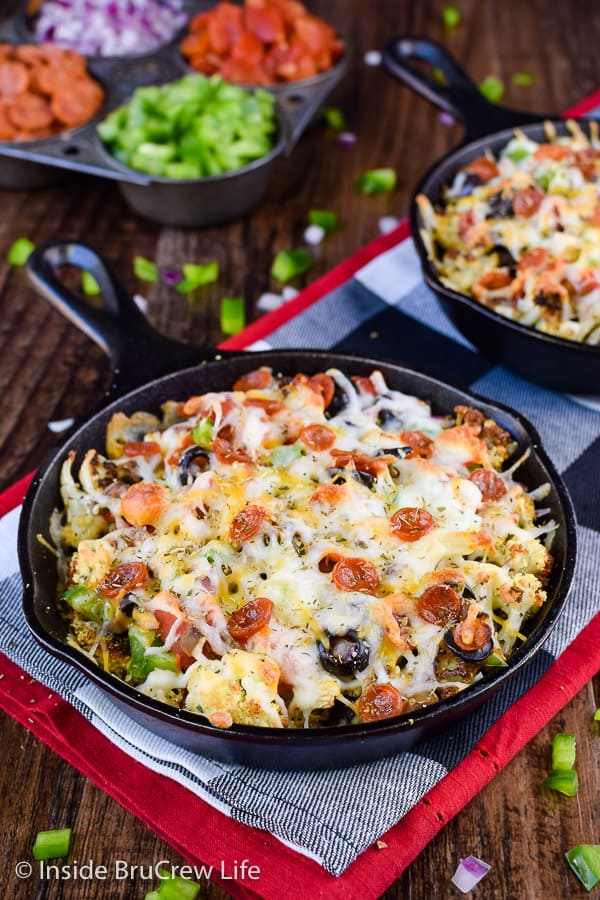 Since we like to make and eat pizza so often, I knew there were some cans of tomatoes, olives, and mushrooms in the pantry and plenty of cheese and veggies in the fridge to use up.
I couldn't wait to melt some cheese and toppings on a pan of this Oven Roasted Cauliflower and make more healthy nachos for our pizza dinner.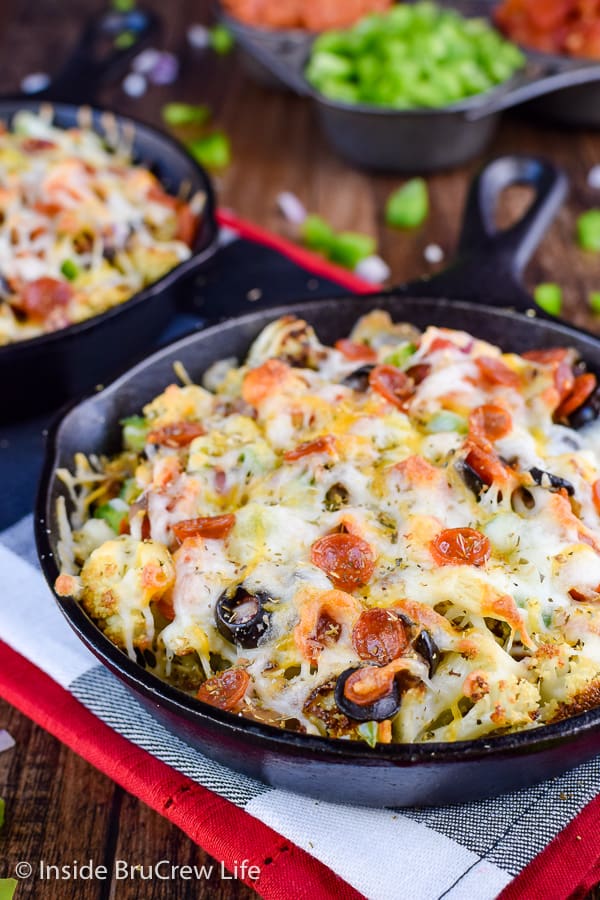 Tips for making Loaded Pizza Cauliflower Nachos:
Cut your large head of cauliflower into bite sized pieces. You will need at least 6-8 cups of florets. If you buy the big head of cauliflower at Sam's Club, this will be plenty.
Drizzle the cauliflower with oil and then stir in the seasonings. Bake for 35 minutes, stirring and flipping the pieces halfway through.
Stir together the tomatoes, mushrooms, onions, green pepper, and olives in a bowl. Divide the veggies into 2 bowls, so you can evenly spread them out in the two 6 inch cast iron skillets. If you are going to make the pizza nachos on a sheet pan, you can skip this step.
As soon as the cauliflower is finished baking, place half the roasted cauliflower pieces evenly into two 6 inch cast iron skillets.
Divide one bowl of veggies evenly between the two pans. Sprinkle with cheese, then repeat all the layers ending with more cheese.
Add mini pepperonis to the top of the cheese, then place both skillets in the oven and bake for another 5-7 minutes. Serve immediately.
You can also make these cauliflower nachos on a sheet pan. Push the roasted cauliflower into the center of the sheet pan, top with veggies, cheese, and pepperonis, then bake.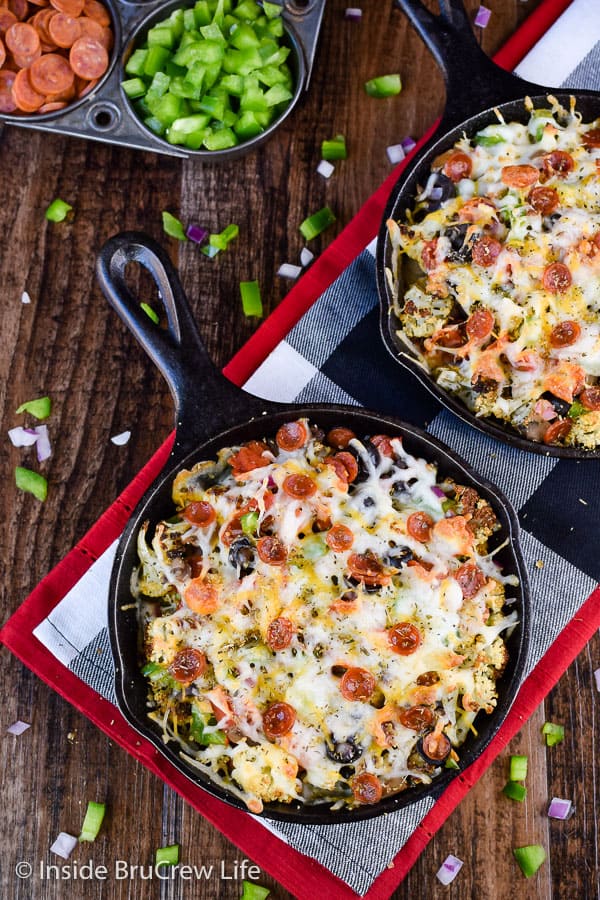 More delicious ways to cook cauliflower:
This Easy Cauliflower Rice is a healthy vegetable choice to make and use in your favorite comfort food dinners. Perfect substitution for real rice to keep you on track with eating right.
Enjoy a pan of this healthy Tomato Basil Cauliflower Rice and Sausage for dinner. This easy 30 minute meal will get smiles from everyone at the table.
These Cauliflower Parmesan Crisps are made with a few easy ingredients that many people will already have at home.
A bowl of this Loaded Cauliflower Soup is the perfect meal to warm you up on a cold night. A healthy dinner that looks and tastes like comfort food is a major dinner win.
These Low Carb Chicken Stroganoff Meatballs are cooked in a creamy mushroom sauce and served over mashed cauliflower. Comfort food meal packed with protein and veggies that the whole family will enjoy.