A plate of these Buffalo Chicken Chips is the perfect snack to munch on. Crunchy kettle chips topped with buffalo chicken, veggies, and bleu cheese crumbles makes a great "build your own appetizer" for game days or movie nights.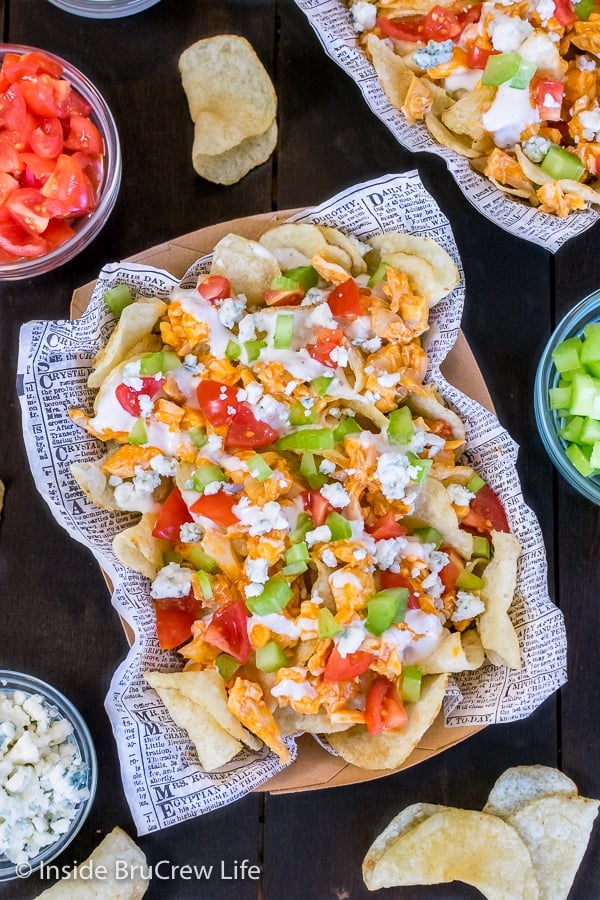 CLICK HERE TO PIN THIS RECIPE FOR LATER!
It has been a long time since we have been to Disney. I'm kind of going through withdrawals right now. Quite honestly, I'm ok missing the crowds and the heat and humidity, but man, do I miss the food.
We had a slight issue with our passes, so I haven't been able to reserve any time at the Parks since they opened back up. So, the other day I was taking a trip down memory lane by looking at the pictures of all the food we have enjoyed from each park over the last year. Am I the only one who does this?
The buffalo chicken chips from Animal Kingdom caught my eye as I scrolled through the pictures of Disney food we have eaten. We always try to find one new food to try whenever we go to any of the Parks.
This Buffalo Chicken Pasta Bake is still the number one recipe on our site, and we love buffalo chicken anything so we couldn't wait to try this fun kettle chip creation.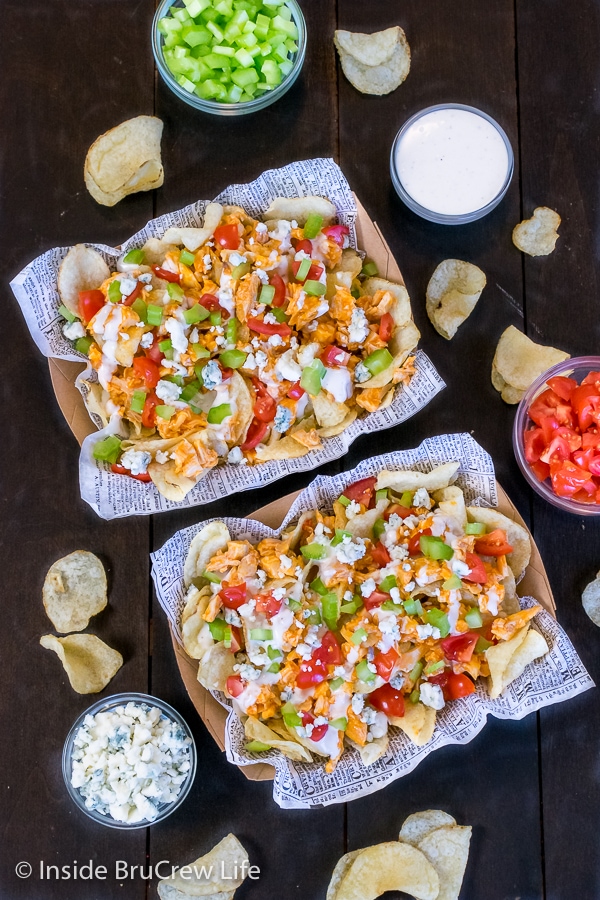 We found these awesome chips at the Trilo-Bites food stand in Discovery Island. If you are at the Park looking for it, it is right outside of DinoLand by The Boneyard Playground.
The day we ordered them we got house made potato chips topped with shredded buffalo chicken, tomatoes, celery, and bleu cheese dressing. They were delicious and filling, and we absolutely loved them.
I love making Disney treats at home, so I couldn't wait to make a copycat of these awesome chips. As I did some research on this buffalo chicken recipe, I found quite a few reviews that had arugula and bleu cheese crumbles on top.
I'm not sure if Disney was out of ingredients the day we ordered them, or if they have changed their recipe over the years. Either way, we still loved them and could not wait to enjoy our own Disney copycat recipe at home.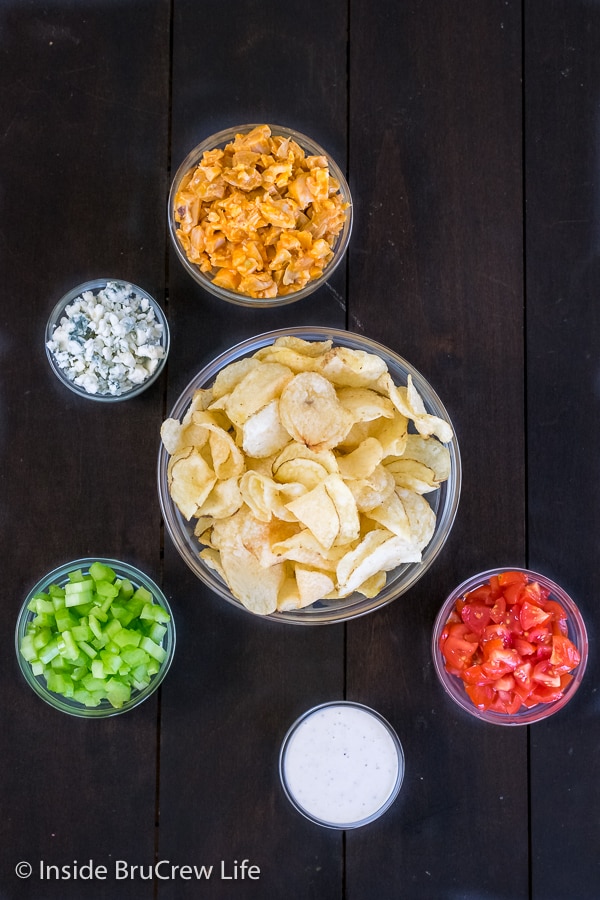 The key to this buffalo chicken recipe is the solid crunchy chip base. Now if you really like doing things from scratch, go ahead and make homemade seasoned chips.
We opted to buy a big bag of kettle cooked chips from the store to make this buffalo chicken recipe super easy. Just make sure the chips you buy are sturdy enough to hold toppings or to dip in things like this Easy Buffalo Chicken Dip.
What you need to make Buffalo Chicken Chips:
Chicken: You can use whatever cooked chicken you have on hand. We tried these chips with leftover rotisserie chicken and canned chicken and loved it both ways.
Buffalo Wing Sauce: There is a difference between buffalo sauce and hot sauce. Hot sauce is a mixture of hot peppers, salt, and vinegar and is quite spicy. When you whisk melted butter into hot sauce, it creates buffalo sauce. Buffalo sauce is smoother than hot sauce and has a richer flavor.
Ranch or Bleu Cheese Dressing: Either one will taste great. It all depends on which dressing you prefer with buffalo chicken. We personally like the contrast of cool ranch dressing with spicy buffalo wing sauce.
Tomatoes and Celery: Diced celery is a no brainer because it is always served with buffalo chicken. Diced tomatoes add a freshness to the crunchy chips.
PRO TIP: If you want to make this just like the buffalo chicken chips that Animal Kingdom originally served, add arugula.
Bleu Cheese Crumbles: The smooth creamy texture and mild flavor of these crumbles pairs so well with ranch dressing and spicy buffalo chicken.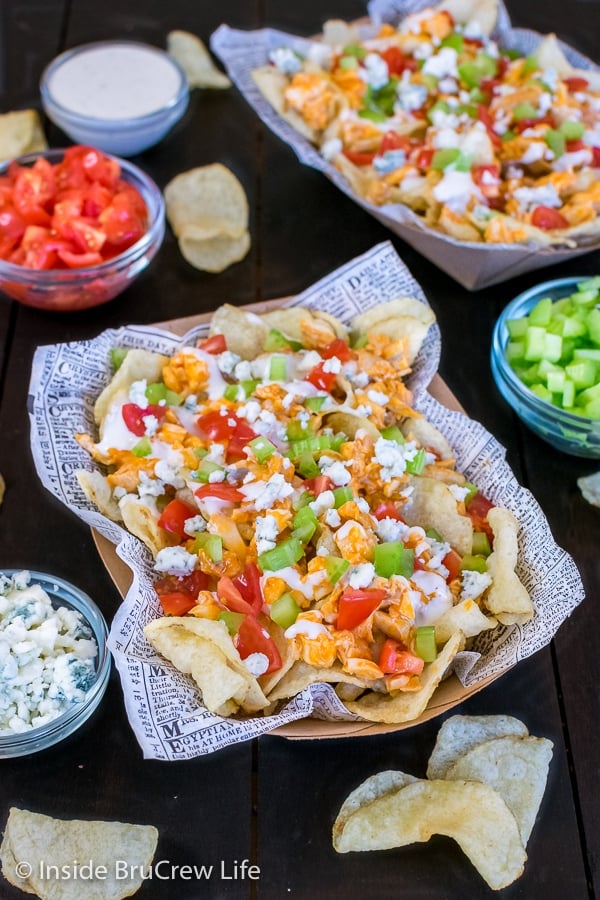 "Build your own appetizer" is the best way to serve these buffalo chips . Fill bowls with the toppings and let everyone go to town making their own buffalo chicken creation.
How to make copycat Buffalo Chicken Chips:
Stir together shredded chicken and buffalo wing sauce.
Place a generous helping of kettle chips on a plate and top with the buffalo chicken mixture.
Drizzle with the dressing of your choice.
Sprinkle the top of the chips with diced tomatoes and celery and bleu cheese crumbles.
Dig in and devour the buffalo chicken goodness!
PRO TIP: Don't like buffalo chicken? Try these kettle chips with barbecue chicken, red onion, ranch dressing, and bacon crumbles.
Other buffalo chicken recipes you may like: