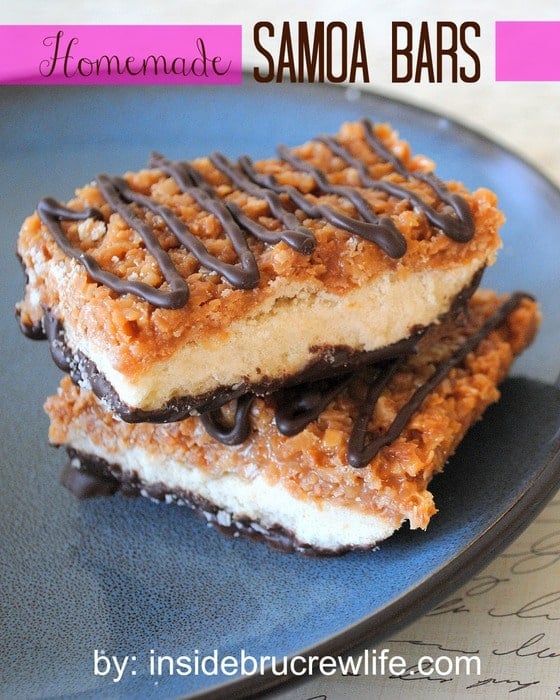 Is there anyone else who thinks the tiny boxes of girl scout cookies are a rip off???
Now don't get me wrong, I supported one of our local troops and bought a few boxes.
There are not enough cookies for the price. This is just my own ranting soap box here. Please don't take this personally if you have a girl in scouts!
I would just rather bake my own homemade girl scout recipes.
I tried these homemade Samoa Bars last night...mmmm...I think these are even better than the real deal.(I could eat the whole pan, but I won't because summer is right around the corner)
Pair it with a cup of coffee and you have a real treat. Maybe even a great breakfast...but I wouldn't know about that! Wink, wink!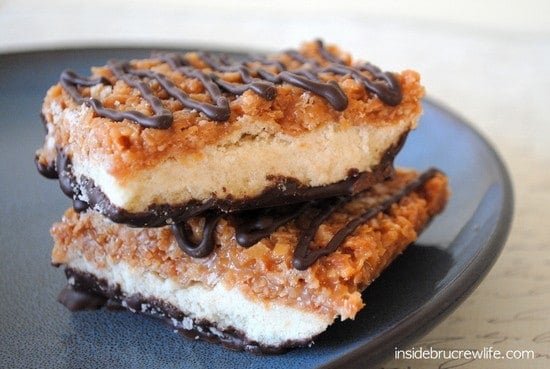 Yes!!! They are as yummy as they look.
Ready, Set, GO BAKE!!!!
Homemade Samoas recipe: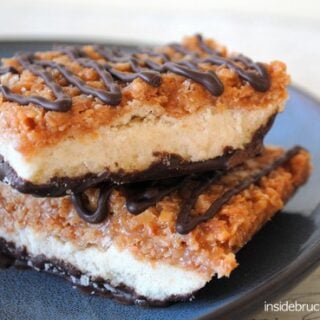 Homemade Samoa Bars
Homemade Samoa Bars - shortbread cookies topped with a caramel coconut layer and dipped in chocolate.
Ingredients
For the Crust
½ cup granulated sugar
¾ cup unsalted butter, softened
1 large egg
1 teaspoon vanilla extract
2 cups all purpose flour
¼ teaspoon table salt
For the Topping
3 cups shredded sweetened coconut
12-oz chewy caramels, I used Kraft
3 tablespoons milk
¼ teaspoon table salt
2 cups chocolate chips
2 teaspoons shortening
Instructions
Preheat oven to 350 degrees. Spread the coconut evenly on a baking sheet and toast for 5 minutes, stirring every 1-2 minutes, until coconut is golden. Cool on baking sheet, stirring occasionally. Set aside.
Spray a 9x13 baking dish with nonstick spray.
In a large bowl, beat together the sugar and butter, until creamy. Beat in egg and vanilla extract. Slowly beat in flour and salt until mixture is crumbly.
Pour the dough crumbs into the prepared pan and press into an even layer. Bake for 20-25 minutes. The edges should be lightly brown. Cool completely on a wire rack before adding the topping.
Unwrap the caramels and place in a small sauce pan with the salt and milk. Heat on medium low heat until melted and creamy. Stir in the toasted coconut.
Spread the mixture over the cooled crust. Let cool completely. Cut into 24 squares.
Place the chocolate chips and shortening in a microwave safe bowl. Heat for 30 seconds and stir. Continue heating for 15 seconds, stirring after each time. Do not over heat.
Dip the bottoms of the bars in the chocolate and place on a piece of wax paper to set.
Place the remaining chocolate in a small plastic bag and cut off one corner. Drizzle the chocolate over the tops of the bars. Let set. Store in a sealed container on the counter. Makes 24 squares.