These Chocolate Peanut Butter Cheesecake Cookie Bars are the perfect blend of cookie and cheesecake into one easy to hold bar cookie. Grab a glass of milk...you are going to need it!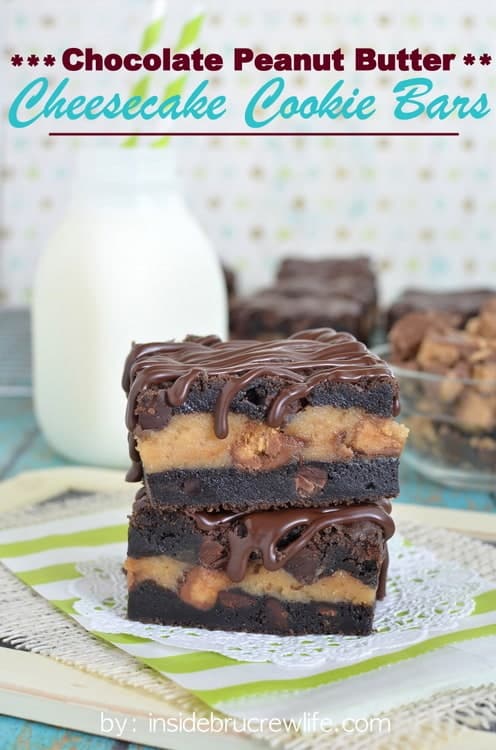 It's a good thing I just HAD to make these cookie bars this weekend.
Yesterday a group of friends and I ran a Warrior Dash. It was so much fun, but now I know that the 6 workouts that I did before it totally did not help me to be ready to run and to do obstacles.
The only thing that kept me going through the mud and over the walls was the thought of these delicious bar cookies waiting for me in my refrigerator.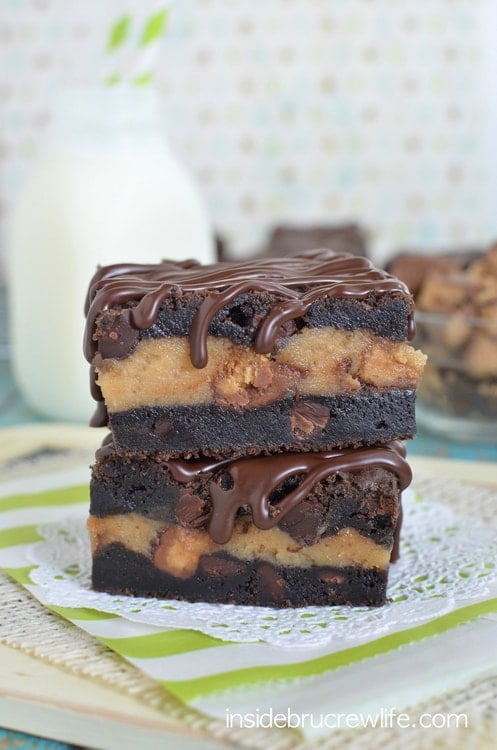 You want me to run through ankle deep mud? And climb over the top of a 15 foot wall that only has two by fours and a slippery muddy rope on it? Run over slippery, muddy hills? Walk over boards that are covered in mud? And now swim through water, and then get out and do more of the same thing?
Seriously the only thing that kept me going was chanting "cookie bars, cookie bars, cookie bars!"
Well, that and the fact that my 14 year old son could run laps around me doing this. For the record, he has been playing soccer since the end of June. He is a little more in shape than I am. But it was great motivation for me to keep going. No way was I going to let him finish without me. He did get over the line first, but my husband and I were close behind. I have some pictures of the mud madness that I will share later this week.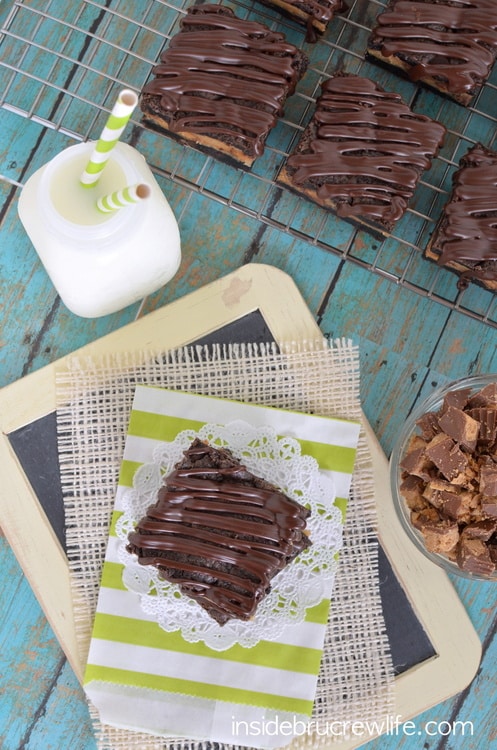 If you ever have a chance to do a mud run, I would say go for it!!!
Although, I also would say, do more training than what I did. "Walking" to the kitchen for food and "lifting" cookies and pies probably isn't the right kind of workout to do before climbing walls and swimming in mud. But it is definitely one of the funniest things you will ever do. We laughed so much at every obstacle. I mean when you are completely covered in mud and you can't get up the hill, what else can you do?
Today I am a little sore, and I am planning on relaxing on the couch with a book or some TV....and a few of these chocolate cookie bars.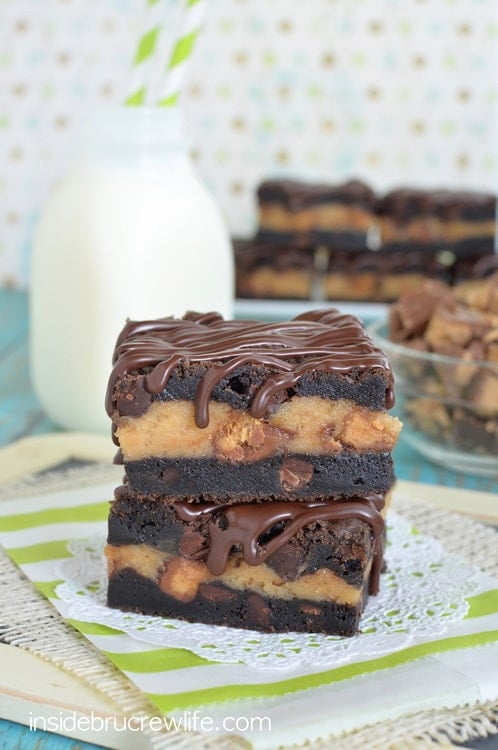 Ok, enough about running and mud, let's talk about these cookie bars that have been staring you down the whole time. I have a few different versions here on the blog, like these Milky Way Cheesecake Cookie Bars, but I realized that I didn't have chocolate ones. That was a problem...but a good problem to have to fix.
The cookies are an easy one bowl kind of a cookie. You mix it all together and press half the dough in a pan. You can measure if you want, but I just kind of eyeball it. Then mix the cheesecake batter in another bowl. The cheesecake in the center of this one is peanut butter with lots of Reese's peanut butter cup chunks in it.
Yup, I went there again. I'm telling you those doggone Reese's just keep yelling at me from my cupboard. I have to listen each and every time. You guys don't mind my obsession with Reese's, right?
Anyway, then you cover the top of the cheesecake with the rest of the cookie dough. I found the best way to do this was to take small spoonfuls and flatten it in my hand before laying it on top. It really is ok if some of the cheesecake shows through. You are going to drizzle chocolate on top to hide all that anyway.
What are you doing still reading?
Get "running" to the store for all the ingredients. I think you will want to be "lifting" these into your mouth ASAP!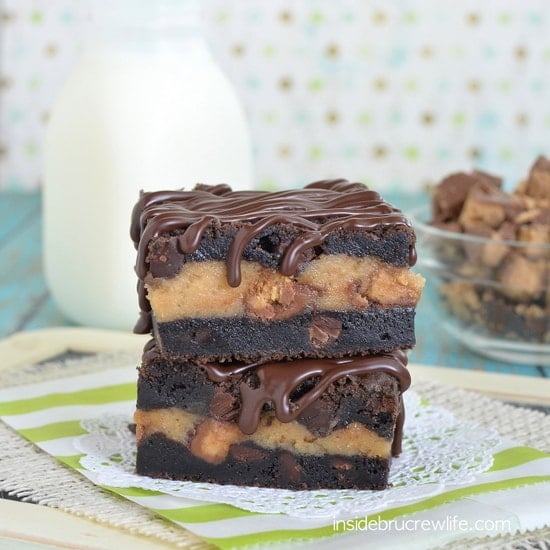 Stay up to date on all the BruCrew baking here:
FACEBOOK | PINTEREST | TWITTER | INSTAGRAM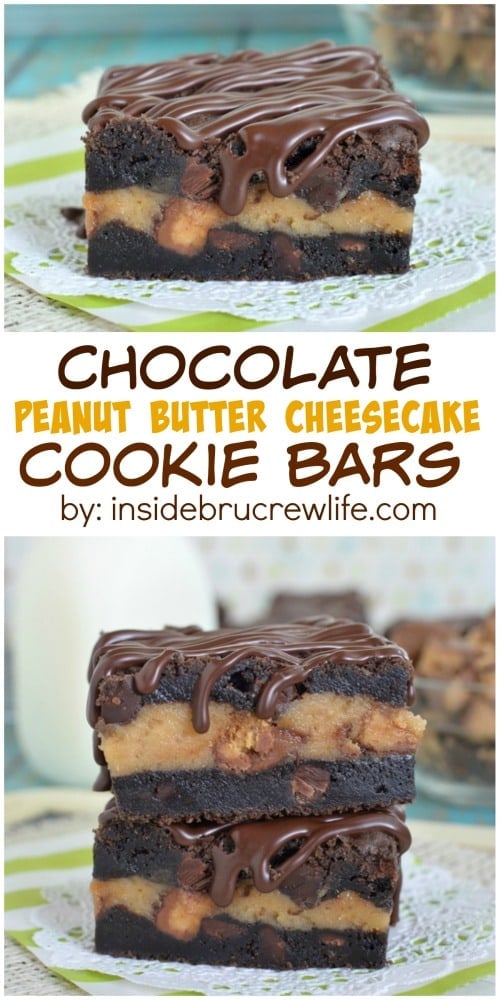 Other Reese's desserts that will keep you going through any crazy running: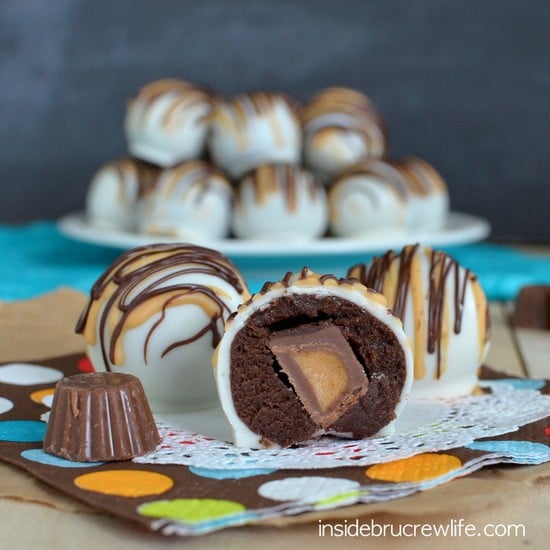 Chocolate Peanut Butter Cup Cookie Dough Truffles