These decadent looking Milky Way Brownie Cups are a great way to end dinner. The best part...they only use 4 ingredients.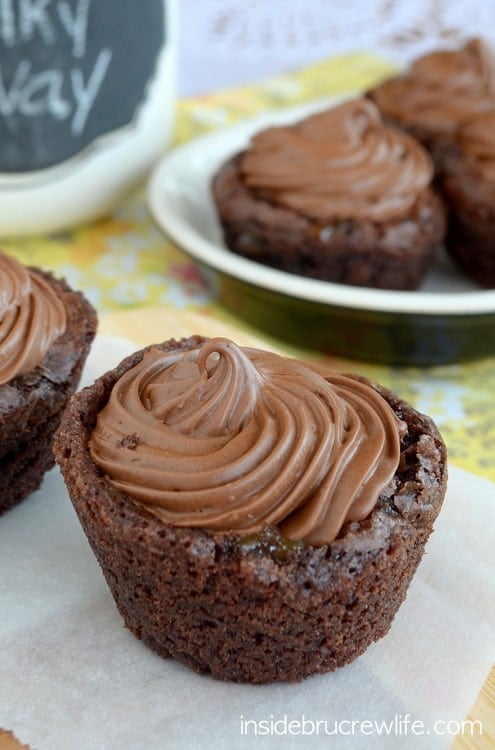 My sister and her family are coming in a few days and I decided that the our big bathroom needed to finally be redone...with less than a week to do it.
It is the last room in the house with wallpaper from when we moved in.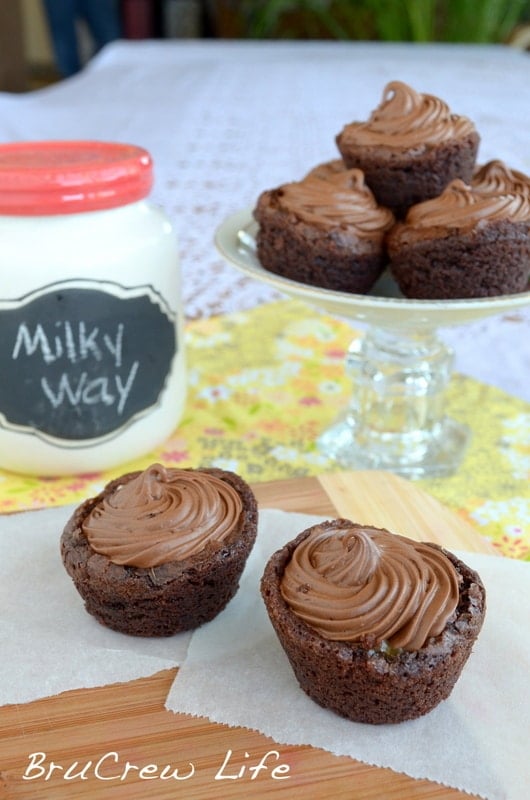 The wallpaper look had run its course with me.
Can I just tell you that I think wallpaper paste is evil, evil stuff?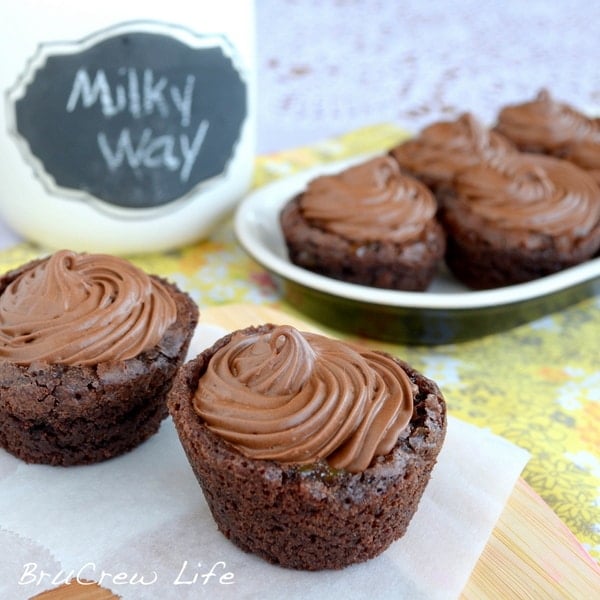 Now I'm sure if I had listened to everyone on Facebook and had tried the Downy method, it might have come off easier.
But there was only a little bit left in the laundry room and I saved it for you know, clothes.
My husband has been too busy this week to really help out, so he told me I was kind of on my own on this project. I am feeling kind of like Amy Wynn
(anyone remember her from Trading Spaces?)
So far I have stripped wallpaper, mudded and sanded the holes, and primed the walls, and painted trim and the sink cabinet.
Now I just need to break out the power tools and cut some bead board. I will probably need some help there. Cutting out outlet holes could be a problem for this tool challenged girl.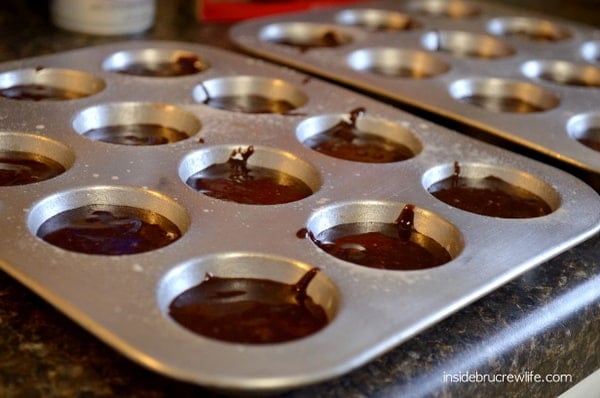 I might be regretting my hasty bathroom project.
It is Friday, and my family is coming Monday.
Oh yeah, and I have grocery shopping to do today and cleaning up for a dinner we are having tonight.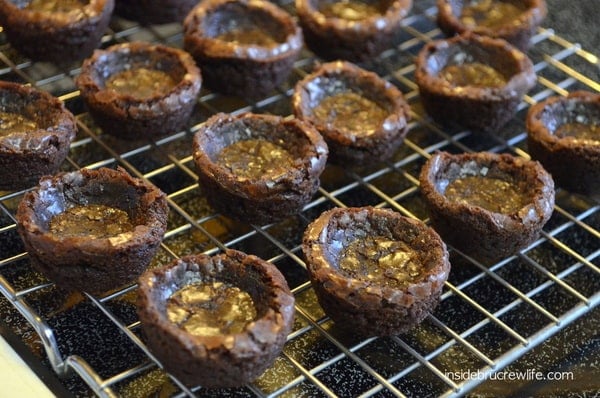 Maybe I should have just stuck to the brownies and caramel thing...that only ends in a sink full of dishes.
And dishes are sure a lot easier to do than putting a bathroom back together.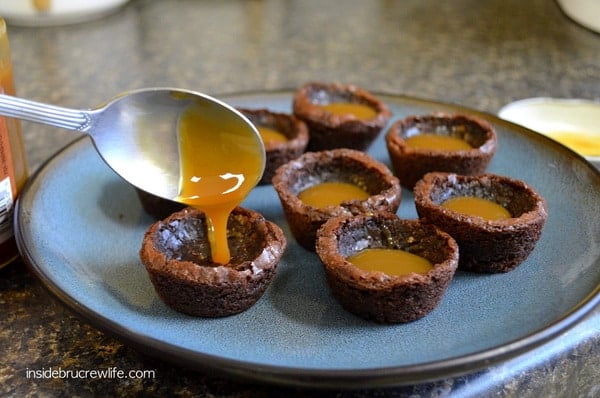 I have a feeling that a lot of chocolate is going to be needed this weekend to get me through with minimal crabbiness.
These little Milky Way Brownie Cups filled with caramel and nougat topping just might do the trick!!!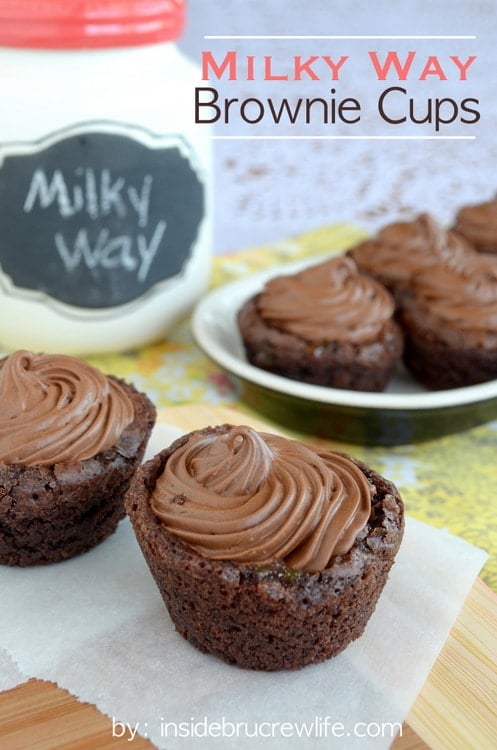 Have you ever started a big project and then regretted it???
Milky Way Brownie Cups recipe: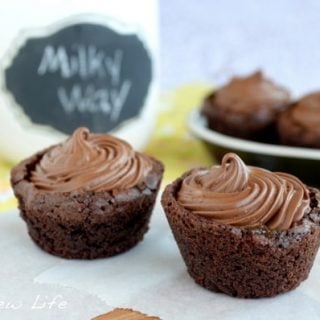 Milky Way Brownie Cups
Mini brownie cups filled with caramel and topped with a whipped chocolate nougat...best way to enjoy brownies!!!
Ingredients
1 brownie mix
½ cup caramel ice cream topping
1 - 8 ounce container Cool Whip, thawed
2 cups chocolate chips
Instructions
Preheat oven to 350 degrees. Spray mini muffin tins with nonstick spray.
Follow directions for brownies on box. Spoon 1 teaspoon into greased mini muffin tins. Bake for 12 minutes.
Let the brownies cool in the pan for 2 minutes, then use a wooden tart shaper or spoon to push the centers in. Let cool 2 more minutes in the pan, then remove to wire rack and cool completely.
In a small sauce pan over low heat, melt the chocolate chips. Stir until completely smooth.
Beat with mixer for 30-60 seconds. Add Cool Whip quickly and beat for more minute. Make sure to use a spatula to push the filling down the sides of the pan.
Spoon a small amount of caramel into each cup. Pipe chocolate whipped topping on top of caramel.
Refrigerate until set. Store in a container in the refrigerator.
Recommended Products
As an Amazon Associate and member of other affiliate programs, I earn from qualifying purchases.
Nutrition Information:
Yield:

24
Serving Size:

1
Amount Per Serving:
Calories:

119
Total Fat:

7g
Saturated Fat:

5g
Trans Fat:

0g
Unsaturated Fat:

2g
Cholesterol:

0mg
Sodium:

31mg
Carbohydrates:

16g
Fiber:

1g
Sugar:

14g
Protein:

1g