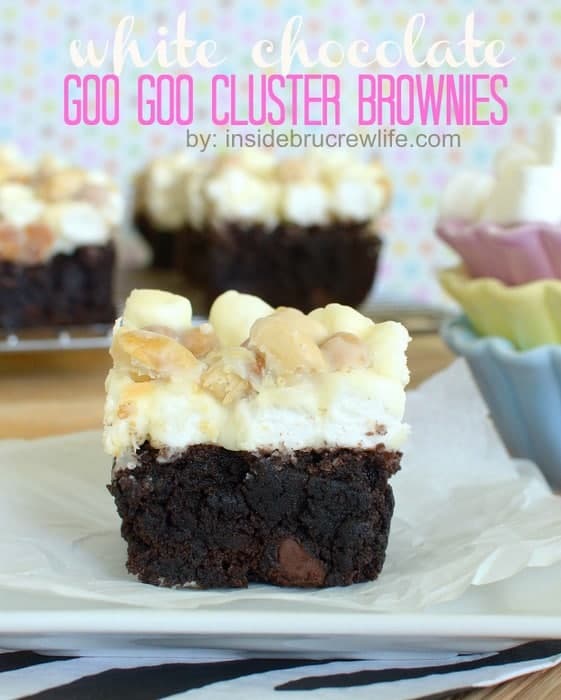 I have been trying to eat healthy this month. Ok, ok, healthier at least.
Usually I buy the veggies, and then they sit in the fridge drawers for weeks until they mold and then I have to throw them away.
But for the last month we have actually eaten all the veggies we bought. Thank goodness for bowls of Italian Veggie Salad for dinner.
My sweet tooth has even died off to some degree...and that makes me kind of sad!
There have been a couple desserts that I have tried, and they were good, but I didn't want any more after a bite or two.
Shoot! I had 4 Reese's peanut butter eggs hidden away for a snack attack... and now I don't even want those. Who am I now???
At least it has been good for the hips and thighs! Sigh!

But then I made brownies for a dinner we went to. I have a serious brownie problem.
I just can't say no to them....especially these White Chocolate Goo Goo Cluster Brownies. They were my downfall yesterday.
Veggies? Who wants veggies when you can have chocolate goodness in melted form. Am I right?
Soft marshmallows, crunchy peanuts, chewy caramel all on a fudgy brownie... you can see why it was such a problem, right?
I ate spoonfuls of the topping. I even licked the bowl clean. Then I ate at least 3 of the brownies. (at least I think it was only 3)
I'm so glad I took all of them to the dinner...it could have been very dangerous today if any of these white chocolate goo goo cluster brownies had been left in my house.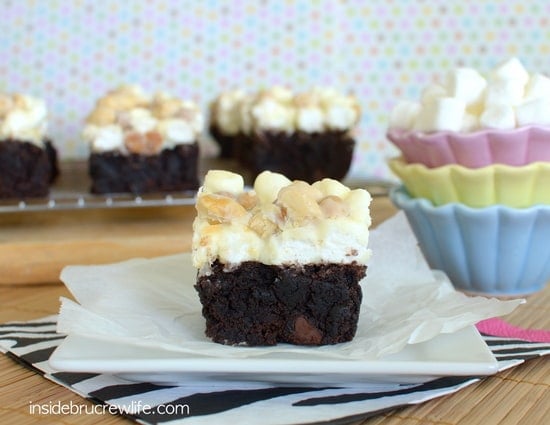 Stop drooling on your keyboard and go make your own pan of White Chocolate Goo Goo Cluster Brownies...you know you want to live on the dangerous side!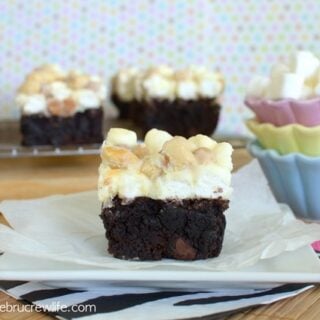 White Chocolate Goo Goo Cluster Brownies
Brownies topped with a white fudge that has peanuts and marshmallows.
Ingredients
1 - 9x13 box brownie mix
1 - 14 ounce can sweetened condensed milk
2 cups white chocolate chips
2 cups peanuts
5 cups mini marshmallows
1 cup caramel baking bits
Instructions
Preheat oven to 350 degrees. Spray a 9x13 pan with nonstick spray.
Prepare brownies according to back of box. Spread in pan. Bake for 25-28 minutes or until done. Let cool completely.
In a saucepan combine the sweetened condensed milk and white chips over medium heat. Stir until completely melted. Let cool 5 minutes.
Add the marshmallows, peanuts, and caramel bits and stir until all the ingredients are coated. Spoon onto top of baked brownies and spread out. Let set before cutting into squares.
Nutrition Information:
Yield:

24
Serving Size:

24 brownies
Amount Per Serving:
Calories:

286
Total Fat:

13g
Saturated Fat:

5g
Trans Fat:

0g
Unsaturated Fat:

7g
Cholesterol:

11mg
Sodium:

149mg
Carbohydrates:

40g
Fiber:

1g
Sugar:

35g
Protein:

6g
Nutrition facts are an estimate and are not guaranteed to be accurate. If you need special diet advice, please see a registered dietician.