These Chicken Bacon Alfredo Enchiladas topped with lettuce and tomatoes have quickly become a new family favorite meal in our house.  They are easy to make and can be on the table in 30 minutes.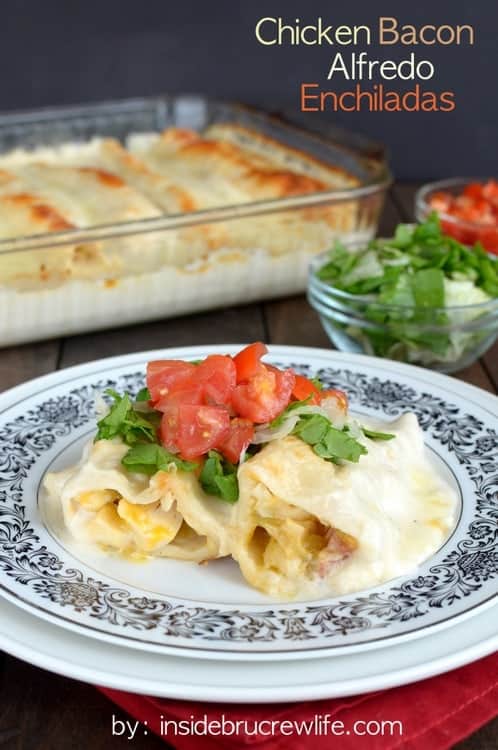 So apparently I have become quite forgetful in my "old" age.  Yes, I am getting up there in age despite the fact that I look very young.  Or at least that is what everyone kept telling me last weekend at the conference

 Thank goodness for good genes and good skin to make me appear to be young…or maybe just thankful for good makeup that hides those wrinkles.  Either way, I must admit I was loving all those sweet comments on my age.  Keep em coming.  LOL!
Forgetful much?  I can't even get through the beginning of a blog post without getting side tracked.  You only thought you were getting this dinner recipe.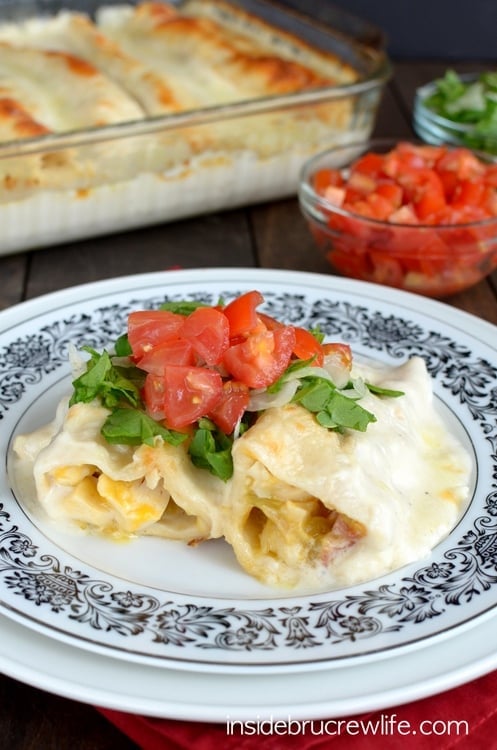 So, the other day I wrecked my husband's mountain bike.  And by "wrecked" I really mean just scraped it slightly on a sign.  In my defense (and it's really not a great one) I was in a hurry to get my boys some food so we could head to the ball park for games.  Not a great excuse, but I'm sticking to it.
My husband had gone for a bike ride the other day and had left the bike attached to the roof rack on the van.  He did remind me that it was still there multiple times, yet I still forgot and went through the McDonald's drive thru that afternoon.  Out of sight, out of mind is apparently a great way to describe my memory!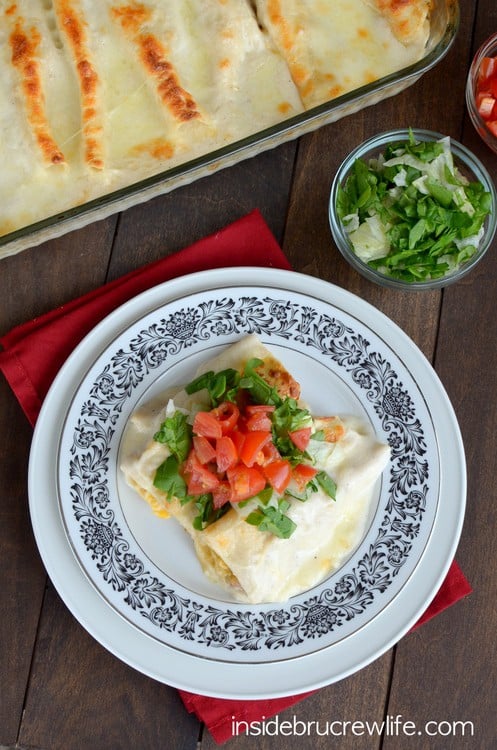 You would think that the guy behind me could have jumped out of his truck when he saw the crazy lady with the bike on her van headed into the drive thru.  At least maybe after he saw this said crazy lady hit the first sign.  Good thing the first sign was on a hanging chain.  I didn't even realize we had gone under it.  Then I ordered and started to go forward only to hear this awful scraping sound.  At first I thought something was happening to the sign beside me…then it hit me.  Crap!  The bike is on top!
I had my oldest son get out and make sure the bike was still standing.  Thank goodness for tall drive thru signs here!  The handlebars only scraped the bottom of the sign.  My son did say he noticed the guy behind us laughing.  Yeah, thanks a lot for the help mister!!!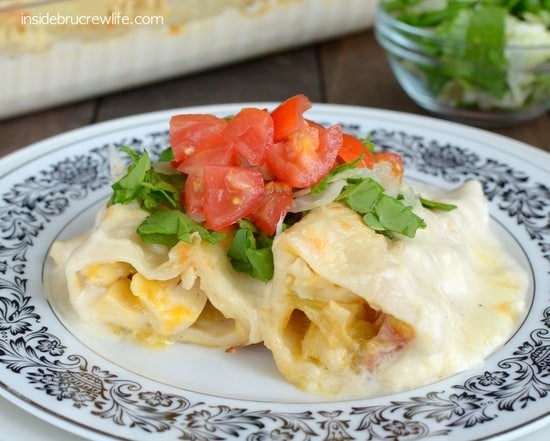 At least I haven't become too terrible forgetful in the dinner making scene.  In fact, I am kind of loving this "new" area of blogging.   I promise there are still way more desserts to share.  But since we all need to eat real food now and again, I figured why not branch out and share the dinners we eat.
These enchiladas are so easy to make.   Use leftover cooked chicken, bacon, cheese, and green chilies to make a filling for the tortillas.  You can even do this the night before.  If you want to save some time, buy a rotisserie chicken from the grocery store deli.  Keep the mixture in a sealed container in the refrigerator until you are ready to start.
When it is time to cook dinner, wrap the filling into 8 flour tortillas and lay them in a 9×13 baking dish that has a little bit of alfredo sauce in the bottom.  Then smother the tops of the enchiladas with the rest of the sauce.  It only takes 20 minutes in the oven to heat everything through.  You can use this time to chop the lettuce and tomatoes and to set the table.
Go ahead and turn your oven to broil for 2-3 minutes at the end of the baking time.  It helps to brown up the tops of the cheese.  Just don't forget about it and burn dinner!
Crispy, melty cheese dinners always get rave reviews here!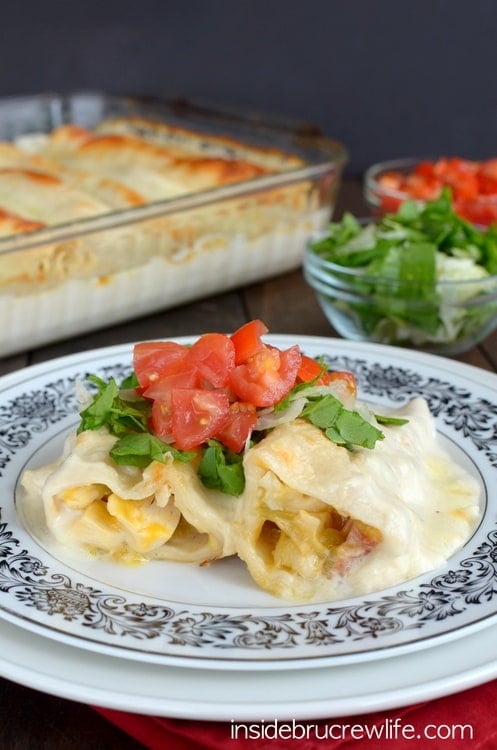 Stay up to date on all the BruCrew baking here:
FACEBOOK | PINTEREST | GOOGLE+ | TWITTER | INSTAGRAM | BLOGLOVIN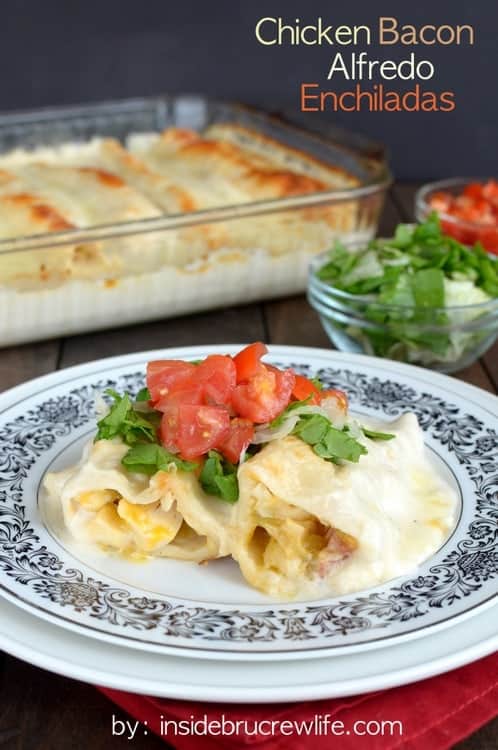 A spicy chicken and bacon filling gets rolled into flour tortillas and then baked with a creamy Alfredo sauce. Lettuce and tomatoes on top add a fresh texture to the delicious dinner.
Ingredients
1 - 16 ounce jar ready made Alfredo sauce (I used Ragu)
1/2 cup milk
2 cups cooked, chopped chicken
1/2 cup diced cooked bacon
1 - 4 ounce can diced green chilies
1 cup shredded cheddar cheese
1 1/2 cups shredded mozzarella cheese, divided
8 flour tortillas
diced tomatoes
chopped lettuce
Instructions
Stir together the Alfredo sauce and milk. Spread out a few spoonfuls on the bottom of a 9x13 pan.
Combine the chicken, bacon, green chilies, cheddar cheese, and 1 cup mozzarella cheese in a bowl. Divide the mixture onto the 8 tortillas. Roll each one up and place in the prepared pan. Pour the remaining Alfredo mixture on top. Sprinkle with the leftover mozzarella cheese.
Bake at 375 degrees for 20 minutes. Then broil on high for 2-3 minutes to brown the cheese. Remove and serve hot. Top with lettuce and tomatoes. Serves 5-6.
http://insidebrucrewlife.com/2014/05/chicken-bacon-alfredo-enchiladas/
Copyright Inside BruCrew Life
 A few more dinner recipes that have gotten rave reviews from our family: 
Loaded Chicken Alfredo Gnocchi