These Caribbean Jerk Shrimp Tacos are loaded with fruit salsa, crumbly cheese, and spicy shrimp. Make these easy shrimp tacos today for a delicious and fresh dinner.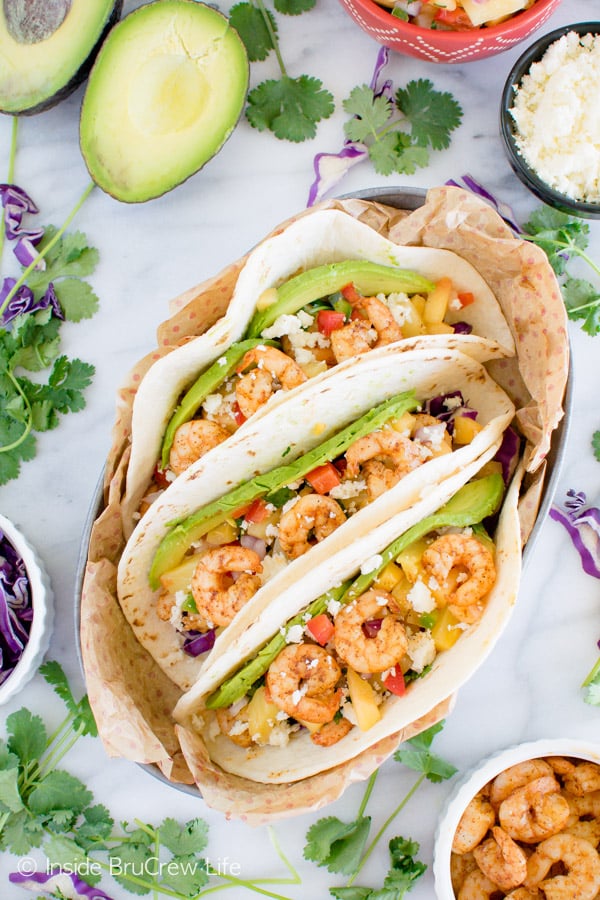 Say hello to my current dinner obsession! Hello, shrimp tacos! It's nice to meet you.
Right now I just can't get enough of tacos loaded with spicy shrimp, avocados, and the fixings. Remember this Pineapple Peach Salsa? Yup, these tacos had their fair share of fruit goodness in each one!
When we lived in Texas, we usually would to out for tacos for date nights. Every time we would go there, I would get the shrimp tacos and the Green Chili Pulled Pork Tacos.
Since going out to eat all the time to satisfy my taco craving isn't the most economical solution, I decided to make my own spicy shrimp tacos at home.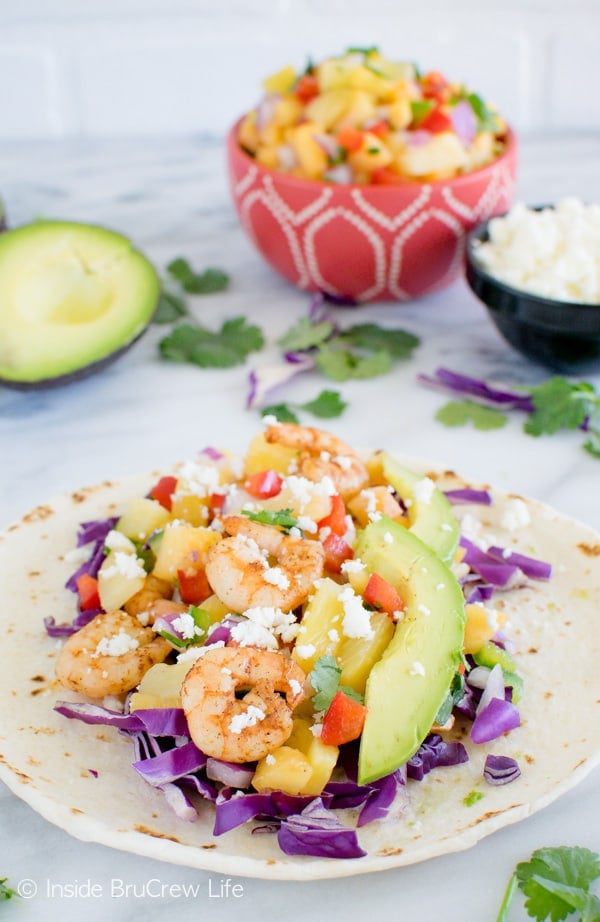 We usually buy a big bag of frozen uncooked shrimp at Sam's Club to have on hand for grilling or frying. I always make sure to get the cleaned up shrimp because ain't nobody got time for doing that kind of business.
A little bit of butter and a few spices in a hot skillet are all you need to cook your shrimp for this taco recipe. You do need to remember to thaw them before throwing them into the skillet, though.
I may have gotten ahead of myself in dinner prep and then realized that the shrimp was still in the freezer. Whoops! Don't be like me and forget to pull out the shrimp! It's kind of a key ingredient in the best shrimp tacos.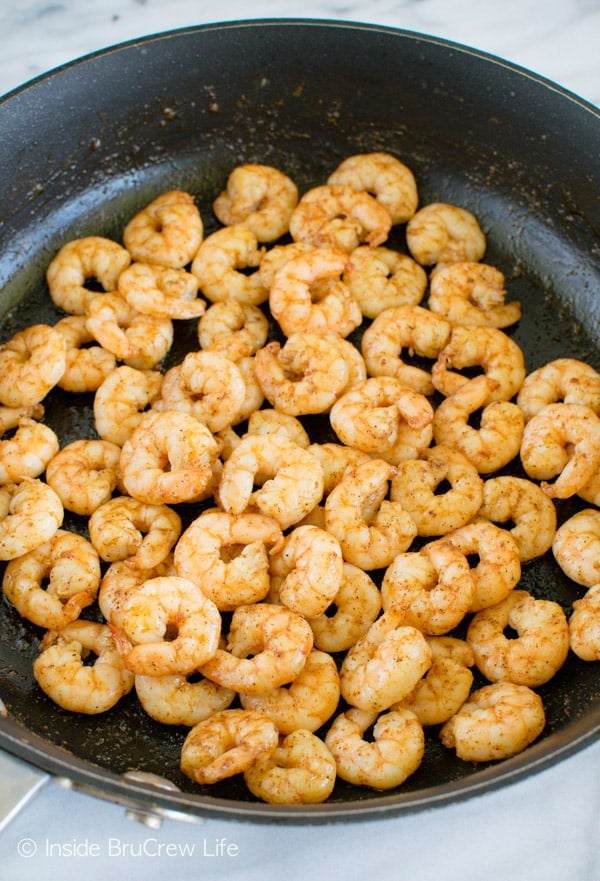 Shrimp does not take that long to cook, so make sure you have all your other toppings ready to go before you drop them into the hot skillet.
I usually chop the cabbage and crumble the cheese ahead of time and put those ingredients in Ziplock bags in the fridge, so they are ready to go at dinner time.
Toppings for Shrimp Tacos:
Cabbage or Shredded Lettuce
Salsa - Tomato or Fruit
Cheese - Cheddar, Fiesta Blend, or Queso Fresco
Sour Cream or Crema
Chopped Cilantro
Green Onions
Lime Juice
How to make Caribbean Jerk Shrimp Tacos:
Thaw the frozen shrimp ahead of time.
Mix together the fruit salsa ingredients and place in the refrigerator.
Melt the butter in a hot skillet and whisk in the spices.
Cook the shrimp 2-3 minutes per side until pink and cooked through.
Time to go to town filling your Caribbean Jerk Shrimp Tacos with goodness! It's up to you how much you want to stuff into each shell. I prefer my tacos stuffed full, so I get bites of shrimp and salsa in every single bite!
PRO TIP: Make the fruit salsa the day before, so it has time for the flavors to mix together.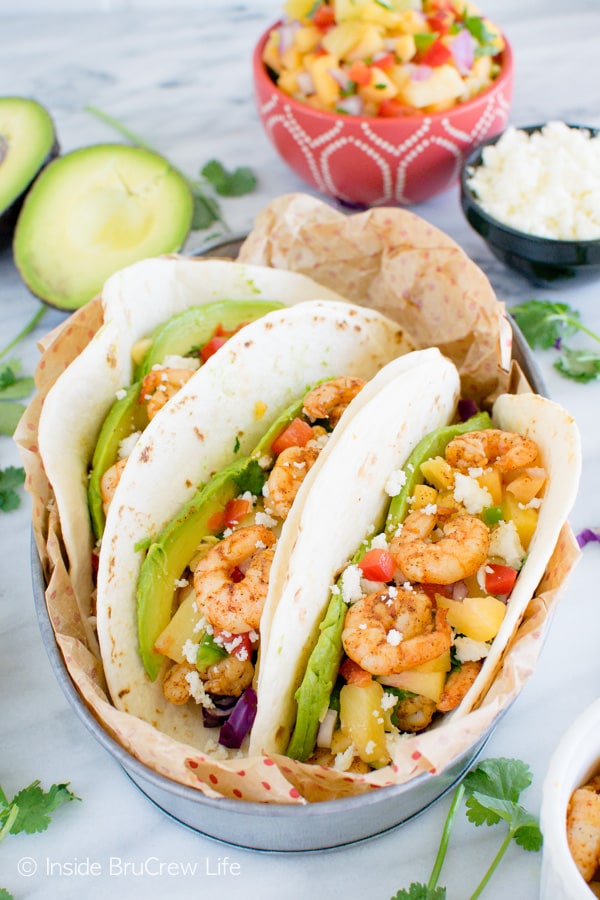 More taco recipes you may like:
Other Mexican dinner recipes: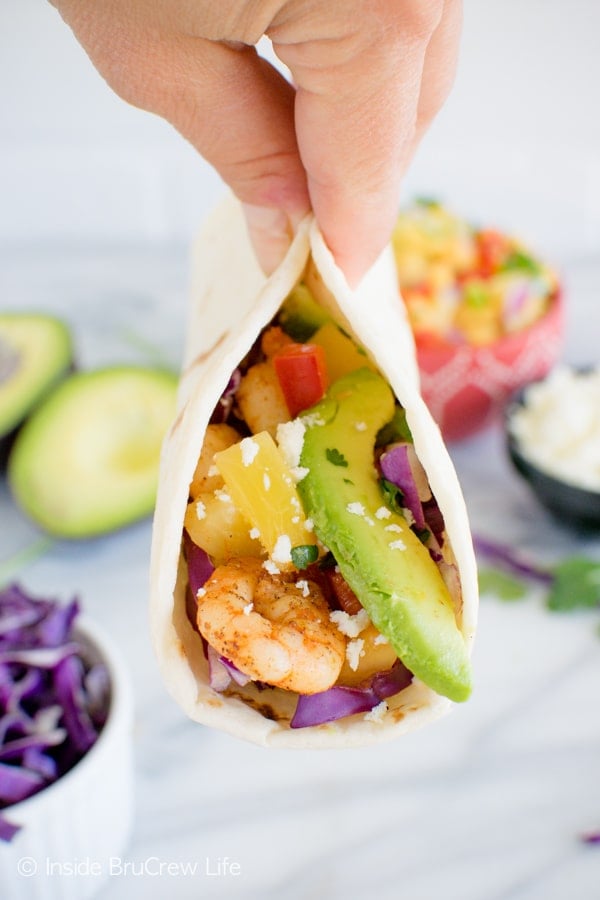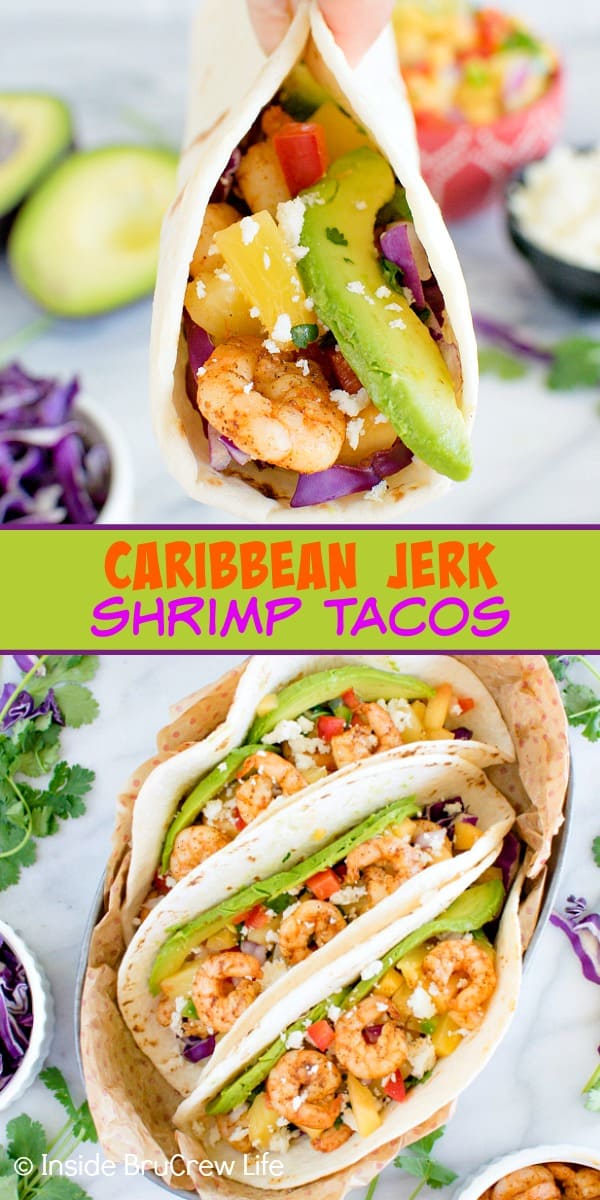 *The post for Caribbean Jerk Shrimp Tacos was first published on May 12, 2016. The post was updated and republished on May 5, 2020.