Satisfy your Cheesecake Factory cravings at home. In just 30 minutes you can enjoy a skillet of spicy Chipotle Chicken Pasta. This easy pasta dinner has chicken and fresh veggies in a sweet and spicy cream sauce. It's sure to become a new favorite.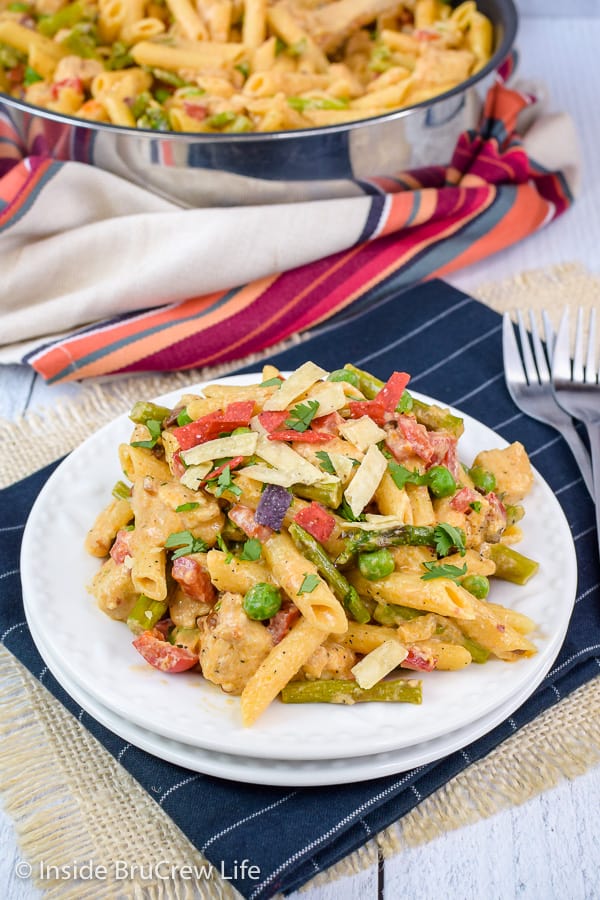 One of my favorite restaurants to eat out at is the Cheesecake Factory. Over the years, we have lived close and far away from this restaurant. When we lived close, it was our go to place for date nights.
Of course, it was also our date day choice when we lived far away too. I guess I'm just a creature of habit because I know what I like. So, it takes a lot to get me to change.
That holds true to my dinner order there as well. They had a fried chicken flatbread sandwich with avocado that was absolutely amazing, so I would always order it.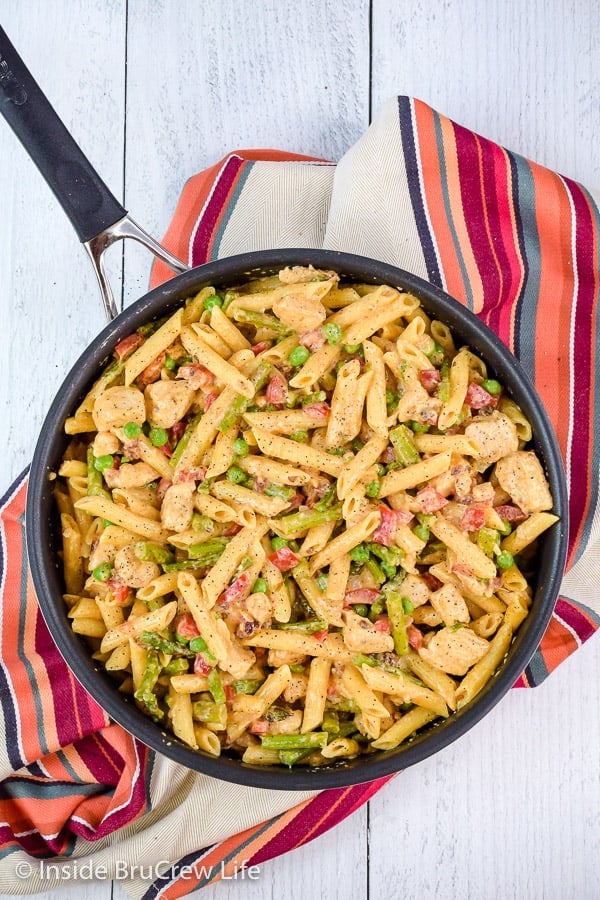 However, a few years ago on one of our lunch dates, my hubby and I headed to The Cheesecake Factory with a new mission. We were both going to order something totally different and new instead of our favorite meals.
This is kind of a scary thing to do because what if you order something and really don't like it? I know, I know. First world problems right there.
We usually have chips and this Easy Homemade Salsa in our fridge. So I could always go home and munch on that. And M&M Blonde Brownies always satisfy if dinner is a bust. I'm kidding...kind of.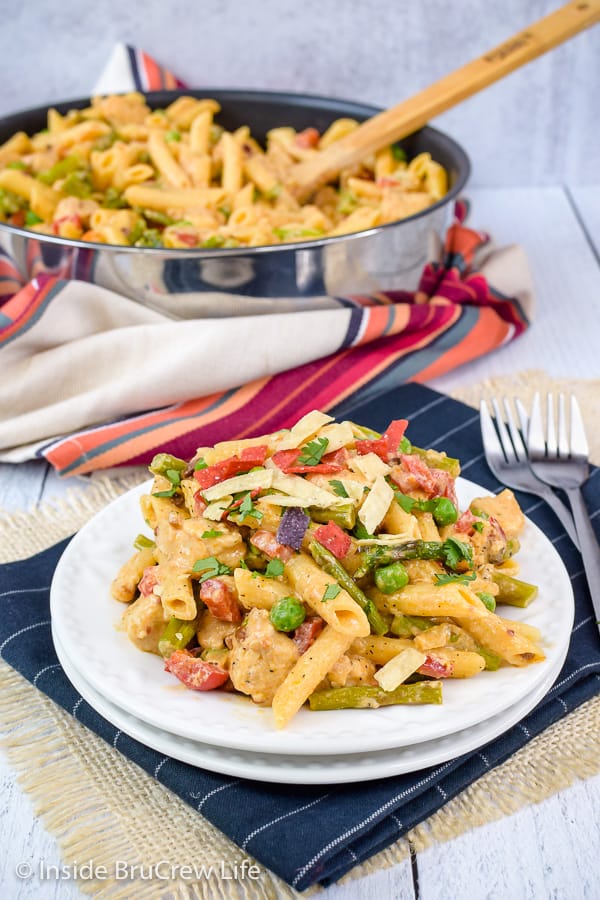 Once we got to the restaurant, I started reading through the menu. And if you have ever been there, you realize that the word "read" is correct because their menu is as big as a book!!!
I finally narrowed it down to their spicy chicken chipotle pasta. The flavor combo with the asparagus and peas had me intrigued, so I took the leap and ordered it. Plus, I knew I loved this Spicy Parmesan Shrimp Scampi, so I figured it was similar to it.
What I didn't realize is how much I would actually LOVE this spicy chicken pasta. In other words, it is now my new favorite thing to order from The Cheesecake Factory.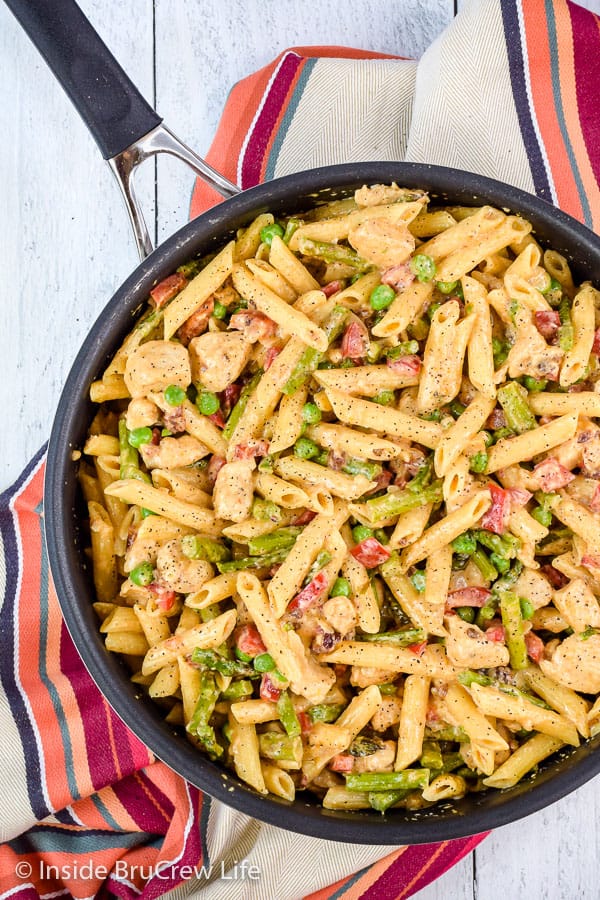 In fact, I loved it so much that I came home and made a copycat recipe, so I can enjoy it any time I want to.
How to make Spicy Chipotle Chicken Pasta:
Cook and drain pasta. Drizzle with a little bit of oil to keep it from sticking and set it aside.
Drizzle asparagus chunks with oil. Season with salt and pepper and bake.
Sauté onions, red peppers, and garlic in oil. Remove the veggies from the pan.
Add more oil and butter to the skillet and start to cook the chicken chunks. Once they are slightly cooked, add some honey and continue cooking until done.
Pour in the milk, chipotle peppers, Parmesan cheese, and salt and pepper. Cook until slightly thickened.
Add the cooked pasta, veggies, asparagus, and frozen peas and toss until coated.
Serve with crunchy tortilla strips and cilantro.
This Chipotle Chicken Pasta has such a variety of flavors and textures. Crunchy veggies, pasta, and the creamy sweet and spicy sauce will have you filling your plate with more because it is such a wonderful combination.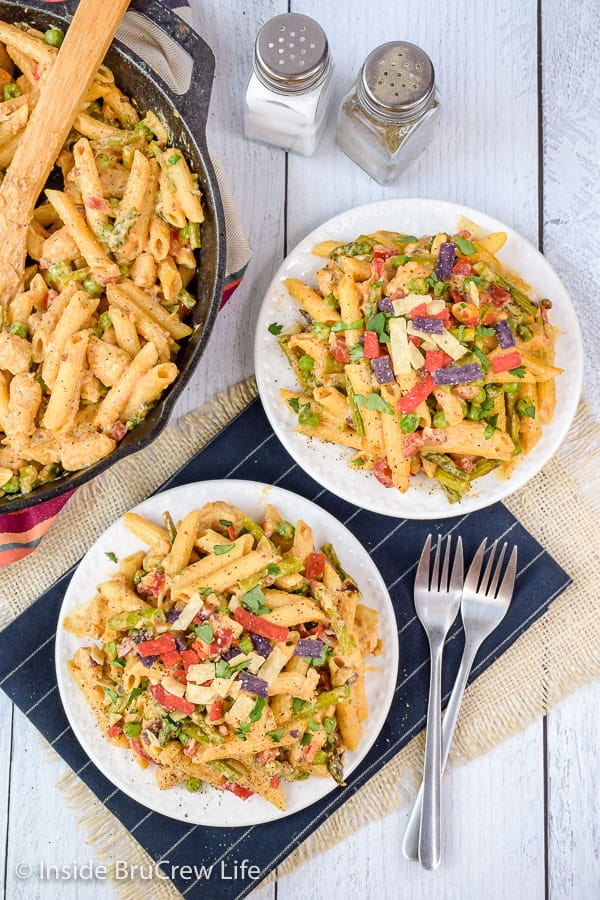 More easy pasta recipes for dinner: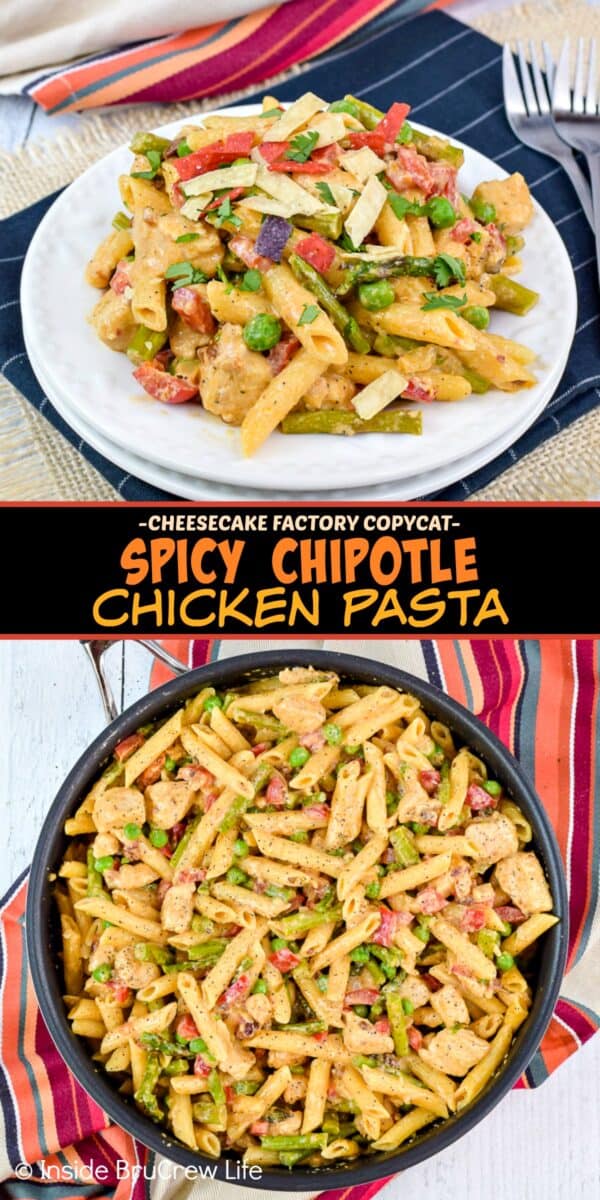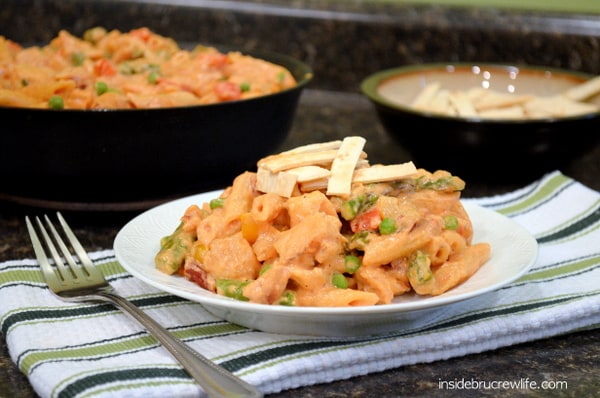 (original photo from April 2012)
*The post for Chipotle Chicken Pasta was first published on April 25, 2012. The photos have been updated, and the post was republished on August 28, 2019.